Name

Luis Carriles





Movies

Catchfire






Born

February 15, 1928 (age 87) (

1928-02-15

)

Cienfuegos, Cuba




Known for

United States backed terrorist activities against Cuba




Similar People

Ann Louise Bardach, Dennis Hopper, Dick Clark
Luis Clemente Faustino Posada Carriles (born February 15, 1928) (nicknamed Bambi) is a Cuban exile militant and former Central Intelligence Agency (CIA) agent. He is considered a terrorist by the United States Federal Bureau of Investigation and the Government of Cuba, among others; he is widely considered responsible for the bombing of Cubana flight 455, which killed 73 people. He was a long-time member of the Coordination of United Revolutionary Organizations, described by the FBI as "an anti-Castro terrorist umbrella organization".
Contents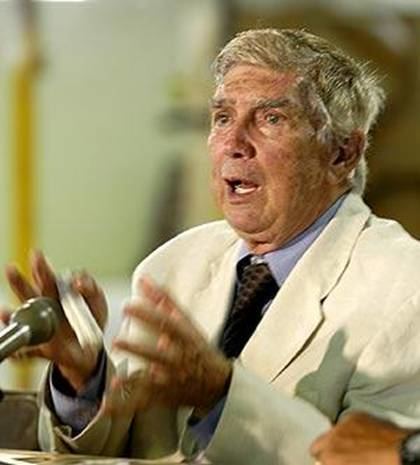 Cuban5 political prisoners in usa cia terrorist luis posada carriles
Biography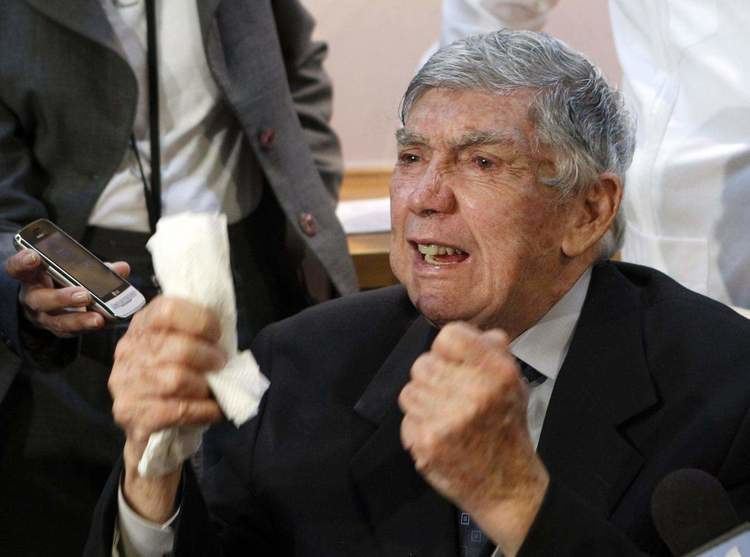 Born in Cienfuegos, Posada Carriles came into contact with Fidel Castro while still a student. However, he developed misgivings about the revolution, and fled to the United States after a spell of anti-Castro activism. He helped organize the Bay of Pigs invasion, and after it failed, became an agent for the CIA. He received training at Fort Benning, and from 1964 to 1968 was involved with a series of bombings and other anti-Castro covert activities.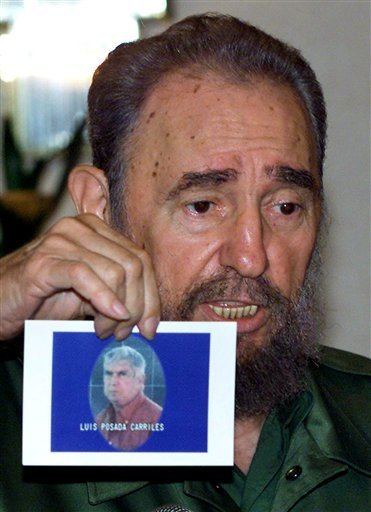 After migrating to Venezuela in 1968, Posada spent the years until 1985 involved in various terrorist activities in the region; until 1976, he continued to have ties to the CIA. He was convicted in absentia in Panama of involvement in various terrorist attacks and plots in the Americas, including 1976 bombing of a Cuban airliner that killed 73 people; however, he has always denied involvement. Along with Orlando Bosch, he was also involved in founding the Coordination of United Revolutionary Organizations, described by the FBI as a terrorist outfit. In 1985, he re-established links to the CIA, and moved to Central America, where he became involved with United States support to the Contras, and later admitted to playing a part in the Iran-Contra affair.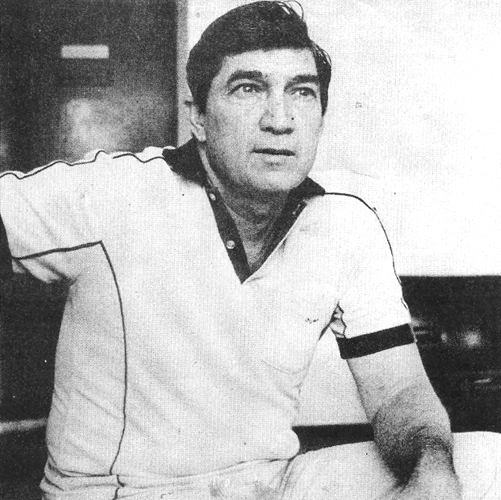 In later years, he admitted involvement in a string of bombings in 1997 targeting fashionable Cuban hotels and nightspots. In addition, he was jailed under accusations related to an assassination attempt on Fidel Castro in Panama in 2000, although he was later pardoned by Panamanian President Mireya Moscoso in the final days of her term. He has always denied involvement in the airline bombing and the alleged plot against Castro in Panama, but has admitted to fighting to overthrow the Castro regime in Cuba.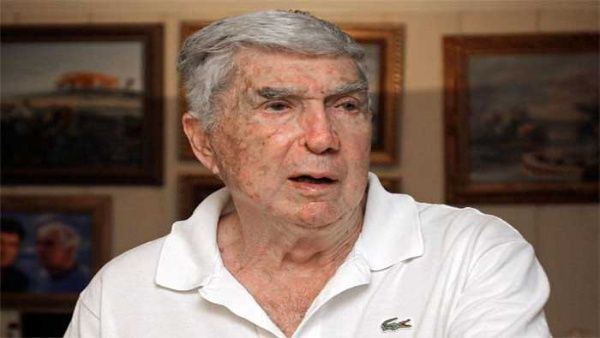 In 2005, Posada was held by U.S. authorities in Texas on the charge of illegal presence on national territory before the charges were dismissed on May 8, 2007. On September 28, 2005 a U.S. immigration judge ruled that Posada could not be deported, stating that he faced the threat of torture in Venezuela. Likewise, the US government has refused to send Posada to Cuba, saying he might face torture. His release on bail on April 19, 2007 elicited angry reactions from the Cuban and Venezuelan governments. The U.S. Justice Department had urged the court to keep him in jail because he was "an admitted mastermind of terrorist plots and attacks", a flight risk and a danger to the community. Posada-Carriles' trial ended on April 8, 2011 with a jury acquitting him on all charges.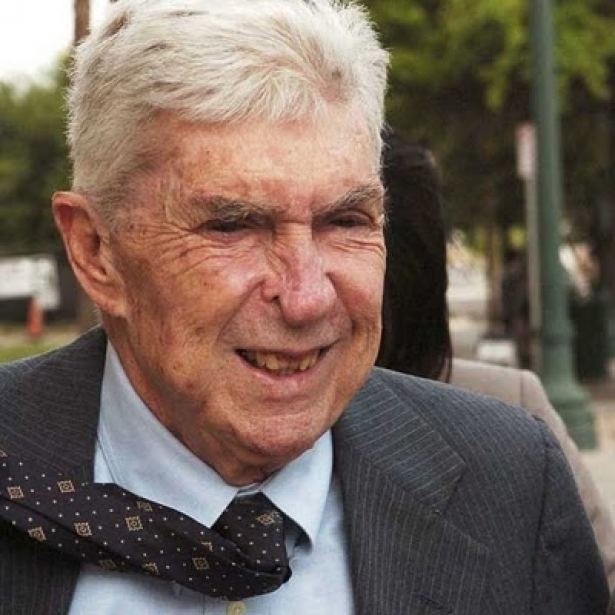 Peter Kornbluh of the National Security Archive has referred to him as "one of the most dangerous terrorists in recent history" and the "godfather of Cuban exile violence." In Miami however, where Posada currently resides, he is considered "a heroic figure in the hardline anti-Castro exile community."
Early years (1928–1968)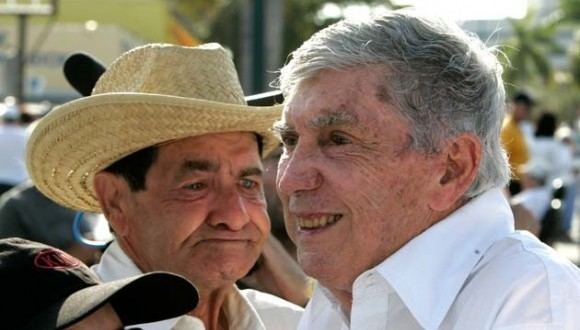 Posada was born in Cienfuegos, Cuba. He studied medicine and chemistry at the University of Havana and worked as a supervisor for the Firestone Tire and Rubber Company. As a student he had come in contact with Fidel Castro, who had become a figure of some significance in the violent student politics of the time. Misgivings about the Cuban revolution of 1959 led Posada to become an activist in open opposition to the new government. After a spell in military prison Posada sought political asylum in Mexico. By 1961 Posada had relocated to the United States where he helped to organize the failed invasion of Cuba at the Bay of Pigs. Though his squadron failed to see action, Posada made a number of contacts and lifelong friends, including future president of the Cuban American National Foundation, Jorge Mas Canosa, who was stationed in the same platoon.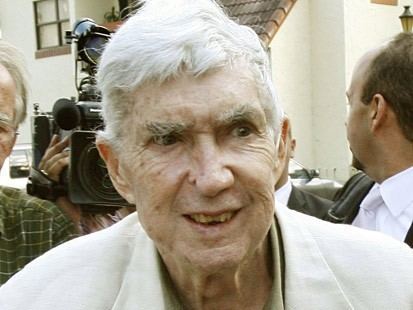 After the failed invasion, Posada was trained by CIA in sabotage and explosives at the U.S. Army's Fort Benning between March 1963 and March 1964. He worked closely with the CIA in Miami and was active in the CIA's Operation 40. He later described his role as that of the agency's "principal agent", informing the organisation about political movements within the exile community and operating anti-Castro activities. In Florida, Posada also trained members of the JURE, Junta Revolucionaria Cubana, a group which aimed to infiltrate Cuba. CIA files indicate that Posada was involved in a 1965 attempt to overthrow the Guatemalan government. The same year, the CIA reported that Posada was involved in various bombing plans in association with Jorge Mas Canosa. In 1968, relations frayed with the CIA when Posada was questioned about his "unreported association with gangster elements". Posada relocated to Venezuela, taking with him various CIA supplied weapons including grenades and fuses. He became a naturalized citizen of that country where he began his association with fellow Cuban exile and accused terrorist Orlando Bosch.
Venezuela (1968–1985)
In Venezuela, Posada became chief of operations of one of the Venezuelan direction of services for intelligence and prevention, the DISIP. The role involved countering various guerrilla movements supported by Cuba, but by 1974 he was dismissed after internal differences with Venezuelan authorities. Prior to his dismissal, the CIA had begun to believe that Posada was involved in cocaine trafficking, but did not break formal ties until February 13, 1976. The agency also believe that Posada was involved in a plot to assassinate Henry Kissinger, who at that time was advocating a more cooperative approach to Cuba-United States relations. The Church Committee hearings of 1975, which had been triggered by fears that the CIA were running too many rogue operations, had a significant impact on the agency, and Posada's association was seen to be "not in good odour". Posada went on to found a private detective agency in Caracas.
With Orlando Bosch, Guillermo Novo Sampoll, and Gaspar Jiménez Escobedo, he founded the Coordination of United Revolutionary Organizations (CORU). The FBI has described CORU as "an anti-Castro terrorist umbrella organization."
Cubana Flight 455, 1976
Cubana Flight 455 was a Cubana de Aviación flight departing from Barbados, via Trinidad, to Cuba. On October 6, 1976 two time bombs variously described as dynamite or C-4 planted on the Douglas DC-8 aircraft exploded, killing all 73 people on board, including all 24 members of the 1975 national Cuban Fencing team, which had just won all the gold medals in the Central American and Caribbean Championship.
Investigators from Cuba, Venezuela and the United States traced the planting of the bombs to two Venezuelan passengers, Freddy Lugo and Hernán Ricardo Lozano. Both men were employed by Posada at his private detective agency based in Venezuela, and they both subsequently admitted to the crime. A week after the men's confessions, Luis Posada and Orlando Bosch were arrested on charges of masterminding the attack, and were jailed in Venezuela. Declassified FBI and CIA reports show that the agencies suspected his involvement in the airline bombing within days of its occurrence. It was reported that several Miami residents and Bosch met in the Dominican Republic shortly before the bombing and issued a statement declaring their intention of waging a terrorist campaign against Cuba. According to a declassified CIA document dated October 13, 1976 with information from what the CIA deemed a usually reliable source, Posada – at the time in Caracas – was overheard to say a few days before Cubana flight 455 exploded: "We are going to hit a Cuban airliner... Orlando has the details".
Posada, who denied involvement in the Cubana 455 bombing, insisted his "only objective was to fight for Cuba's freedom". Posada was found not guilty by a military court; however, this ruling was overturned and he was held for trial in a civilian court. Posada escaped from prison with Freddie Lugo in 1977, turning themselves in to the less-than-sympathetic Chilean authorities. He was immediately extradited, and was held without conviction for eight years before escaping in 1985 while awaiting a prosecutor's appeal of his second acquittal in the bombing. His escape is said to have involved a hefty bribe and his dressing as a priest, as well as the pseudonym "Ramón Medina". According to Posada, the escape was planned and financed by Jorge Mas Canosa, by then head of the Cuban American National Foundation, a group with close ties to the Reagan administration. Mas then helped Posada settle in El Salvador, where he joined the White House-directed operations in the region.
Contras and Central America (1985–2005)
In Central America, Posada was assigned as deputy to Félix Rodríguez, a CIA operative who had overseen the capture of Ernesto "Che" Guevara in 1967. The pair were to coordinate drops of military supplies to the Contras, a rebel group funded by the Reagan administration opposed leftist Sandinistas in Nicaragua. Posada was paid $3,000 per month plus expenses from U.S. Major General Richard Secord, who was directing operations for Oliver North. The subsequent Iran-Contra investigations cast light over U.S. operations in the region, and several of Posada's connections, including Félix Rodríguez were asked to testify.
Posada remained in El Salvador during the hearings before signing up as a security advisor to the Guatemalan government. He also remained in contact with Cuban exile groups during this period. In February 1990 Posada was shot while sitting in his car in Guatemala City by unknown assailants that Posada believed were Cuban assassins. In his memoir, Posada said that his recovery and medical bills were paid by the Cuban American National Foundation, with additional payments from Richard Secord. Though recuperating in Honduras, the FBI believed that Posada was responsible for 41 bombings in the country, Posada himself admitted to planning numerous attacks against Cuba and seeking assistance from the Honduran military to aid his cause, which was not forthcoming.
Tourist bombings of 1997
In 1997, Posada was implicated in a further series of terrorist bombings in Cuba intended to deter the growing tourism trade on the island. An Italian-Canadian, Fabio di Celmo, was killed and 11 people wounded as a result. In reaction to Celmo's death, Posada told reporter Ann Louise Bardach in a 1998 taped interview that "the Italian was in the wrong place at the wrong time, but I sleep like a baby."
In a taped interview with The New York Times, Posada said: "It is sad that someone is dead, but we can't stop." Posada was reportedly disappointed with the reluctance of American news organisations to report the bombing attacks, saying "If there is no publicity, the job is useless. He later recanted the confession. Raúl Ernesto Cruz León, who Posada admitted was a mercenary under his employment, was sentenced to death by the Cuban authorities after admitting to the attacks.
Posada also claimed that Jorge Mas Canosa, the head of the Cuban American National Foundation, was well aware of the attacks, but the two men agreed never to discuss the operations. The Foundation has denied these claims. In 1998, The New York Times indicated that, even after the U.S. government no longer sponsored Posada's violent activities, Posada Carriles may have benefited from a tolerant attitude on the part of U.S. law enforcement. As bombs were being placed in tourist hotels and restaurants in Havana, the New York Times reported, a Cuban-American business-partner of Posada's tried to inform first Guatemalan, then U.S., law enforcement of Posada's involvement and possible links to Cuban exiles in Union City, New Jersey.
On 3 May 2007 it was revealed that FBI agents traveled to Cuba in 2006 as part of an investigation into Posada's possible role in the 1997 bombings in Havana. New FBI documents were also released revealing new details about Posada's many terrorist plots, including concealing high explosives in shoes and shampoo bottles. However the FBI failed to use the evidence to follow up on Posada, using it instead to uncover the Cuban spy network which had brought together the evidence, which led to the conviction of the Cuban Five.
Panama: Arrest, conviction and release (2000–2004)
On November 17, 2000 Posada was discovered with 200 pounds of explosives in Panama City and arrested for allegedly plotting the assassination of Fidel Castro, who was visiting the country for the first time since 1959. Three other Cuban exiles were also arrested alongside Posada: Gaspar Jiménez who worked at the Cuban American National Foundation in Miami, Pedro Remón Rodríguez and Guillermo Novo.
Communist leader Fidel Castro announced the alleged discovery of the plot on international television, describing Posada as "a cowardly man totally without scruples". Castro also blamed the CANF for allegedly orchestrating the plot. Shortly after, Justino di Celmo, the father of an Italian killed by a bomb in Havana, appeared on Cuban television to urge the Panamanian authorities to extradite Posada to Cuba. Posada was subsequently convicted and jailed in Panama for the assassination attempt.
In August 2004, Posada and the three other convicted plotters were pardoned by outgoing Panamanian president Mireya Moscoso. Moscoso, who had been close to the Bush administration in the U.S., denied that she had been pressured by U.S. officials to engineer a release of the men, though U.S. officials said they were not involved. "This was a decision made by the government of Panama," said State Department spokesman J. Adam Ereli. "We never lobbied the Panamanian government to pardon anyone involved in this case, and I'd leave it to the government of Panama to discuss the action." President Mireya Moscoso commented, saying that "No foreign government has pressured me to take the decision," she told reporters. "I knew that if these men stayed here, they would be extradited to Cuba and Venezuela, and there they were surely going to kill them there."
The U.S. government declined to condemn the actions of the four men. Moscoso's decision was heavily criticized by incoming president Martín Torrijos, and speculation was rife that the pardon was politically motivated. Cuba expert Julia E. Sweig said the decision "reeks of political and diplomatic cronyism". Sweig cited business and personal connections between Panama and the Cuban American exile community in Florida, and implied that Florida governor Jeb Bush may have had a role in the release.Immediately after news of the pardon broke, Venezuela and Cuba withdrew diplomatic ties with Panama.
Subsequently, the tape of a phone call made by Moscoso came to light: ″Moscoso pardoned the four exiles on Wednesday, a week before she is to leave office, saying she did not want to allow her successor to deport them to Cuba, where they could face firing squads.
Panama's media were abuzz Sunday with reports of a tape recording of a message that Moscoso left on the cellphone of Ferro, a Cuban-American who served as U.S. ambassador to Panama 1999–2001.
The message said: Ambassador, good morning. This is the president to inform you that the four Cubans were already pardoned last night and they have left the country, the tape says, according to the Cuban government. ``Three are on their way to Miami and the other, well, in an unknown direction. Goodbye. A hug.
Panamanian media portrayed the recording as evidence supporting Cuban charges that the U.S. government pressured Moscoso to pardon the four Cubans.″
United States (2005–)
In 2005 Posada requested political asylum in the United States through his attorney, and on May 3, 2005, the Venezuelan Supreme Court approved an extradition request for him. On May 17, 2005 two journalists from the Miami Herald, Oscar J. Corral and Alfonso Chardy conducted an interview with Posada in South Florida; later that day, the Herald and the Associated Press reported that he had been detained by the Department of Homeland Security. He had withdrawn his asylum appeal and was moving to sneak out of the country when arrested. His arrest coincided with large anti-Posada protests in Havana - organizers estimated that hundreds of thousands of Cubans participated in the rally. On September 28, 2005 a U.S. immigration judge ruled that Posada could not be deported because he faced the threat of torture in Venezuela. The Venezuelan government reacted angrily to the ruling, accusing the US of having a "double standard in its so-called war on terrorism". The US government sought to deport Posada elsewhere, but at least seven friendly nations refused to accept him. Cuba and Venezuela have sought Posada's extradition under the International Convention for the Suppression of Terrorist Bombings and the Convention for the Suppression of Unlawful Acts against the Safety of Civil Aviation.
The US Government has been heavily criticized in some circles, especially in the context of the War on Terror as well as being hypocritical as far as the Bush Doctrine goes. International law, including the UN Security Council Resolution 1373 of September, 2001, states that countries should not give safe haven or any kind of assistance to people involved in present or past terrorist activities. The final declaration of the XIVth Ibero-American Summit, held in Salamanca in October 2005, includes a demand to "extradite or judge the man responsible for the terrorist blowing-up of a plane of Cubana Aviation in October 1976, which caused the death of 73 innocent civilians". Posada was referenced in Venezuelan President Hugo Chávez's address to the UN General Assembly on September 20, 2006. Railing against the U.S. for "imperialism" and "hypocrisy", Chávez called Posada "the biggest terrorist of this continent", and said: "Thanks to the CIA and government officials, he was allowed to escape, and he lives here in this country, protected by the government."
During a United Nation Security Council meeting to review the work of its three subsidiary counter-terrorism committees, the United States was invited by the representatives of Venezuela and Cuba to comment on the evidence (above) in the Posada case. The US representative, Ms. Willson, then stated, "an individual cannot be brought for trial or extradited unless sufficient evidence has been established that he has committed the offence charged." She also alleged that removal to Venezuela or Cuba could not be carried out as "it was more likely than not that he would be tortured if he were so transferred." The Venezuelan representative denied the allegation, and pointed to the United States' own record in Abu Ghraib and in Guantánamo as examples of what Venezuela would not do.
Luis Posada Carriles was released from jail after paying bond on April 19, 2007. The U.S. Fifth District Court of Appeals in New Orleans rejected a Justice Department request Posada be refused bail for entering the U.S. illegally and he was escorted by Federal agents to Miami where members of the Cuban community welcomed him as a patriot. Posada was required to remain under 24-hour house arrest at his wife's apartment in Miami until trial, with permission to leave only to meet with attorneys or for doctor's appointments. On May 8, 2007 U.S. district judge Kathleen Cardone dismissed seven counts of immigration fraud and ordered Posada's electronic bracelet removed. In a 38-page ruling Judge Cardone criticized the U.S. government's "fraud, deceit and trickery" during the interview with immigration authorities that was the basis of the charges against Posada. Cardone's ruling was overturned in mid-2008 by the United States Court of Appeals for the Fifth Circuit, which ruled that Posada Carriles should be tried for the alleged immigration violation.
In 2009, a federal grand jury issued a superseding indictment, which marked his first official link by the United States government to the 1997 bombings in Cuba. On April 9, 2009 The Miami Herald reported:
The superseding indictment from the grand jury in El Paso does not charge Posada, 81, with planting the bombs or plotting the bombings but with lying in an immigration court about his role in the attacks at hotels, bars and restaurants in the Havana area. The perjury counts were added to the previous indictment that accused Posada of lying in his citizenship application about how he got into the United States. Another new charge is obstruction of a U.S. investigation into "international terrorism."
2010 Texas trial
Posada was accused of lying to U.S. authorities and about his alleged involvement in bomb attacks in Havana in 1997, and went on trial in Texas. However many of his backers in the Cuban exile community gathered thousands of dollars for his defense during what they termed a "radio marathon" on Radio Mambí. The tried case against Posada began after he sailed illegally into the United States and applied for political asylum. However, he was not being tried for killing the 73 people aboard the Cubana airliner or the tourists in Havana; his charges revolved around lying to immigration agents about his trip to the U.S. and illegally crossing the border. Prosecutors allege that he deceived them about his passport and arrived on a boat named the Santrina, not on a bus as he had told the government during interviews.
A footnote in a document filed by Posada's lead defense attorney on January 28, 2010, is quite revealing about the kind of classified information that Posada Carriles threatens to expose in the course of the trial. His attorney, Arturo Hernández, argues in that motion, "The Defendant's CIA relationship, stemming from his work against the Castro regime through his anti-communist activities in Venezuela and Central America, are relevant and admissible to his defense." The motion furthermore alleges that the US government had been complicit in bomb-setting in Cuba and asked the court to compel the government to declassify all information that shows the "involvement, knowledge, acquiescence and complicity [of the U.S. Government] in sabotage or bombings in Cuba." Also, the motion requests disclosure of "[t]raining, instructions, memos or other documents reflecting orders to the Defendant to maintain secrecy and not disclose his relationship or information regarding his activities on behalf of the U.S. Government or any of its Agencies." Venezuelan state attorney José Pertierra has interpreted the "bombings" in question as being the 1997 bombings of tourism areas in Cuba, and not necessarily the Cubana Airliner bombing (which did not occur "in Cuba").
Posada was found not guilty on all charges against him. After the trial he hugged his lawyers and told reporters he was grateful to the US, the court and the jury for what he said was a fair trial, saying that, "What happened here should serve as an example for justice in my country, Cuba, which is unfortunately in the hands of a dictator."
Alleged relationships
Luis Posada Carriles claimed in a 1998 New York Times interview that he received financial backing from Cuban American National Foundation for a 1997 bombing campaign in Cuba.[1] CANF has strongly denied Posada's statement. Posada, however, describes long term relationships with CANF figures in his autobiography. Declassified CIA and FBI documents allege that Posada was one of the "engineer[s]" of the 1976 terrorist bombing of Cubana Airlines flight 455 that killed 73 passengers. The administration of President George W. Bush refused to extradite Posada to Venezuela, where he is wanted for this crime.
The Cuban Ministry of the Interior claimed that the three September 4, 1997 bomb attacks against three hotels in Havana, which killed one person, were planned and controlled by CANF. CANF has denied the allegations. However, a former board member of the group has stated that several of its leaders planned attacks in Cuba during the 1990s. In 1997, the CANF published a statement supporting un-conditionally all terrorist attacks against Cuba; the CANF chairman at the time stated that "We do not think of these as terrorist actions". For his part, Posada has claimed to be responsible for planning six bombings at Havana hotels and restaurants during 1997.
Cuba's accusations
"Despite being denounced and calls from Venezuela for his extradition, Luis Posada Carriles the most dangerous terrorist in the hemisphere, is still conspiring to murder with his accomplices without any intervention from the U.S. legal authorities. Miami continues to have a strong nucleus of right extremists from various Latin American countries, who consider this city and the United States as a sanctuary for their activities."
Cuba's state newspaper Granma, has accused Posada of being a "psychopath" and "CIA hit man" who is part of a "brotherhood of killers" paid by the U.S. government. Cuban researcher José Luis Méndez has described Posada as "a man highly trained in the use of explosives, in the use of arms, and techniques for killing, disappearing, kidnapping". Granma goes on to allege that Posada "makes regular appearances before those nostalgic for the Batista dictatorship", accusing him of being a central player in a Miami "mafia apparatus" of "terrorists". In Havana, officials routinely refer to Posada as "the Osama bin Laden of Latin America," while the case remains a particular sore point in US-Cuba relations.
Personal life
In 1960, when Posada went to the United States, he married a resident of Miami, Florida. He has two children. He currently resides in Miami, where he openly attends "right-wing exile fundraisers" and participates in public protests against Fidel Castro's Cuba. A November 2016 El Nuevo Herald newspaper article described Posada celebrating the death of Fidel Castro in a Miami restaurant. The article reported that the 88-year-old Posada is a cancer survivor and has had a stroke.
References
Luis Posada Carriles Wikipedia
(Text) CC BY-SA