Covid-19
Cleveland, Ohio




American football player




6 ft 3 in (1.91 m)




107 kg




Salem (OH)




Linebacker, Tackle




Lou Slaby







(1941-12-13) December 13, 1941 (age 74)




1963 / Round: 5 / Pick: 69




1963 / Round: 4 / Pick: 29




Pittsburgh Panthers football
Lou Slaby (born December 13, 1941) is a former American college and professional football player who played middle linebacker and defensive tackle in the National Football League (NFL) for two seasons for the New York Giants and one season for the Detroit Lions. He played college football at the University of Pittsburgh as a fullback and linebacker.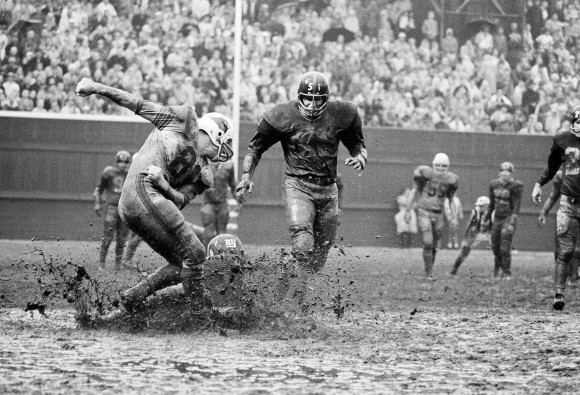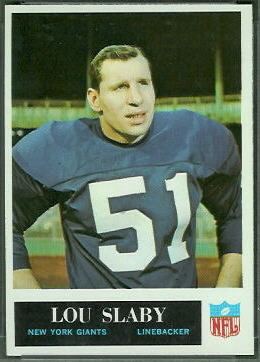 Slaby was born in Cleveland, Ohio and grew up in Salem, Ohio where he attended Salem High School.
Slaby played fullback and linebacker for the University of Pittsburgh during an era of limited substitutions. He was also a member of the 1960-1961 Pitt varsity basketball team.
Slaby was drafted in the 5th round (69th player chosen) in the 1963 NFL draft by the New York Giants and in the 4th round (29th player chosen) in the 1963 AFL draft by the Denver Broncos (before the two leagues merged). Slaby signed with the New York Giants. Slaby was injured in training camp in 1963 and spent the season on injured reserved. In 1964 Slaby was named to the 1964 UPI All Rookie team. The following year, he suffered a knee injury mid-year and finished the season as a defensive tackle. Slaby ended his career in 1966 with the Detroit Lions.
Slaby received a Bachelor of Science in Mechanical Engineering degree from the University of Pittsburgh and an MBA from the Baruch Graduate School of Business. Following football, Slaby worked in various engineering capacities. In 1986 Slaby founded Slaby Engineering Associates, Inc., an engineering consulting firm specializing in the design of public works projects and in land development.
Lou is married to Virginia Slaby. They have two children, Richard and Laura.
1964 NFL All Rookie Team
Pitt Varsity Letter Club Awardee of Distinction
B'nai B'rith Award for High Achievement and Principle
Who's Who in America (Marquis publication)
Salem High School Athletic Hall of Fame
Salem High School Honored Alumnus
Lou Slaby Wikipedia