4.2

/

10

Alchetron

4.2

Rate This




Country of origin

United Kingdom




Editor(s)

Sue Walton




Language

English






Original language(s)

English




First episode date

6 September 2010




Networks

ITV, ITV Breakfast





Running time

55 minutes(including adverts)




Production company(s)

ITV Breakfast Limitedpart of (ITV Studios)


Original network

ITV (ITV Breakfast)UTV Ireland


Presented by

Lorraine Kelly, Gaby Roslin


Cast

Lorraine Kelly, Kate Garraway, Nadia Sawalha, Gaby Roslin, Helen Fospero


Similar

This Morning, Good Morning Britain, Daybreak, Loose Women, BBC Breakfast


Profiles




Facebook

Twitter

YouTube

Instagram
Itv lorraine opening credits 2015
Lorraine is the early weekday morning, lifestyle and entertainment show for ITV, presented by Lorraine Kelly and other various presenters. ITV Breakfast produces Lorraine, which airs every weekday from 08:30 until 09:25, following Good Morning Britain. The programme is a continuation of Kelly's previous show, GMTV with Lorraine, which started in 1993.
Contents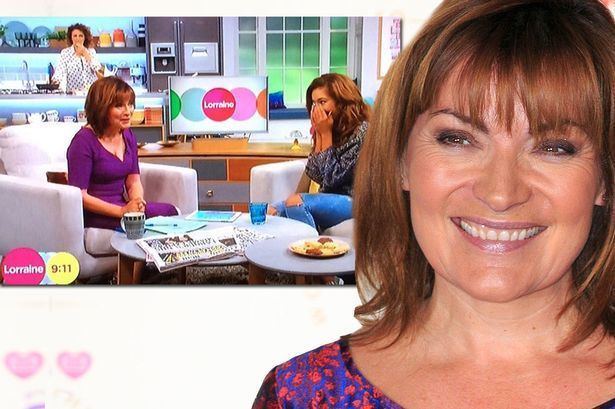 Khloe kardashian reveals all about weight loss and life as a kardashian lorraine
Format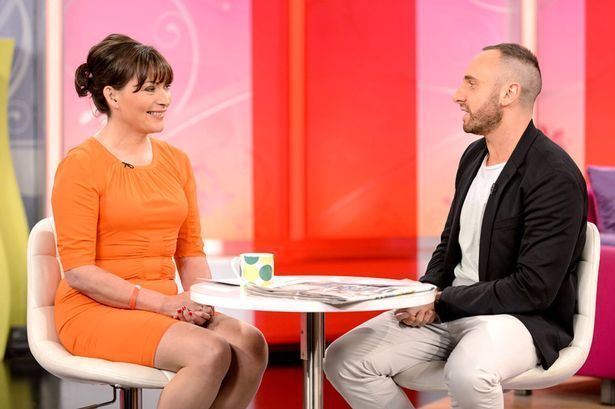 Each day the presenter gives an introduction into what's coming up on the show, before discussing the main stories from the morning's newspapers. Sometimes this is replaced by a showbiz update from Dan Wootton and a Los Angeles update from Ross King. The show's first guests tend to be interviewed next. The chef who is appearing that week then cooks their dish for the day. Throughout the show more guests are interviewed as well as regulars such as Mark Heyes and Dr. Hilary Jones appear with fashion and health slots respectively. The competition that runs on Good Morning Britain also appears throughout the show.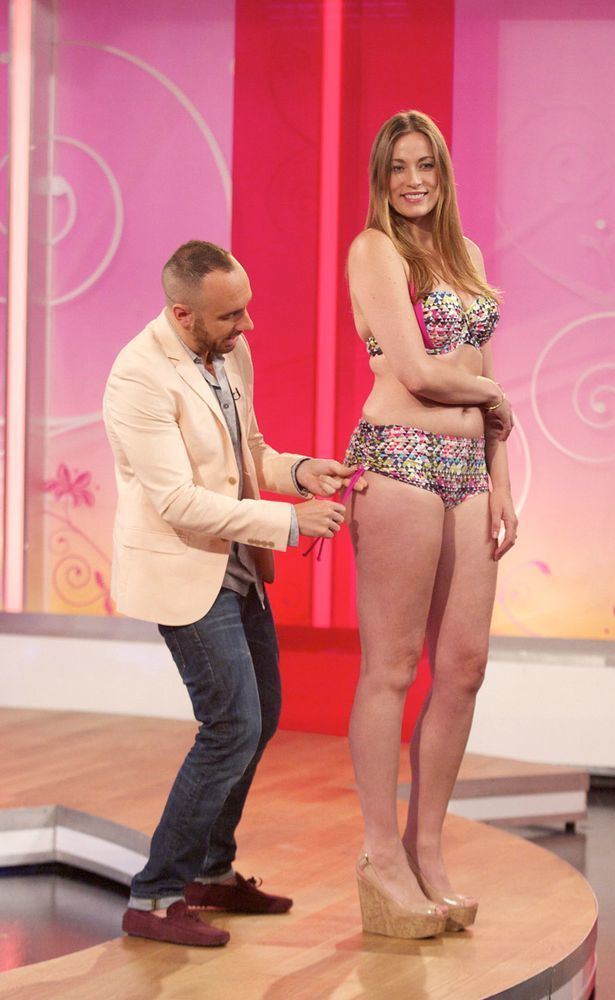 The programme is sponsored by home design company Dove. Previous sponsors have included Hillarys, Lea and Perrins, Weetabix, Garnier, Actimel, Spar, Wink Bingo, Plenty and Jergens Naturals.
Launch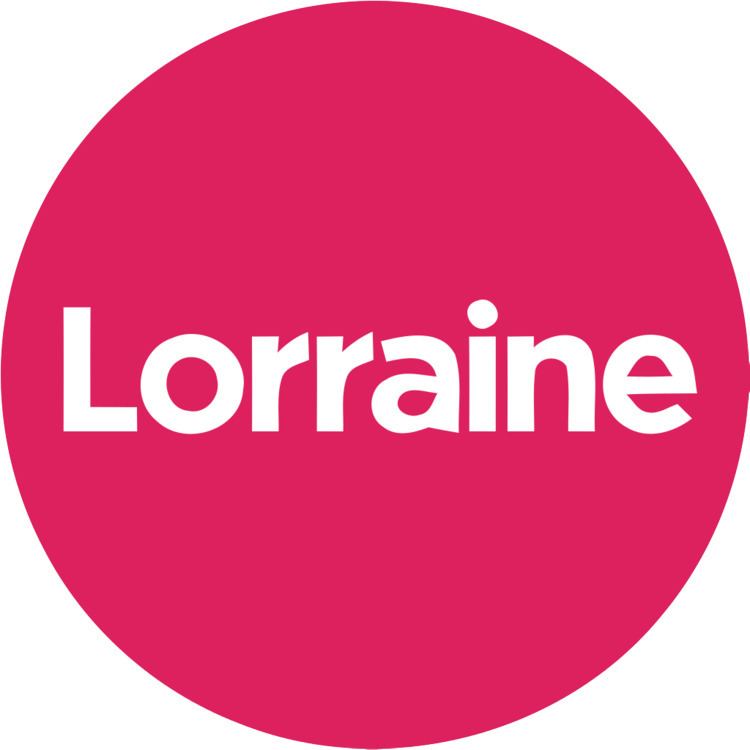 The first edition of Lorraine aired on Monday 6 September 2010. A preview on Daybreak revealed the new studio look as spacious and coloured in a variety of pastel hues and decorative motifs dominated by pink. The sofa for the presenter and guests was pink and arranged in a semicircle around a central internally lit coffee table similar to that used for Daybreak. Lorraine's first guest was actress Gemma Arterton. The first programme also featured an interview with Sky News reporter Sarah Parish and a recipe by TV chef James Tanner while Celia Walden and Kevin Maguire reviewed the morning's newspapers.
Current editors and correspondents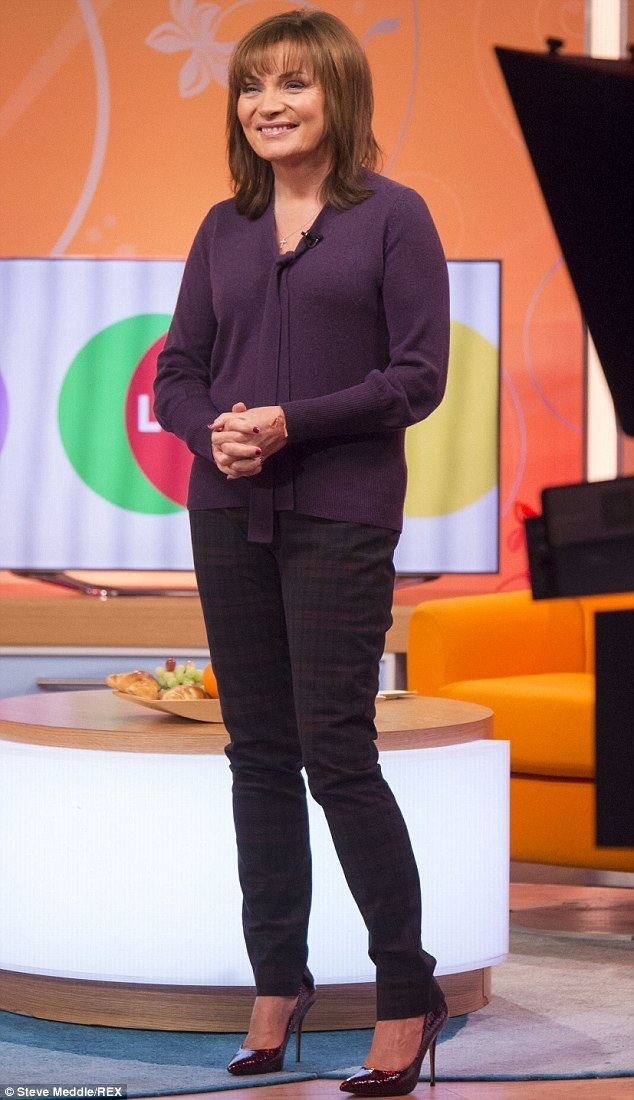 On 31 August 2010, it was announced that Kelly would be contracted to present the programme from Monday to Thursday whilst a guest presenter would appear each Friday and her absence.

On 30 May 2011, Los Angeles correspondent Ross King presented a pre-recorded edition of Lorraine from LA. This happened again on 7 May 2012.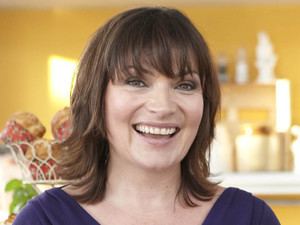 Kelly was unable to present the show due to a horse accident on 21 February 2012, guest presenters then presented her show instead, and after recovering she returned on 16 April 2012. Guest presenters during this time included Helen Fospero, Jackie Brambles, Nadia Sawalha and Fiona Phillips.
On 28 August 2012 it was announced that Kelly would now additionally present sister programme Daybreak from Monday to Thursday, with Kate Garraway her deputy and presenting in place of Kelly each Friday.
In February 2014 it was announced that Kelly would present Lorraine five days a week. Kate Garraway left Lorraine as host of Friday shows on 25 April 2014 as Kelly committed to hosting Lorraine five days-a-week, including the Friday morning shows. This change took place on 28 April 2014. It was then confirmed that Kelly would be moving to Lorraine full-time once Good Morning Britain had launched, following the launch ITV revamped the show following the start of Good Morning Britain.
In 2015, after Kate Garraway left the show as Deputy to work on Good Morning Britain. Gaby Roslin took over as Deputy Presenter of the show and Fiona Phillips also returned as a regular relief Presenter.
In 2016, Gaby Roslin continued as Deputy Presenter and Fiona Phillips continued as a relief Presenter, Amanda Holden, Lisa Snowdon and Helen Skelton each presented for a week at Easter, in Summer and in October respectively.
In 2017, Gaby Roslin was confirmed to be continuing her role as deputy Presenter, Amanda Holden and Fiona Phillips status is unknown if they are returning at some point but it's likely Phillips won't return due to other commitments. Helen Skelton has been announced to guest host in February and Christine Lampard joined the show as a new relief Presenter.
Daybreak
On ITV's previous breakfast show, Daybreak, there was a preview of the day's edition of Lorraine on each day at around 07:30 with a chat between the programmes' hosts prior to a handover at 08:30. This preview was originally shown at 08:15 but was moved to an earlier slot in March 2011. On 30 November 2010, Daybreak co-presenter Adrian Chiles wore a kilt and made an on-screen visit to the Lorraine studio to congratulate Lorraine Kelly on her birthday and mark St Andrew's Day. On 20 July 2011, Lorraine was presented from the Daybreak studio due to technical problems.
Good Morning Britain
After Daybreak ended on 25 April 2014, its replacement Good Morning Britain began the following Monday (28 April 2014), as a result Lorraine now follows Good Morning Britain. Each day there is a preview of the Lorraine show on Good Morning Britain at 08:15.
Episodes
Episodes are broadcast from Monday-Friday from 08:30-09:25 each day. The show also airs on Bank Holidays and during school holidays.
On 29 April 2011, Lorraine was not broadcast because of the ITV coverage of the wedding of Prince William and Kate Middleton.
From 9 September 2011 until 21 October 2011, Lorraine was not broadcast on occasions, this is due to the ITV Sport produced coverage of the 2011 Rugby World Cup.
From 26–30 December 2011, 2 January 2012, 24-28 December 2012, and 31 December 2012 – 4 January 2013, Daybreak and Lorraine were both not broadcast, instead CITV and films were broadcast during the ITV Breakfast timeslot.
On 5 June 2012, Lorraine was not broadcast because of the ITV coverage of the Diamond Jubilee of Elizabeth II.
There was no episode of Lorraine on 19 September 2014 due to the Scottish Referendum. An extended Good Morning Britain show was broadcast until 10am. Lorraine was reporting from her home city of Dundee for the programme.
There was no episode of Lorraine on 8 May 2015 due to the 2015 General Election results. An extended Good Morning Britain programme was broadcast until 9:25am. Kelly was a reporter from Glasgow for the programme.
Lorraine was presented from the Good Morning Britain studio instead of the main studio on 14 May 2015 because of industrial action by staff at ITV
Lorraine was delayed and shortened on 4 August 2015, due to a fire alarm being set off at The London Studios. Good Morning Britain was forced to end early and the start of Lorraine was replaced with highlights of Kelly's 30 years in breakfast television.
On 1 September 2015, Kelly returned after her summer break with a new look to the programme which included a new logo, a new title sequence, updated graphics, a new theme tune and an upgraded set.
On 22 March 2016, following the Brussels Terror Attacks – Good Morning Britain brought extensive coverage, Lorraine was delayed, but did start, an interview took place, but the rest of the programme and subsequent programming was cancelled with GMB taking over until 10:30.
On 24 June 2016, Lorraine wasn't broadcast as a result of Good Morning Britain's extended coverage of the result of the EU Referendum. Kelly featured in the programme as a reporter in Scotland.
On 19 August 2016, Lorraine was broadcast from the Good Morning Britain studio due to technical problems in its original studio (Studio 3).
On 9 November 2016, Lorraine wasn't broadcast again due to an extended Good Morning Britain which covered the result of the US General Election. Lorraine herself didn't feature in this programme.
Special episodes
On 9 December 2010, Lorraine was presented live from the set of Coronation Street in Manchester to celebrate the show's 50th anniversary. From 27–31 December 2010, Lorraine was pre-recorded, with Kelly presenting links to items from previous transmissions. On 8 September 2011, Kelly presented a pre-recorded special on the September 11 attacks in New York City to mark the ten-year anniversary.
From 28 September until 2 October 2015, Lorraine had a live studio audience for the duration of each programme. These special programmes were entitled Audience with Lorraine.
In February 2016, Lorraine's Top Tales was launched – a competition to find new children's author with Nadiya Hussain and Tom Fletcher as judges.
On 3 May 2016, they broadcast a special programme with lots of fashion interest as they launched their 2016 High Street Fashion Awards.
Studio set
On 20 July 2011, Lorraine was presented from the Daybreak studio due to technical problems with a commercial break inserted in place of the handover to allow for the changeover.
From 3 September 2012, the studio set was refreshed to reflect the warmer colour scheme of the new logo and graphics. The previously pink sofa was now orange, along with the orange coloured lighting with illuminated the previously frosted/pastel panels of the backdrop.
In 2014, Kelly hosted Lorraine from a new look studio and a refresh in graphics to coincide with the launch of Good Morning Britain on 28 April 2014.
On 20 October 2014, Lorraine was briefly taken off air after a fire alarm forced its occupants to evacuate the studio on London's South Bank. Kelly was about to interview eliminated X Factor contestant Stephanie Nala when they were interrupted by the alarm at 09:10 GMT. A spokeswoman for Lorraine said: "An alarm was raised within ITV this morning and the area was immediately evacuated. Once it had been investigated and deemed safe, people were able to re-enter the building." Lorraine Kelly wrote to fans on Twitter: "So sorry. We had to evacuate the building. First time in 30 years!" The show didn't make it back onto the air and the last 15 minutes was replaced by an episode of The National Trust and then followed by The Jeremy Kyle Show as normal.
On 1 December 2014, the Lorraine studio was used for Phillip Schofield's 24 Hour TV Marathon for Text Santa. The main furniture was removed and replaced with a red sofa in the far corner, where the table and chairs would normally be.
On 4 August 2015, the fire alarm went off again, ending Good Morning Britain early, and the first 15 minutes of Lorraine was replaced by highlights of the 30 years in Breakfast television edition of the programme.
On 5 September 2016, coinciding with the return of Kelly, the set had a few minor changes. The fashion, showbiz and performance area had a new larger screen installed, replacing the existing smaller ones. In the top right of the set, a '70's style light in the shape of the logo was introduced, and was also used in the opening and closing of the show. And a few minor changes to the graphic were also introduced.
Logos
The programme has had five different logos since it began airing in 2010.
''Lorraine'' logos gallery
References
Lorraine (TV programme) Wikipedia
(Text) CC BY-SA