The story is a heist film involving a self-confident young card sharp who loses £500,000 to a powerful crime lord in a rigged game of three card brag. To pay off his debts, he and his friends decide to rob a small-time gang who happen to be operating out of the flat next door.
The film brought Ritchie international acclaim and introduced actors Jones, a former Wales international footballer, and Statham, a former diver, to worldwide audiences. Based on a $1.35 million budget, the film had a box office gross of over $28 million, making it a commercial success.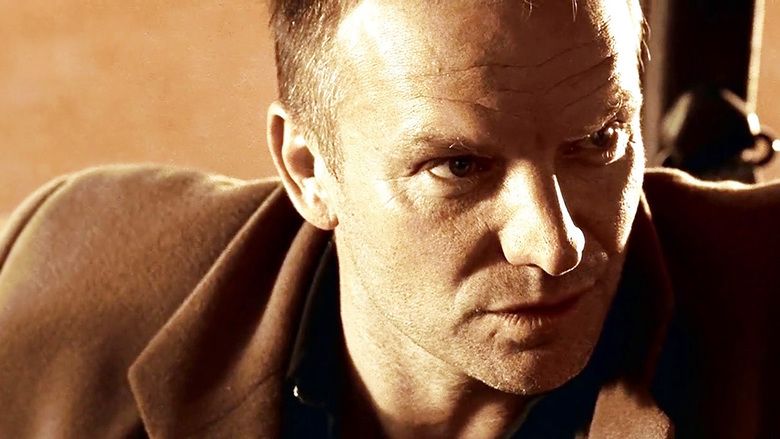 Long-time friends and small-time criminals Eddy, Tom, Soap, and Bacon put together £100,000 so that Eddy, a genius card shark, can buy into one of "Hatchet" Harry Lonsdale's weekly high-stakes three card brag games. The game is rigged however, and the friends end up massively indebted to Harry, who fully expects them not to be able to come up with the money before the deadline he gives them. He has his sights set on Eddy's father's bar as repayment, and sets his debt collector Big Chris (who is often accompanied by his beloved son, Little Chris) to work in order to ensure that some form of payment is coming up.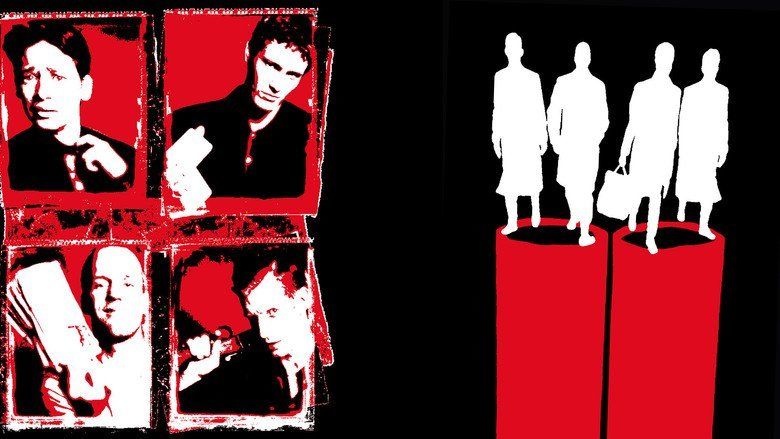 Harry also has his sights set on a couple of antique shotguns up for auction, and gets his enforcer Barry "the Baptist" to hire a couple of thieves, Gary and Dean, to steal them from a private home. The two turn out to be highly incompetent and unwittingly sell the shotguns to Nick "the Greek", a local fence. After learning this, an enraged Barry threatens the two into getting the guns back.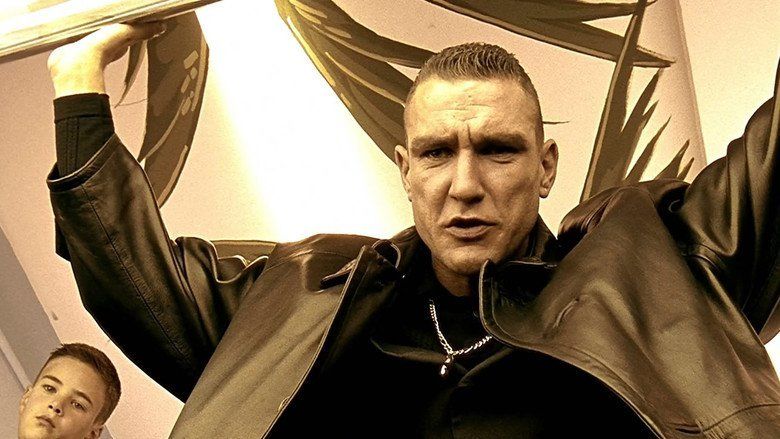 Eddy returns home and overhears his neighbours, a gang of robbers led by a brutal man called Dog, planning a heist on some cannabis growers supposedly loaded with cash and drugs. Eddy relays this information to the group, intending for them to rob the neighbours as they come back from their heist. In preparation for the robbery, Tom buys the antique shotguns from Nick the Greek.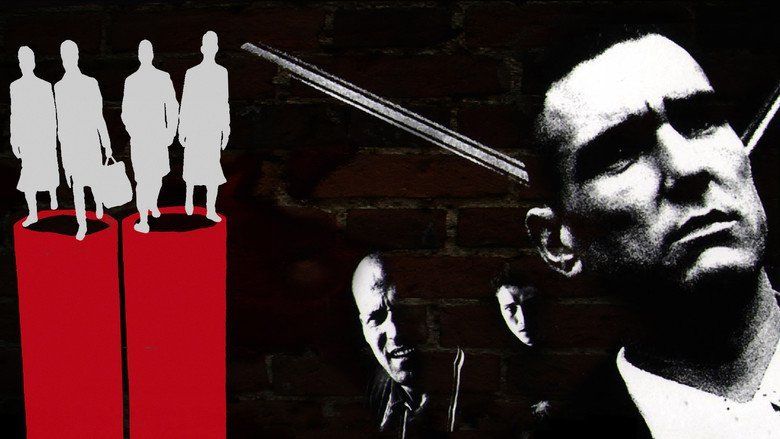 The neighbours' heist gets under way; despite a gang member being killed by his own Bren Gun, and an incriminating encounter with a traffic warden, the job is a success and they return home with a duffle bag filled with money and a van filled with bags of marijuana. The success is short-lived however, as they get robbed by Eddy and friends before they've even unloaded their cargo. Eddy's group decide to keep the money and, with the help of Nick the Greek, sell the drugs to Rory Breaker, a drug dealer with a reputation for violence. Rory agrees to the deal, but later learns that the drugs were stolen from people in his employ and were in fact his all along. Thinking that Eddy and his friends knowingly concocted a scheme to rob him and sell his own drugs back to him, an enraged Rory threatens Nick the Greek into giving him Eddy's address.
Eddy and his friends go out to celebrate their successful heist, and spend the night at Eddy's father's bar. Meanwhile, Dog's crew accidentally learns that their neighbors are the ones that robbed them, and set up an ambush at Eddy's flat. When Rory and his gang also arrive to exact vengeance they have a shootout with Dog's crew, resulting in the deaths of all but Dog and Winston, one of the robbed drug manufacturers. Winston leaves with the drugs; Dog leaves with the two shotguns and the money, but is waylaid by Big Chris who knocks him out and takes everything. Meanwhile, Gary and Dean, having learned who bought the shotguns and not knowing that Chris works for Harry, follow him to Harry's place. Chris delivers the money and guns to Harry, but discovers when he returns to his car that Dog is hiding inside, holding a knife to Little Chris's throat and demanding Chris recover the money. Chris calmly agrees and starts the car. Meanwhile, Gary and Dean burst into Harry's office, starting a confrontation that ends up killing both of them, and Harry and Barry as well.
Having seen the carnage at their flat, Eddy and friends arrive at Harry's to offer their apologies, but when they discover Harry's corpse they decide to take the money for themselves. Before they are able to flee the scene, Chris crashes into their car to disable Dog, and brutally bludgeons Dog to death with his car door in retaliation for threatening his son (who is shown to be unharmed). He then takes the debt money back from the unconscious friends, but allows Tom to leave with the antique shotguns, after a brief standoff in Harry's office.
The friends are arrested, but declared innocent after the traffic warden identifies Dog's dead crew as the prime suspects. Back at the bar, they send Tom out to get rid of the last piece of evidence connecting them to the case: the antique shotguns. Meanwhile, Chris arrives to give the friends back the duffel bag. He has taken all the money for himself and his son, and the bag is empty except for a catalogue of antique weapons. After leafing through the catalogue, the friends learn that the shotguns are actually quite valuable, and quickly call Tom. The film ends with Tom's mobile phone, situated in his mouth, ringing as he hangs over the side of a bridge, preparing to drop the shotguns into the River Thames, ending on a cliffhanger.
The soundtrack to the film was released in 1998 in the United Kingdom by Island Records. Madonna's Maverick Records label released the soundtrack in the United States in 1999 but omitted nine tracks from the UK release.
"Hundred Mile High City" by Ocean Colour Scene
"It's a Deal, It's a Steal" by Tom, Nick & Ed*
"The Boss" by James Brown
"Truly, Madly, Deeply" by Skanga*
"Hortifuckinculturist" – Winston
"Police and Thieves" by Junior Murvin
"18 With a Bullet" by Lewis Taylor & Carleen Anderson*
"Spooky" by Dusty Springfield
"The Game" by John Murphy & David A. Hughes*
"Muppets" by Harry, Barry & Gary
"Man Machine" by Robbie Williams*
"Walk This Land" by E-Z Rollers
"Blaspheming Barry" by Barry
"I Wanna Be Your Dog" by The Stooges
"It's Kosher" by Tom & Nick
"Liar, Liar" by The Castaways*
"I've Been Shot" by Plank & Dog
"Why Did You Do It" by Stretch
"Guns 4 show, knives for a pro" by Ed & Soap
"Oh Girl" by Evil Superstars
"If the Milk Turns Sour" by John Murphy & David A. Hughes (with Rory)*
"Zorba the Greek" by John Murphy & David A. Hughes
"I'll Kill Ya" by John Murphy & David A. Hughes (with Rory)*
"The Payback" by James Brown
"Fool's Gold" by The Stone Roses*
"It's Been Emotional" by Big Chris
"18 With a Bullet" by Pete Wingfield
* Track omitted from 1999 US release.
Release history
The production of the film followed Guy Ritchie's single short film which preceded Lock, Stock. As stated in filmscouts.com:
Although it was Ritchie's first feature, his previous short film The Hard Case, was sufficiently impressive to secure interest not only from financial backers but also persuaded Sting to take the role of JD. "I'd seen Guy's short film and was excited by the pace and energy in it. The way in which he handles violence and action appealed to me. I don't like gratuitous violence. I think it's much more chilling when it's suggested rather than graphic." For Ritchie, getting exactly the right actor for each role was essential. "The casting took forever and we auditioned hundreds of people, but I was determined to hold out until we got the real McCoy." This led to employing several genuine ex-cons, who certainly invest the film with its menacing undertones. Ritchie also looked to the celebrity arena to secure the right cast such as Vinne Jones. "I didn't hesitate in casting Vinnie as I have the most incredible respect for his acting capabilities."
A one-hour documentary of the production of the film was released featuring much of the cast along with Ritchie.
The film was released on 28 August 1998 in the United Kingdom, and on 5 March 1999 in the United States. Its total gross in the US was $3,753,929.
John Ferguson, writing for the Radio Times, called the film "the best British crime movie since The Long Good Friday". The film has ratings of 76% on Rotten Tomatoes and 66 on Metacritic.
The film was nominated for a British Academy Film Award in 1998 for the outstanding British Film of the Year. In 2000, Ritchie won an Edgar Award from the Mystery Writers of America for Best Motion Picture Screenplay. In 2004, Total Film named it the 38th greatest British film of all time.
Focus Features released the Locked n' Loaded Director's Cut in 2006. This version of the film contains more of each of the characters' backstories, and runs at a total time of 120 minutes.