Crosses

Creeks




Trough construction

Rocks




Width

over 1.5 meters




Material

Living trees roots




Total length

over 50 meters




Load limit

upto 500 people







Similar

Nohkalikai Falls, Umiam Lake, Khasi Hills, Elephant Falls, Daiñthlen Falls
Living root bridges of meghalaya omg yeh mera india
Living root bridges are a form of tree shaping common in the southern part of the Northeast Indian state of Meghalaya. They are handmade from the aerial roots of Rubber Trees ( Ficus elastica ) by the Khasi and Jaintia peoples of the mountainous terrain along the southern part of the Shillong Plateau.
Contents
The pliable tree roots are made to grow through betel tree trunks which have been placed across rivers and streams until the figs' roots attach themselves to the other side. Sticks, stones, and other objects are used to stabilize the growing bridge This process can take up to 15 years to complete. The useful lifespan of any given living root bridge is variable, but it is thought that, under ideal conditions, they can in principle last for many hundreds of years. As long as the tree they are formed from remains healthy, they naturally self-renew and self-strengthen as their component roots grow thicker.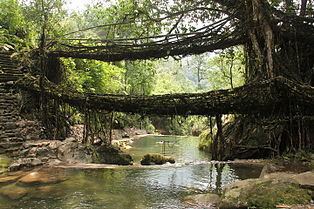 Spectacular waterfalls living root bridges in cherrapunji meghalaya india
Locations of living root bridges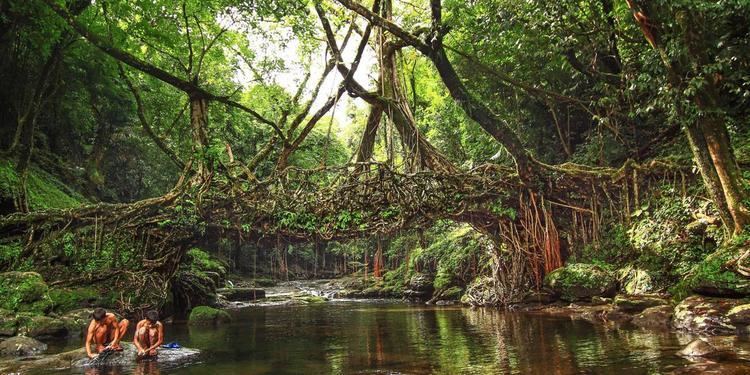 Living root bridges are known to occur in the West Jaintia Hills district and East Khasi Hills district. In the Jaintia Hills, examples of Living Root Bridges can be found in and around the villages of Shnongpdeng, Nongbareh, Khonglah, Padu, and Kudeng Rim. In the East Khasi Hills, living root bridges nearby Cherrapunji are known to exist in and around the villages of Tynrong, Mynteng, Nongriat, Nongthymmai, and around Laitkynsew. East of Cherrapunji, examples of living root bridges are known to exist in the Khatarshnong region, in and around the villages of Nongpriang, Sohkynduh, Rymmai, Mawshuit, and Kongthong. Many more can be found near Pynursla and around the village of Mawlynnong.
History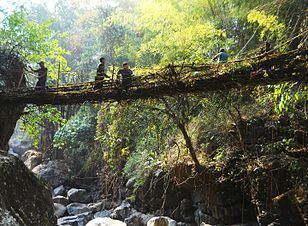 The local Khasi people do not know when or how the tradition of living root bridges started. The earliest written record of Cherrapunji's living root bridges is by Lieutenant H Yule, who expressed astonishment about them in the 1844 Journal of the Asiatic Society of Bengal.
Examples of living root bridges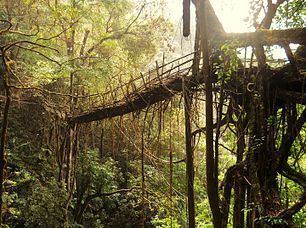 At over 50 meters in length, the longest known example of a living root bridge is near the small Khasi town of Pynursla, India. It can be accessed from either of the villages of Mawkyrnot or Rangthylliang.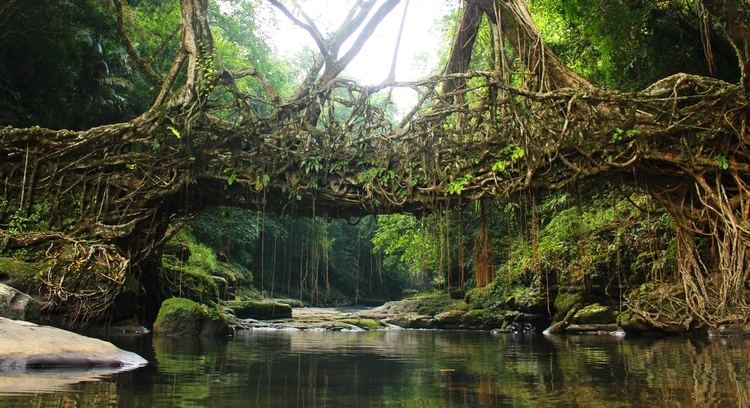 There are several examples of double living root bridges, the most famous being the "Double Decker" root bridge of Nongriat Village, pictured above.
There are three known examples of double bridges with two parallel or nearly parallel spans. Two are in the West Jaintia Hills near the villages of Padu and Nongbareh, and one is in Burma Village, in the East Khasi Hills. There is also a "Double Decker" (or possibly even "Triple Decker") near the village of Rangthylliang, close to Pynursla.
Other examples of living root architecture in Meghalaya
The War Khasis and War Jaintias also make several other kinds of structures out of the aerial roots of rubber trees. These include ladders and platforms. For example, in the village of Kudeng Rim in the West Jaintia Hills, a rubber tree situated next to a football field has been modified so that its branches can serve as "Living Root Bleachers." Aerial roots of the tree have been interwoven in the spaces between several branches so that platforms have been created from which villagers can watch football games.
References
Living root bridges Wikipedia
(Text) CC BY-SA