Created by

John Lasseter


Nickname(s)

Stickers




Creator

John Lasseter


First appearance

Cars (2006)


Full name

Lightning McQueen




Gender

Male




Species

Stock car racing


Played by

Owen Wilson, Sakis Rouvas





Voiced by

Owen Wilson (Cars, Mater and the Ghostlight, Cars: The Video Game, Cars 2, Cars Toons: Tales from Radiator Springs and Cars 3)Keith Ferguson (Cars Toons: Mater's Tall Tales, Cars Mater-National Championship, Cars Race-O-Rama, Cars 2: The Video Game, and Cars Toons: Tales from Radiator Springs)


Occupation

Piston Cup Racer (in Cars and in Cars 3), World Grand Prix racer (in Cars 2) and Mater's best friend


Significant other

Sally Carrera (girlfriend)


Movies

Cars, Cars 2, Cars 3, Tokyo Mater, Mater and the Ghostlight




Similar

Mater, Spider‑Man, Chick Hicks, Francesco Bernoulli, Sally Carrera
Cars movie character lightning mcqueen best friend from mater cut from full gameplay
Lightning McQueen, typically referred to by his surname McQueen, is an anthropomorphic stock car in the animated Pixar film Cars (2006), its sequels Cars 2 (2011), Cars 3 (2017), and TV shorts known as Cars Toons. The character is not named after actor and race driver Steve McQueen, but actually Pixar animator Glenn McQueen, who died in 2002. He is based on a Chevrolet Corvette (C6), which is why late in the original film, during the scene where he helps restore the town to its 50's heyday, he is painted much like the 50's Chevrolet Corvette C1. His number was originally set to be 57, Lasseter's birth year, but was changed to 95, the release year of Pixar's first film Toy Story.
Contents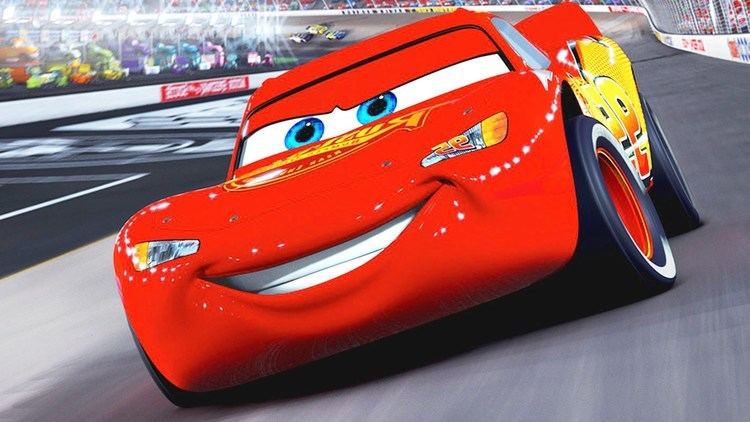 Cars paint your own lightning mcqueen disney pixar film movie character
Characterization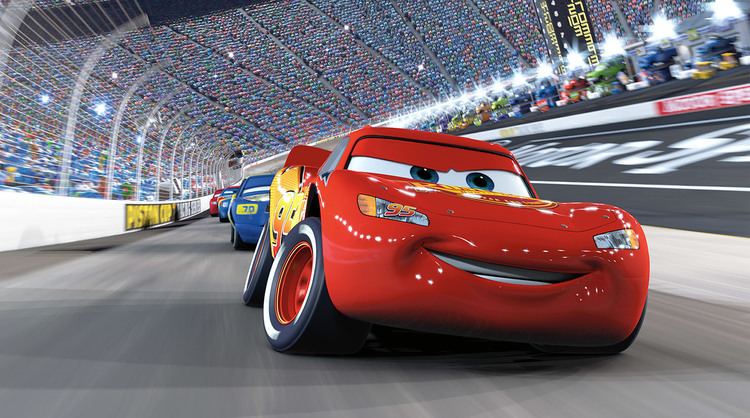 During the initial research for the first film, John Lasseter met with General Motors designers to discuss the new Corvette design but subsequent changes to the storyline left both Lightning McQueen and rival Chick Hicks and Jackson Storm as generic.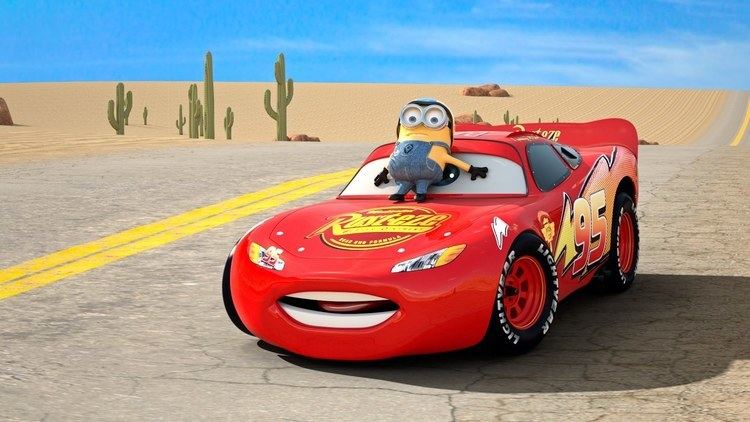 "He's the new rookie/veteran, he's sexy, he's fast, he's different. So he's invented. We took the best of our favourite things, from GT40s to Chargers… just sketching them out, we came up with what McQueen looks like."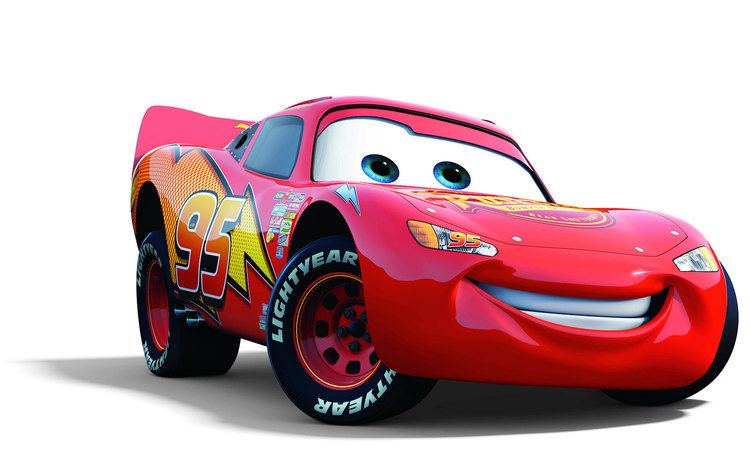 In order to create a cocky but likable character for McQueen, Pixar looked at sports figures like boxer Muhammad Ali, basketball player Charles Barkley, and football quarterback Joe Namath, as well as popular musician Kid Rock.
"For the other race cars, we looked at how race cars drive. For McQueen, we looked at surfers and snowboarders and Michael Jordan, these truly great athletes and the beauty of how they move. You watch Jordan in his heyday against every other player, he's playing a different game. We wanted to have that same type of feeling, so that when they're talking about 'the rookie/veteran sensation,' you're seeing that he is really gifted."
The end result is a character which, despite the usually-meticulous approach to "truth to material" in which each car's animation is mechanically consistent with its respective model's capabilities, can occasionally bend the rules to move more like an athlete than a motorcar.
He is voiced by actor Owen Wilson in Cars, Cars 2, Cars 3, Mater and the Ghostlight, the Cars video game and the Cars Toon The Radiator Springs 500 ½, as well as Keith Ferguson in most of the Cars Toons, Cars Mater-National Championship, and Cars Race-O-Rama.
In the original film, Lightning is one of the three contestants in a Piston Cup tiebreaker race before an audience of "more than two hundred thousand cars" in Los Angeles, California. It is revealed in Cars 2 that he won the Piston Cup from 2007-2010.
Lightning appears in Kinect Rush: A Disney/Pixar Adventure.
Cars
Lightning McQueen is a racer participating in the Piston Cup. Lightning is sponsored by Rust-eze Medicated Bumper Ointment, which uses the catchphrase, "With Just a Little Rust-eze, you can look like Lightning McQueen!" However, he secretly disdains Rust-eze and hopes to be chosen for sponsorship by the much more glamorous and successful Dinoco oil company. He is certain Dinoco will offer to sponsor him if he wins the prized Piston Cup.
At the beginning of the film, Lightning is portrayed as being ungrateful, obnoxious, selfish, and sarcastic. It is noted that he previously fired three crew chiefs. During a pit stop, he foolishly refuses the advice of his pit crew to replace his tires because he wants to remain in the lead. As a result, both rear tires blow out on the last lap. He narrowly avoids losing the race when he sticks his tongue out, leading to a three-way tie with Strip "The King" Weathers and Chick Hicks. He subsequently insults his pit crew, leading them to furiously and suddenly resign.
Preparing to leave for California for a tie-breaker race, McQueen begins to realize he has no true friends. On route, he selfishly forces his transport truck, Mack, to drive through the night so they can reach California before their competitors. McQueen quickly falls asleep, breaking his promise to stay awake with Mack. In turn, Mack falls asleep while driving. After an unfortunate encounter with a quartet of tuner cars, McQueen becomes separated from Mack and ends up in Radiator Springs, a forgotten town along U.S. Route 66, where he is soon arrested and impounded.
In Radiator Springs, McQueen initially resumes his ungrateful, obnoxious, selfish, and sarcastic ways. He is sentenced by bitter local judge Doc Hudson to repair a road that he damaged, but instead he attempts escape. He is quickly recaptured and eventually fixes the road in order to regain his freedom. He doesn't do it properly at first, but to take a break, he tries to accept help from Doc, but blows him off. In the process, McQueen learns about the history of Radiator Springs and begins to relate to its inhabitants. A tow truck named Mater befriends him and he falls in love with a sports car named Sally Carrera. He also learns old racing moves from Doc, who is revealed to be a former Piston Cup champion whose racing career was cut short by a serious crash. After fixing the road, and staying there, McQueen is free to leave Radiator Springs and resume his journey to California. However, he selflessly delays his departure to show appreciation for his new friends by performing good deeds. During his time at Radiator Springs, McQueen's personality slowly begins to change. He begins to care about others rather than just himself and no longer disrespects them. He also isn't as cocky as he once was while on the race track.
During the tie-breaker race in California, McQueen is unable to stop thinking of Radiator Springs and his new friends, causing him to lose focus. Soon, he is surprised to see that Doc Hudson and some of his friends have followed him and taken on the role of his pit crew. Inspired by words of encouragement from Doc, McQueen races with renewed confidence. When Hicks attempts to knock him off course, he recovers by proudly performing moves he learned from Doc and Mater back in Radiator Springs.
During the final lap, the Piston Cup is clearly within McQueen's grasp. Hicks, realizing he is about to finish in last place, forces Weathers to crash. On the track's Jumbotron, McQueen witnesses the crash behind him, which is reminiscent of the crash that ended Doc's career many years before. In order to help Weathers, McQueen stops before reaching the finish line, essentially forfeiting the win. McQueen is praised for his selfless sportsmanship, so much so that Dinoco Race Team owner Tex offers to hire him to succeed Weathers. McQueen declines, realizing that he should stay with his Rust-eze sponsors in appreciation for their giving him his big break. Tex respects his decision and instead offers to do him a favor. McQueen uses the favor to gain a ride on the Dinoco helicopter for Mater, fulfilling Mater's dream.
McQueen returns to Radiator Springs to establish his racing headquarters, putting the town back on the map and bringing success to all his friends. He resumes his relationship with Sally and becomes Hudson's pupil.
Cars video game
In the Cars video game, written by Pixar and considered a continuation to the story started in the movie, Lightning McQueen finds himself at the start of the next Piston Cup season. With the help of the citizens of Radiator Springs, McQueen readies to start his quest for the Piston Cup, taking lessons in powersliding from Doc, boosting from Fillmore, and racing backwards from Mater. With his new skills, Lightning once again makes a championship run in the Piston Cup, much to the irritation of Chick Hicks.
Fearing his title is in jeopardy, Chick enlists the assistance of The Delinquent Road Hazards - DJ, Boost, Wingo, and Snot Rod — the same rowdy cars who detoured McQueen to Radiator Springs, to hijack McQueen's racing gear from Mack on Interstate 40. Lightning is able to retrieve his equipment and bring the delinquents to justice before winning the next race, which sends Chick into a frenzy. Lightning challenges Chick to a Grand Prix in Radiator Springs, followed by one more Piston Cup race in L.A.. Lightning wins these events, taking the Piston Cup in his sophomore season.
At the end, Lightning, Mater, and Sally decide to take a celebratory trip across the country. When asked if he brought his trophy, Lightning notes he did not, but left it in a good place, revealed to be at Doc Hudson's clinic next to the racing legend's own three Piston Cups.
Though Lightning McQueen is still sponsored by Rust-eze, players are able to unlock McQueen with a Dinoco paint job while playing as him in Story Mode, Arcade Mode, and VS. Mode.
Cars 2
Several years after the events in the first film, Lightning McQueen, now a four-time Piston Cup champion, returns to Radiator Springs after a successful racing season. He is pleased to renew his friendship with Mater. McQueen's respite is interrupted when he is recruited to participate in the first ever World Grand Prix, sponsored by former oil tycoon Miles Axelrod to promote his new biofuel, Allinol. McQueen initially declines but is publicly taunted by Grand Prix race car Francesco Bernoulli. Mater intervenes to defend McQueen, leading him to reconsider and join the race. Mater hopes to tag along on the tour and, despite concerns about Mater's meddling behavior, McQueen reluctantly agrees.
In Tokyo at a pre-race party, Lightning is embarrassed by Mater's antics and he begins to regret bringing him along. Soon after, Mater unwittingly gets caught up in a spy mission with Finn McMissile and Holley Shiftwell. This leads to more antics during the first race, which Lightning initially dominates. However, a miscommunication by Mater ultimately costs him the race. Angered, McQueen confronts Mater and tells him that he doesn't need his help.
Feeling hurt, Mater decides to head back home, leaving a heart-felt apology for McQueen, leaving McQueen feeling bad for being too harsh. On the way home, Mater ends up involved in the spy mission once again. Meanwhile, the World Grand Prix moves on to Italy, however, McQueen is too depressed to enjoy it since his fight with Mater. There, McQueen comes to understand even the best of friends will argue every now and then, and he is inspired to patch up his friendship with Mater.
McQueen wins the second race in Porto Corsa, Italy, though many cars end up damaged. Through his spy mission, Mater learns an unidentified criminal mastermind is sabotaging the cars. An unknowing public begins to question whether Allinol is to blame, since the fuel is one common thing being used by all of the cars. In response, Axelrod decides to remove Allinol from the final race, allowing the cars to choose their own fuel. McQueen elects to continue with Allinol based on advice from his friend and pit crew member Fillmore. (Unbeknownst to McQueen, his fuel had already been replaced with Fillmore's bio-fuel.) The mastermind orders Professor Zündapp (Professor Z) to seize the opportunity and have McQueen killed so that Allinol will be blamed. Mater overhears the order and tries to warn McQueen, but is unable to do so before being captured and rendered unconscious.
During the third and final race in London, Mater escapes and resumes his attempt to warn McQueen. At McQueen's pit, Mater learns the mastermind planted a bomb in his engine compartment while he was unconscious and it will be detonated when McQueen comes near, killing them both. McQueen sees Mater and approaches him, hoping to deliver his apology. Mater speeds away in order to avoid killing McQueen. McQueen pursues him, thinking that Mater is fleeing out of guilt. Soon they are out of range of the detonator's remote control. After stopping, McQueen finally realizes the spy mission was real after Shiftwell and McMissile appear with a captured Zündapp. Zündapp reveals that only the mastermind can deactivate Mater's bomb. Mater alone pieces together the final clues and identifies the mastermind as Miles Axelrod. This makes sense to no one else until Mater explains that Axelrod wanted to give alternative energy a bad name because he owns the largest untapped oil reserves in the world. Mater managed to prove this by personally forcing Axelrod to disarm the bomb in person, which made McQueen and the others realize that Axelrod was indeed the true mastermind all the time.
Following the arrest of Axelrod and his cohorts, it was revealed that Allinol was actually gasoline engineered by Axelrod as part of his plan to discredit alternative energy just as Mater suspected, and that McQueen's Allinol supply was switched with Fillmore's organic fuel by Sarge, which would explain how McQueen managed to avoid being struck by the radiation. Being so amazed to see that Mater actually foiled a world criminal conspiracy with his own wits, McQueen happily declares that Mater can come to all races from now on if he likes, much to Mater's delight. McQueen also witnessed Mater's knighting by the Queen in honor for his actions.
Back in Radiator Springs, the competitors assemble in a show of sportsmanship for a race with nothing at stake. The film ends with Lightning taking first place during the Radiator Springs Grand Prix, joined by Mater thanks to new rocket boosters he was given by Finn and Holley.
Lightning's paint scheme is nearly the same as it was in the first movie (his large lightning bolt is repainted dark red, and a smaller bolt is threaded through his number), though it is modified for the World Grand Prix with green-tinted flames on the end of his large bolt and a Piston Cup logo on the hood instead of his usual Rust-Eze Medicated Bumper Ointment With Rear End Formula sponsor. His reflective lightning decals are removed, he has a different spoiler, and his sticker headlights and taillights are replaced with actual working lights.
Cars 3
The story starts out with Lightning Mcqueen racing in the Piston Cup while pitted against new generation rookies, mainly Jackson Storm, his racing rival. However, Storm picks up many victories throughout the season, and later on, Lightning gets himself into a serious crash, with Sally, Mater, Sarge, Fillmore, Luigi and Guido, all watching in horror during the final race of the season in Los Angeles. The outcome is Lightning being forced out from his racing career in order to recover from the injury that he sustained. In the aftermath, he is fixed and told by Smokey (Doc Hudson's old mechanic) that he will never be the racer he once was, that he can't race faster, but he can race smarter and that he can't turn back the clock, but he can wind it up again. The film's premise revolves around Lightning recovering from the crash and being trained by Cruz Ramirez, a lifelong fan of Lightning, during the off season in hopes of returning to his racing career. His main motivation to return to racing is to be able to enter the Florida 500 race and defeat Storm. He reverts to the body type he had back in first film, but the paint job features a cross between the lightning bolts seen in the first film and the flames seen in the second film. The new trailer also teases a second paint scheme during his crash, a third "training" paint job in which he is half red and half yellow, and a fourth "demolition derby" paint job in which he is all mud brown and numbered 15. He also keeps his working lights.
References
Lightning McQueen Wikipedia
(Text) CC BY-SA