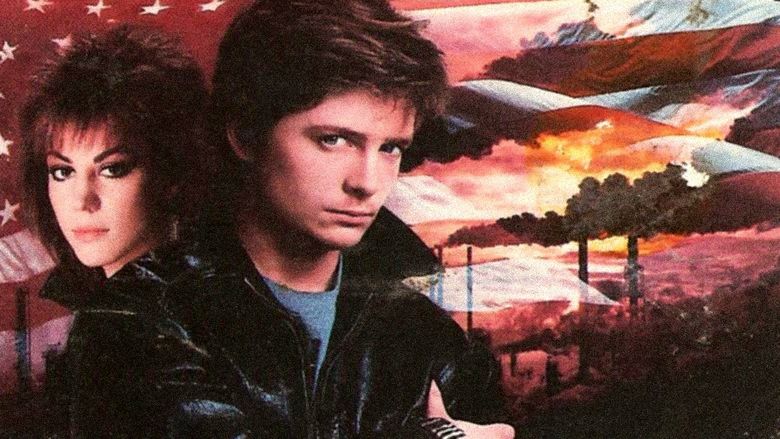 Fox and Jett play a brother and sister who are lead performers in a rock band, The Barbusters, in Cleveland, Ohio. The sister, Patti Rasnick, is an unmarried mother and has a troubled relationship with her own mother, who is deeply religious. Estranged from her parents and struggling to make ends meet, Patti decides to dive headlong into a carefree rock music lifestyle. The brother, Joe Rasnick, pulls away from rock music to provide some stability for his young nephew. It takes a family crisis to bring Patti back home and force her to face the past with her mother.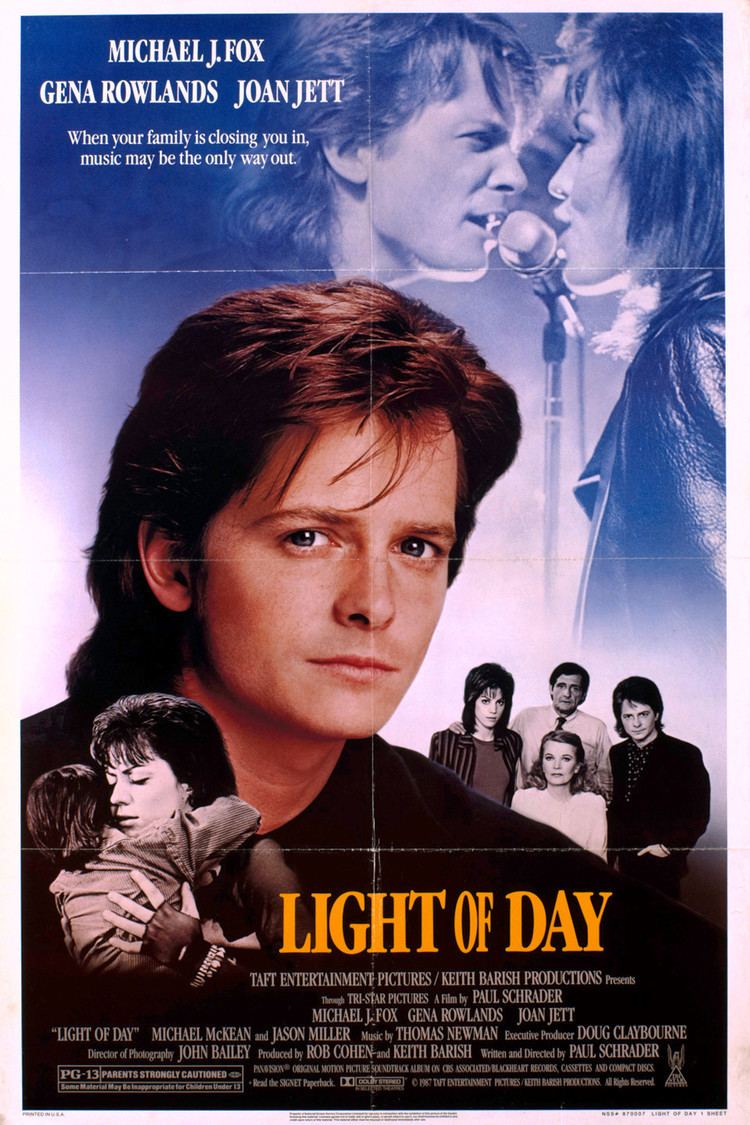 Michael J. Fox as Joe Rasnick
Gena Rowlands as Jeanette Rasnick
Joan Jett as Patti Rasnick
Michael McKean as Bu Montgomery
Thomas G. Waites as Smittie
Cherry Jones as Cindy Montgomery
Michael Dolan as Gene Bodine
Billy L. Sullivan as Benji Rasnick
Jason Miller as Benjamin Rasnick
Tom Irwin as Reverend Ansley
Michael Rooker as Oogie
The film was shot on location in Chicago, Illinois; Maywood, Illinois; Berwyn, Illinois; Blue Island, Illinois; Lincolnwood, Illinois; Hammond, Indiana and Cleveland, Ohio.
The film is best known as the first real attempt for Fox to take on more serious film roles after establishing himself as a comedic star. Light of Day is one of the very few projects where Fox has smoked in front of the camera; although a chain smoker, he avoided being photographed with a cigarette out of fear that it would encourage smoking.
Former 1984 Miss Teen USA Cherise Haugen had a small role as the girl that Fox's character brings home as a one-night stand. A young Trent Reznor appears, with other members of Exotic Birds in the film as a member of fictional band The Problems as well as local teen band, The Pelicans, as The Bubblegummers.
Bruce Springsteen wrote and composed the song "Light of Day" specifically for the film; Joan Jett performed the song for the film's soundtrack. Schrader's original working title for the film was Born in the USA. He showed the script to Springsteen to make sure he got the details right about a blue-collar bar band. Springsteen ended up using the title for a song he had been writing about a Vietnam veteran, and as a result, the Barbusters's signature song, which he provided, gave the film its eventual title. Starting from the late 1980s and during the 1990s, Springsteen himself used the song to close his concerts.
Schrader has expressed dissatisfaction with Light of Day, particularly its plain visual style: "I had progressed from being a person with a literary vision to a person with a visual vision, and in that film I tried to... suppress my new literacy," and the casting of Joan Jett: "it's a good performance, but... that piece of casting just did not work."
In a review for the Chicago Sun-Times, critic Roger Ebert gave the film three-and-a-half out of four stars and called it the "most direct and painful statement" of a theme explored in Schrader's previous films—"wildly different characters with one thing in common: Their pasts keep them imprisoned, and shut them off from happiness in the present." Ebert found Rowlands' acting "powerfully, heartbreakingly effective" and said that Jett matches to Rowlands' inspiration in "the most surprisingly good performance."
Janet Maslin of The New York Times wrote "Bruce Springsteen wrote the rousing title song and reportedly took the phrase "Born in the U.S.A." from an earlier draft of Mr. Schrader's screenplay. It's possible, even from the finished film, to see what he and Mr. Schrader might share. One of the monologues included on Mr. Springsteen's recent live album describes his boyhood dream of becoming a rock-and-roller and proving something to his family, to himself, to the world; those ambitions are described in terms of musical triumph, not money or fame. "Light of Day" wants to embody a similar dream, but it pulls its punches. Mr. Schrader may have started out to make a film about the fiercest, most incorruptible stirrings of young talent. But he wound up making a soap opera along the way."
The soundtrack to the film was released in 1987. As a single, "Light of Day" reached number 33 on the Billboard Hot 100 and received additional album-oriented rock airplay due to the connection of Joan Jett and Bruce Springsteen. "The Barbusters" is the name of Jett's band in the film.
"Light of Day" (Bruce Springsteen) – The Barbusters
"This Means War" (Joan Jett, Bob Halligan, Jr., Kenny Laguna) – The Barbusters
"Twist It Off" (Jimmie Vaughan, Kim Wilson, Fran Christina, Preston Hubbard) – The Fabulous Thunderbirds
"Cleveland Rocks" (Ian Hunter) – Ian Hunter
"Stay with Me Tonight" (Dave Edmunds, John David) – Dave Edmunds
"It's All Coming Down Tonight" (Frankie Miller, Andy Fraser) – The Barbusters
"Rude Mood" (Stevie Ray Vaughan) – The Barbusters
"Only Lonely" (Jon Bon Jovi, David Bryan) – Bon Jovi
"Rabbit's Got the Gun" (Joan Jett, Kenny Laguna) – The Hunzz (credited as 'Joined Forces' on the cassette sleeve)
"You Got No Place to Go" (Michael J. Fox, Alan Mark Poul) – Michael J. Fox
"Elegy" (Thomas Newman) - Rick Cox, Chas Smith, Jon C. Clarke and Michael Boddicker