Years active

1993–present

Parents

Gloria Doig, David Doig




Full Name

Alexandra Lecciones Doig

Born

June 8, 1973 (age 42) (

1973-06-08

)

Children

Samuel David Shanks, Mia Tabitha Shanks

Movies and TV shows




Similar People

Michael Shanks

, Lisa Ryder, Luvia Petersen, Rachel Nichols, Roger Cross
Lexa doig interview continuum stargate
Alexandra Lecciones "Lexa" Doig (born June 8, 1973) is a Canadian actress. She portrayed the title role in the 2000–05 Canadian-American science fiction-adventure television series Andromeda. She also portrayed the female lead role of Rowan in the science fiction-horror movie Jason X (2001), the 10th installment of the Friday the 13th film series.
Contents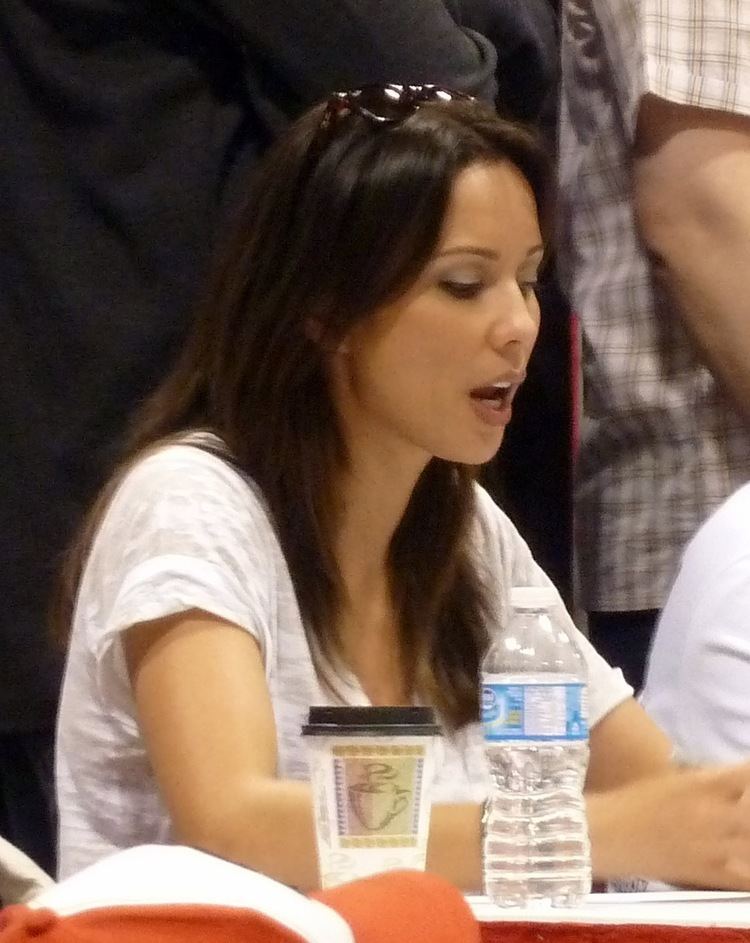 Michael shanks and lexa doig on et canada
Early life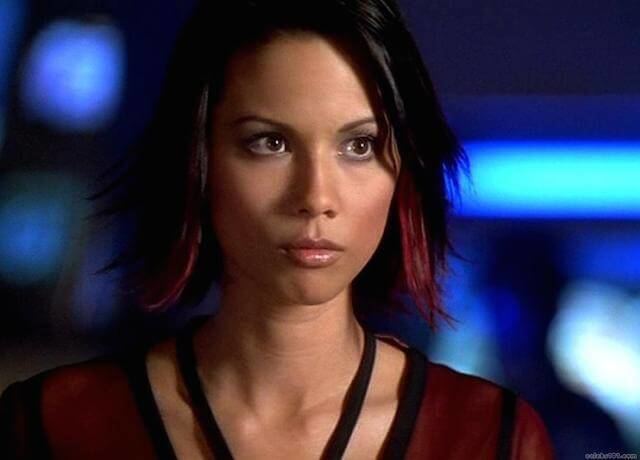 Doig was born in Toronto, Ontario, Canada. She is the younger child of Gloria B. Lecciones and David W. Doig. Her mother is a registered nurse who originally came from Dumaguete City, Philippines, and her father is a Canadian engineer of Scottish and Irish ancestry who was a petroleum executive officer in Toronto.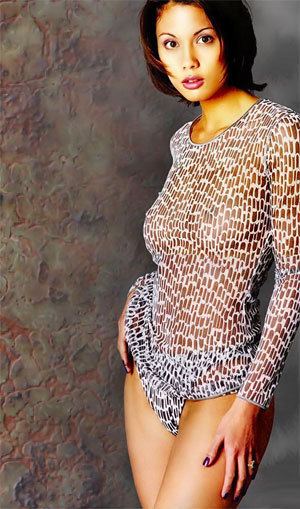 As a child, Doig studied rhythmic gymnastics and, as a teenager, she studied American Sign Language. She developed a strong interest in acting and became inspired to become an actor at age 9 after she watched a theatre production of Porgy and Bess, an opera by George Gershwin.
Early modeling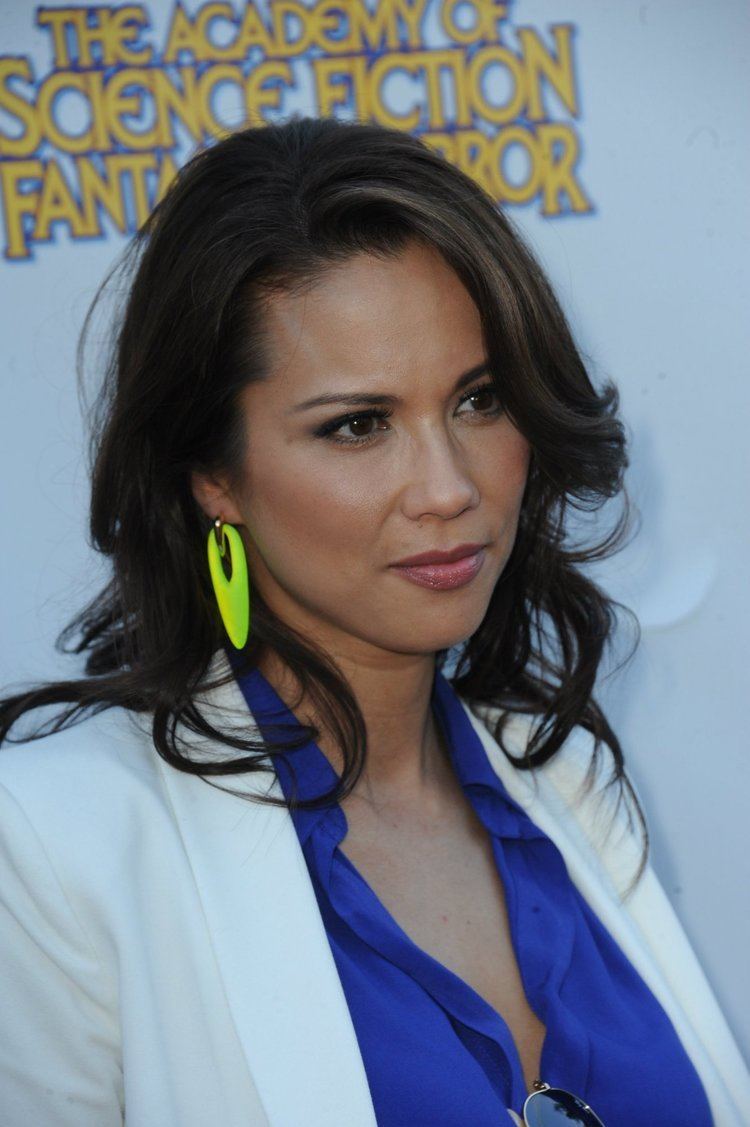 While completing compulsory secondary education at Don Mills Collegiate Institute, she also enrolled in a vocational modelling program where at age 16, she was immediately offered representation by a talent agent and booked in various modelling projects. She chose to drop out from her final year in high school to pursue an acting career as occupation.
The initial media exposure led to her co-hosting the Canadian game show Video & Arcade Top 10 (1991–2006). While auditioning for television and film roles, she worked on theatre productions of Romeo and Juliet and Arsenic and Old Lace.
Acting
Her first television acting role was as "Second Girl" on The Hidden Room in 1993. Her first recurring role was in the TV series TekWar in 1994 where she portrayed the role of Cowgirl. Her first movie role was in Jungleground (1995). Doig got her first big break with a starring role in the movie No Alibi in 2000. She also landed the title role in Gene Roddenberry's sci-fi TV series Andromeda where, from 2000 to 2005, she portrayed the Andromeda Ascendant ship's computer in three dimensions — as the ship's powerful AI (artificial intelligence) on the system's screen, as the AI's hologram, and as Rommie, the android avatar of the AI.
In 2001, she played the female lead role of "Dr. Rowan LaFontaine" in the horror film Jason X, the 10th installment of the Friday the 13th film series. In a recurring role as Dr. Carolyn Lam, Doig appeared in 11 episodes of the ninth and tenth seasons of Stargate SG-1 between 2005–2007. In 2010, Doig appeared in six episodes in the remake of V as the alien physician Dr. Leah Pearlman. In 2012, she began playing the role of Liber8 terrorist Sonya Valentine in the Canadian science fiction TV series Continuum.
In 2017, Doig appears in a recurring role in the fifth season of Arrow as Talia al Ghul, and portrays Deann Anderson, one of the main roles in The Arrangement
Personal life
Lexa Doig dated actor Michael Shanks after they met on the set of Andromeda, where the former starred and the latter guest-starred in the 2001 episode "Star Crossed." They married on August 2, 2003, and they worked together again in the 2003 episode "Day of Judgment, Day of Wrath" of the same TV series. The couple were castmates in the final two seasons of Stargate SG-1. They worked together in the action thriller Tactical Force (2011), in which Doig portrayed a female LAPD SWAT officer and Shanks played the role of a Russian mob leader. They have two children, a son and a daughter, in addition to Shanks' child from a previous relationship.
Charity
Doig and Shanks are actively involved as charity fundraising partners for the Multiple Sclerosis Society of Canada.
Filmography
Actress
2023
The Power (TV Series)
as
Dr. Natasha Bulan
- A New Organ (2023) - Dr. Natasha Bulan
2019
Virgin River (TV Series)
as
Paige Lassiter
- The Long Goodbye (2022) - Paige Lassiter
- Once Again (2022) - Paige Lassiter
- Fire and Rain (2022) - Paige Lassiter
- Taken by Surprise (2020) - Paige Lassiter
- New Beginnings (2020) - Paige Lassiter
- Into the Light (2019) - Paige Lassiter
- If Truth Be Told (2019) - Paige Lassiter
- Let's Mingle (2019) - Paige Lassiter
- A Wounded Heart (2019) - Paige Lassiter
- -and Found (2019) - Paige Lassiter
- Lost (2019) - Paige Lassiter
- Carry On (2019) - Paige Lassiter
- Unexpected Endings (2019) - Paige Lassiter
- Everybody Has a Secret (2019) - Paige Lassiter
2015
Aurora Teagarden Mysteries (TV Series)
as
Sally Allison / Sally Allison
- Haunted by Murder (2022) - Sally Allison
- Til Death Do Us Part (2021) - Sally Allison
- Aurora Teagarden Mysteries: How to Con A Con (2021) - Sally Allison
- Aurora Teagarden Mysteries: Reunited and it Feels So Deadly (2020) - Sally Allison
- Aurora Teagarden Mysteries: Heist and Seek (2020) - Sally Allison
- A Very Foul Play (2019) - Sally Allison
- Aurora Teagarden Mysteries: An Inheritance to Die For (2019) - Sally Allison
- A Game of Cat and Mouse (2019) - Sally Allison
- Aurora Teagarden Mysteries: The Disappearing Game (2018) - Sally Allison
- Reap What You Sew: An Aurora Teagarden Mystery (2018) - Sally Allison
- A Bundle of Trouble: An Aurora Teagarden Mystery (2017) - Sally Allison
- Dead Over Heels: An Aurora Teagarden Mystery (2017) - Sally Allison
- The Julius House: An Aurora Teagarden Mystery (2016) - Sally Allison
- Three Bedrooms, One Corpse: An Aurora Teagarden Mystery (2016) - Sally Allison
- Real Murders: An Aurora Teagarden Mystery (2015) - Sally Allison
- Aurora Teagarden Mystery: A Bone to Pick (2015) - Sally Allison
2021
Chucky (TV Series)
as
Bree Wheeler
- Cape Queer (2021) - Bree Wheeler
- Little Little Lies (2021) - Bree Wheeler
- Just Let Go (2021) - Bree Wheeler
- I Like to Be Hugged (2021) - Bree Wheeler
- Give Me Something Good to Eat (2021) - Bree Wheeler
- Death by Misadventure (2021) - Bree Wheeler
2017
Arrow (TV Series)
as
Talia al Ghul
- Fadeout (2020) - Talia al Ghul
- Leap of Faith (2019) - Talia al Ghul
- The Demon (2018) - Talia al Ghul
- Lian Yu (2017) - Talia al Ghul
- Checkmate (2017) - Talia al Ghul
- Bratva (2017) - Talia al Ghul
- Second Chances (2017) - Talia al Ghul
- Who Are You? (2017) - Talia al Ghul
2019
Unspeakable (TV Mini Series)
as
Marlys Edwardh
- Intent (1997 - 2005) (2019) - Marlys Edwardh
- Krever (1993 - 1996) (2019) - Marlys Edwardh
2017
The Arrangement (TV Series)
as
Deann Anderson
- Suite Revenge (2018) - Deann Anderson
- Truth (2018) - Deann Anderson
- Paso Robles (2018) - Deann Anderson
- On Location (2018) - Deann Anderson
- The Break Up (2018) - Deann Anderson (credit only)
- You Are Not Alone (2018) - Deann Anderson
- Scene 23 (2018) - Deann Anderson
- The Sessions (2018) - Deann Anderson
- Surface Tension (2018) - Deann Anderson
- The Long Game (2018) - Deann Anderson
- The New Narrative (2017) - Deann Anderson
- Sins (2017) - Deann Anderson
- The Betrayal (2017) - Deann Anderson
- Trips (2017) - Deann Anderson
- Control (2017) - Deann Anderson
- Temptation (2017) - Deann Anderson
- Crashing (2017) - Deann Anderson
- The Leak (2017) - Deann Anderson
- The Ex (2017) - Deann Anderson
- Pilot (2017) - Deann Anderson
2014
Saving Hope (TV Series)
as
Dr. Selena Quintos
- Days of Heaven (2014) - Dr. Selena Quintos
- The Heartbreak Kid (2014) - Dr. Selena Quintos
- Stand by Me (2014) - Dr. Selena Quintos
2012
Continuum (TV Series)
as
Sonya Valentine
- Last Minute (2014) - Sonya Valentine (credit only)
- The Dying Minutes (2014) - Sonya Valentine
- 3 Minutes to Midnight (2014) - Sonya Valentine
- Revolutions Per Minute (2014) - Sonya Valentine
- Minute of Silence (2014) - Sonya Valentine (credit only)
- So Do Our Minutes Hasten (2014) - Sonya Valentine (credit only)
- Waning Minutes (2014) - Sonya Valentine
- Wasted Minute (2014) - Sonya Valentine
- 30 Minutes to Air (2014) - Sonya Valentine (credit only)
- Minute Changes (2014) - Sonya Valentine (credit only)
- Minute to Win It (2014) - Sonya Valentine
- Minute Man (2014) - Sonya Valentine
- Minute by Minute (2014) - Sonya Valentine (credit only)
- Second Time (2013) - Sonya Valentine
- Second Last (2013) - Sonya Valentine
- Second Guess (2013) - Sonya Valentine
- Second Wave (2013) - Sonya Valentine
- Seconds (2013) - Sonya Valentine
- Second Listen (2013) - Sonya Valentine (credit only)
- Second Degree (2013) - Sonya Valentine
- Second Truths (2013) - Sonya Valentine (credit only)
- Second Opinion (2013) - Sonya Valentine (credit only)
- Second Skin (2013) - Sonya Valentine
- Second Thoughts (2013) - Sonya Valentine
- Split Second (2013) - Sonya Valentine
- Second Chances (2013) - Sonya Valentine
- End Times (2012) - Sonya Valentine
- Family Time (2012) - Sonya Valentine
- Time's Up (2012) - Sonya Valentine
- A Test of Time (2012) - Sonya Valentine
- Matter of Time (2012) - Sonya Valentine
- Wasting Time (2012) - Sonya Valentine
- Fast Times (2012) - Sonya Valentine
- A Stitch in Time (2012) - Sonya Valentine
2012
Arctic Air (TV Series)
as
Petra Hossa
- The Fall PT.2 (2014) - Petra Hossa
- The Fall PT.1 (2014) - Petra Hossa
- The Fugitive (2014) - Petra Hossa
- On the Edge (2014) - Petra Hossa
- The Devils You Know (2014) - Petra Hossa
- The Fling (2014) - Petra Hossa
- The River (2014) - Petra Hossa
- Fool Me Once (2013) - Petra Hossa
- Blood Is Thicker Than Water (2013) - Petra Hossa
- Secrets & Lies (2013) - Petra Hossa
- Wildfire (2013) - Petra Hossa
- Drop in for Lunch (2012) - Petra Hossa
- Hijacked (2012) - Petra Hossa
- Out of a Clear Blue Sky (2012) - Petra Hossa
2013
Primeval: New World (TV Series)
as
Dr. Fridkin
- The Sound of Thunder - Pt. 2 (2013) - Dr. Fridkin
- The Sound of Thunder - Pt. 1 (2013) - Dr. Fridkin
2011
Tactical Force
as
Jannard
2011
Health Nutz (TV Series)
as
Ivonka
- Good News, Bad News (2011) - Ivonka
2010
Smallville (TV Series)
as
Dr. Christina Lamell
- Scion (2011) - Dr. Christina Lamell (scenes deleted)
- Harvest (2010) - Dr. Christina Lamell
2010
V (TV Series)
as
Dr. Leah Pearlman
- Red Sky (2010) - Dr. Leah Pearlman
- Fruition (2010) - Dr. Leah Pearlman
- Heretic's Fork (2010) - Dr. Leah Pearlman
- We Can't Win (2010) - Dr. Leah Pearlman
- Pound of Flesh (2010) - Dr. Leah Pearlman
- Welcome to the War (2010) - Dr. Leah Pearlman
2009
Supernatural (TV Series)
as
Risa
- The End (2009) - Risa
2009
Fireball (TV Movie)
as
Ava Williams
2007
Eureka (TV Series)
as
Dr. Anne Young
- Best in Faux (2008) - Dr. Anne Young
- Maneater (2007) - Dr. Anne Young
2008
The Green Film (Short)
as
The Star
2007
Second Sight (TV Movie)
as
Jenny Morris
2005
Stargate SG-1 (TV Series)
as
Dr. Carolyn Lam
- Family Ties (2007) - Dr. Carolyn Lam
- Talion (2007) - Dr. Carolyn Lam
- Ripple Effect (2006) - Dr. Carolyn Lam
- The Fourth Horseman: Part 2 (2006) - Dr. Carolyn Lam
- The Fourth Horseman: Part 1 (2005) - Dr. Carolyn Lam
- Prototype (2005) - Dr. Carolyn Lam
- Babylon (2005) - Dr. Carolyn Lam
- The Powers That Be (2005) - Dr. Carolyn Lam
- The Ties That Bind (2005) - Dr. Carolyn Lam
- Origin (2005) - Dr. Carolyn Lam
- Avalon: Part 2 (2005) - Dr. Carolyn Lam
2005
Killer Instinct (TV Series)
as
Hospital Doctor
- Forget Me Not (2005) - Hospital Doctor
2005
The 4400 (TV Series)
as
Wendy Paulson
- Hidden (2005) - Wendy Paulson
- As Fate Would Have It (2005) - Wendy Paulson
- Weight of the World (2005) - Wendy Paulson
- Voices Carry (2005) - Wendy Paulson
2000
Andromeda (TV Series)
as
Andromeda Ascendant
- The Heart of the Journey: Part 2 (2005) - Andromeda Ascendant
- The Heart of the Journey: Part 1 (2005) - Andromeda Ascendant
- Chaos and the Stillness of It (2005) - Andromeda Ascendant
- One More Day's Light (2005) - Andromeda Ascendant
- Quantum Tractate Delirium (2005) - Andromeda Ascendant
- Totaled Recall (2005) - Andromeda Ascendant
- Saving Light from a Black Sun (2005) - Andromeda Ascendant
- The Opposites of Attraction (2005) - Andromeda Ascendant
- Past Is Prolix (2005) - Andromeda Ascendant
- Moonlight Becomes You (2005) - Andromeda Ascendant
- Pride Before the Fall (2005) - Andromeda Ascendant
- Through a Glass, Darkly (2005) - Andromeda Ascendant
- The Test (2005) - Andromeda Ascendant (credit only)
- What Will Be Was Not (2004) - Andromeda Ascendant
- So Burn the Untamed Lands (2004) - Andromeda Ascendant
- Attempting Screed (2004) - Andromeda Ascendant
- When Goes Around- (2004) - Andromeda Ascendant
- The Eschatology of Our Present (2004) - Andromeda Ascendant
- Decay of the Angel (2004) - Andromeda Ascendant
- Phear Phactor Phenom (2004) - Andromeda Ascendant
- The Weight: Part 2 (2004) - Andromeda Ascendant
- The Dissonant Interval: Part Two (2004) - Andromeda Ascendant
- The Dissonant Interval: Part One (2004) - Andromeda Ascendant
- Time Out of Mind (2004) - Andromeda Ascendant
- A Symmetry of Imperfection (2004) - Andromeda Ascendant
- Trusting the Gordian Maze (2004) - Andromeda Ascendant
- Abridging the Devil's Divide (2004) - Andromeda Ascendant
- Lost in a Space That Isn't There (2004) - Andromeda Ascendant
- Fear Burns Down to Ashes (2004) - Andromeda Ascendant
- The Others (2004) - Andromeda Ascendant
- The Warmth of an Invisible Light (2004) - Andromeda Ascendant
- The Spider's Stratagem (2004) - Andromeda Ascendant
- The Torment, the Release (2004) - Andromeda Ascendant
- Exalted Reason, Resplendent Daughter (2004) - Andromeda Ascendant
- Machinery of the Mind (2004) - Andromeda Ascendant
- Conduit to Destiny (2003) - Andromeda Ascendant
- The World Turns All Around Her (2003) - Andromeda Ascendant
- Soon the Nearing Vortex (2003) - Andromeda Ascendant
- Harper/Delete (2003) - Andromeda Ascendant
- Double or Nothingness (2003) - Andromeda Ascendant
- Waking the Tyrant's Device (2003) - Andromeda Ascendant
- Pieces of Eight (2003) - Andromeda Ascendant
- Answers Given to Questions Never Asked (2003) - Andromeda Ascendant
- Shadows Cast by a Final Salute (2003) - Andromeda Ascendant
- Day of Judgement, Day of Wrath (2003) - Andromeda Ascendant
- Twilight of the Idols (2003) - Andromeda Ascendant
- The Illusion of Majesty (2003) - Andromeda Ascendant
- Deep Midnight's Voice (2003) - Andromeda Ascendant
- Vault of the Heavens (2003) - Andromeda Ascendant
- Point of the Spear (2003) - Andromeda Ascendant
- What Happens to a Rev Deferred? (2003) - Andromeda Ascendant
- The Right Horse (2003) - Andromeda Ascendant
- The Risk-All Point (2003) - Andromeda Ascendant
- The Dark Backward (2003) - Andromeda Ascendant
- Delenda Est (2003) - Andromeda Ascendant
- The Unconquerable Man (2003) - Andromeda Ascendant
- And Your Heart Will Fly Away (2002) - Andromeda Ascendant
- For Whom the Bell Tolls (2002) - Andromeda Ascendant
- The Leper's Kiss (2002) - Andromeda Ascendant
- Slipfighter the Dogs of War (2002) - Andromeda Ascendant
- The Lone and Level Sands (2002) - Andromeda Ascendant
- Cui Bono (2002) - Andromeda Ascendant
- Mad to Be Saved (2002) - Andromeda Ascendant
- The Shards of Rimni (2002) - Andromeda Ascendant
- If the Wheel Is Fixed (2002) - Andromeda Ascendant
- Tunnel at the End of the Light (2002) - Andromeda Ascendant
- Immaculate Perception (2002) - Andromeda Ascendant
- The Knight, Death and the Devil (2002) - Andromeda Ascendant
- Belly of the Beast (2002) - Andromeda Ascendant
- The Fair Unknown (2002) - Andromeda Ascendant
- The Things We Cannot Change (2002) - Andromeda Ascendant
- In Heaven Now Are Three (2002) - Andromeda Ascendant (credit only)
- Dance of the Mayflies (2002) - Andromeda Ascendant
- Be All My Sins Remembered (2002) - Andromeda Ascendant
- Lava and Rockets (2002) - Andromeda Ascendant
- Ouroboros (2002) - Andromeda Ascendant
- Bunker Hill (2002) - Andromeda Ascendant
- The Prince (2002) - Andromeda Ascendant
- Into the Labyrinth (2001) - Andromeda Ascendant
- Home Fires (2001) - Andromeda Ascendant
- Una Salus Victus (2001) - Andromeda Ascendant
- All Too Human (2001) - Andromeda Ascendant
- Last Call at the Broken Hammer (2001) - Andromeda Ascendant (credit only)
- Pitiless as the Sun (2001) - Andromeda Ascendant
- A Heart for Falsehood Framed (2001) - Andromeda Ascendant
- Exit Strategies (2001) - Andromeda Ascendant
- The Widening Gyre (2001) - Andromeda Ascendant
- Its Hour Come 'Round at Last (2001) - Andromeda Ascendant
- It Makes a Lovely Light (2001) - Andromeda Ascendant
- Star-Crossed (2001) - Andromeda Ascendant
- The Honey Offering (2001) - Andromeda Ascendant
- The Devil Take the Hindmost (2001) - Andromeda Ascendant
- Fear and Loathing in the Milky Way (2001) - Andromeda Ascendant
- The Sum of Its Parts (2001) - Andromeda Ascendant
- Forced Perspective (2001) - Andromeda Ascendant (voice)
- Harper 2.0 (2001) - Andromeda Ascendant
- Music of a Distant Drum (2001) - Andromeda Ascendant
- The Mathematics of Tears (2001) - Andromeda Ascendant
- The Pearls That Were His Eyes (2001) - Andromeda Ascendant
- All Great Neptune's Ocean (2000) - Andromeda Ascendant
- A Rose in the Ashes (2000) - Andromeda Ascendant
- The Banks of the Lethe (2000) - Andromeda Ascendant
- The Ties That Blind (2000) - Andromeda Ascendant
- Angel Dark, Demon Bright (2000) - Andromeda Ascendant
- Double Helix (2000) - Andromeda Ascendant
- D Minus Zero (2000) - Andromeda Ascendant
- To Loose the Fateful Lightning (2000) - Andromeda Ascendant
- An Affirming Flame (2000) - Andromeda Ascendant
- Under the Night (2000) - Andromeda Ascendant
2004
Human Cargo (TV Mini Series)
as
Rachel Sanders
- Episode #1.3 (2004) - Rachel Sanders
- Episode #1.2 (2004) - Rachel Sanders
- Episode #1.1 (2004) - Rachel Sanders
2002
The Chris Isaak Show (TV Series)
as
Detective Lucy Ramirez
- Home of the Brave (2002) - Detective Lucy Ramirez
2001
The Tracker (TV Movie)
as
Kim Chang
2000
Earth: Final Conflict (TV Series)
as
Joan Price
- Abduction (2000) - Joan Price
1999
Traders (TV Series)
as
M.J. Sullivan
- Nice Guys Finish Last (2000) - M.J. Sullivan
- The One You Bury (2000) - M.J. Sullivan
- The Running of the Bulls (2000) - M.J. Sullivan
- Scents and Sensibilities (2000) - M.J. Sullivan
- Episode #5.1 (1999) - M.J. Sullivan
2000
Code Name Phoenix (TV Movie)
as
Conchita Flores
1999
CI5: The New Professionals (TV Series)
as
Tina Backus
- Glory Days (1999) - Tina Backus
- Souvenir (1999) - Tina Backus
- High Speed (1999) - Tina Backus
- Orbit (1999) - Tina Backus
- Miss Hit (1999) - Tina Backus
- Choice Cuts (1999) - Tina Backus
- Skorpion (1999) - Tina Backus
- Samurai Wind (1999) - Tina Backus
- First Strike (1999) - Tina Backus
- Hostage (1999) - Tina Backus
- Tusk Force (1999) - Tina Backus
- Phoenix (1999) - Tina Backus
- Back to Business (1999) - Tina Backus
1999
Teen Sorcery (Video)
as
Mercedes
1996
Flash Gordon (TV Series)
as
Dale Arden
- Escape to Earth! (1997) - Dale Arden (English version, voice)
- Enemy Ming (1997) - Dale Arden (English version, voice)
- The Fur Flies (1997) - Dale Arden (English version, voice)
- Double Disaster (1997) - Dale Arden (English version, voice)
- Shadow of the Shark! (1997) - Dale Arden (English version, voice)
- Palace of Peril! (1997) - Dale Arden (English version, voice)
- Fortress of Fear! (1997) - Dale Arden (English version, voice)
- Treasure of the Depths! (1997) - Dale Arden (English version, voice)
- The Dungeons of Despair! (1997) - Dale Arden (English version, voice)
- The Fiendish Experiment! (1997) - Dale Arden (English version, voice)
- Revenge of the Dragon! (1997) - Dale Arden (English version, voice)
- Moon of Mystery (1996) - Dale Arden (English version, voice)
- Ambush in Arboria (1996) - Dale Arden (English version, voice)
- Rocket to Oblivion (1996) - Dale Arden (English version, voice)
- The Wrath of Ming (1996) - Dale Arden (English version, voice)
- The Dragon Strikes (1996) - Dale Arden (English version, voice)
- Pit of the Tigrons (1996) - Dale Arden (English version, voice)
- The Invisible Claw (1996) - Dale Arden (English version, voice)
- Wings of Destruction (1996) - Dale Arden (English version, voice)
- Terror Beneath the Waves (1996) - Dale Arden (English version, voice)
- Fangs of Fury (1996) - Dale Arden (English version, voice)
- Vandals from the Void (1996) - Dale Arden (English version, voice)
- The Caves of Doom (1996) - Dale Arden (English version, voice)
- Jaws of the Jungle (1996) - Dale Arden (English version, voice)
- Marooned on Mongo! (1996) - Dale Arden (English version, voice)
1997
While My Pretty One Sleeps (TV Movie)
as
Tse Tse
1996
Ready or Not (TV Series)
as
Receptionist
- Glamour Girl (1996) - Receptionist
1996
F/X: The Series (TV Series)
as
Reporter
- French Kiss (1996) - Reporter
1996
Taking the Falls (TV Series)
as
Netta
- From Russia with Love (1996) - Netta
1994
TekWar (TV Series)
as
Cowgirl
- Betrayal (1996) - Cowgirl
- Skin Deep (1996) - Cowgirl
- Cyberhunt (1995) - Cowgirl
- Promises to Keep (1995) - Cowgirl
- Unknown Soldier (1994) - Cowgirl
1994
TekWar: TekLords (TV Movie)
as
Cowgirl
1994
TekWar (TV Movie)
as
Cowgirl
1993
The Hidden Room (TV Series)
as
Second Girl
- Marion & Jean (1993) - Second Girl
Self
2019
On Location - Aurora Teagarden Mysteries: An Inheritance to Die For (Short)
as
Self
2018
Ok! TV (TV Series)
as
Self
- Episode #3.93 (2018) - Self
2002
By Any Means Necessary: The Making of 'Jason X' (Video short documentary)
as
Self (uncredited)
1991
Video & Arcade Top 10 (TV Series)
as
Host
Archive Footage
2004
Andromeda (TV Series)
as
Andromeda Ascendant
- The Weight: Part 1 (2004) - Andromeda Ascendant
References
Lexa Doig Wikipedia
(Text) CC BY-SA