Emma watson interview late night with david letterman 25th march 2014
Late Night with David Letterman is a nightly hour-long Comedy Talk show on NBC that was created and hosted by David Letterman. It premiered on February 1, 1982, as the first incarnation of the Late Night franchise and ran until 1993, when Letterman left NBC and moved to Late Show on CBS. The series was then reformatted as Late Night with Conan O'Brien, with Jimmy Fallon later taking over from O'Brien as host. Late Night continues to air as of 2017 with Seth Meyers as host.
Contents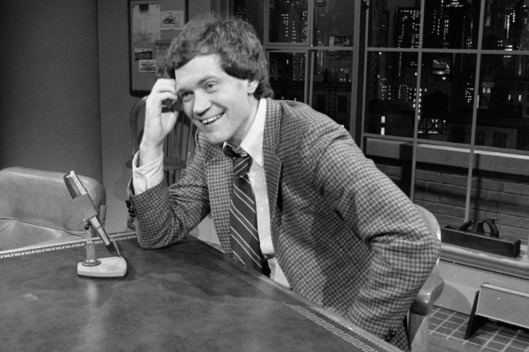 In 2013, this series and Late Show with David Letterman were ranked #41 on TV Guide's 60 Best Series of All Time.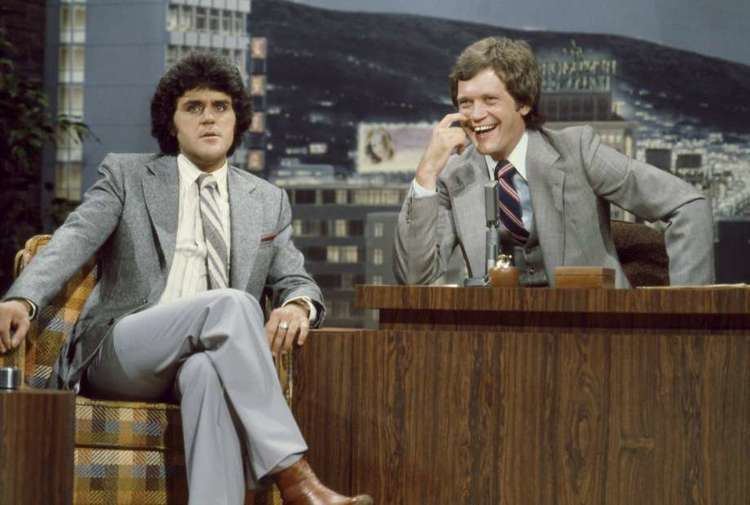 Robins williams on late night with david letterman dead poets society 1989
History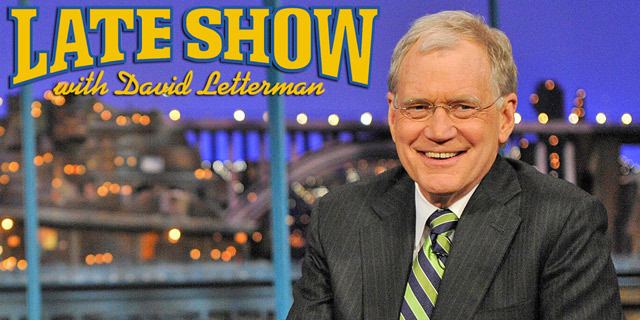 After his morning show on NBC was canceled in October 1980 after only 18 weeks on the air, David Letterman was still held in sufficient regard by the network brass (especially NBC president Fred Silverman) that upon hearing the 33-year-old comedian was being courted by a syndication company, NBC gave him a $20,000 per week deal to sit out a year and guest-host a few times on Johnny Carson's Tonight Show.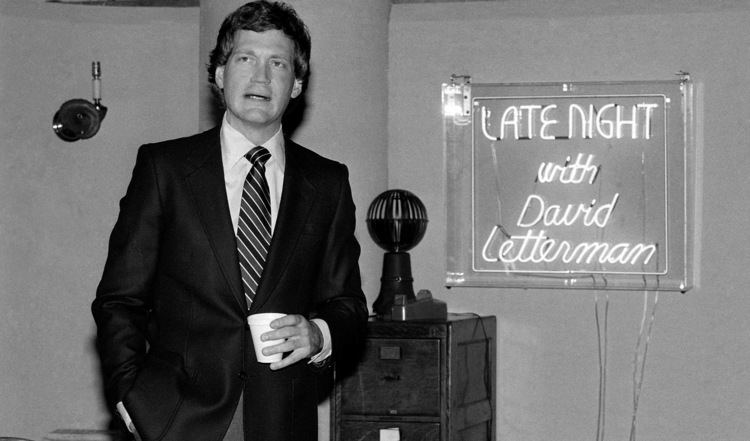 In 1981, NBC and Carson, after significant acrimony, reached an agreement on a new contract, which (among other concessions to Carson) granted Carson the rights to the time slot immediately following The Tonight Show. On November 9, 1981, NBC and Carson's production company Carson Productions and Letterman's production company Space Age Meats Productions announced the creation of Late Night with David Letterman, set to premiere in early 1982 in the 12:30 a.m. time slot Monday through Thursday, with occasional specials every few Fridays, all aimed at young men. The network wanted to capitalize on catering to young males, feeling that there was very little late-night programming for that demographic. The newly announced show thus displaced the Tomorrow Coast to Coast program hosted by Tom Snyder from the 12:30 slot. NBC initially offered Snyder to move his show back an hour, but Snyder, already unhappy with being forced to adopt changes to Tomorrow that he detested, refused and ended the show instead. The final first-run Tomorrow episode aired on December 17, 1981.
Debut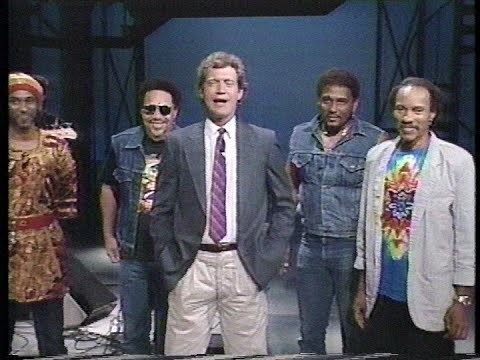 The staff responsible for preparing Late Night consisted of Letterman's girlfriend Merrill Markoe in the head writing role, in addition to seasoned TV veteran Hal Gurnee (Jack Paar's director) directing the landmark program, Jack Rollins as executive producer, and a group of young writers – most of them in their early twenties. The plan from the start was to resurrect the spirit of Letterman's morning show for a late-night audience, one more likely to plug into his offbeat humor. The show also got a house band, hiring prominent musician Paul Shaffer to lead the group; after several years on the show without a formal name, the band was eventually given the moniker The World's Most Dangerous Band in 1988.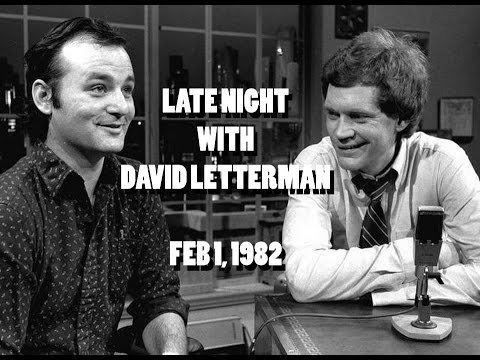 Realizing that NBC executives exhibited very little desire to micromanage various aspects of the show, the staff felt confident they would be allowed to push outside of the mainstream talk-show boundaries and thus set about putting together a quirky, absurdist, and odd program. Snyder's Tomorrow re-runs continued until Thursday, January 28, 1982 and four days later on Monday, February 1, Late Night premiered with a cold opening featuring Larry "Bud" Melman delivering lines as an homage to the prologue of Boris Karloff's Frankenstein, followed by Letterman coming out on stage behind a group of female dancers – the peacock girls (who had also opened the finale of The David Letterman Show with "Tchaikovsky's Piano Concerto No. 1"). After a brief monologue, the very first comedy segment was a sarcastic tour of the studio. The first guest, Bill Murray, came out in confrontational fashion, throwing jibes and accusations at the host as part of a knowing put-on. He remained for two more similarly sardonic segments in which he first presented footage of a Chinese zoo baby panda as the home video of his newly adopted pet, before expressing his newfound love for aerobics and pulling a crew member onstage, making her do jumping jacks along with him to Olivia Newton-John's "Physical". The second comedy piece was a remote titled "The Shame of the City"; taking a general format of a local news action segment, it featured Letterman touring several New York locations pointing out various civic problems with righteous indignation. The second guest was Don Herbert, TV's "Mr. Wizard", and the show ended with a young comic named Steve Fessler reciting aloud the script of the obscure Bela Lugosi film Bowery at Midnight.
The reviews were mixed – Los Angeles Times wrote: "Much of Letterman's first week did not jell" – but more importantly, the show drew 1.5 million viewers, 30% more than had tuned in for Snyder's Tomorrow.
On the third night, after baseball great Hank Aaron finished his interview segment with Letterman, a camera followed him backstage, where TV sportscaster Al Albert conducted a post-interview chat with Aaron about how it had gone. Eccentric and awkward, the show immediately established a sensibility that was clearly different from The Tonight Show.
The show was produced by Johnny Carson's production company, as a result of a clause in Carson's contract with NBC that gave him control of what immediately followed The Tonight Show Starring Johnny Carson. Carson, for his part, wanted Late Night to have as little overlap with his show as possible. In fact, most ground rules and restrictions on what Letterman could do came not from the network but from the production company itself. Letterman could not have a sidekick like Ed McMahon, and Paul Shaffer's band could not include a horn section like Doc Severinsen's. Letterman was told he could not book old-school showbiz guests such as James Stewart, George Burns, or Buddy Hackett, who were fixtures on Johnny's show (the fact that Tonight had long moved to Hollywood and Late Night was taped in New York helped minimize guest overlap). Letterman was also specifically instructed not to replicate any of the signature pieces of The Tonight Show Starring Johnny Carson like "Stump the Band" or "Carnac the Magnificent". Carson also wanted Letterman to minimize the number of topical jokes in his opening monologue.
Leaving NBC
After the battle for The Tonight Show, when NBC executives decided to give it to comedian Jay Leno, Letterman decided to accept an offer from CBS for a late night talk show to compete with The Tonight Show. So, in 1993, Letterman and his crew moved to CBS (in the newly renovated Ed Sullivan Theater in New York City) and Late Show with David Letterman was born, beginning on August 30, 1993 (although NBC would air repeats of Late Night until September 10, 1993).
Up until this point, the three competing television broadcast networks had tried to create talk shows to compete with the success of The Tonight Show Starring Johnny Carson, but all had failed. A total of 1,819 shows were broadcast during its  11 1⁄2-year run (an episode on January 16, 1991 went un-aired due to preemption for coverage of the beginning of the Gulf War; the program already had been shot before word came out of Baghdad that United States airstrikes were beginning).
Production and scheduling
Late Night originated from NBC Studio 6A at the RCA (later GE) Building at 30 Rockefeller Plaza in New York City. The program ran four nights a week, Monday to Thursday, from the show's premiere on February 1, 1982, until June 4, 1987. Friday shows were added on June 12, 1987, although the show still only produced 4 new episodes a week—Monday's shows were re-runs. (NBC previously aired Friday Night Videos in the 12:30 a.m. slot on Saturday morning, with occasional Late Night specials and reruns). Starting in September 1991, The Tonight Show Starring Johnny Carson was pushed back from 11:30 p.m. to 11:35 p.m., with Letterman starting at 12:35 a.m., at the request of NBC affiliates who wanted more advertising time for their profitable late newscasts.
Syndication
In September 1991, the A&E Network began airing repeats of the show which lasted until the summer of 1992. This first syndication deal was done without Letterman's blessing, and he frequently made his displeasure known on-air (he felt having reruns air five nights a week, earlier in the evening, diluted the value of the first-run shows as people would not be willing to stay up late for the first-run if they could watch the show at a more reasonable time). Because of this the syndication run was ended early and not attempted again until he had left NBC.
In mid-1993, E! Entertainment Television purchased broadcast rights to Late Night. The network aired complete shows from various years five days per week from 1993 until 1996. Then Trio (owned by NBC) picked up reruns and showed them from 2002 until the channel went off the air in 2005.
A number of programs were sold by GoodTimes Entertainment in 1992–93. These episodes were stripped of the series theme, open and close. No DVD release is currently scheduled (GoodTimes went bankrupt in 2005; the company's assets are now owned by Gaiam, which does not typically distribute general-interest programming).
Letterman moves to CBS
Letterman, who had hoped to get the hosting job of The Tonight Show following Johnny Carson's retirement, moved to CBS in 1993 when the job was given to Jay Leno. This was done against the wishes of Carson, who had always seen Letterman as his rightful successor, according to CBS senior vice president Peter Lassally, a onetime producer for both men. On April 25, 1993, Lorne Michaels chose Conan O'Brien, who was a writer for The Simpsons at the time and a former writer for Michaels at Saturday Night Live, to fill Letterman's old seat directly after The Tonight Show. O'Brien began hosting a new show in Letterman's old timeslot, taking over the Late Night name.
When Letterman left, NBC asserted their intellectual property rights to many of the most popular Late Night segments. Letterman easily adapted to these restrictions for his CBS show: The "Viewer Mail" segment was continued under the name "CBS Mailbag," and Late Night fixture Larry "Bud" Melman continued his antics under his real name, Calvert DeForest. Similarly, the in-house band was unable to use the name "The World's Most Dangerous Band," so the name was changed to "Paul Shaffer and the CBS Orchestra".
Both "Late Show" and "CBS Orchestra" are names from broadcasting's past. Beginning in 1951, The Late Show was the title under which some CBS affiliates, including network-owned stations in New York, Chicago and Los Angeles, ran movies late at night. These films began after the late local news, generally at 10:30 p.m. or 11:30 p.m. local time. The Late Show would usually be followed by another film on The Late Late Show and, on a night when there was time to add a third feature to the schedule, The Late Late Show II. Movies were regularly shown under the Late Show umbrella title well into the 1980s, after which they were increasingly displaced by overnight news broadcasts and infomercials. Still, The Late Show continued to appear sporadically for more than another decade; the last Late Show film was shown in 1999.
Another series called The Late Show was an unrelated attempt by Fox to establish its own late-night talk show. It was Fox's inaugural series, premiering in October 1986 and running off-and-on for four years.
The CBS Orchestra was the name of the orchestra that occasionally played on the CBS Radio Network. The name was also seen as an homage to Carson's band, the NBC Orchestra.
Format
Like other talk shows, the show featured at least two or three guests each night, usually including a comedian or musical guest.
Letterman frequently used crew members in his comedy bits, so viewers got to know the writers and crew members of the show. Common contributors included bandleader Paul Shaffer, Chris Elliott, Calvert DeForest as "Larry 'Bud' Melman," announcer Bill Wendell, writer Adam Resnick, scenic designer Kathleen Ankers, stage manager Biff Henderson, producer Robert Morton, director Hal Gurnee, associate director Peter Fatovich, stage hand Al Maher, camera operator Baily Stortz and the "production twins," Barbara Gaines and Jude Brennan. The cramped quarters of 30 Rockefeller Plaza also often played into the humor of the show.
Letterman's show established a reputation for being unpredictable. A number of celebrities had even stated that they were afraid of appearing on the show. This reputation was born out of moments like Letterman's verbal sparring matches with Cher, Shirley MacLaine and Harvey Pekar.
Because of the innovations of staff writers like Merrill Markoe, Letterman's NBC show in its first few years especially, had innovative segments and theme shows that were new and different from other talk shows. Some were visual gags that owed a debt to pioneers like Ernie Kovacs and Steve Allen. Amongst the highlights were:
One early episode showed everything from Dave's eye view with Markoe and others coming at Dave to pitch ideas as he walked onto the stage, and the audience was shown from Dave's view during the monologue and the opening segments.
In another show, the picture turned like a clock, eventually being seen upside down halfway through.
There were segments where Letterman was dressed in a suit of Velcro and stuck to a Velcro wall, a suit of chips and dunked into a vat of chip dip, a suit of Rice Krispies and doused with gallons of milk while lying in a huge bowl, a suit of Alka Seltzer tablets and dunked in water, etc.
Visual segments showing things being crushed by a hydraulic press, thrown through fluorescent lights or dropped off an office building to smash on the ground, were also common.
Letterman's desk featured a control panel where he could operate a bubble machine, "radioactive" steam, a belch of New York soot or strange lighting.
When he threw his pencils through the fake window scene behind him, a sound effect of breaking glass was always heard. Occasionally, if sound effects technician Howard Vinitisky was slow in triggering the appropriate breaking glass sound effect, Letterman would mockingly chide Vinitisky for the error. (He would also congratulate Vinitisky when the sound effect was especially well-timed.)
A robotic arm for a while delivered the Top Ten List, and for another week or so, a complicated series of tubes would produce swirling coffee to eventually land in his cup on the desk.
Cameras mounted on a chimpanzee's back (Late Night Monkey Cam) or on the roof (Roof Cam) would show odd viewpoints of the set and its participants.
Other show format innovations related to the way individual episodes or segments were presented:
The Custom Made Shows allowed the audience to vote on each part of the hour, what they wanted to see, and the resulting shows had guests talking in high-pitched voices like they had inhaled helium (Jane Pauley refused to say a word during this, and answered his questions by writing answers on cards and showing them), sitting in dentist chairs or lawn furniture, the theme music replaced by the theme from Gilligan's Island, and an opening montage of the director's vacation photos.
Reruns were often scoffed at by Letterman, telling the audience not to waste their time watching next Monday. Sometimes the entire rerun would be dubbed into a foreign language for rebroadcast, baffling viewers.
Letterman once had a member of the audience host the show and interview guests while he left the studio (ostensibly to search for a missing tooth).
Letterman hosted the show from his home while waiting for his cable TV to be installed; another episode was done from the production offices upstairs, as the cast claimed they were "too tired" to go downstairs to the studio.
Crispin Glover and Oliver Reed frightened Dave with their nearly violent, confrontational behaviour in their appearances.
Notable musical guests
Sonny & Cher reunited on his show in 1987 and sang together for the first time in 11 years, at his request (which Cher at first was against) in an impromptu performance which had audience members in tears. Ringo Starr was talked into playing drums unrehearsed with Paul Shaffer's band when he appeared in 1989. Sly Stone gave his last ever TV performance on the show in 1982. Captain Beefheart was interviewed and showed part of his latest music video which MTV had not aired. Guests such as Jerry Garcia, Ringo Starr and Arnold Schwarzenegger also participated in comedy sketches which were shown before the opening credits. Carly Simon performed on the show broadcast from a hotel room, because of her terror of appearing before a live audience. Eric Clapton appeared on the program, promoting his album Behind the Sun.
Most 'Late Night' appearances
The "king" of 'Late Night' show appearances was sportscaster Marv Albert, with 73 total appearances over the 11-year period. Second most appeared person was Richard Lewis with 48, George Miller and Tom Brokaw with 40, Jay Leno with 39 and Teri Garr and Robert Klein 30 appearances.
Recurring Late Night segments
The Top Ten List, from various "home offices": The very first, "Things That Almost Rhyme with Peas," was presented on "Late Night" on Sept. 18, 1985. In 33 years, Letterman had presented 4,605 Top Ten Lists on shows.
Stupid Pet Tricks: The very first segment was presented on the morning show, "The David Letterman Show," on June 26, 1980.
Stupid Human Tricks: First segment premiered on "Late Night" on October 3, 1983.
Nightcap Theater
Mr. Curious
Viewer Mail, a segment of humorous replies to letters sent in by viewers. Usually seen weekly, initially on Thursdays, later on Fridays. Henry Mancini was at one point hired to compose a special "viewer mail" theme song ("first we read them, then we answer them"), though after its first few appearances it was quietly dropped.
Flunky the Clown: A lazy, somewhat misanthropic "staff clown" played by writer Jeff Martin.
Dave Fires Old Henry: A recurring bit during Viewer Mail where something goes wrong, and the blame is pinned on longtime NBC staffer "Old Henry" (played by Wolfgang Zilzer AKA Paul Andor). In spite of the fact that Henry is two months away from retiring, Dave unceremoniously fires the old man to much disdain from the studio audience. (Henry often proved so sympathetic to the audience, Letterman would have to reassure them it was just a joke.) When Zilzer/Andor's health began to fail, he was succeeded in the role by writer Gerard Mulligan.
Supermarket Finds
Dave's wearing of various suits: the "Suit of Velcro" (Feb. 28, 1984), "Suit of Rice Krispies.", "Suit of Alka-Seltzer", "Suit of Magnets", "Suit of Marshmallows", "Suit of Chips", "Suit of suet" and "Suit of Sponges".
Dumb Ads
Lucky Numbers
Small Town News - a compendium of odd newspaper items, similar to Jay Leno's later "Headlines" segment on The Tonight Show.
Ask Mr. Melman (Larry "Bud" Melman)
Dave's Record Collection
Short plays presented by the Peace Through Dramatization Players (featuring Chris Ellott, Gerard Mulligan and other Late Night writers). By 1986, a regular feature of these sketches would be writer Larry Jacobsen appearing as race car driver Bobby Rahal; Rahal would be announced with much fanfare, but would never have any lines in his appearances. Also featured was "Rex", a stuffed dog who played the family dog in each sketch.
A series of characters portrayed by Chris Elliott. Each of these characters made numerous appearances over the course of a few months before being retired, usually amidst much mock fanfare. Then Elliott would appear a few weeks later playing the next in his series of "Guy" characters.
The Conspiracy Guy (October 1983-January 1984): Elliott would pretend to be an audience member and ask Dave a question. Things would quickly devolve into his character shouting and making crazy accusations about Dave before being forcibly removed from the set by two goons (played by Late Night writers Joe Toplyn and Sandy Frank).
The Panicky Guy (April 1984-June 1984): Elliott would again pretend to be an audience member, who panics and runs from the studio at the slightest threat of danger (similar to doomed characters in disaster movies). Once in the hallway he would be run over and crushed by an advancing floor waxer, with his hands raised in terror. In one variation, he played a German Panicky Guy in Lederhosen, who was run over by a hand dolly full of cheese wheels. Regular players in the Panicky Guy sketches were astronaut Gordon Cooper (always heard over the phone, chatting with Elliott about the sketches); and Paula Niedert (a Late Night staffer and Elliott's wife) as his love, and later his wife.
The Guy Under the Seats (October 1984-April 1985, plus a "lost" episode aired in December 1985): A short character-comedy bit by Elliott who emerges from a hatchway underneath the seats in the studio audience, and asks Dave for help in finding something. When Dave is unable to help, Elliott goes back under the stairs. Immediately following this brief interruption, Letterman then cajoles Elliott back up to take a bow, and discuss the sketch and the character, often in great and tedious detail. These conversations are usually much longer than the ostensible 'sketch' that had just been performed, and at some point Letterman will make an innocuous comment or innocent joke that causes Elliott to overreact. The sketches generally culminate with Elliott threatening Letterman with some metaphorically articulated future comeuppance, and withdrawing back under the seats with the admonition "But until that day, I'm gonna be right here, making your life ... a living hell."
The Laid Back Guy (May 1985): A one-shot character, whose major characteristic is his long flowing blonde hair and an extremely Californian "laid back" attitude. Performed when the show spent a week in California.
The Fugitive Guy (July-November 1985): Every so often, Letterman would introduce "Roger Campbell" (Elliott, wearing an extremely bad toupée), either as a segment guest or as a new member of the Late Night crew. In each appearance, "Campbell" would have a different job (e.g., gymnast, cue card holder, tambourine player for the band), and would grow increasingly nervous as Letterman amiably asked Campbell innocuous questions about his job and his life. Fairly quickly, Campbell would break down under the "grilling," and would then hear the approach of "the one-legged man" (Late Night writer Matt Wickline) and flee. This sketch was a parody of The Fugitive, and included a title sequence that parodied the original Quinn Martin TV series theme (with billing for Elliott, Wickline and Sandy Frank, usually seen as an unnamed assailant "Campbell" would have to fight while escaping.) The Fugitive Guy sketches concluded with a final episode where Campbell confronted the one-legged man in an abandoned amusement park.
The Regulator Guy (February-April 1986): A series of cheesily expensive-looking promos for a Terminator-like action character aired on "Late Night" over a period of several months, with Elliott playing the super-cool half-human, half-mechanical "Regulator Guy," even speaking with a bad Schwarzenegger-esque accent. Repeatedly promoted during "Late Night" as "Coming soon to NBC!", with Letterman even interviewing Elliott about the upcoming show, the "Regulator Guy" appeared only once in a sketch on Late Night. This appearance was a (deliberately) cheap and poorly-done affair, with the result that the Regulator Guy was cancelled part-way through his debut episode.
The New Regulator Guy (May 1986): Shortly after "The Regulator Guy" was retired, Elliott came back with a re-tooled version called "The New Regulator Guy." This character similarly did not last long, and ended with Letterman interviewing the New Regulator Guy's newly created sidekick character, Ajax, while completely ignoring Elliott (much to his faux-chagrin).
"Marlon Brando" (July 1987 to January 1988): Letterman would announce special guest Marlon Brando, and a padded Elliott (usually carrying his belongings in grocery bags, and often wearing battered clothing or a Hawaiian muumuu and lei) would appear, doing an exaggerated mumbling Brando impression while being interviewed by Letterman. Later appearances would culminate in Brando's shambling, ritual "Banana Dance" (performed to Bent Fabric's "Alley Cat").
Chris Elliott, Jr. (January-September 1988): A take-off of Morton Downey, Jr., with Elliott as an aggressive, audience-baiting talk show host.
Elliot also appeared in other sketches over the years. In a recurring bit at irregular intervals, Letterman would announce an appearance by a Late Night regular such as Jack Hannah, Marv Albert, Jay Leno or Paul Shaffer -- but Elliott would come out in costume as the guest. Elliott would then perform an interview segment in character with Letterman, ineptly parodying the guest's catch phrases and behavior.
The destruction (with comic effect) of certain items, including "Crushing Things with a Steamroller," "Throwing Things Off a Five-Story Building," and "Crushing Things with an 80-Ton Hydraulic Press."
Poetry with My Dog Stan
Charlie the Bubble-Eating Dog (who never actually ate bubbles)
Visits with Meg Parsont in the Simon & Schuster Building, in which Dave would have Hal Gurnee "turn on the external camera" pointed across the street to the office window of Simon & Schuster employee Meg Parsont. Letterman would converse with Parsont on the phone, as well as surprise her with gifts, guests, etc. delivered to her office. Parsont would make a return appearance on Letterman's Late Show in 1993.
Elevator Races
NBC Bookmobile
Peaboy (played by intern Dave Ellner wearing green tights and green Adidas, blowing athletic whistle, throwing frozen peas at audience)
Visits with Letterman's mother, Dorothy Mengering, via remote from Carmel, Indiana
Young Inventors
Marv Albert with The Wild and the Wacky from the World of Sports
Visits with Jack Hanna
Hal Gurnee's Network Time Killers: Introduced during the summer of 1988 (after Late Night had returned from a lengthy hiatus due to a Writers Guild strike), the feature included Hal Gurnee introducing bizarre time-killing features from his director's perch in the control room.
What's Hal Wearing?
Various 'cam' shots, including Late Night Thrill Cam and Late Night Monkey Cam
Los Problemas de la Vida Contidiana: Dave ("como Dr. Suarez") shows off his Spanish language skills in this spoof of Latin telenovelas
Memorable shows
February 1, 1982: Letterman's first show, with guests Bill Murray and Don Herbert aka "Mr. Wizard".
July 28, 1982: Andy Kaufman and Jerry Lawler are guests. The two appear to get in a fight on the show with Lawler knocking Kaufman out of his chair. It is later revealed to have been staged, and was re-enacted with Letterman, Shaffer, Lawler, and Jim Carrey as Kaufman in the 1999 biopic Man on the Moon.
October 6, 1983: The American rock group R.E.M. made its debut American network television appearance on Late Night. The band performed both their debut single "Radio Free Europe" and a new unnamed song that eventually was titled "So. Central Rain", and became the first single from the band's second album, Reckoning. After their performance, singer Michael Stipe (known for his shyness) sat down on the drum riser, forcing Letterman to interview the other band members.
May 13–16, 1985: The show travels to Los Angeles for a week of shows.
August 19, 1985: Letterman used a bullhorn to interrupt NBC's The Today Show outdoor primetime taping in the Rockefeller Center's lower plaza. Yelling from the RCA Building, he introduced himself as "the president of NBC News" and announced, among other things, that he was not wearing any pants. This incident became the cause of a long-time feud between Letterman and Today Show host Bryant Gumbel.
April 8, 1986: Shortly after General Electric purchased NBC parent RCA, Letterman brings a camera crew and a fruit basket to the GE Building. The trip results in "The GE Handshake," in which a GE security officer offers to shake Letterman's hand but pulls his hand away before Letterman can shake it, after which the officer orders Dave and his crew to exit the building.
May 22, 1986: Singer Cher made an appearance where she got into a verbal sparring match with Letterman. At one point she called Letterman an "asshole", which had to be bleeped.
December 16, 1986: Darlene Love performs "Christmas (Baby Please Come Home)", the start of a tradition as Love performed the song on Late Night (and later Late Show) nearly every December until 2014.
May 18–21, 1987: The show travels to Las Vegas for a week of shows.
July 28, 1987: Actor Crispin Glover appears as a guest and gave one of the most bizarre interviews in the history of the show. At one point, the actor kicked at Letterman's head while wearing giant platform shoes, after which Letterman ended the segment, walking off the stage and saying, "I'm going to go check on the Top Ten." Crispin later mentioned being in character during the interview.
August 5, 1987: After being introduced as "the only guest we've ever had that can drink Lee Marvin under the table", actor Oliver Reed pulled Letterman toward him while shaking his hand, causing Letterman to lose his balance. When Letterman asked Reed about Marvin during the interview, the actor replied, "Your researcher was told already that I don't want to talk about drink, understand, so let's cool that one, get on to a new subject." Reed acted strangely throughout the two segments of the interview, however, leading Letterman to joke about his "condition" near the end of the second segment, at which point Reed demanded to know what Letterman was referring to.
August 31, 1987: American Splendor author Harvey Pekar accuses Letterman of being a shill for NBC parent company General Electric; the segment ends prematurely. Pekar does not appear on the show until the early 1990s.
November 13, 1987: Sonny & Cher reunite and sing, for the last time together, "I Got You Babe".
July 1, 1988: Late Night airs its 1,000th show.
May 1–5, 1989: The show travels to Chicago for a week of shows. Among the guests that week were Oprah Winfrey and Michael Jordan.
May 23, 1991: Johnny Carson makes a surprise walk-on appearance on the show, only hours after announcing his decision to leave the Tonight Show in a year.
June 28, 1991: Late Night airs its 1,500th show.
February 6, 1992: The show's 10th-anniversary special airs in prime time.
June 25, 1993: Letterman's last Late Night before moving to CBS features guest Tom Hanks and surprise musical guest Bruce Springsteen performing "Glory Days".
Primetime Emmy Awards
1983–84 Outstanding Writing in a Variety, Comedy or Music Program
1984–85 Outstanding Writing in a Variety, Comedy or Music Program
1985–86 Outstanding Writing in a Variety, Comedy or Music Program
1989–90 Outstanding Directing in a Variety, Comedy or Music Program
The show was nominated as Outstanding Variety, Music or Comedy Series for 10 consecutive seasons, from its 2nd full season in 1983–84 through its final season in 1992–93. Including the nominations for the CBS Late Show variant, the Letterman team was nominated 26 consecutive times in this category.
Peabody
In 1991, the show's three production companies — Carson Productions, Worldwide Pants, and NBC Productions — were awarded a Peabody Award, which cited the following:
Once a television wasteland, late night has become a daypart of increased interest to programmers, performers, and viewers. In the past ten years, one show has moved to the position of the leader in late night television in creativity, humor, and innovation. That program is Late Night With David Letterman. As one member of the Peabody Board remarked, "David Letterman is a born broadcaster." He is also a savvy co-executive producer. Along with co-executive producer Jack Rollins, producer Robert Morton, director Hal Gurnee, and musical director Paul Shaffer, Mr. Letterman has surrounded himself with exceptional talent and given them the go-ahead to experiment with the television medium. Particularly noteworthy is the work of head writer Steve O'Donnell and his talented staff. Together, the "Late Night" team manages to take one of TV's most conventional and least inventive forms—the talk show—and infuse it with freshness and imagination. For television programming which, at its best, is evocative of the greats, from Your Show of Shows, to The Steve Allen Show, and The Ernie Kovacs Show, a Peabody to Late Night with David Letterman.
References
Late Night with David Letterman Wikipedia
(Text) CC BY-SA