Years active

1952–present







Birth name

Carl Hilding Severinsen

Born

July 7, 1927 (age 96) Arlington, Oregon, U.S. (

1927-07-07

)

Associated acts

Tommy Dorsey, Benny Goodman, The Tonight Show Band

Role

Jazz trumpeter · docseverinsen.com

Spouse

Emily Marshall (m. 1980), Evonne Nyman (m. 1964–1976)

TV shows

The Tonight Show Starring Johnny Carson, The Timex All-star Swing Festival

Music group

Milwaukee Symphony Orchestra

Children

Nancy Severinsen, Robin Severinsen, Judy Severinsen, Cindy Severinsen, Allen Severinsen

Albums

Trumpet Spectacular, Brand New Thing, Unforgettably Doc, Merry Christmas From Doc, El ritmo de la vida




Similar People

Johnny Carson, Ed McMahon, Tommy Newsom, Henry Mancini, Wynton Marsalis




Occupation(s)

Bandleader, trumpeter
Doc Severinsen plays A NIGHT IN TUNISIA at CancerBlows 2015
Carl Hilding "Doc" Severinsen (born July 7, 1927) is an American pop and jazz trumpeter. He is best known for leading the NBC Orchestra on The Tonight Show Starring Johnny Carson.
Contents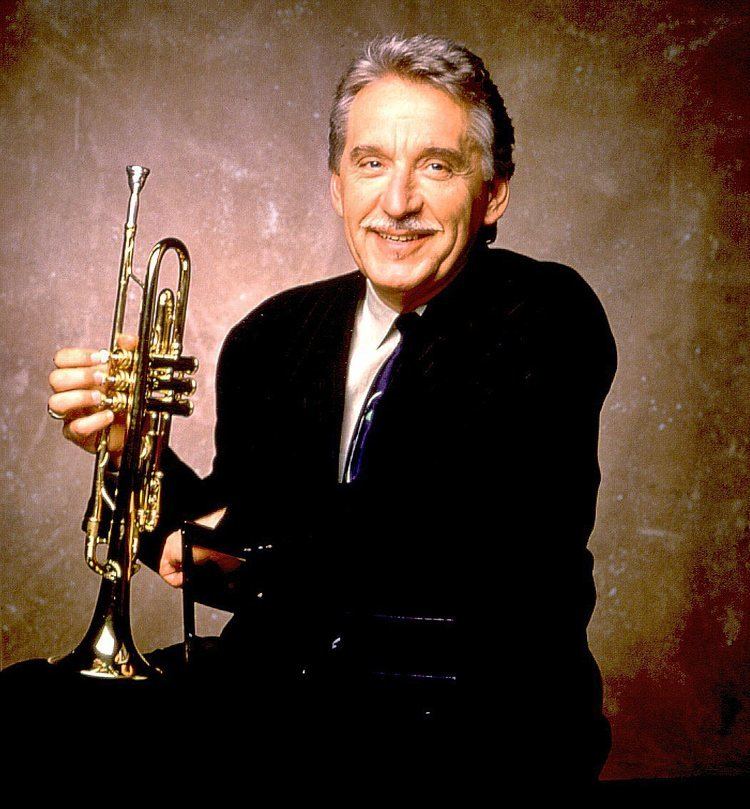 Early life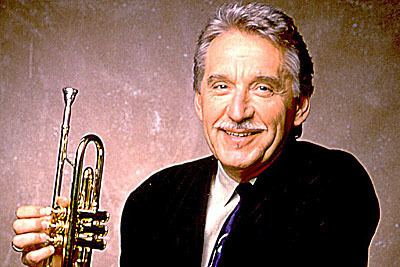 Severinsen was born in Arlington, Oregon, the son of Minnie Mae Severinsen (1897–1998) and Carl Severinsen (1898–1972), a dentist. He was nicknamed "Little Doc" after his father. His father, a gifted amateur violinist, wanted his son to play the violin. He gave his young son lessons. Little Doc insisted on playing the trombone. Eventually, their neighbor, Herb Clark, had a trumpet at his house the boy could play. Within a week, Doc was good enough to play in public. Soon, he was invited to play with the high school band.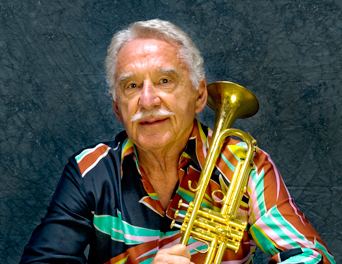 At the age of twelve, Severinsen won the Music Educator's National Contest. While still in high school, he was hired to go on the road with the Ted Fio Rito Orchestra. However, his stay with the group was cut short by the World War II draft. After serving in the U.S. Army, Severinsen made his broadcasting debut playing live popular music on KODL radio in The Dalles, Oregon.
The Tonight Show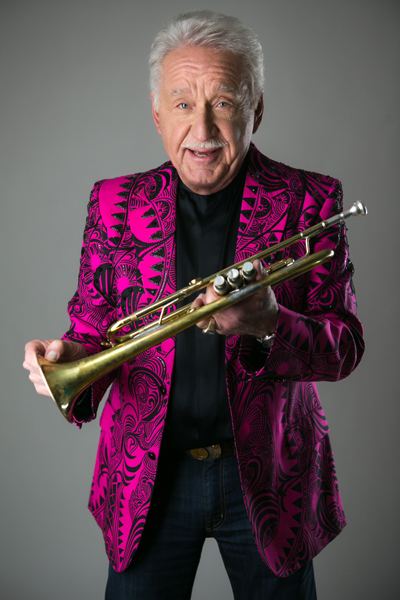 In 1949, Severinsen joined NBC as a staff musician. In October 1962, he became first trumpet for The Tonight Show band directed by Skitch Henderson, several months before Johnny Carson's becoming host. Severinsen took over as bandleader in 1967 and soon became noted for his flashy fashions.
Under Severinsen's direction, The Tonight Show NBC Orchestra became a well-known big band in America. The band played incidental music for sketch comedy, guest introductions, and intermission music during station breaks. Severinsen covered many swing music and jazz standards, including classics by Cole Porter, Dizzy Gillespie, and others.
Severinsen campaigned for the band to get featured slots during the show. The show introduced a "Stump the Band" segment in which audience members challenged the band to play obscure song titles, with the band responding with a comic piece. Severinsen often cried "key of E", his signal for the band to strike up a western theme, whereupon he would enthusiastically sing a country music-flavored nonsense song.
Adept at comic interplay, Severinsen occasionally substituted for Ed McMahon as Carson's announcer and sidekick. Tommy Newsom was frequently the band's substitute director, whenever Severinsen was away from the show or filling in for McMahon.
Severinsen continued as bandleader until Carson's retirement in 1992.
Severinsen appeared on Jimmy Fallon's Tonight Show in February 2015 when the show traveled to Los Angeles for a week. He played for the evening with the Roots. The appearance helped to promote the 87-year-old's 2015 nationwide tour with his band.
Recording career
During the 1950s and 1960s, Severinsen put out a number of albums of jazz standards, over which he performed very melodic solos. He served as lead trumpet on many of Enoch Light's Command Records LP's of that era, and his soloing was featured in Tito Puente's "Night Ritual (Afro Cuban Jazz Mini Suite)" from Puente's classic 1957 album Top Percussion.
In the 1960s, Severinsen also recorded with the Clarke/Boland Big Band and the Thad Jones/Mel Lewis band. Severinsen was also the second trumpeter whose recording of the fanfare "Abblasen", composed by Gottfried Reiche, has been used as the theme for the CBS News program Sunday Morning.
During the 1970s, 1980s, and early 1990s, Severinsen released several albums under the band name The Tonight Show Band with Doc Severinsen, and later receiving first billing, Doc Severinsen & The Tonight Show Band. He has also recorded with the Cincinnati Pops Orchestra.
Severinsen also released albums that have a pop rock basis, some of which include electronic instrumentation components, such as Brass Roots, Good Medicine and Facets. These albums were received with varying degrees of success by the public. He recorded two albums of standards with Henry Mancini and his orchestra in the 1970s, Brass On Ivory and Brass, Ivory And Strings. He had a Top 40 Adult Contemporary hit with an instrumental called "Melody (Aria)" in 1977.
Severinsen performed with high school bands and in particular in the 1970s with Don Caneva's John Hersey High School Bands, which recorded four albums.
Severinsen arranged the score for the nudist-themed cult film Nude on the Moon (1961). In addition, Severinsen co-wrote the Top 10 hit single "Stop and Smell the Roses" with singer-songwriter Mac Davis (1974).
Conducting, academic career, and after
Severinsen was the principal pops conductor for several American orchestras during and after his tenure on The Tonight Show. His first was with the Phoenix Symphony in 1983. He held similar positions with the Colorado Symphony Orchestra, the Milwaukee Symphony Orchestra, the Minnesota Orchestra, the Buffalo Philharmonic Orchestra and the Pacific Symphony Orchestra.
Severinsen retired from active conducting in 2007, and was named Pops Conductor Emeritus in Milwaukee and Pops Conductor Laureate in Minnesota. Severinsen was also named Distinguished Visiting Professor of Music and Katherine K. Herberger Heritage Chair for Visiting Artists at Arizona State University School of Music in 2001 and 2002. He has also conducted the New York Pops orchestra at the world-famous Carnegie Hall in New York City.
As of 2012, Severinsen is still performing on a regular basis with the group Doc Severinsen & the San Miguel 5 (formerly known as El Ritmo De La Vida. The group plays an eclectic variety of styles, including classical Spanish, gypsy jazz, and Latin and American ballads. In February 2012, the group was called on short notice to replace an ailing Marvin Hamlisch at a concert with the Nashville Symphony.
In 2014, Doc Severinsen was inducted into the Scandinavian-American Hall of Fame along with Discovery Channel's Deadliest Catch's Sig Hansen and famed singer, Bobby Vee. In March, 2016, Severinsen appeared with the Alabama Symphony Orchestra as conductor and soloist.
Personal life
Severinsen's children are Nancy, Cindy, Allen, Robin Merrill and Judy Cascio. He also has eight grandchildren, including Blaire and Gray Reinhard, who write and perform roots rock music together as the Blaire Reinhard Band. Severinsen has been married three times. Television writer and producer Emily Marshall is his third wife. They met when she was working as a secretary to The Tonight Show producer Fred de Cordova.
Severinsen owned Severinsen Custom Trumpets, manufacturer of custom-made horns, including the Destino line of trumpets he personally tests. More recently, Severinsen has designed new Destino trumpets for the S.E. Shires Company. Severinsen also enjoyed cooking and collecting American art.
Discography
1960: A String of Trumpets (Everest) with Billy Mure
1961: Tempestuous Trumpet (Command)
1962: The Big Band's Back in Town (Command)
1963: Torch Songs for Trumpet (Command)
1965: High – Wide & Wonderful (Command)
1966: Fever! (Command) (Pop No. 147)
1966: Live! The Doc Severinsen Sextet (Command)
1966: Command Performances (Command) (Pop No. 133)
1967: Swinging & Singing (Command)
1967: The New Sound of Today's Big Band (Command)
1968: The Great Arrival! (Command)
1968: Doc Severinsen & Strings (Command)
1970: Doc Severinsen's Closet (Command)
1970: The Best of Doc Severinsen (Command)
1971: Sixteen Great Performances (ABC)
1971: Brass Roots (RCA) (Pop No. 185)
1972: Brass on Ivory (RCA) (Pop No. 74) with Henry Mancini
1972: Doc (RCA)
1973: Brass, Ivory & Strings (RCA) (Pop No. 185) with Henry Mancini
1973: Rhapsody for Now! (RCA)
1973: Doc (Command/ABC)
1973: Trumpets & Crumpets & Things (ABC)
1976: Night Journey (Epic) (Pop No. 189)
1977: Brand New Thing (Epic)
1978: Live from Beautiful Downtown Burbank Tommy Newsom Featuring Doc Severinsen (Direct Disk Labs)
1978: Doc Severinsen and Friends (Everest)
1980: London Sessions (Firstline)
1980: Seductive Strings (Featuring Doc Severinsen) (Bainbridge) with George Siravo
1982: The Best of Doc Severinsen and His Orchestra (MCA)
1985: Doc Severinsen and Xebron (Passport)
1986: Episodes (Pro Arte)
1986: Ja–Da (MCA)
1986: The Tonight Show Band with Doc Severinsen (Amherst) (Pop No. 65)
1988: The Tonight Show Band with Doc Severinsen, Vol. II (Amherst)
1988: Facets (Amherst)
1989: The Big Band Hit Parade (Telarc)
1990: Trumpet Spectacular (Telarc)
1991: Once More...with Feeling! (Amherst) with The Tonight Show Band
1991: Merry Christmas from Doc Severinsen and The Tonight Show Orchestra (Amherst) (Pop No. 171)
1992: Unforgettably Doc (Telarc)
1992: Good Medicine (Bluebird/RCA)
1992: Lullabies and Goodnight (Critique)
1993: Two Sides of Doc Severinsen (The Right Stuff/EMI)
1997: The Very Best of Doc Severinsen (Amherst)
1999: Swingin' the Blues (Azica) with Barbara Morrison
2009: El Ritmo De La Vida (Tejate) with Gil Gutierrez and Pedro Cartas
2010: En Mi Corazon (Tejate) with Gil Gutierrez and Pedro Cartas
As sideman
With Louis Bellson
Let's Call It Swing (Verve, 1957)
With Bob Brookmeyer
Gloomy Sunday and Other Bright Moments (Verve, 1961)
With Ruth Brown
Late Date with Ruth Brown (Atlantic, 1959)
With Stan Getz
Big Band Bossa Nova (Verve, 1962)
With Dizzy Gillespie
Perceptions (Verve, 1961)
With Skitch Henderson and "The Tonight Show" Orchestra
Skitch...Tonight! (Columbia, 1964)
More Skitch Tonight! (Columbia, 1965)
With Lena Horne
Stormy Weather (RCA, 1957)
With Milt Jackson
Big Bags (Riverside, 1962)
With Gene Krupa
Gene Krupa Plays Gerry Mulligan Arrangements (Verve, 1958)
With Mundell Lowe
Satan in High Heels (soundtrack) (Charlie Parker, 1961)
With Gary McFarland
The Jazz Version of "How to Succeed in Business without Really Trying" (Verve, 1962)
With Gerry Mulligan
Gerry Mulligan Presents a Concert in Jazz (Verve, 1961)
Gerry Mulligan '63 (Verve, 1963)
With Oliver Nelson
Impressions of Phaedra (United Artists Jazz, 1962)
With Anita O'Day
All the Sad Young Men (Verve, 1962)
With Henri Rene
Compulsion to Swing (RCA Victor, 1959)
With George Russell
New York, N.Y. (Decca, 1959)
With Kai Winding
Kai Olé (Verve, 1961)
References
Doc Severinsen Wikipedia
(Text) CC BY-SA