Philippines




Mindanao State University




Maranao, Cebuano, Filipino


3,872.89 km2


Autonomous Region in Muslim Mindanao




Marawi City




1959




Liberal Party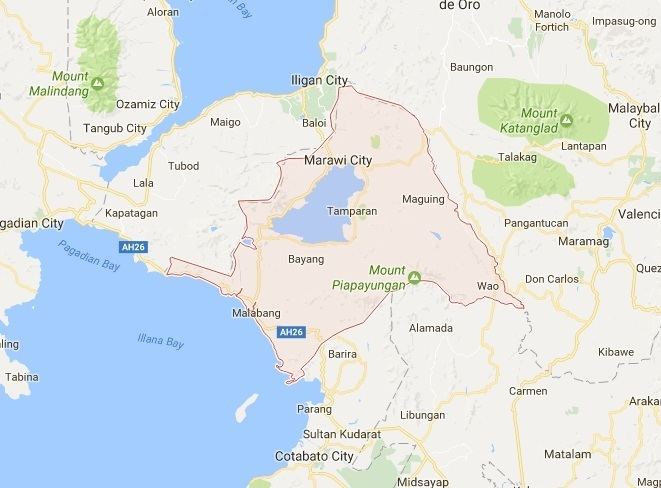 Lanao del Sur (Filipino: ), officially the Province of Lanao del Sur (Filipino: ), is a province of the Philippines located in the Autonomous Region in Muslim Mindanao (ARMM). The capital is the Marawi City, and it borders Lanao del Norte to the north, Bukidnon to the east, and Maguindanao and Cotabato to the south. To the southwest lies Illana Bay, an arm of the Moro Gulf. Found in the interior of Lanao del Sur is Lanao Lake, the largest lake in Mindanao.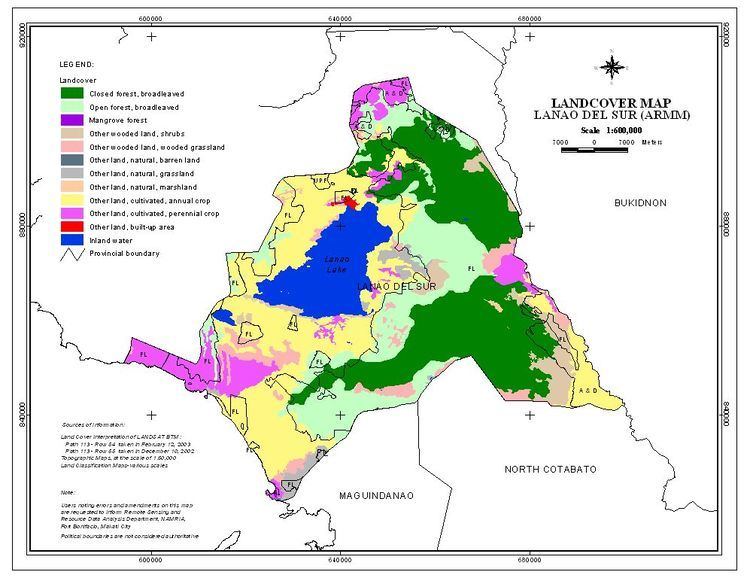 Lanao del Sur is subdivided into 39 municipalities and 1 city.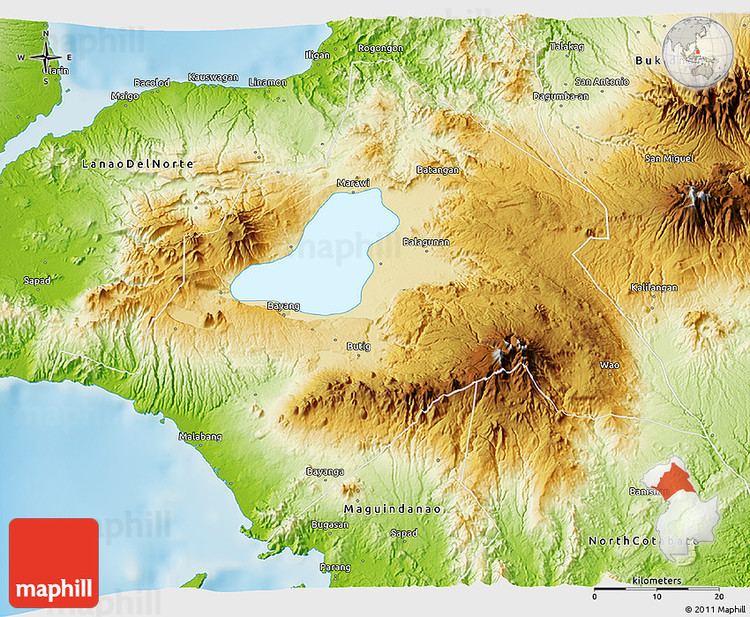 City:
Marawi City (Dansalan)
Municipalities:
Lanao comes from the word ranao, meaning "lake." Lanao centers on the basin of Lake Lanao; thus, it is the land of the Maranaos, the "people of the lake."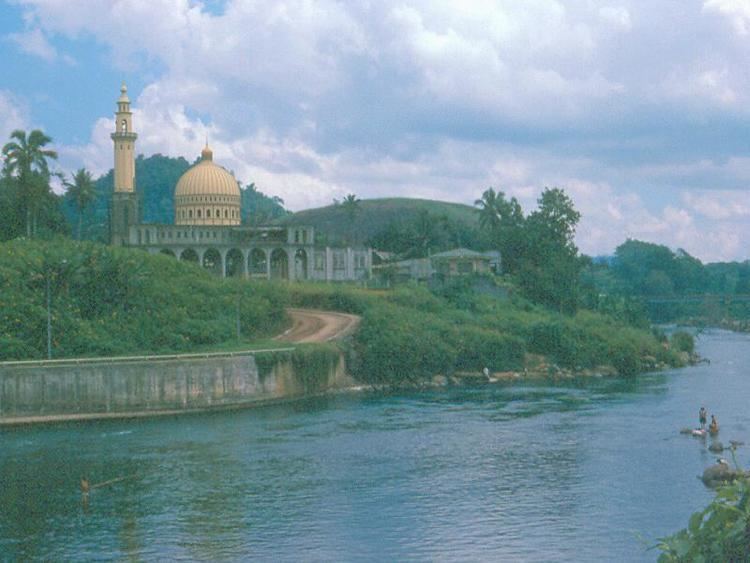 Lanao is the seat of the Sultanate of Lanao.
When the Spaniards first explored Lanao in 1689, they found a well-settled community named Dansalan at the lakes northern end. Dansalan became a municipality in 1907 and a city in 1940.
During the Pre-Spanish time, there are 4 important Boundaries hold the power of appointing a new sultan namely: Bakayawan, Dalama, Madamba and Sawer. In appointing a new sultan the permission of these four boundaries are needed to validate the new sultan appointed to his position.
Points of interest in the province include:
Aga Khan Museum
Torogan (of Tuka)
Dansalan Market (natively known as Padian)
Tuwaka Laput (all kinds of native product e.g. Bruwa, Tamokunzi,Amik,Dudol,Tiyathug)
First Dansalan Town Hall
Lanao del Sur Wikipedia
(,)http://www.zamboanga.com/z/images/4/40/Lanao_del_sur_provincial_capitol.jpg(,)http://lakbaypilipinas.com/images/lanao_del_sur_agus_river.jpg(,)http://www.zamboanga.com/z/images/3/35/Lanao_del_Norte_Provincial_Capitol.jpg(,)http://2.bp.blogspot.com/-PlxeMpVfFq4/U1KXqzLvJgI/AAAAAAAAGN8/Q9Agr63oxuY/s1600/lanao%2B12.jpg(,)http://www.mapsofworld.com/philippines/maps/lanao-del-sur-map.jpg(,)http://image.slidesharecdn.com/reviewr-140401022433-phpapp01/95/regions-in-mindanao-9-638.jpg%3Fcb%3D1397358166(,)http://nmtravelpower10.com.ph/wp-content/themes/DeptTourismTheme/js/timthumb.php%3Fw%3D925%26h%3D220%26src%3Dhttp://nmtravelpower10.com.ph/wp-content/uploads/2012/03/lanao-dn.png(,)http://3.bp.blogspot.com/-_FbdjuFHb_E/U1KXuYLNdiI/AAAAAAAAGOM/Bj7C26FNxL4/s1600/lanao%2B13.jpg(,)http://mandirigma.org/wp-content/uploads/2012/03/mandirigma-kali-arnis-eskrima-luzon-visayas-mindanao-2.png(,)http://mandirigma.org/wp-content/uploads/2012/03/Body-Armor-Lanao-del-Sur-late-19th-early-20th-c.-British-Museum-3.png(,)http://upload.wikimedia.org/wikipedia/commons/c/c3/Militar_Spanish_Camp.jpg(,)https://lanaodelsurinformation.files.wordpress.com/2014/10/taraka3.jpg
(,)http://blogwatch.tv.s175152.gridserver.com/wp-content/uploads/2012/07/rarmm_lanao-del-sur_lcov.jpeg(,)http://maps.maphill.com/philippines/region-12/lanao-del-sur/3d-maps/physical-map/physical-3d-map-of-lanao-del-sur.jpg(,)http://assets.rappler.com/7E38AA5E95B64456B42BE8074FB6249C/img/A2132CB1F7DA4A208F740F28EDE306D4/06-marawi-coolest-philippines-20140413.jpg(,)http://maps.maphill.com/philippines/region-12/lanao-del-sur/location-maps/physical-map/physical-location-map-of-lanao-del-sur.jpg(,)http://maps.maphill.com/philippines/region-12/lanao-del-sur/maps/shaded-relief-map/shaded-relief-map-of-lanao-del-sur.jpg(,)http://upload.wikimedia.org/wikipedia/commons/6/66/Goats_in_Batanes.png(,)http://mw2.google.com/mw-panoramio/photos/medium/31986349.jpg
(,)http://expatphilippines.ph/wp-content/uploads/2013/08/Maranao-native-food-from-Lanao-del-Sur.jpg(,)http://farm3.staticflickr.com/2812/12583608154_dbace78d4a_b.jpg(,)http://chooseweb.s3.amazonaws.com/cache/3a/02/3a02fd5c2a7cbe115f286ecbab9de2b7.jpg(,)http://chooseweb.s3.amazonaws.com/cache/29/74/297418ca06d7e0556540168469962dff.jpg(,)http://image.slidesharecdn.com/maranao-120213052206-phpapp01/95/maranao-4-728.jpg%3Fcb%3D1329244687(,)http://3.bp.blogspot.com/-68hz7WbRebg/Ue4xUSt35PI/AAAAAAAAANY/DAAAPf13ZRc/s1600/pakbol.jpg(,)https://letters2mindanao.files.wordpress.com/2010/03/lanao.gif(,)http://farm4.staticflickr.com/3665/12583636944_6c50cc5ba7_b.jpg