Scientific name

Lamniformes

Higher classification

Shark




Order

LamniformesL.

S

. Berg, 1958

Speed

Great white shark: 40 km/h

Lower classifications
Lamniformes 100 enemy shark mating ritual live
The Lamniformes (from the Greek word, Lamna "fish of prey") are an order of sharks commonly known as mackerel sharks (which may also refer specifically to the family Lamnidae). It includes some of the most familiar species of sharks, such as the great white shark, as well as more unusual representatives, such as the goblin shark and the megamouth shark.
Contents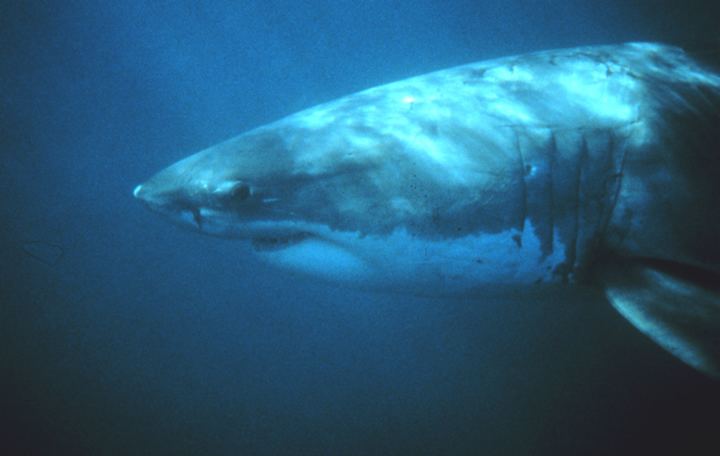 Members of the order are distinguished by possessing two dorsal fins, an anal fin, five gill slits, eyes without nictitating membranes, and a mouth extending behind the eyes. Also, unlike other sharks, they maintain a higher body temperature than the surrounding water.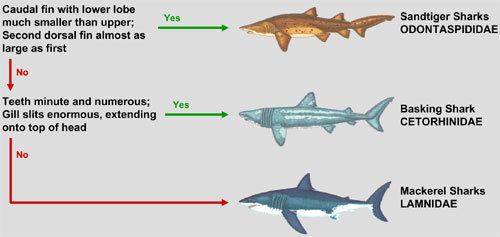 Species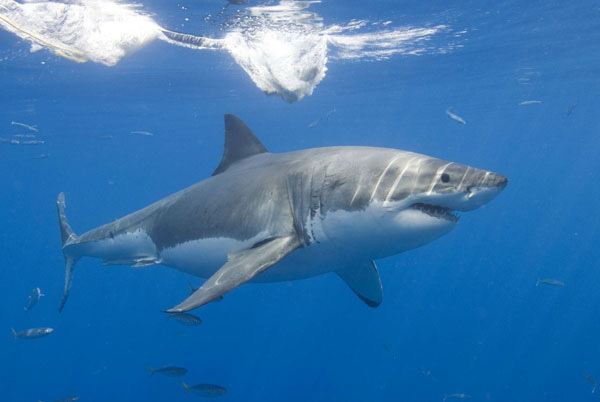 The order Lamniformes includes 10 families with 22 species, with a total of seven living families and 17 living species:
Order Lamniformes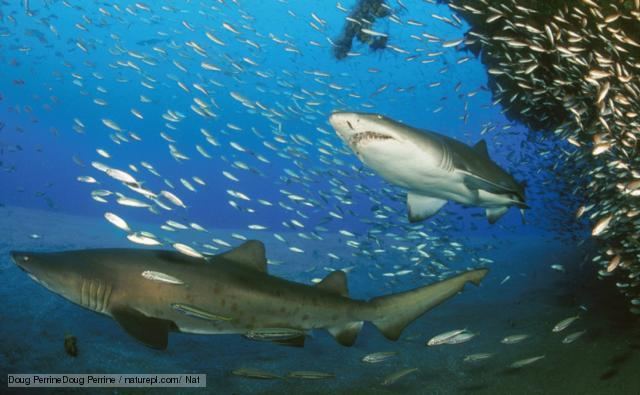 Family Alopiidae Bonaparte, 1838 (thresher sharks)
Genus Alopias Rafinesque, 1810
Alopias pelagicus Nakamura, 1935 (pelagic thresher) [1]
Alopias superciliosus R. T. Lowe, 1841 (bigeye thresher) [2]
Alopias vulpinus (Bonnaterre, 1788) (common thresher) [3]
Alopias sp. not yet described
Family Anacoracidae Capetta, 1987 (crow sharks)
Genus Squalicorax
Genus Telodontaspis
Genus Pseudocorax
Genus Myledaphus
Family Cetorhinidae Gill, 1862
Genus Cetorhinus Blainville, 1816
Cetorhinus maximus (Gunnerus, 1765) (basking shark) [4]
Family Eoptolamnidae*

†
Genus Leptostyrax*

†
Leptostyrax macrorhiza
Genus Carcharodon A. Smith, 1838
Carcharodon Carcharias (Linnaeus, 1758) (great white shark) [5]
Genus Isurus Rafinesque, 1810
Isurus oxyrinchus Rafinesque, 1810 (shortfin mako) [6]
Isurus paucus Guitart-Manday, 1966 (longfin mako) [7]
Genus Lamna Cuvier, 1816
Lamna ditropis Hubbs & Follett, 1947 (Salmon shark) [8]
Lamna nasus (Bonnaterre, 1788) (porbeagle) [9]
Family Megachasmidae Taylor, Compagno & Struhsaker, 1983
Genus Megachasma Taylor, Compagno & Struhsaker, 1983
Megachasma pelagios Taylor, Compagno & Struhsaker, 1983 (megamouth shark) [10]
Family Mitsukurinidae D. S. Jordan, 1898
Genus Mitsukurina D. S. Jordan, 1898
Mitsukurina owstoni D. S. Jordan, 1898 (goblin shark) [11]
Family Odontaspididae Müller & Henle, 1839
Genus Carcharias Rafinesque, 1810
Carcharias taurus Rafinesque, 1810 (sand tiger shark) [12]
Genus Odontaspis Agassiz, 1838
Odontaspis ferox (Risso, 1810) (smalltooth sand tiger) [13]
Odontaspis noronhai (Maul, 1955) (bigeye sand tiger) [14]
Family Pseudocarchariidae Compagno, 1973
Genus Pseudocarcharias Cadenat, 1963
Pseudocarcharias kamoharai (Matsubara, 1936) (crocodile shark) [15]
Family Cardabiodontidae (extinct)
Genus Cardabiodon Michael Silverson, 1999
Cardabiodon ricki Michael Silverson, 1999 †
Family Cretoxyrhinidae (Extinct)
Genus Cretoxyrhina Agassiz, 1843
Cretoxyrhina mantelli Agassiz, 1843 (ginsu shark) †
Family Otodontidae (extinct)
Genus Carcharocles
Carcharocles auriculatus (Jordan, 1923)
Carcharocles angustidens (Agassiz, 1843)
Carcharocles chubutensis (Agassiz, 1843)
Carcharocles megalodon (Agassiz, 1843) (megatooth shark) † (genus disputed)
Sustainable consumption
In 2010, Greenpeace International added the shortfin mako shark (Isurus oxyrinchus) to its seafood red list.

References
Lamniformes Wikipedia
(Text) CC BY-SA