Covid-19
4.3

/

10

2

Votes

Alchetron

Rate This




Balaji Telefilms




3 July 2000




1,833






See below




6 November 2008




Star Plus






Story R M Joshi, Salil Sand, Anil Nagpal, Koel Chaudhary, Mitesh Shah & Swati Shah Screenplay R M Joshi, Vipul Mehta, Bhavin Patel, Nayana Dasgupta, Mitesh Shah, Salil Sand, Kamlesh Kunti Singh, Anil Nagpal, Archita Biswas, Mrinal Jha and Swati Shah Dialogues Dilip Rawal, Anand Gandhi, Sunjoy Shekhar, Rekkha Modi, Brij Mohan Pandey and Vinod Sharma




Ashish Patil, Kaushik Ghatak, Nivedita Basu Suraj Rao, Santosh Badal, Dharmesh Shah, Santram Verma, Garry Bhinder, Deepak Chavan, Sanotsh Bhatt, Fahad Kashmiri, Avhiroop Mazzumdar, Jeetu Arora, Santosh Kolhe, Vicky Chauhan, Rohit Dwivedi, Deepak Sharma, Shyam Maheshwari, Talat Jani, Hitesh Tejwani and many more




Monisha Singh, Aparna Dubey, Ekta R Bahri, Bhairvi Shah, Shivangi Singh Chauhan, Shipra Arora, Doyel Som, Vikas Gupta (producer)




Kyunki Saas Bhi Kabhi Bahu Thi by Priya Bhattacharya




STAR Parivaar Award for Favourite Jodi




Mouni Roy, Smriti Irani, Ronit Roy, Sudha Shivpuri, Karishma Tanna




Kahaani Ghar Ghar Kii, Kasautii Zindagii Kay, Kahiin to Hoga, Kumkum, Kasamh Se
Kyunki Saas Bhi Kabhi Bahu Thi (English: Because a mother-in-law was once a daughter-in-law, too) is an Indian soap opera that premiered on 3 July 2000 on Star Plus, and a rebroadcasting on 12 February 2020 at 8:30 PM, on SABC 3, in South Africa. The entire series is available on Hotstar. The show revolves around an ideal daughter-in-law Tulsi Virani, the daughter of a pandit married to the grandson of rich business tycoon Govardhan Virani. The role of the protagonist Tulsi Virani was played by Smriti Irani. The show was co-produced by Shobha Kapoor and Ekta Kapoor under their banner Balaji Telefilms.

Produced with the backdrop of Mumbai and the concept of an ideal Gujarati joint family, the show made Producer Ekta Kapoor and Network Star Plus achieve great heights of success, by not only being the number 1 show on Indian Television for eight constant long years but also receiving great TRPs. The show also went on to receive several awards, most of which were won by Smriti Irani for her portrayal of the ideal character Tulsi. The show also won Best Continuing Series at Indian Telly Awards for six consecutive years (2002-2007) and won Best Serial (Popular) for five consecutive years(2001-2005) at Indian Television Academy Awards.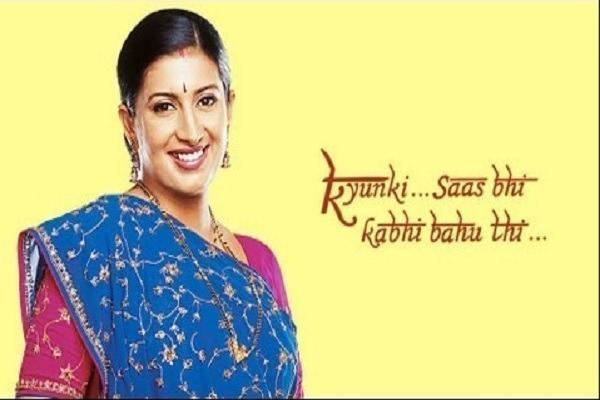 Kyunki Saas Bhi Kabhi Bahu Thi was dubbed in Sinhala language and broadcast on Sirasa TV where it was titled as Maha Gedara ("Big Home" in Sinhalese). It was also dubbed in Dari language and was aired on Tolo TV in Afghanistan.
The show is one of the longest running daily soaps on Indian television, running from 2000-2008 and completing 1833 episodes. In 2008, its eighth year, the show was the topmost show on Indian television averaging a TRP of 5.4.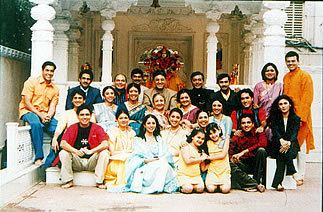 The death of the character of Mihir Virani in 2001 lead to fan protest marches to bring back the character back. The return of Mihir Virani brought an all-time high TRP of 22.4 for the show which has been the highest TRP achieved by an Indian serial.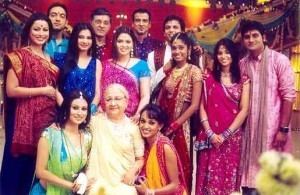 After being cut, the studio took the station to court asserting that they had a contract through March 2009 and that the station had not provided appropriate promotion. The claims were dismissed in November 2008.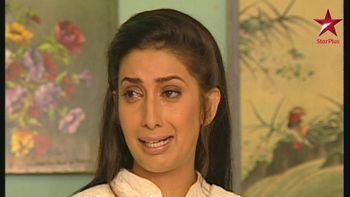 Tulsi Virani (Smriti Irani) falls in love with Mihir Virani (grandson of tycoon Govardhan Virani); they marry, although his family chose Payal for Mihir.Tulsi is called Bahu of the family.
She gives birth to Gautam. During Tulsi's second pregnancy, it is learned that her sister-in-law (Aarti) cannot have children. Although Tulsi decides to give them Gautam, Aarti and her husband Kiran kidnap the child. Tulsi goes into labour and gives birth to a daughter, Shobha.
Mihir has four cousins. Chirag (in the TV industry) marries Prajakta—despite objections by his mother, Daksha—who becomes Tulsi's confidante. Sejal and Suhani get married and the fourth cousin, Hemant, marries his assistant Pooja.
Twenty years later, Tulsi and Mihir are the parents of Shobha and a son, Harsh; Sahil and Tarun are Hemant and Pooja's sons. Sejal divorced her husband and lives in the Virani mansion with her daughter, Indu; Chirag is the father of twin daughters, and Tulsi misses Gautam. Hemant, Pooja and Tarun move to Australia; Sahil lives in Mumbai and runs the family business. Chirag moves to the U.S. for a job, and Suhani is happy at home. Gautam returns and Kiran has a daughter, Kairshma. Gautam learns about his birth parents, moves into the Virani mansion and squabbles with Sahil about business. Tulsi arranges his engagement to Ganga, who appreciates the family's support of her widowed mother. Gautam loves Teesha and Sahil loves Ganga, but Sahil and Ganga sacrifice their love and Gautam resents his mother. He divorces Ganga and marries Teesha, Ganga marries Sahil and Shobha is also married. Teesha and Gautam have an accident, and Teesha dies; Gautam marries Damini. Damini and Ganga are both pregnant; when Ganga has a miscarriage, Damini gives her one of her twin boys. The pregnant Shobha is widowed. Tulsi's sister, Kesar, tells Tulsi that Harsh is Tulsi's son. When Kesar held Tulsi's baby in the nursery, her child's father kidnapped it. Kesar gave Tulsi Harsh, saying that she had a miscarriage. Tulsi's son is Ansh Gujaral, son of criminal tycoon Aditya Gujaral (an accomplice of Raj Malhotra, father of Kesar's child). Before his death he gave his son to Gujaral, who raised him. Aditya Gujaral conspires with Ansh to acquire the Viranis' wealth. Ansh becomes obsessed with Nandini, a friend of Karan (Mihir's son with Mandira Kapadia). After 20 years, Tulsi learns about her stepson and accepts him; Karan loves Tulsi more than his own mother. Although Nandini and Karan are in love, Karan gives her to Tulsi's birth son. Nandini marries Ansh out of duty, and he rapes her. Ansh is charged with marital rape; lawyer Meera Singhania becomes Tulsi's friend and fond of Mihir. Ansh escapes and tries to kill Nandini; Tulsi shoots him dead and is imprisoned. Nandini has an accident when she is pregnant with Ansh's child, gives birth to daughter Bhoomi and lapses into a coma. Karan marries Nandidni's friend, Tanya, to care for Bhoomi. Ganga has a baby boy, Lakshya. Three years later, when Tanya learns about her pregnancy, Nandini emerges from her coma. Karan and Nandini live together; when she learns about his marriage to Tanya, she accepts Tanya and her child. Aditya Gujaral dies mysteriously, and Karan takes the blame. Nandini confesses to the murder; he was trying to kidnap Bhoomi. Imprisoned for life, she is pregnant with Karan's child. Ansh had a wife (Shraddha) and son (Eklavya). Shraddha is dead, and Gautam adopts Eklavya. Ganga is thrown out of her home when Sahil has an affair with colleague Tripti and marries her. Meera, in love with Mihir, conspires with Mandira against Tulsi. Mihir's mother, Savita, vows to expose the conspiracy. Mandira and Meera arrange Savita's death; Meera blames Tulsi, who is thrown out of her home.
Twenty years later, Tulsi's grandchildren are grown; Nandini, missing from prison, is presumed dead. Ganga is estranged from the family. Tulsi, living in Haridwar and caring for her adopted daughter Krishna Tulsi, returns to Mumbai. Meera's misunderstandings are cleared up, and Tulsi is reunited with her family; Meera is imprisoned for murdering Savita. In the final episode, Parvati (Sakshi Tanwar) from Kahaani Ghar Ghar Kii says that she has Tulsi's grandson, Parth (Karan and Nandini's long-lost son).
Star Parivaar Awards
Kyunki Saas Bhi Kabhi Bahu Thi Wikipedia