Created by

Balaji Telefilms




Starring

See Below




Written by

StoryB M Vyas, Anjana Sood, Mahesh Pandey, Anil Nagpal, Sandiip Sikcand, Kamlesh Pandey, Nim Sood & Sonali JaffarScreenplayB M Vyas, Anand Gandhi, Twinkle, Prabha, Anjana Sood, Mahesh Pandey, Dheeraj Sarna, Radheshyam Rai, Vicky Chandra, Anil Nagpal, Vincent Varghese, Pinky Shah, Usha Dixit, Bobby Bhonsle, Mushtaq Shaikh, Jitesh Patel, Kamlesh Pandey, Samidha - Khaild, Gauri Kodimala, Garima Goyal, Harsha Jagdish, Sonali Jaffar, Gaurav Sharma, Sharad Tripathi, Manish Shrivastav, Vandana Tiwari, Al-Raines, Swati Pande, Divyanna Khanna & Mallika DuttDialoguesAmal Donwaar, Dheeraj Sarna, Shashi R. Singh, Deepti Rawal & Sharad Tripathi




Directed by

Arvind Babbal, Anil V. Kumar, Bharat Bhatia, Garry Bhinder, Rakesh Malhotra, Partho Mitra, Rajesh Babbar, Ravindra Gautam, Santosh Kolhe, Deepak Chavan, Rajesh Sethi, Anand Raut, Ajay Veermal, Ashish Shrivastav, Swapnil Shahane




Creative director(s)

Prashant Bhatt, Swapna Waghmare Joshi, Mitu Kumar, Sandiip Sikcand Nivedita Basu & Sanchi Bawa




Opening theme

"Kahaani Ghar Ghar Kii" by Priya Bhattacharya




Similar

Karam Apnaa Apnaa, Kyunki Saas Bhi Kabhi Bahu Thi, Kkavyanjali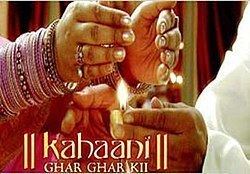 Kahaani Ghar Ghar Kii (English: The Story of Each Home) is a Hindi-language soap opera on Indian television which ran on Star Plus from 16 October 2000. The soap opera was created by Ekta Kapoor and was produced by her production company Balaji Telefilms.
The show explored the worlds of its protagonists Parvati Aggarwal and Om Aggarwal , who live in a joint family where by Parvati is an ideal daughter-in-law of Aggarwal family and Om the ideal son. The show is the story of the sons of Vishwanath Aggarwal (Deepak Qazir Kejriwal) and their children thereof. The show also had Ali Asgar who played the role of Kammal Aggarwal, Shweta Kawatra/ Achint Kaur who played the role of Pallavi Aggarwal as the major supporting cast.
Kahaani Ghar Ghar Kii was dubbed in Sinhala and broadcast on Sirasa TV.
The series was dubbed in English and broadcast on Omnitrix TV (DStv Channel 157, Openview HD Channel 110 and StarSat Channel 161), on 14 February 2021, at 11h30 am. And a rebroadcasting in South Africa and airs on SABC 3, on 12 February 2020, at 8:00 PM.
Story
Om Aggarwal (Kiran Karmarkar) is the son of reputed, rich and powerful businessman Vishwanath Aggarwal (Deepak Qazir Kejriwal). His sensible, polite wife, Parvati Aggarwal (Sakshi Tanwar) hails from a middle-class family and is the ideal daughter-in-law. Initially, Parvati was not strong willed enough to make her own decisions, but as time passes she becomes independent and undergoes major problems to protect her family. Parvati and Om have a daughter named Shruti.
The shows follows the various relationships of the four sons of the Aggarwal family. The youngest son, Kammal (Ali Asgar) helps his sister-in-law overcome her difficulties. He also starts an affair with his assistant, Nivedita, and impregnates her. Nivedita dies in childbirth after delivering a boy. The story follows how his wife Pallavi forgives his betrayal and raises Krishna as her own son.
The oldest, Ajay, is an established lawyer. He too begins an affair while his wife, Avantika, is pregnant. When he dies under mysterious circumstances, the murder is pinned on Om. Parvati is forced to choose between her beloved husband or the truth and eventually supports Avantika in indicting Om. However, it is revealed that Avantika was the true murderer and she is imprisoned while Parvati takes care of her daughter.
The show then has a 20 years leap, where it is revealed that Shruti is not Parvati's real daughter. Her real daughter, Gayatri, was exchanged with Shruti by mistake when riots broke out in the Gurudwara hospital where both were born. Parvati accepts both of them as her own daughters, but a fierce rivalry develops between the two. Shruti falls in love with Samir, but Gayatri marries him under false pretenses. After discovering the truth, Samir divorces her and plans to marry Shruti. But Gayathi declares she is pregnant and Om and Parvati's parenting skills are tested; Om supports Shruti and Samir. Parvati looks after a pregnant Gayatri and after delivering her child, Gayatri hands him to Parvati and leaves to America forever. Shruti and Samir name him Chotu (Ishaan).
As the story progresses, the narrative moves between discontinuous time periods. Eventually, Parvati succeeds in removing all hurdles from her and the Aggarwal family's life, and they live happily ever after.
References
Kahaani Ghar Ghar Kii Wikipedia
(Text) CC BY-SA