India




Rajasthan




1500




Kumbha of Mewar




Hindi




Rajasthan




Rajsamand




Chittorgarh Fort, City Palace - Udaipur, Mehrangarh Fort, Chand Baori, Lake Pichola



Kumbhalgarh Fort is a Mewar fortress in the Rajsamand District of Rajasthan state in western India. It is a World Heritage Site included in Hill Forts of Rajasthan. Built during the course of the 15th century by Rana Kumbha and enlarged through the 19th century, Kumbhalgarh is also the birthplace of Maharana Pratap, the great king and warrior of Mewar. Occupied until the late 19th century, the fort is now open to the public and is spectacularly lit for a few minutes each evening. Kumbalgarh is situated 82 km northwest of Udaipur by road. It is the most important fort in Mewar after Chittaurgarh.
In 2013, at the 37th session of the World Heritage Committee held in Phnom Penh, Cambodia, Kumbhalgarh Fort, along with 5 other forts of Rajasthan, was declared a UNESCO World Heritage Site under the group Hill Forts of Rajasthan.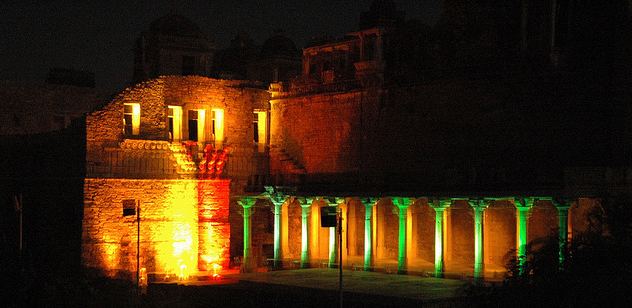 The Kumbhalgarh was built and ruled by Kumbha and his dynasty who were Sisodia rajputs descendents.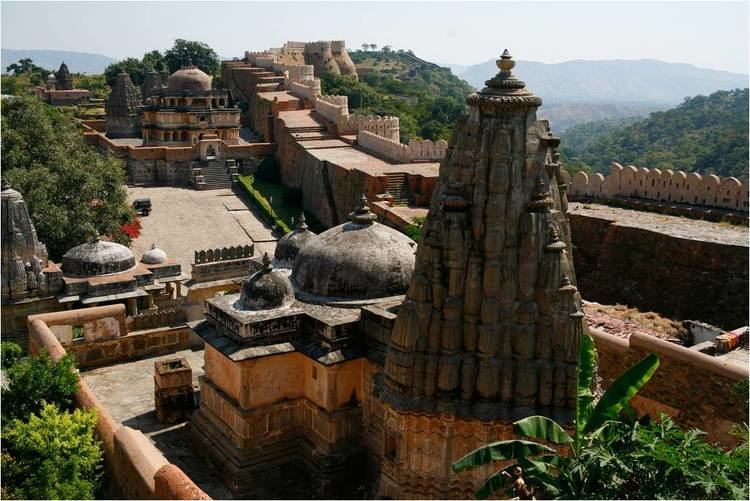 Kumbhalgarh in its present form was developed by, and said to be personally designed by, Rana Kumbha. Rana Kumbhas kingdom of Mewar stretched from Ranthambore to Gwalior and included large tracts of erstwhile Madhya Pradesh as well as Rajasthan. Out of the 84 forts in his dominion, Rana Kumbha is said to have designed 32 of them, of which Kumbhalgarh is the largest and most elaborate.
Kumbhalgarh also separated Mewar and Marwar from each other and was used as a place of refuge for the rulers of Mewar at times of danger. A notable instance was in the case of Prince Udai, the infant king of Mewar who was smuggled here in 1535, when Chittaur was under siege. Prince Udai who later succeeded to the throne was also the founder of the Udaipur City. The fort remained impregnable to direct assault, and fell only once, due to a shortage of drinking water, to the combined forces of Mughal Emperor Akbar, Raja Man Singh of Amber, Raja Udai Singh of Marwar, and the Mirzas in Gujarat.
Kumbhalgarh Wikipedia
(,)http://www.shaamehotels.com/shaam-e-retreat/wp-content/uploads/2014/11/Sound-and-Light-Show.jpg(,)http://3.bp.blogspot.com/-aUyTme_rSvA/UDDykIFiZbI/AAAAAAAAZi0/HNovOUhumF0/s1600/Kumbhalgarh%2Bgreat%2Bwall%2Bof%2BIndia%2B6.jpg(,)http://1.bp.blogspot.com/-AF6M5ckJFnc/UDDtgplt7RI/AAAAAAAAZiM/gOPa-a2Ohp8/s1600/Kumbhalgarh%2Bgreat%2Bwall%2Bof%2BIndia%2B1.jpg(,)http://4.bp.blogspot.com/-LOLp7IvoGQU/UDDuKNwSncI/AAAAAAAAZiU/f9cwhbU4vzY/s1600/Kumbhalgarh%2Bgreat%2Bwall%2Bof%2BIndia%2B2.jpg(,)http://www.pinkcity.com/wp-content/uploads/2013/06/kumbhalgarh.jpg(,)http://cdnstatic-1.mydestination.com/library/images/558672_1000_589.jpg(,)http://www.crystalinks.com/FortressIndia.jpg(,)http://shutterrush.com/wp-content/uploads/2013/09/SAX_28912-1024x597.jpg(,)https://rajasthanforyou.files.wordpress.com/2013/02/amber-fort-1.jpg
(,)http://www.holidify.com/images/foodImages/88.jpg(,)http://m.hrhhotels.com/library/images/Chowka_Restaurant.jpg(,)http://www.indovacation.net/images/Aodhi-hotel-kumbhalgarh5.jpg(,)http://sadaniraresort.com/sada_nira_restaurant.jpg(,)https://i0.wp.com/www.clubmahindra.com/sites/default/files/naukuchiatal_facade_header5.jpg(,)http://campsofindia.com/gallery/images/gallery_and_slider_img/kumbhalgarh_lodge/large/8_Restaurant_%40%2520KSL.jpg(,)http://www.devipalaceresort.com/images/site.jpg(,)http://www.clubmahindra.com/sites/default/files/Kumbhalgarh_header6.jpg(,)http://3.bp.blogspot.com/-dSy2Y0DnN_Y/TtyI9ObygzI/AAAAAAAAABk/w1GaH3l0Fvc/s1600/kumbhalgarh_fort.jpg(,)http://www.hotelkumbhalgarhforestretreat.com/images/Kumbhalgarh-Forest-Retreat-5.jpg(,)http://media-cdn.tripadvisor.com/media/photo-s/07/4b/5a/55/the-wild-retreat-kumbhalgarh.jpg