Kloof is a leafy upper-class suburb and small town, that includes a smaller area called Everton, in the greater Durban area of eThekwini in KwaZulu-Natal, South Africa.
The word Kloof (cf. cleft) means gorge in Afrikaans and the area is named after the deep ravine formed by the Molweni stream (stream of high cliffs). The Kloof Gorge is part of the 4.47 square kilometres (1.73 sq mi) Krantzkloof Nature Reserve.
Kloof extends from the top of Fields Hill and borders Winston Park, Gillitts, Forest Hills and Hillcrest. These suburbs are collectively known as the Upper Highway Area or the Outer West region of Durban.
The M13 highway (built in the 1940s) intersects Kloof and on 16 June this forms part of the route of the annual Comrades Marathon, an approximately 90 kilometres (56 mi) ultra-marathon run between Pietermaritzburg and Durban since 1924.
It is a predominantly white, English-speaking area. Kloof features several upmarket shopping centres and the Kloof Country Club, founded in 1927. It is known as a mist-belt with winding roads and tree-surrounded mansions.
A History of Kloof by Adriaan Rowe Kloof is situated on a form originally called "Tafelberg", which belonged to a pioneer. Andries van Tonderen.
According to a letter, found not long ago at the Deeds office in Pietermaritzburg, dated 15 February 1851, written by William Swan Field to Governor Benjamin Pine, on 11 July 1844 the farm was sold by van Tonderen to William Cowie for the sum of £225. William Cowie came to Natal in late 1837 with the Voortrekker group led by J J Uys and his son Pieter, and was one of the party of six Voortrekkers, sent by K.P. Landman, to meet with the British at Port Natal on 18 April 1838 to negotiate their settlement in the area. He was the son of 1820 Settlers from Scotland. and was married to Magdaleno Laos, the daughter of Andries Marthinus Laos, who became the owner of Salt River farm on which Pinetown is now located. Cowies Hill, known originally as Steilhoogte (steep heights), is named after him.
William Cowie had become a land speculator and sold Tafelberg, 13 months later, on 31 August 1845, to William Swan Field for the sum of £245. William Swan Field was the eldest son of William Field and Grace Coote and arrived with his parents and siblings in the Cape Colony in 1834 from Ireland, on his fathers appointment as Collector of Customs, Cape Town, and worked in his fathers department from 9 May 1838. He moved to Durban on his appointment as Acting Collector of Customs, and Surveyor and Landing Waiter at Port Natal, on 12 June 1844. He was later also appointed as the first Magistrate in Durban and also became a member of the Provincial Executive Council.
On 21 March 1845, a "Mr. & Mrs. Field and child" arrived in Durban on board the "Pilot" and it is thought that this was John Coote Field, a brother of William Swan Field, his wife Elizabeth Catrina (nee Swart) and their daughter Susara Johanna, who was born on 11 July 1844 at Potberg near Swellendam in the Cape Colony.
When the Government Surveyor, Thomas Oakes and the local Field Cornet inspected Tafelberg on 20 July 1847, he wrote in his report that he found "A House and out houses, Garden and Ploughed land, occupied by Mr. John Field", and therefore it is evident that he had lived on the farm for some time. It would appear likely that in about 1845 or 1846 William Swan Field had requested the Government to survey the farm so that he could obtain transfer, hence the visit by Thomas Oakes. By 1851 when he wrote to Governor Pine requesting assistance in obtaining transfer, he states that the original owner, Andries van Tonderen had left the Colony and transfer in the normal manner was not possible.
As a result of this "Memorial", Governor Pine granted transfer of the farm to be known as "Richmond No. 999", on 1 October 1851, in extent 5606 acres. William Swan Field never lived on the farm, but visited his brother and family periodically. William Swan Field died intestate on 14 April 1865 at the home of a family friend in Cope Town, where he was, by then, working. He had apparently made it known that his brother, John Coote Field, was to inherit Richmond farm, as if was transferred to him on 6 November 1867, and was valued at £1401 lOs.
In the early days the only means of transport was by means of ox- wagon, on horseback or on foot. The nearest shop was at New Germany, and therefore to a great extent they had to be self-sufficient. Whenever a ship came into port the Fields would send down butter in barrels, fresh meat, game and vegetables, and in exchange would receive soft goods, flour, farm machinery etc. The trip to Durban by ox-wagon took about three-quarters of a day.
An exciting event in their life on Richmond Farm was the arrival of the railway line, which opened through Krantz Kloof, as the area was known to the transport riders, by March 1879, and was officially opened to Pietermaritzburg on 1 December 1880. The nearest railway stations, at that stage, were at Pine Town and Gillitts. Owing to the steepness of the gradient (1:30) between Pinetown and Bolhas Hill, the old Beyer & Peacock steam engines needed to take on extra water and John Coote Field ("Old Jack" as he was known affectionately) negotiated with the Natal Government Railway to supply water from a stream at Waterfall, halfway up Fields Hill, in exchange for free passage for him and his family. Family legend has it that on one occasion Old Jack summoned the train to stop and the driver failed to do so. He immediately cut the water pipes to the tanks next to the line, thus forcing the locomotives to a halt. Only the intervention of the General Manager, David Hunter (later Sir David Hunter), who arrived in his personal carriage to negotiate with Old Jack, resolved the problem. It was agreed, henceforth, that all trains would stop at Fields Hill halt, (next to the present Fields Hill Garage) which was about 300 metres from the farm homestead, so that he and his family could alight. Despite an extensive search, no documentary proof of this story has yet been found.
Krantz Kloof Station, a wood and iron building next to the site of the present Kloof Station, was built and opened in about 1896. It also served as the venue for the first Church services, and it was from here that one collected ones post, and was, in due course, where the telephone exchange was located.
On 1 February 1896 John Coote Field died and in his will, he left the farm to their eleven surviving children, and one grandchild, with his wife having the life use. Elizabeth Catrina Field died on 27 September 1901, and the twelve subdivisions were in due course transferred to the beneficiaries, most of the sons inheriting 561 acres and the daughters 400 acres. Some members of the family immediately began subdividing their inheritances, and by 1903 the village of Krantz Kloof was born. Esme Stuart in her book "I remember..." writes that as a child of three and a half years in late 1904, she remembers the arrival of ox-wagons at Krantzkloof with their furniture from Durban.
Because of confusion caused by the similarity of the names of Krantzkloof and Kranskop, the Railways asked the locals and the Field family for permission to change the name, and it was changed to Kloof on 3 July 1922. The station building was rebuilt in 1924 and after a number of changes, in recent years, now serves as a Pub and Restaurant.
The escarpment above Pinetown had a pleasant cooler climate, and in the early days, this made Kloof properties sought after as weekend and holiday retreats, away from the humidity of the coastal strip.After fifty signatures were obtained from residents by William Brady, electricity was brought up Fields Hill in 1928. A dam was built in Krantzkloof Nature Reserve, together with a purification works in Alamein Avenue and running water was piped to houses in 1950. The dam and purification works are still in use.
In 1942 a Town Board was formed to administer the requirements of the village, and on 1st January 1961 Kloof obtained Borough status. Kloof is now port of Durbans eThekwini Municipality.6 October, 2002
Sources:
Deeds Office, Pietermaritzburg.
Surveyor General, Pietermaritzburg.
Natal Archives Repository, Pietermaritzburg.
Cape Archives Repository, Cape Town.
Unpublished manuscript: "A History of Kloof, Natal" by Meredith Mary Shadwell.
"British Settlers in Natal 1824-1857" by Shelagh OByme Spencer. 

Sources:
Deeds Office, Pietermaritzburg.
Surveyor General, Pietermaritzburg.
Natal Archives Repository, Pietermaritzburg.
Cape Archives Repository, Cape Town.
Unpublished manuscript: "A History of Kloof, Natal" by Meredith Mary Shadwell.
"British Settlers in Natal 1824-1857" by Shelagh OByme Spencer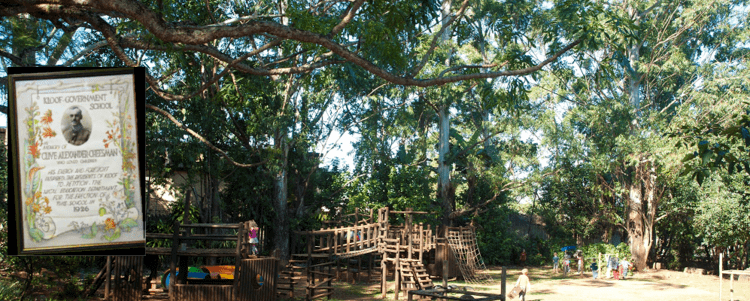 This part of KwaZulu-Natal was originally a 6,000-acre (24 km2) farm Richmond, whose survey was ordained by the first Lieutenant-Governor of Colony Sir Martin West, following his 1845 appointment to the post; he also named it, after Charles Lennox, 4th Duke of Richmond (Yorkshire, England).
The land Kloof occupies formed the 2,836 hectare (7,008 ac) Richmond Farm No. 999: this was given to William Swan FIELD by the British Government in 1851 as reward for his services as First Collector of Customs (position he held until 1852) for Natal Colony, and as First Magistrate of Durban. In 1852 he settled brother John Coote FIELD and his family on the farm, having had them brought up from the Cape Colony. The farm was eventually transferred into J C Fields name by Deed of Transfer in 1867, at a declared value of 1,401 pounds & 10 shillings.
The original farmhouse, called Richmond House, was built by J C Field in 1854 to replace an earlier house. The Richmond section of the farm passed to his son John Coote FIELD the Second in 1880 on the occasion of his marriage, who partially demolished the original Richmond House and rebuilt another homestead nearby.
J C Field the First died in 1896, and upon the death of his widow in 1901 the Farm was divided amongst the surviving heirs: 560 acres (230 ha) for each son, 395 acres (160 ha) for each daughter, and the homestead plus 500 acres (200 ha) to his youngest son Benjamin Cromwell Colenso FIELD.
(,)http://kloofpp.org.za/wp-content/uploads/2013/04/history1.png(,)http://www.kloofconservancy.org.za/wp-content/uploads/2013/04/MemPark-1958.jpg(,)http://www.umgenisteamrailway.co.za/Pics_19D/Ballast_train_Greg_Hart_25112012_(4).jpg(,)http://upload.wikimedia.org/wikipedia/en/thumb/b/b4/Kloof_High_School_Insignia.svg/792px-Kloof_High_School_Insignia.svg.png(,)http://4.bp.blogspot.com/-dt6W0tYpRvQ/UcHwPKYKaWI/AAAAAAAABT0/55dRegySgz4/s1600/IMG_8391.JPG(,)http://4.bp.blogspot.com/-TB7JePdJKho/UcHxB3Z6hSI/AAAAAAAABVQ/E1RrLIPHgds/s1600/20130617_134823.jpg(,)http://3.bp.blogspot.com/-HwFlOvmILV8/UcHzqHRbZ0I/AAAAAAAABWQ/0Iv_7TkUEi8/s1600/20130617_133339.jpg
(,)https://d2v7cp6zd42ged.cloudfront.net/restaurantpictures/65019_restaurant_de_kloof_restaurant.jpg(,)http://www.eatout.co.za/wp-content/uploads/2013/11/de-kloof6-27Oct11-024737.jpg(,)http://www.safarinow.com//db/id/994684/994684a.jpg(,)http://www.oonkloof.co.za/images/cuisine_1.jpg(,)http://www.tonis.co.za/wp-content/uploads/2013/11/outside.jpg(,)http://foodblog.cape-town.info/media/Hotspot%2520Pics/Kloof1.jpg(,)http://www.capeparadise.co.za/wp-content/uploads/Kloof-Street.jpg(,)http://www.getaway.co.za/wp-content/uploads/2012/07/Asoka_10-615x420.jpg(,)http://www.luxo.co.za/website/admin/UserFiles/Image/Fashion%2520/asoka%2520(2).jpg(,)http://www.safarinow.com/db/id/994684/267758a.jpg