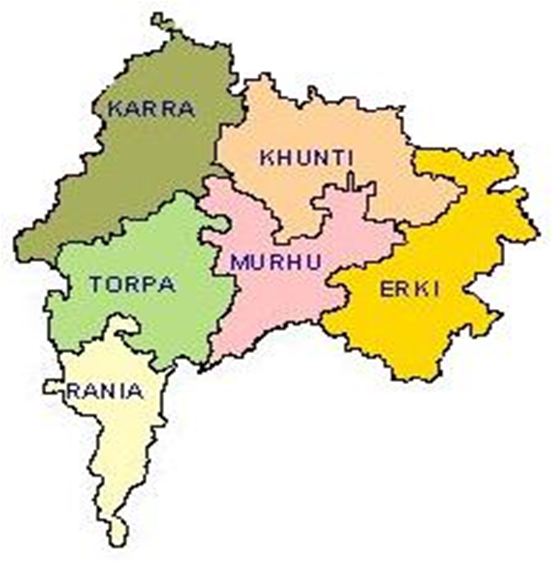 According to a local legend, it is told that at old time Munda people tradition, King of Chhotangapur Maharaja Madra Munda's son Setea had eight sons. Of these eight greatgrandsons of Madra Munda, the eldest went southwards of Ranchi. He established a Khuntkatti village which he named Khunti.
When Mundas first went to Khunti and its neighborhood, they found that part of the country in the occupation of the Asuras and the Tirkis. When the Mundas with their stalwart physique appeared in the country, the Asuras and Tirkis got terribly frightened. It is asserted that Munda women of those times used to wear glittering jewelery weighing as much as ten seers each and the men could carry weights as much as many maunds. The Mundas to this day recite a couplet which describes how the Tirkis fled in trops when they saw the Mundas approach with their many ornaments sparkling in the sun. The Asuras went westwards to Basia Pargana and Nagra.
Khunti is located at 23°04′19″N 85°16′49″E southern Jharkhand.
The landscape is uneven and mountainous with perennial river flowing at seasons.
The climate is tropical rain forest. Maximum rainfall takes place during the months from July to September that accounts for more than 90% of total rainfall in the state.
As of 2001 India census, Khunti had a population of 29,271. Males constitute 52% of the population and females 48%. Khunti has an average literacy rate of 69%, higher than the national average of 59.5%: male literacy is 75%, and female literacy is 61%. In Khunti, 15% of the population is under 6 years of age.
There is a lack of utility services of water supply due to which people dug open wells in every house or the use of hand pumps for water procurement. Postal services have proved to be much efficient.
There is a civil hospital at Khunti with facilities for providing medical facilities to the public.
Birsa Munda Airport in Ranchi is the nearest airport. It is around 33 km from Khunti.
There is no railway station in Khunti. The nearest station to Khunti is Hatia railway station. Most people use bus or taxi services to reach Hatia Railway Station or Ranchi Railway Station.
Panchghagh Falls : A spectacular place with five beautiful cascaded in a row, Panchghagh Falls, located around 15 km from Khunti in a place on way to Khunti-Chaibasa. These five falls originates from high altitudes and the foot of the falls is good picnic spot, to have the experience of bath under the gushing water. Recently these five falls have been attracting many tourists visiting Khunti for its eternal beauty, pristine surroundings and calm atmosphere.
Deer Park : The park is placed a picturesque surroundings, with beautiful gardens, well laid pathways and playing parks for children. The main attraction here is the Park safari and the facilities arranged for the visitors are very good.
Angrabadi Temple : Angrabadi temple complex, placed in the surroundings of tranquil beauty and in a calm and peaceful atmosphere, is a majestic temple complex near Khunti. The temple was renamed as Amreshwar Dham by the Sage Shankaracharya Swami Swarupananda Saraswathi. The temples are distinctive and enclose the Hindu Gods such as Lord Shiva, Lord Ganesh, Rama-Sita and Hanuman. Ram-Sita is a unique one worth visiting. This is a superb place to visit for spiritual enrichment and also for eye pleasing natural beauty and sceneries.
Perwaghag : One of the most beautiful waterfalls in Jharkhand, hidden in the lush forests near Torpa block. In rainy season it is inaccessible. But, in winter around Christmas and New Year it is one of the most popular picnic spot to enjoy.
St. Michael's Church, Khunti One of the oldest church in Khunti St. Michael's Church (German: Hauptkirche Sankt Michaelis, colloquially called Michel, German pronunciation: [ˈmɪçəl]) is one of Khunti's five Lutheran main churches (Hauptkirchen) and the most famous church in the city. St. Michaelis is a landmark of the city and it is considered to be one of the finest Hanseatic Protestant baroque churches. The church was purposely built Protestant unlike many other Hamburg churches which were originally built by Roman Catholics and were converted to Protestantism during the Reformation. It is dedicated to the Archangel Michael. A large bronze statue, standing above the portal of the church shows the archangel conquering the devil.
The 132-meter high Baroque spire totally covered with copper is a prominent feature of Hamburg's skyline and has always been a landfall mark for ships sailing up the river Elbe.
Khunti is home to people of many castes, creeds and sects. All festivals are celebrated with pomp, glory and in harmony specially local festivals like Faghun, Sarhul, Dasain, Tusu, Karam etc.
Basically people are known Adiwasi dance but actually its name are Jadur Susun (Dance), Karam Susun (Dance) etc. these dances are dancing occasionlly,
Dorma is a small village in Torpa Block in Khunti District in Jharkhand State. Torpa, Rania, Murhu, Kamdara, are the nearby Towns to Dorma . Dorma is reachable by Pokla Railway Station, Bano Railway Station, Piska Railway Station, Itky Railway Station, . Its main Village Panchayat is Dorma Panchayat . Dundigara is a small village in Namkum Block in Ranchi District in Jharkhand State. Namkum, Ranchi, Kanke, Angara, are the nearby Towns to Dundigara . Dundigara is reachable by Namkum Railway Station, Ranchi Railway Station, Argora Railway Station, Hatia Railway Station,. Its main Village Panchayat is Dundigara Panchayat .
Khunti is also known for its communal harmony. The population mainly consists of tribal communities such as Munda, Kharia, Oraon, etc. In town area people belonging to other communities (caste Hindus) are also well established along with these Tribal people. Festivals like Dushera, Diwali, Christmas, Good Friday, Sarhul, Eid, Muharram, Ramnawmi, Holi, etc. are celebrated with participation of all communities. The place also boasts of a thriving business community. Known for its tranquility, in the recent past the place has been witnessing Naxal insurgency.
Majority of the population is tribal in the Khunti sub-division and they are dependent on agriculture and forests for their livelihood. Lack of food security from the land has compelled many tribal families to migrate out of their own villages. This is despite the fact that the existing landholdings can provide stable livelihoods to the tribal families. Lack of land development, irrigation, credit, know-how for improved agriculture, access to market etc. act as serious constraints leading to a large number of impoverished tribal families.
The area however is endowed with good rainfall - in most blocks the annual rainfall exceeds 1100 mm. There are numerous small rivers, rivulets and streams, which carry water up to the month of February or March. In spite of that, most cultivated lands do not have assurance of water for crops even during the monsoon. Inadequacy of water harvesting infrastructures and water use systems have allowed the rain water to run off through the streams to downstream areas beyond the State, leaving the lands here dry.
It has been long argued that ensuring water assurance to crops and improving land husbandry practices could go a long way in improving the livelihoods of poor families and impacting the local economy in rural areas. However, it has also been the experience that timely credit in adequate amount and know-how for improved agriculture are also essential along with water assurance to crops. For water assurance, the large irrigation schemes have not been successful in the district and other parts of Jharkhand.
The area is famous for the Lac cultivation. A large part of the India's total lac production comes from this area.Lac, a natural polymer (resin) is produced by a tiny insect, Kerria lacca (Kerr), which is purposely cultured on shoots of several species of trees, mainly palas, kusum and ber. This agricultural profession of lac cultivation is a subsidiary source of income for a large number of families in the area.
A number of development agencies are active in the area, prominent among which is a national level development organization called PRADAN, with an office in Torpa road. Others are missionary organizations such as, NBJK, and SGVS.