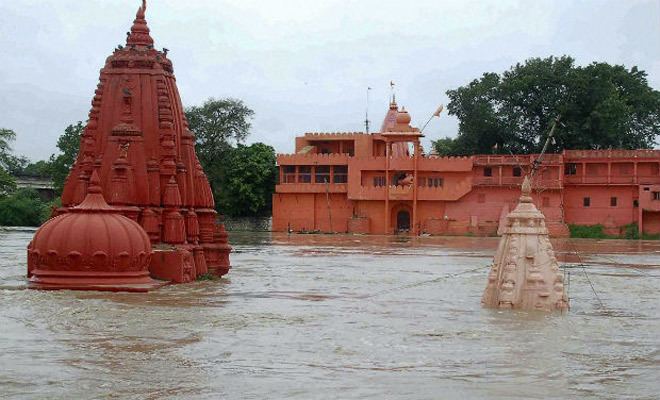 According to mythology, the name "Nimar" was derived from the word "Nimarya" (निमार्य), which signifies that the land had belonged to both the Aryas and the non-Arya. However, according to another myth, the word "Nimar" has been associated with the place due to the presence of a large number of Neem trees.(link).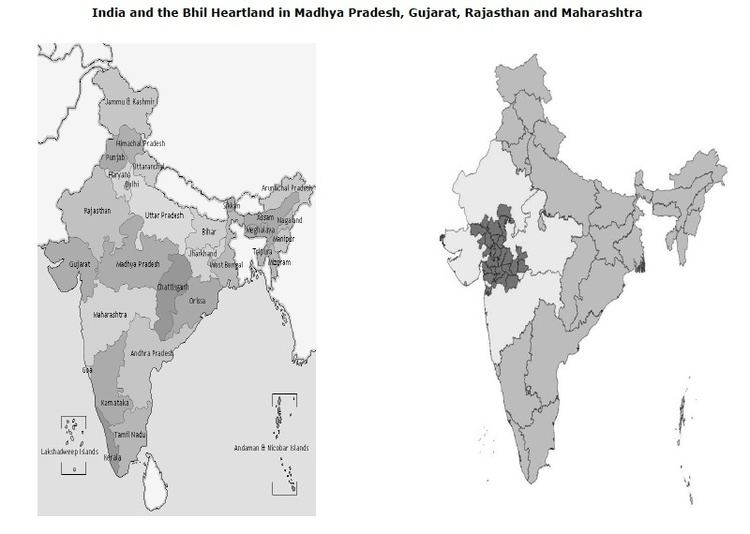 At different times in history, the area was ruled by the Kingdoms of Haihayas (हैहय) of Maheshwar, Parmar of Malwa, Ahirs of Asirgarh, Muslims of Mandav, Peshwa, Mughals and Marathas. After the formation of the state of Madhya Pradesh on 1 November 1956, the district came into existence as West Nimar (पश्चिम निमाड़). Later (on 25 May 1998) due to certain administrative needs, the district was divided between Khargone and Barwani.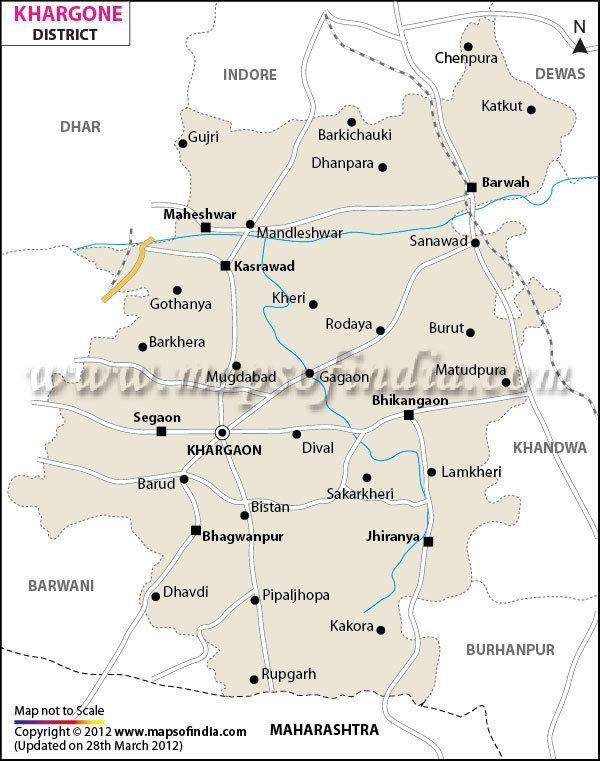 Near 17 Kilometer, "OON" is a very old village and here 99 Bhumija Style Temples; made by emperor Ballaleshwar. OON is also famous for MahaLakshmi and Jain Temple.
The population of the district was estimated to be about 410,587, according to the census of India 2011.
Khargone is located in the south-west border of Madhya Pradesh, 258 metres (846 ft) above sea level. It is spread over an area of 8,030 square kilometres (3,100 sq mi). Towards the north it borders Dhar, Indore and Dewas districts. Towards the south, it borders Maharashtra, in the east, Khandwa&Mundi and Burhanpur and Barwani in the west. Khargone is in the middle of the Narmada River valley with the Vindhyachal mountain range situated in the north and Satpura in the south. The River Narmada flows along a path of 50 kilometres (31 mi) inside the district. Veda and Kunda are the other two main rivers in the district.
Khargone is 90 km (56 mi) away from Barwani, 80 km (50 mi) from Khandwa and 140 km (87 mi) from Indore120 km (75 mi) from Mundi. The district is connected to the cities of Indore, Khandwa, Mundi, Barwani, Dhar, Jhabua, Jalgaon and Dhulia by road. The Agra-Mumbai National Highway (NH#3) passes through the district. In the eastern part, the district has a meter-gauge railway line connecting Delhi-Jaipur-Indore-Khandwa-Hyderabad. Important stations on this route include Barwah and Sanawad. The nearest broad gauge line railway station is Khandwa Junction. The nearest airport is located at Indore & Khandwa.
Khargone is growing fast as a city, and it now includes many villages, such as Jetapur. As of 2001 India census, Khargone had a population of 86,443. While males constitute 52% of the population, females average 48%. Khargone has an average literacy rate of 66%. This is higher than the national average of 59.5%: male literacy is 75%, and female literacy is 57%. About 16% of the population is under 6 years of age.
Economically, Khargone is dependent on agriculture, with several other industries developing in the area.
The major cash crops of Khargone District are cotton, soybean and chilly (or "chili pepper"). The district is India's biggest cotton-producing region. There are various cotton processing units (spinning) in the cooperative sector and private sector. One of the major spinning unit is JawaharLal Nehru Sahakari Soot Mill, situated on Julwania Road. It is a cooperative sector society. The red chilly is exported abroad. A famous mandi of chilly at Bedia is located about 50 km from Khargone and the famous Sendhwa cotton hub is just 70 km from district headquarters.
Various cultural activities are held throughout the year. Residents of the city, belonging to different religions, celebrate various festivals such as Diwali, Eid, Holi, Christmas etc. with harmony and peace. Other than the regular festivals, certain festivals are local to the region such as Gangore, which is celebrated by many people.
There are many other cultural events held in the city throughout the year. There are various book fairs, art fairs, etc. Many local festivals celebrated with joy and happiness, such as 'Nag Panchami' (a day celebrated for snakes which are respected and worhipped like a god in Hindu mythology), or Bhagoriya (a festival celebrated by tribal people in the region).
Shree Navagrah Mela is an annual fair held during the months of January and February. It lasts between 20 and 25 days. The fair is held at the Mela Grounds situated near the banks of river Kunda, near the famous Navagraha temple. The name 'Navgraha Mela' is itself derived from the Navagraha mandir (temple), which is the temple devoted to the nine planets (Nav-grahas) and the god 'Sun'. There are various attractions and events held during the fair, such as 'circus' or 'moving theatres' and amusement rides for children and youth.
A significant feature of the event is a large market with hundreds of stalls selling a wide variety of goods. A large amount of business is generated by this fair every year in Khargone. Food and cuisine is also an important attraction, with many different local cuisines available.
A separate cattle and livestock market also takes place during the fair where various animals such as bulls, cows, goats and calves are brought from nearby villages and areas for exchange and sale.
Nimar Utsav is very popular event held in Nimar. As the name suggests, it is the 'utsav' (celebration) or the festival held every year in the holy city of Maheshwar at the banks of Narmada River. During this event, different arts and cultural programs are held, such as displays of different dance forms and the cultural aspects of Nimar. Many tourists attend the event every year.
Khargone has a transitional climate between a tropical wet and dry climate and a humid subtropical climate. Three distinct seasons are observed: summer, monsoon and winter. Summers are extremely hot and dry in this region, lasting from mid-march to mid-June followed by the monsoon season. The temperatures in summer are usually above 40 °C (104 °F) during April–May. During these months when temperatures become very high, the dry and hot wind (locally known as "loo") blows in this area, widely affecting the local ecology. The temperature also remains quite high during the night.
The monsoon arrives in late June, with temperatures around 29 °C (84 °F) and about 36 inches (914 mm) rainfall. The rainy season is humid and has substantial rainfall. Local people are commonly affected by the flooding of river Kunda, which flows from outskirts of the city. Winters start in mid-November and are dry, mild and sunny. Temperatures average about 4–15 °C (39–59 °F), but can fall close to freezing on some nights.
The district is served well with several educational institutes, comprising both the private and public sectors. There is a government post-graduate degree college in the city, with three engineering colleges, three pharmacy colleges, one pilot training college and two polytechnic colleges, along with several English and Hindi medium schools and colleges. These institutions offer degrees in both the science and the arts. This district is the best educational district in the Nimar region. Ranks of districts: 1) Khargone, 2) Khandwa, and 3) Barwani.
There are 2,605 primary schools (PS), 721 middle schools (MS), 73 high schools (HS) and 69 higher secondary schools (HSS) located in the district. The district also has five Kendriya Vidyalays (central schools). These include: Kendriya Vidyalaya (Khargone), Kendriya Vidyalaya (Barwah), Kendriya Vidyalaya (Badwani), Kendriya Vidyalaya (kasrawad), Modal school Badwani and Navoday Vidyalay Sanawad.
There are also several high schools. Among these:
1. Rishikul vidhya vihar hr. Sec. School jetapur 2.Maharishi Vidya Mandir.(CBSE affiliation Number: 1030219) 3. St. Judes School(CBSE Affiliation Number: 1030166 4. Aaditya Vidya Vihar.CBSE affiliated. 5. Gokuldas Public School (CBSE Affiliation Number 1030212) 6. Saraswati Vidya Mandir 7. Priyadarshani Shikshaniketan. 8. Bal Shiksha Niketan 9. Devi Ahilya School of Excellence no. 1 10. Shri vaishnav vidhya mandir. 11.Devi Ahilya Govt. Boys Higher Secondary School no. 2. 12 Lotus children's school Gouridham Colony Khargone 13 Innovative Public School, in front of kendriya vidhyalaya, kasrawad road, khargone 14 Sanskar Shikshalay, Nutan Nagar 15 Govt. Boys Higher Secondary School, Gogawa 16 Avisans Public High School Jetapur, Khargone 17 saifiyah Higher Secondary School, khargone 18 The Creative Public Higher Secondary School
There are various colleges in the district. These are affiliated with Devi Ahilya Vishwavidyalay, Indore (University of Indore) and offer several graduate and postgraduate-level courses. The list includes:
Shree Narayan Institute of Technology (SNIT), Bistan Road Khargone
Jawaharlal Nehru Mahavidyalaya
Jawaharlal Institute of Technology, Borawan
Government Post Graduate Degree College
Government Girls Degree College
Shreeji Institute Of Technology and Management College(Khandwa Road)
ALMA COMPUTER KHARGONE (VISHWSHAKHA COLONY KHARGONE)
SAIKRIPA ACADEMY KHARGONE(VISHWSHAKHA COLONY KHARGONE)
GOVT, HIGH SCHOOL BADI(451228) KHARGONE
Most of the dist.co-opretiv bank and national banks have branches in the city. Prominent ones include the jila sahkari kendriya bank maryadit city branch near goul build.chouraha, main branch bus stand, tilak path branch, pahadsinghpura brach, State Bank of India, the State Bank of Indore, the Bank of India, Punjab National Bank, the Bank of Maharashtra, Syndicate Bank and the Central Bank of India. Private banks such as HDFC, Axis Bank(Sanawad Road), ICICI, Union Bank, and Bank of Baroda have also opened branches. These branches are located in the Radha Vallabh market area.
Currently, Khargone has eight ATMs that belong to the State Bank of India, Axis Bank, HDFC bank, ICICI, Union Bank of India, Punjab National Bank, Bank of Maharashtra, Jila sahakari kendriya bank maryadit, khargone and the Bank of Baroda.
It is said that there are more than 100 temples at Khargone, indicating the long history of Maheshwar. Main temples for visitors are Sahastararjun Temple near the holy river Narmada, Raj-Rajeshwar Mandir, Kashi Vishwanath Mandir, Chaturbhuj Narayan Mandir, Ahilya Mata's Chhatris, Rajwada, Chintamani Ganpati Mandir, Bada Ganpati temple, Damkheda mandir Pandharinath Mandir, Bhawani Mata Mandir, Gobar Ganesh Mandir, Banke Bihari, Anant Narayan Mandir, Khedapati Hanuman, Ram and Krishna Mandir. Baneshwar temple, Kaleshwar, Jwaleshwar and Narsingh Mandir are very good for nature lovers. The recently built Ek mukhi Datta Mandir is situated in Jalkoti, Sahastradhara.
Pavagiri Tirth
Shri Pavagiri Tirth is situated in Una or Oon. The temple was erected in 12th century during the period of Parmars. It is said that Ballal, the king of Malwa committed to built 100 temples but died after completion of 99 temples giving this place the name Una (one less than 100). Gwaleshwar temple is dedicated to Shantinatha, the 16th Jain Tirthankar. Moolnayak of the temple is a 12 feet tall black colored idol of Lord Shantinath in standing posture with 8 feet tall idols of Lord Kunthunath & Arahnath on both sides. Colossus of Lord Shantinath was installed in 1206(V.S. 1263). In Year 1934, 2 feet idol of Lord Mahaveer Swami in padmasan posture was excavated dating back to 1195(V.S. 1252). Many idol belonging 12th-13th century can be found here. The temple has a dhamshala with bhojanalya. The architecture of the temple is similar to that of in Khajuraho. Temples of Mahavira, Sambhavnatha, Chandrprabhu are present near the main temple Temple of manokamneswar hanuman at village surwa
Sanawad
Khandwa
Kasrawad
Bhikangaon
Maheshwar
Mandleshwar
Kasrawad
Dhamnod
Dharampuri
Rajpur
Sendhwa
Anjad
Pandhana
Barwaha
Manpur
Chopda
Manawar
Badi, Kasrawad, Khargone 38 km
village surwa khargone 31 km
Bawangaja (now in Barwani)
Oon (14 km), famous for its Jain pilgrimage centres.
Nanheshwar (20 km), famous for its ancient Shiva temples.
The Navagraha temple, the ancient temple devoted to Navagraha, the nine (nava) major celestial bodies (Grahas) of Hindu astronomy.