Created by

L. J. Smith




Gender

Female




Creator

L. J. Smith




Portrayed by

Nina Dobrev




Played by

Nina Dobrev




TV show

The Vampire Diaries







First appearance

The Awakening (novel)Lost Girls (The Vampire Diaries)




Last appearance

"Gone Girl" (The Vampire Diaries)(Season 5)I Was Feeling Epic (Series Finale)


Species

Vampire (season 1-5)Doppelgänger (season 1-5)TravelerHuman (Witch)


Significant others

Damon Salvatore, Stefan Salvatore




Similar

Elena Gilbert, Damon Salvatore, Stefan Salvatore, Caroline Forbes, Niklaus Mikaelson
The story of katerina petrova katherine pierce
Katerina Petrova (Bulgarian: Катерина Петрова; English: Katherine Pierce), is a fictional character from the hit TV series, The Vampire Diaries.
Contents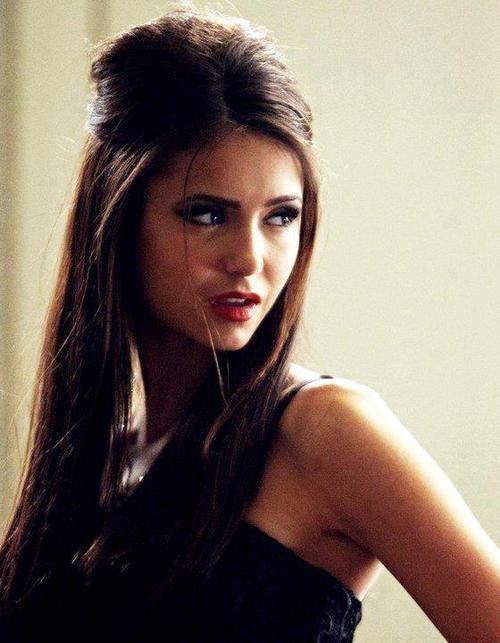 Born June 5, 1473, Katherine is a doppelganger, descended from Amara and Tatia. She is an ex-vampire and the ex-lover to both the Salvatore brothers, Damon and Stefan. She first appears as Katherine Pierce in recurring flashbacks to 1864, which feature her romantic entanglements with the Salvatore brothers. She managed to turn them both into vampires, but she was consequently captured by the townspeople of Mystic Falls to be killed in Fells Church where they planned to lock the vampires in before setting it alight. She later appears in present day.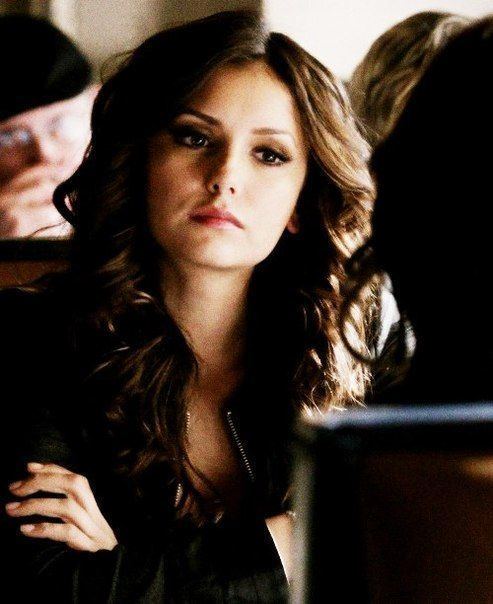 Behind her sweet-nature facade, a much more calculating side of Katherine is revealed through flashbacks in which she escaped certain death with the help of George Lockwood, (at the expense of all the other vampires in town) in 1864. After 145 years, Katherine returns to Mystic Falls, toying with the Salvatores again and has a hidden agenda. Katherine earns no love after she turns Caroline Forbes into a vampire and uses a werewolf, Mason Lockwood, to retrieve a mysterious moonstone. Eventually she is exposed as a doppelgänger who has spent her immortal life fleeing from an Original vampire named Klaus.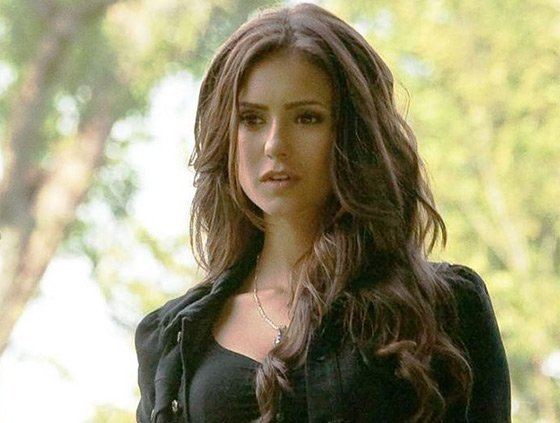 During Katherine's five centuries of life she became one of the most ruthless, notorious and infamous vampires in history. Katherine promises John Gilbert that she will help protect her descendant Elena Gilbert, even though the younger doppelgänger is her competition for the Salvatores' affections. She is initially portrayed as the main antagonist, but upon the arrival of Elijah, one of the Original vampires, Katherine is clearly terrified by the prospect of finally being caught by Klaus. Once she escapes at the end of the second season, she flees Mystic Falls almost immediately. Later returning to Mystic Falls in season 4 killing Elenas brother Jeremy to acquire a cure for vampirism negotiating a deal with Klaus for her freedom. This however backfires on her when Elena shoves the cure into her mouth, turning her human. Over the next season Katherine finds her long lost daughter, together they plant Katherine into Elena's body, but once Elena's friends discover this, she is stabbed to be extracted from Elena's body and she dies beside her daughter who dies just moments earlier from a hybrid bite.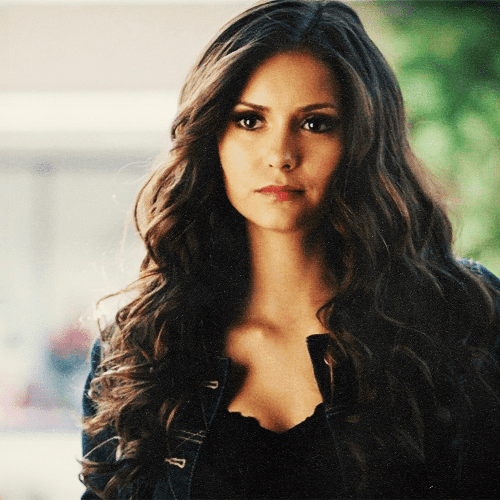 Background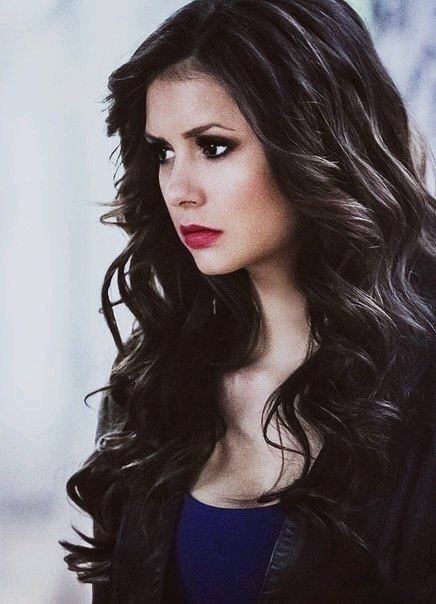 Katerina Petrova (Bulgarian: Катерина Петрова) was born into a wealthy Bulgarian family on June 5, 1473. In 1490, a very young Katerina became pregnant by an unknown man. She carried the child to term; but seconds after her daughter's birth, Katerina's father took the child away. He claimed it would be better for both of them to never see one another and consequently her family disowned her for the shameful birth of an illegitimate daughter. At this time it seemed to be a devastating "punishment" to her crime.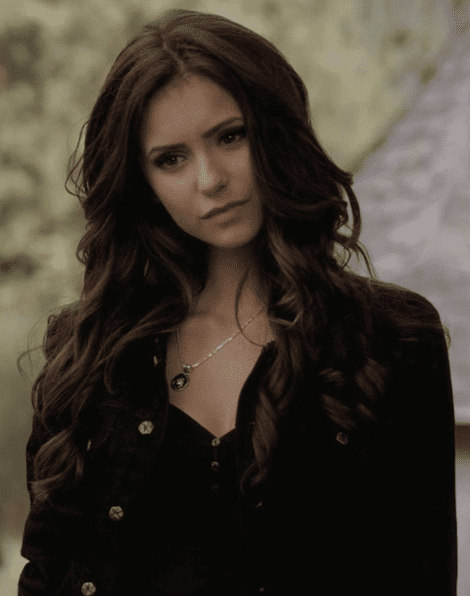 Katerina was banished to England for her embarrassment of the Petrova family, but she quickly adjusted to becoming English. In 1492, she met Trevor. Although he was in love with her, out of loyalty he introduced her to Lord Elijah. He in turn introduced her to his younger brother, Lord Niklaus. Katerina was attracted to Klaus until she found out who he was and what he was planning on using her for: a sacrifice to break the Hybrid Curse placed on himself. She escaped with the help of Trevor, who led her pursuers astray. Trevor directed her to go to a cottage in the woods, expecting his friend Rose to keep her safe.
When Rose found out that Katerina had escaped from Klaus with the moonstone, she realized the repercussions of Klaus and was not willing to partake in the sacrifice Trevor was willing to offer. She locked Katerina in a room and told her that she would take her to Klaus as soon as the opportunity arose. Katerina faked her suicide by stabbing herself with a knife, saying she would rather die than go back to Klaus, but this was a ruse to force Rose to feed her some of her blood to heal her. As soon as Rose turned her back to confront Trevor, Katerina hung herself. Later, when she woke up in transition, Trevor asked why she did it and claimed he would've helped her live. Katerina says that he would have been able to help her run and that running was never going to be enough. Rose explains to Trevor that Katerina used him as a means of escape. Knowing that Klaus would see their role in the escape, Rose attempted to kill Katerina with a stake. Katerina used the owner of the cabin as a shield, which resulted in her death. Katerina then gave in to her instincts and drained the little old lady, completing her transition into a vampire. She then threw the body towards Rose and Trevor and fled. This happened on April 6, 1492.
Katerina returned to Bulgaria in the later months of 1492 to find her entire family slaughtered by Klaus. She knew he had done it as revenge for her escape and subsequent transition. She was last seen in this time period weeping over her mother's dead body.
1864
In 1864, Katerina arrived in Mystic Falls, Virginia, by which time she had taken the name Katherine Pierce, presumably to avoid detection by Klaus. At some point she had become friends with Pearl and her daughter, Anna, and she saved the life of the witch Emily Bennett, putting Emily in her debt. Emily forged her a special piece of jewelry with the stone Lapis Lazuli which allowed her to walk in the sun without being burned. She was taken in by one of the town's founders, Giuseppe Salvatore, having spun a story about being orphaned by a fire that killed her family. Katherine met and fell in love with his son Stefan Salvatore, though she quickly began a relationship with Stefan's older brother, Damon, as well. Katherine created quite a few vampires while living in Mystic Falls, which alerted the Founding Families of their existence. Alerting Katherine to an elixir containing Vervain that Honoria Fell had asked to be sold at the apothecary, Pearl tried to convince her to leave, but Katherine refused, claiming she had a plan in motion. Her plan was to turn Stefan and Damon into vampires, having seduced them both during her stay at the Salvatore household.
Realizing how quickly the Founder's Council would take action against the vampires, Katherine struck a deal with George Lockwood: she would give him the moonstone if he would help her fake her death. Stefan unwittingly suggested to his father that he knew a vampire, and Giuseppe guessed Katherine's true identity. Giuseppe spiked Stefan's drink with vervain and, later that night, Katherine bit him. She was incapacitated by the vervain in his bloodstream, and, hearing the commotion, Giuseppe burst in to take her away. Damon later went to rescue her, and Stefan, upset that he had hurt his brother and jeopardized Katherine's life, helped him in the effort. They were both killed trying to save her, shot by Giuseppe, who was ashamed his sons had succumbed to the wiles of a demon.
Katherine and the other vampires were taken to Fell's Church to be destroyed, but George helped Katherine escape. She gave George the moonstone, but instead of leaving right away, she turned to see Damon and Stefan's bodies lying in the road. She ran to Stefan, kissed him, and promised they would be together again someday. After transitioning into a vampire, Damon was told by Emily that Katherine was trapped in the tomb beneath the church, and as a result, he never stopped loving Katherine as he awaited the day he could rescue her. In reality, Katherine was still lying low to evade Klaus, and she kept a close eye on Stefan, pointing out that she had seen him in the front row of a concert in the 1980s to prove that she'd always been watching over him.
1920
During the 1920s in Chicago, Katherine was seen for a brief moment 'observing' Stefan from afar. During a police raid in a restaurant/bar, she spotted Rebekah's necklace but decided not to pick it up so Stefan wouldn't see her and disappeared into the shadows.
Season 1
Damon reveals that he's spent his entire existence of being a vampire loving Katherine and focusing on freeing her from the tomb she's been trapped in for the last 145 years. After opening the tomb, Damon realizes that Katherine had been free this whole time; although she knew where he was at times, she never cared to see him. Damon is heartbroken.
Katherine had help to escape, but all the other vampires had desiccated in the tomb. When the tomb spell failed to be put back up, they were able to feed on blood Damon had brought for Katherine and escaped. Feeling vengeful toward Mystic Falls and the town's founding families, the tomb vampires plotted an attack for Founder's Day. Katherine needed the tomb vampires dead so Klaus wouldn't find out she was still alive. She enlisted the help of her descendant and friend, Isobel, to retrieve one of Johnathan Gilbert's inventions, a weapon against vampires. The device was given to John Gilbert to round up and kill the tomb vampires during their planned attack on the town.
After the chaos has settled, Katherine, having stolen some of Elena Gilbert's clothes, goes to the Gilbert house and poses as Elena in the presence of Damon. After a heartfelt confession from Damon, he kisses her, not yet realizing Katherine has returned to Mystic Falls. The two are interrupted by Elena's aunt, Jenna Sommers,who is still unaware of the presence of vampires or the existence of Katherine. Jenna tells Elena to come in, which gives Katherine the invitation she needs to get into the house. Katherine startles John Gilbert in the kitchen, still pretending to be Elena. She notices the magic ring he is wearing and uses a butcher's knife to viciously chop off his fingers, then stabs him. Elena arrives and comes to John's aid while Katherine hovers behind him.
Season 2
Seeing John seriously injured, Elena calls for help and is terrified by Katherine's super-speed around the house before leaving. At the mayor's wake at the Lockwood mansion, Katherine engages in a small power play with Bonnie, claiming that it never ends well for Bennett witches. Bonnie attempts her usual attack against vampires, but Katherine, a much older vampire than Bonnie is used to encountering, seems to have a certain amount of resistance to such spells.
Katherine claims to Stefan that she returned for him, and the two engage in light banter, Katherine playfully and Stefan suspiciously. Stefan tells Katherine he hates her and in retaliation she skewers him with a metal rod. Later, Damon demands the truth after he and Katherine make out, and she confesses that she never loved him and that "it was always Stefan" that she loved.
Later, she visits Caroline Forbes in the hospital and tells her to give the Salvatores a message: "Game on." Then she smothers Caroline with a pillow, killing her with Damon's blood in her system. A few days later, Katherine appears in Caroline's bedroom and tells her not to be frightened, and that they are going to have fun together.
After blackmailing Caroline into distracting Elena, Katherine sets her sights on Stefan for the day. She manipulates his dreams, bringing him back to when he had escorted her to the Founder's Ball in 1864. In the dream, he notices that Damon has found someone to entertain himself with - Elena. Katherine then takes the dream to present day, where Elena and Damon are getting cozy at the Mystic Grill. Stefan wakes to find Elena asleep in his arms, but he quickly realizes it is actually Katherine.
Later, after he has locked Katherine up in the cellar and threatened her with vervain unless she tells the truth about her return, Stefan interrogates her, and she reveals her deal in 1864 with George Lockwood, a werewolf. In exchange for the rare moonstone, Lockwood saved her from imprisonment in the tomb. Stefan points out that she betrayed all the other vampires, including her friend Pearl, to fake her death, and Katherine seems to have no regrets. She insists that she never compelled Stefan to love her, that his love for her was real, and she only compelled him not to fear her. After she escapes the interrogation, she meets her doppelgänger, Elena. In a flashback to 1864, Katherine is ready to leave Mystic Falls but falls back to kiss an unconscious Stefan one last time, promising they will be together again one day.
Katherine had set up Mason Lockwood's first kill in order to trigger his werewolf gene. She continues to manipulate him by seducing him and persuading him to find the moonstone from the Lockwood mansion. After Mason is killed, Katherine compels Jenna to stab herself as revenge on the Salvatore camp and compels Matt to pick a fight with Tyler and not stop until Tyler kills him. Katherine decides to retrieve the moonstone herself with the help of Lucy, a witch. She dances with Stefan and tries for a diplomatic surrender, but when he refuses to give up the stone, she kills Aimee Bradley in the middle of the dance floor. Later, Caroline lures Katherine into a room upstairs that Bonnie had put a spell on, preventing vampires from leaving it. Stuck in the room with Damon and Stefan, Katherine goads the brothers until they attack her.
Lucy had cast a spell over Katherine and Elena so that whatever happened to Katherine would also happen to Elena. After learning of Bonnie's involvement, however, Lucy turns the tables on Katherine; after her debt to Katherine has been paid by getting her the moonstone, Lucy incapacitates her. Katherine awakes imprisoned in the tomb. As Damon closes the door, Katherine screams that Elena is in danger and needs to be protected.
After learning from Rose about the existence of the Originals, Elena visits Katherine to ask her about her past. Katherine complies in exchange for blood; the time in the tomb without sustenance has weakened her. Through flashbacks, Katherine reveals that she had borne a child before she was turned and that she was the first Petrova doppelgänger. Klaus wanted to sacrifice her as part of a ritual to break a curse. She foiled Klaus' plan by tricking Rose into turning her, thus rendering her useless for the sacrifice. Now that another doppelgänger has appeared, the moment Klaus discovers Elena's existence he will find her for the sacrifice and attempt the ritual again.
When Stefan arrives searching for Elena, Katherine warns them that Klaus will not hesitate to kill all of the people Elena loves, just like Klaus had done to her. Stefan accuses her of tricking Elena in a desperate attempt to get herself out of the tomb, but Katherine insists that the tomb is the safest place to be, as no vampire would want to enter for fear of being trapped. Later, alone, Katherine peruses the Petrova family history that Elena had brought, tearing up over drawings of her parents.
In an attempt to get the moonstone from Katherine, Bonnie performs a spell that involves burning Stefan's picture of Katherine from 1864 and throwing the ashes on her, rendering her unconscious for a minute or two. Jeremy, in a valiant effort to spare Bonnie from overexerting her powers, ventures into the tomb alone and asks Katherine for the moonstone. She refuses, so he shoots a stake into her chest and, while she's distracted, throws the ashes into her face and incapacitates her. While she is unconscious, he enters the tomb, finds the moonstone, and tries to leave, but Katherine revives and attacks him. When Stefan and Bonnie arrive, Katherine holds Jeremy hostage and demands that Bonnie open the tomb so that she can escape. When Bonnie fails, Katherine bites Jeremy but Stefan enters the tomb and throwing Jeremy out of it, imprisoning himself along with Katherine.
Katherine is pleased with herself for trapping Stefan with her. She enjoys planting dreams in his head while he sleeps, though later she offers the useful advice of seeking out Isobel for information about Klaus. After Elena strikes a deal with Elijah, the warlock Jonas breaks the spell of the tomb, allowing vampires to leave it. Elijah allows Stefan to leave but compels Katherine to stay inside.
When Damon visits Katherine in the tomb fishing for confirmation about how to kill an Original, she begs Damon not to kill Elijah, because then she will be stuck in the tomb forever. Later this is revealed to be a lie: rather, Katherine knew that killing the Original that had compelled her would release her from the compulsion. After they've staked Elijah, Damon finds Katherine in his shower, asking for a robe to borrow. She reaffirms her pledge to help him protect Elena. Katherine subsequently takes up residence with the Salvatore brothers, to the displeasure of Elena.
Katherine states that she will help them deal with Klaus and engages in research with the brothers. She is staked and nearly killed by Luka Martin when he infiltrates the mansion via astral projection in an attempt to release Elijah but is rescued by Damon, who unwittingly burns Luka to death. When his father strikes out in a rage against Elena, Katherine tricks him into believing that she is Elena and kills him. Later, she flirts with Damon in bed, despite admitting to him that she knew the dagger would kill the vampire who used it, and, having to make a choice between Damon and Stefan in a deal with John and Isobel, she chose Stefan again. Damon asks Katherine to find another room to sleep in.
Despite insisting to Stefan and Damon that she's on their side when it comes to killing Klaus, Katherine reunites with Isobel, formulating a contingency plan in case things don't go well for the Salvatores. She helps Isobel kidnap Elena, but Isobel double-crosses her and the warlock Maddox incapacitates her, delivering her to Klaus.
In The Last Dance, Klaus/Alaric compels her to tell him everything she knows, coaxing out of her information she isn't sure about. He denies her request that he kill her; he considers death to be a "kindness" after searching for her for over 500 years and promises to draw out his punishment for at least half as long. After their conversation, Klaus/Alaric hands her a pocket knife and compels her to stab herself repeatedly until he returns. In Klaus, Katherine asks Klaus/Alaric why he would undo the curse in Mystic Falls knowing that a lot of people will try to stop him. Klaus/Alaric reveals to her that he must perform the ritual at the doppelgänger's birthplace. Katherine remarks that she didn't know that was a requirement, to which Klaus/Alaric responds with the cruel reminder that, though she had fled before she could learn these details, Klaus did just fine finding her birthplace - and slaughtering her family. As Klaus/Alaric is leaving, he tells her she can't leave until he tells her to. Later, Damon and Andie Star go to Alaric's apartment to discover Katherine is alive. Damon tells Katherine he has vervain, which won't undo Klaus/Alaric's compulsion but will prevent further compulsion. Before he gives it to her, he demands to know why she double-crossed them with Isobel. She replies that she didn't think the others could stand a chance against Klaus and she was looking out for herself. Damon gives her the vervain and tells her she owes him - and he will collect. Later that night, Katherine is drinking and dancing around the apartment until she hears Klaus/Alaric returning. He tells her Alaric's body is no longer useful. Irritated when Katherine tries to loosen him up with alcohol, Klaus/Alaric snatches the bottle from her, throws it against the wall and compels her to sit down and shut up. Having taken the vervain, Katherine pretends to submit to his compulsion. When Maddox returns with Greta and Klaus's casket, they perform a spell to return Klaus to his true body. They open the casket, and Katherine watches in horror as the real Klaus walks out.
In The Last Day, Damon goes to Alaric's apartment to collect his debt for giving her vervain. He asks Katherine where Klaus is keeping the werewolf. Katherine is reluctant to help out but reveals that Klaus has captured Caroline and Tyler. She is shocked to learn that Elena has vampire blood in her system and Damon warns her that this means she would have to compete with Elena for Stefan's love forever. Katherine reveals that Caroline and Tyler are being held in the tomb.
Klaus returns to Alaric's apartment and is immediately suspicious of Katherine. He compels her to tell him what she has been doing but, as she is taking vervain, she is able to lie. Still suspicious, he compels her to remove her daylight bracelet, walk to the window and stand in the sunlight. Katherine has to do it to keep up the ruse and screams in pain until Klaus relents, satisfied. Later that night, after Klaus returns to the apartment and tells Katherine that Elena is with Greta, Damon appears and tells Klaus that he rescued the werewolf and vampire and killed Maddox, thereby foiling his plan. Klaus has Katherine leave the room, then informs Damon of his backup plans. Katherine revives Damon with a blood bag (Klaus had knocked him out off-screen) and tells him that Klaus has gone to begin the ritual. She admits that she had to do something so Klaus wouldn't realize she was on vervain, and reveals that Klaus made her make a call as Elena to lure someone out, explaining that he needed another vampire. Damon asks why Klaus didn't use him as the vampire in the sacrifice. Apparently Klaus had said that Damon was as good as dead. She points out the ugly wound on his arm and asks what it is. He replies, "It's a werewolf bite."
In The Sun Also Rises, Damon shows Katherine his werewolf bite but decides to leave. She is hurt that after 145 years he is leaving without saying goodbye and tells him not to depart on bad terms. She insists that she didn't have a choice and had to lure Jenna for Klaus, adding that she chose her life over Jenna's. Damon observes that Katherine will survive all of this without a scratch. Katherine points out that she doesn't let love get in the way and Damon tells her to enjoy an eternity alone. He leaves to offer himself to Klaus, but Katherine insists that Klaus won't accept him as his blood is impure.
In As I Lay Dying, Damon has a flashback and remembers speaking to Katherine in the 1860s. In it, she asks if he will miss her while he is off fighting and he says he will, but points out that she will still have Stefan. Katherine asks if it is so wrong for her to want them both. However, Damon hallucinates that Elena has joined them. Elena tells him that Katherine was just toying with him and he could have walked away - he had a choice. Flashback-Katherine bids him to return quickly.
Stefan shows up at Alaric's apartment looking for Klaus and finds Katherine there, who is wondering why Klaus's compulsion hasn't worn off. He admits that they failed to kill him just before Klaus returns. She watches as Stefan tries to bargain with Klaus for the cure to a werewolf bite. Klaus calls Katherine over and bites her; she starts to panic, but Klaus immediately feeds her his blood, and the bite heals, revealing that Klaus's blood is the cure. Meanwhile, Damon suffers more hallucinations of Katherine, mixing the present with the past, thinking he is chasing her through some woods. He remembers begging Katherine to feed him her blood so they could be together forever. Back in the apartment, Klaus calls Katherine over and compels her to take his blood to Damon and to come right back. She leaves immediately, but Stefan, knowing that Katherine has been ingesting vervain, worries that she will never deliver the cure to Damon.
However, Katherine appears at the eleventh hour, interrupting Elena's would-be final moments with Damon. She admits that she decided to deliver it because she owes Damon. Elena asks about Stefan, and Katherine informs them that Stefan has surrendered himself to Klaus in exchange for the cure. Before she leaves, and after taunting Elena about working two Salvatores at once, she adds that it's OK to love them both - she did.
Season 3
Katherine makes her first appearance of the season in The End of the Affair, when she calls Damon and gives him information about Stefan's whereabouts. She declines to tell Damon where she is, but is later seen exiting a phone booth in Chicago. In Disturbing Behavior, she is still in Chicago and catches Stefan's attention outside of a boutique where Rebekah is trying on clothes. She fishes for information about Rebekah's necklace, which Klaus is looking for and which Stefan gave to Elena. She wants to know Stefan's plans, but he refuses to share them. Katherine warns him about plotting against Klaus, as well as dealing with Rebekah. She later saves him from Gloria's torture by stabbing the witch in the neck, and wants in on his plans if they involve taking down Klaus, but he turns her down again.
Towards the end of the episode, Katherine fools Bonnie into thinking she's Elena and steals Esther's talisman. She shows up at the boarding house with the necklace, proposing to Damon that they team up and get away from Mystic Falls to go on a little "road trip".
In The Reckoning, after they stop the car, Katherine reveals to Damon that she has kidnapped Jeremy. She needs Jeremy because he is able to communicate with ghosts, and he has a connection with Anna, one of the only people who knew anything about Mikael, a vampire who hunts vampires. Anna says Mikael is the only one who can kill Klaus for good, and he was entombed by a witch in the 1990s. Anna reluctantly gives them information about him, warning them that Mikael will kill all of them if awakened.
Katherine ignores her warning, and is able to locate his tomb with Jeremy's help. Katherine spends two days trying, unsuccessfully, to get Mikael to feed, and finally brings him a human and drips fresh blood into his mouth. Mikael opens his eyes, and, horrified, orders her to stop feeding him the blood. As he continues to lay in his coffin, still very weak, she begins to doubt his formidable reputation. She asks him whether he can kill Klaus or not, and Mikael answers affirmatively. He asks Katherine to remove the chains restraining him; after she does, he reveals that he does not feed on living things, and proceeds to attack and feed on her.
In Homecoming, Damon enlists Katherine in a plan to kill Klaus. She pretends to be Elena so that Elena won't be in danger when everything goes down. However, during the party, Klaus, thinking that she is Elena, reveals that in the event that Klaus is killed, the other Hybrids will kill Damon. Katherine then runs back to the Salvatore house, revives Stefan (whom Mikael and Damon had incapacitated to keep him away from the party) and tells him what Klaus said. She tries to convince him to care enough to stop Damon from killing Klaus, because regardless of what he decides, she is going back to see the plan through.
Back at the party, Mikael compels one of the hybrids to grab Katherine (pretending to be Elena) and threatens to kill her if Klaus does not leave the Lockwood house. Klaus, believing that Mikael is bluffing, says to go ahead. Mikael then stabs Katherine, who falls down apparently mortally wounded, right as Damon jumps Klaus. Much to Mikael's surprise, Katherine stands up, throws wolfsbane grenades at the approaching hybrids and flees the scene. Later, she calls Damon to tell him he had a good plan and confirms Damon's assumption that she's already heading out of town. She hangs up with Damon and turns to Stefan, who is in the passenger seat. He asks Katherine why she, who has wanted Klaus dead for 500 years, would stop a plan to kill him just to save Damon. Katherine says she did it not just to save Damon, but also Stefan's humanity. He doesn't believe her, reminding her that she only cares about herself. Katherine tells him he knows that's not true, and that despite everything that had happened, she did love Stefan and Damon.
Katherine then says that humanity is a vampire's greatest weakness, and no matter how hard one tries to suppress it, it keeps trying to fight its way back in - and sometimes, she lets it. Stefan confesses that he doesn't want to let his humanity back in after everything he has done. Katherine says that he must, because she needs him to get angry enough at Klaus to do what she has planned next. She convinces him to steal the coffins that Klaus keeps his family in, before she herself puts as many miles as possible between her and Klaus.
Season 4
In "We All Go A Little Mad Sometimes", Katherine appears to Elena through vivid hallucinations, tormenting her, telling Elena she's just like her and that she deserves to die. She proceeds to tell Elena that now that she's a vampire, Stefan is going to hate her, just like he hated her. This sends Elena over the edge. Eventually Stefan comes to rescue her, but Elena, still hallucinating, attacks him and runs off. Elena finds herself walking to the Wickery Bridge, a symbolic a place of death to her. She walks with Connor on one side and Katherine on the other, asking her if she's ready to die yet, telling her she can't take back what she's done, that she's a monster who deserves to die.
Katherine returns in the episode "Down A Rabbit Hole" when Elena, Stefan, Damon, Bonnie, Jeremy, and Shane are in search of the cure. She saves Jeremy from the hunter, posing as Elena. In the closing moments of the episode, Katherine sacrifices Jeremy to Silas, snatches the cure, and flees the scene. However,she appears again in Pennsylvania, where she reveals that she has been busy, in an intimate relationship with Elijah Mikaelson, whom she hands the cure over to, to prove her love for him.
Klaus refuses her freedom, and Katherine, knowing a way to get him out of Mystic Falls, informs him via a letter. A witch in New Orleans is plotting a move against him, and he would be smart to take her down. This persuades Klaus to leave town. She later tells Damon and Stefan that the "werewolf girl Hayley was just the solution." It's revealed that Hayley was pregnant from a one-night stand with Klaus from the episode "Bring It On." Katherine used it to send Klaus to New Orleans where she was. Katherine makes a deal with Bonnie to trade Silas' tombstone for invincibility. Little does Katherine know, Elena, with her humanity back, is plotting against Katherine for all of the harm she has caused to Elena in destroying her life.
In Graduation, Katherine comes to the school to find Elena and kill her. Elena and Katherine fight. Katherine is winning, and starts to tell Elena that she stole her happiness, and her life. Katherine starts to stab Elena with a wooden mop, she turns Elena over and puts her hand in her chest to find her heart, just before Katherine kills Elena, Elena finds the cure in her pocket and shoves it into Katherine's mouth, thus making her human, Katherine collapses, and Elena tells her to have a nice human life.
Season 5
Due to being force-fed the cure by Elena, season 5 opens up with Katherine as a human, struggling to cope with new challenges associated with the status. Desperate and in need of protection, Katherine returns to the infamous Salvatore house to ask for help from Damon who she begs for protection despite his dismissal. Things turn for the worst for Katherine, though, when she finds out that Silas is looking for her, as she is instrumental in his plan to break his own immortality and destroy the veil to the other side. Damon, knowing Silas wants Katherine attempts to keep her away from him by having Jeremy and Matt hide her away. Silas finds out about this plan, and uses Stefan as leverage to have Damon bring Katherine to him. Out of desperation, Damon tells Jeremy to bring Katherine back, but Katherine fights back, eventually escaping from Jeremy by causing a car accident. Both Katherine and Jeremy suffer injuries, however Katherine quickly picks herself up and escapes, leaving Jeremy to die.
After returning to stay at the Salvatore boarding house, Katherine begins to have the same dreams as Elena, centering on Stefan. As they go in search of him, their plans are thwarted, and Katherine is put into danger once more. This time she is caught by Nadia, who reveals she plans on handing her over to Silas. But after Nadia realizes Silas is only using her, she changes her plans. She eventually reveals to Katherine that Silas needs her blood, since it is now the new cure. But in order for it to work, he needs to drain her entirely of blood. The relationship between Nadia and Katherine is slowly revealed, until Nadia finally admits the truth; she is Nadia Petrova, Katherine's daughter which she was forced to give up at birth. After finding this information out, Katherine is quick to return to Mystic Falls after Damon calls on her. Little does she know that Damon and Elena have made a deal with Silas to exchange Katherine's life, for a way to bring Bonnie back? After handing Katherine over to Silas, he drains her of her blood and is made mortal. Katherine is thought to be dead but miraculously she is still survives to everyone's disbelief.
Desperate for help, Katherine turns to Caroline at college for help. Impersonating Elena, Katherine begins to help Caroline figure out what exactly Dr. Wes is involved in and helps to convince his secret society that Elena is in fact human, as she poses as her. It's at this time that Katherine starts beginning to experience symptoms of severing aging. In order to reverse her aging, Katherine goes to Qetsiyah, who needs Katherine's participation in a spell in order to transfer the anchor to the other side to Bonnie. After completing the spell, Qetsiyah kills herself, leaving Katherine with her current predicament.
After another run-in with her daughter, Nadia, Katherine learns that she is being hunted by the travelers. Deciding that after centuries of running, she cannot run away from old age and immanent death, she decides the best way to end her story is by killing herself. Jumping off Mystic Falls clock tower, she hopes to do so but is saved by Stefan, who she earlier helped deal with his post-traumatic stress of what Silas did to him. Stefan tells her that after everything she's been through, she can deal with this. She helps Stefan with his stress and she tells him that his problem isn't the safe neither the drowning but he is stressed because of Elena leaving him for Damon. Katherine realizes her true feelings for him, and they kiss passionately.
In the next episode, we discover they shared an entire night together. But when Katherine wakes up, she discovers that she's losing some locks of hair. She joins Matt for a coaching time in the wood, not without explaining Damon her night with Stefan. Matt had called her daughter Nadia, who came with one idea to save her mother, or actually her soul: use her traveler blood, her inheritance to live in someone else's body but She refused as she wants to keep her body as a doppelgänger one to please Stefan. Nadia left Katherine, hurt to be pushed away one more time. But she gave the knife to Matt to keep it safe if Katherine change her mind. And at the end, when Stefan came back home and told her that one night isn't enough for him to forgive her for 147 years of pain but that he's sorry she's dying, she knows that there's still a chance for her but she has to stay alive even if it's in another body. On her way to meet her daughter, she falls down the stairs, having a heart attack. She keeps hallucinating about the past while she's in the hospital. Later that day she's taken back to the Salvatore House where Damon tries to kill her using a pillow, Sheriff Forbes stops him however under threat of charging him for murder. Nadia comes back and begs her to travel into her body and live, but Katherine refuses and waits until Elena comes to see her die. Elena forgives her for everything she has done, and proceeds to give her the last injection, but Katherine grips her by her arm and chants the words needed to be said in order to travel into her body. A phone rings, and Elena wakes up to answer it, Nadia's friend activates Katherine and she tells Nadia that she's still here because she is a survivor.
Later in the next episode, Katherine stays in Elena's body. But Elena fights back, waking up clueless each time. Nadia and her friends do a spell that make it so Katherine stays in control of Elena's body forever. But before the spell is completed, Elena returns to her body and she runs away, making the big mistake of not killing the traveler and Nadia. She searches for Damon, and then they hug but at the same time the traveler ends the spell and Katherine returns to Elena's body and breaks Damon's heart, saying everything between them was over. Katherine in Elena's body walks away, smirking. Katherine, in Elena's body tries to conquer Stefan. She offers herself to go with him to save Damon, who became an Augustine, hoping that, if Damon wants to drink her blood, Stefan will kill him. Instead, Stefan offers Damon his blood and breaks his neck. When he wakes up, Damon is in the Salvatores' dungeon. In the meantime, Nadia has a fight with Caroline and Tyler bits her. When she meets Katherine at a restaurant, she shows her infected arm. Katherine calls Dr. Maxfield to find a cure for Nadia. In the Salvatores' mansion, everyone knows that Katherine is in Elena's body and call her, pretending there's a surprise party for Bonnie. Nadia and Katherine become suspicious, and they realize everyone at the mansion knows the truth. Damon escapes and tortures Dr. Maxfield.
When Katherine arrives at his lab, she finds him dead. Stefan calls her to tell her that Nadia is at the mansion and names her Katherine. Nadia is hallucinating on her death bed, and everyone gathers around her. Finally Katherine arrives and tells Nadia she could save her if she would ask some blood from Klaus Nadia forgives her, and then hallucinates, asking Katherine if she knows a woman named Katerina Petrova who killed, lied, and manipulate to survive. Nadia dies and goes to the other side, passing through Bonnie. Katherine covers Nadia's body with a blanket and then tries to escape, but when she opens the door, she meets Damon. Katherine realizes she has no chance to escape and remembers how much evil she did. She tells Stefan she always loved him and kisses him, and then Stefan drags the traveler dagger into Elena's body, killing Katherine, who rips the blanket from Nadia when she falls, furious because she, a survivor, finally died. Katherine's spirit comes to Bonnie, who's at the church, and confesses that she injected the cure Dr. Maxfield made into Elena's body, and laughs, saying that if she won't have Stefan, no one will. She pulls her hands on Bonnie's shoulders, ready to go on the other side, but she can't. The candles stop burning, and a powerful wind starts in the church, dragging Katherine into a dark side. Bonnie says she can't help her, and Katherine screams, terrified. After 541 years, she is going to hell.
In (While You Were Sleeping) she appears as a Hallucination in Elena's mind as she reads her diary recreating the Motel scene that happened in 5X14.
Season 8
Katherine becomes the new ruler of hell when the devil, Cade, is killed.
Personality
Katherine is shown to be highly intelligent throughout the series. She is a skilled manipulator who uses any means necessary to achieve her goals. Her main personality attributes are a strong survival instinct and sense of self-sufficiency. This is frequently hinted to be a natural development of her five centuries on the run from Klaus. However, even in her earliest human days, she shows a particularly adaptive nature, telling Elena in Katerina that after she was banished to England she 'quickly became English'. She is then shown in flashbacks (which take place relatively recently after her banishment) speaking fluent English with a perfect accent to match.
During her tenure as Season 2's antagonist, she shows her ruthless, calculating nature. She kills Caroline simply to send a message to the Salvatore brothers, kills an innocent partygoer in Masquerade, and has no qualms about letting Tyler kill Matt to activate his werewolf curse. She also compels Aunt Jenna to stab herself in the stomach as punishment to Elena for disobeying her orders to stay away from Stefan.
In Plan B, Katherine reveals that she is highly strategic in her planning, insisting that she has many back up plans to ensure that she can achieve her goals, leaving Damon rattled.
Powers and Abilities
Katherine demonstrates all of the usual powers and abilities that vampires typically possess in The Vampire Diaries. However, at over five centuries old, she is considerably stronger and faster than many vampires, particularly at the beginning of Season 2. She appears to be particularly skilled at Dream Manipulation, even when inhabiting Elena's body. She demonstrates this skill multiple times in her early appearances, mainly toying with Stefan's subconscious and in her final episode, to comfort her daughter as she lays dying.
After being tricked into drinking Vervain by Stefan's father in the 19th century and subsequently faking her own death, Katherine sips a small amount every day for the next 145 years, giving her an exceptional tolerance to the usually harmful substance, even when being injected with it at high dosage. In American Gothic, Katherine smugly tells Rebekah that she is immune to her compulsion because she is 'on vervain'.
Katherine loses both her immortality and other vampiric powers when she ingests the cure at the end of Season 4. It is later revealed, however, that she is a Traveller, and has access to a rudimentary form of witchcraft called Traveller Magic. She uses these powers to switch bodies with Elena.
Even as a mortal, she demonstrates that she is still capable of holding her own. She uses a shotgun for the first time to shoot Silas and keep him at bay long enough to escape to safety with Matt and Jeremy. While being held hostage by Nadia Petrova, Katherine manages to impale her in exactly the right position in her chest to graze her heart without killing her, making her weak enough to interrogate.
Weaknesses
Mortality: Katherine is susceptible to many common forms of death, (e.g. age, decapitation, disease, heart-failure, suffocation, etc).
Blood Loss: If Katherine is severely wounded and bleeds out she will die.
Broken Neck: Breaking Katherine's neck will result in her instant death.
Decapitation: Decapitation will result in Katherine's instant death.
Fire: Fire will hurt and burn Katherine, it can also kill her.
Heart Extraction: Ripping Katherine's heart out will result in her instant death.
Magic: Katherine is susceptible to the powers of witchcraft; this is inclusive of mystical objects such as Papa Tunde's Blade, and Dark Objects.
Former vampiric powers and abilities
Katherine had the following powers and abilities when she was a vampire.
Compulsion: The ability to control somebody or their memories.
Super Speed: The ability to move faster than any average human.
Super Strength: The ability to be stronger than any average human
Dream Manipulation: The ability to enter one's mind and control their dreams.
Immortality: As Katherine is a vampire, she is immortal and cannot age. Her immortality also means that she cannot be permanently harmed physically and heals almost immediately. But she is not invulnerable to everything, i.e. vervain and wood.
Former vampiric weaknesses
Katherine had the following weaknesses as a vampire.
Vervain: Vervain has the ability to burn a vampire on physical contact. Wearing and drinking vervain for humans insures that vampires cannot compel them and/or drink their blood, as drinking vervained human blood would burn the vampire. However, if a vampire consumes vervain on a regular basis, the burning has less effect and allows protection against Original compulsion.
Wood: Wood is fatal to vampires on contact with the heart, but otherwise, it only weakens them.
The Sun: Sunlight burns vampires who do not wear amulets (i.e. rings, necklaces and bracelets that have been spelled by a witch). Otherwise, the sun burns vampires, and if they do not make it out of the sun in time, this can lead to permanent death.
Magic: A witch able to channel enough magic can be lethal to a vampire.
The Cure: The cure strips a vampire of all their characteristics, leaving them human.
Gilbert Inventions: The many Gilbert inventions were enchanted with magic by Emily Bennett. One such is the device with the ability to incapacitate any vampires and werewolves within a five mile radius.
References
Katherine Pierce WikiData
(Text) CC BY-SA