Occupation

Actress




Name

Katherine MacGregor




Years active

1951-1983




Role

Actress






Full Name

Dorlee Deane MacGregor




Born

January 12, 1925 (

1925-01-12

) Glendale, California, U.S.


Other names

Katherine MacGregor , Scotty MacGregor , Scottie MacGregor




Spouse

Edward G. Kaye-Martin (m. 1969–1970)




Movies and TV shows

Little House on the Prairie, The Student Nurses, The Girls of Huntington House, Tell Me Where It Hurts


Similar People

Richard Bull, Alison Arngrim, Jonathan Gilbert, Karen Grassle, Sidney Greenbush


Died

November 13, 2018 (Aged 93)
Katherine macgregor little house interview pt 1
"Little House on the Prairie" Actress Katherine MacGregor 1925-2018 Memorial Video
Biography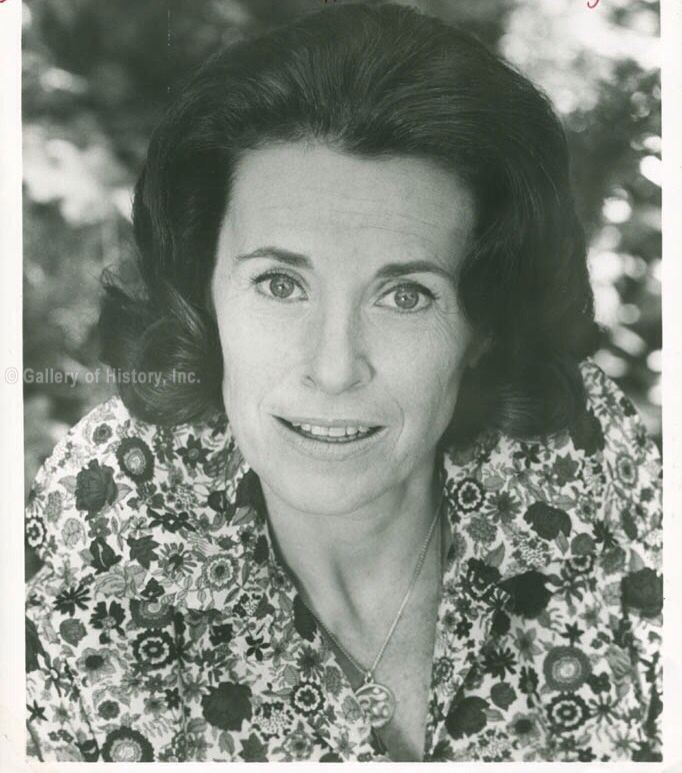 She is best known for her comic performance as Harriet Oleson from 1974 to 1983 on the NBC television series Little House on the Prairie. As a child, her mother moved them to Denver, Colorado, where she lived until she moved to New York as a young adult. In the 1940s she was hired by the Arthur Murray Dance Studios in New York City as a dance instructor.
MacGregor's favorite description of her character in Little House came in a fan letter from Minnesota in the 1970s, in which Mrs. Oleson was described as "the touch of pepper in the sweetness of the show". In 1979, thanks to the popularity of Little House in Spain, MacGregor was invited to Madrid and appeared on RTVE's 625 Lineas program. After Little House on the Prairie, MacGregor withdrew from screen productions in favor of local theater. She also dedicated herself to her Hindu religion, and to teaching acting to children at the Wee Hollywood Vedanta Players, before finally retiring in the early 2000s.
Beginning in the 1950s, MacGregor worked in theatre on and off Broadway, and earned the uncredited part of 'a longshoreman's mother' in Elia Kazan's film, On the Waterfront (1954), starring Marlon Brando, the uncredited part of Alice Thorn in The Traveling Executioner (1970), and the part of Miss Boswell in The Student Nurses (1970). MacGregor also appeared in numerous episodes of various television series: Love of Life (1956), Play of the Week (1959), East Side/West Side (1963), Mannix (1970 & 1971), Emergency! (1972), Ironside (1972 & 1974), and All in the Family (1973), as well as the two 1981 "Heroes vs. Villains" episodes of Family Feud hosted by Richard Dawson. She also had roles in the TV movies, The Death of Me Yet (1971), The Girls of Huntington House (1973), and Tell Me Where It Hurts (1974).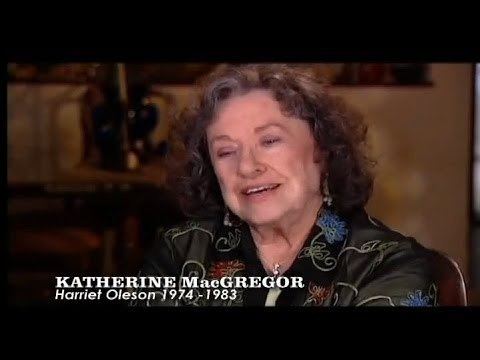 She was briefly married to actor Bert Remsen, one month her junior, in 1949-50, and to actor, director and teacher Edward G. Kaye-Martin, 14 years her junior, from August 1969 to October 1970.
Filmography
Actress
1974
Little House on the Prairie (TV Series)
as
Harriet Oleson
- Hello and Goodbye (1983) - Harriet Oleson
- May I Have This Dance? (1983) - Harriet Oleson
- For the Love of Blanche (1983) - Harriet Oleson
- The Last Summer (1983) - Harriet Oleson
- A Child with No Name (1983) - Harriet Oleson
- Home Again: Part 2 (1983) - Harriet Oleson (credit only)
- Home Again: Part 1 (1983) - Harriet Oleson
- Once Upon a Time (1983) - Harriet Oleson (credit only)
- The Older Brothers (1983) - Harriet Oleson (credit only)
- Sins of the Fathers (1983) - Harriet Oleson
- Marvin's Garden (1983) - Harriet Oleson
- Alden's Dilemma (1982) - Harriet Oleson
- Love (1982) - Harriet Oleson
- The Empire Builders (1982) - Harriet Oleson
- The Return of Nellie (1982) - Harriet Oleson
- The Wild Boy (Part Two) (1982) - Harriet Oleson
- The Wild Boy (Part One) (1982) - Harriet Oleson
- Little Lou (1982) - Harriet Oleson
- Rage (1982) - Harriet Oleson
- Welcome to Olesonville (1982) - Harriet Oleson
- Times Are Changing (Part Two) (1982) - Harriet Oleson
- Times Are Changing (Part One) (1982) - Harriet Oleson
- A Faraway Cry (1982) - Harriet Oleson (uncredited)
- Days of Sunshine, Days of Shadow: Part One (1982) - Harriet Oleson
- Second Chance (1982) - Harriet Oleson
- Uncle Jed (1982) - Harriet Oleson
- The Legacy (1982) - Harriet Oleson (credit only)
- Stone Soup (1982) - Harriet Oleson
- Wave of the Future (1981) - Harriet Oleson
- For the Love of Nancy (1981) - Harriet Oleson
- The Legend of Black Jake (1981) - Harriet Oleson
- Gambini, the Great (1981) - Harriet Oleson
- Dark Sage (1981) - Harriet Oleson
- Growin' Pains (1981) - Harriet Oleson
- The Reincarnation of Nellie (Part II) (1981) - Harriet Oleson
- The Reincarnation of Nellie (Part I) (1981) - Harriet Oleson
- The Lost Ones: (Part Two) (1981) - Harriet Oleson
- I Do, Again (1981) - Harriet Oleson
- Blind Justice (1981) - Harriet Oleson
- Sylvia (Part Two) (1981) - Harriet Oleson
- Sylvia (Part One) (1981) - Harriet Oleson
- Goodbye, Mrs. Wilder (1981) - Harriet Oleson
- The Nephews (1981) - Harriet Oleson
- Come Let Us Reason Together (1981) - Harriet Oleson
- Oleson vs Oleson (1981) - Harriet Oleson
- To See the Light (Part Two) (1980) - Harriet Oleson
- To See the Light (Part One) (1980) - Harriet Oleson
- Divorce, Walnut Grove Style (1980) - Harriet Oleson
- Portrait of Love (1980) - Harriet Oleson
- Fight Team Fight! (1980) - Harriet Oleson
- A New Beginning (1980) - Harriet Oleson
- Laura Ingalls Wilder: Part I (1980) - Harriet Oleson
- He Loves Me, He Loves Me Not (Part II) (1980) - Harriet Oleson
- He Loves Me, He Loves Me Not (Part I) (1980) - Harriet Oleson
- Sweet Sixteen (1980) - Harriet Oleson
- Second Spring (1980) - Harriet Oleson
- Wilder and Wilder (1980) - Harriet Oleson
- May We Make Them Proud: Part II (1980) - Harriet Oleson
- May We Make Them Proud: Part I (1980) - Harriet Oleson
- Silent Promises (1980) - Harriet Oleson
- Darkness Is My Friend (1980) - Harriet Oleson
- Whatever Happened to the Class of '56? (1980) - Harriet Oleson
- The Werewolf of Walnut Grove (1980) - Harriet Oleson
- The Angry Heart (1979) - Harriet Oleson
- Crossed Connections (1979) - Harriet Oleson
- Author! Author! (1979) - Harriet Oleson
- The Faith Healer (1979) - Harriet Oleson
- The King Is Dead (1979) - Harriet Oleson
- The Preacher Takes a Wife (1979) - Harriet Oleson
- Annabelle (1979) - Harriet Oleson
- The Third Miracle (1979) - Harriet Oleson
- The Family Tree (1979) - Harriet Oleson
- Back to School (Part II) (1979) - Harriet Oleson
- Back to School (Part I) (1979) - Harriet Oleson
- Mortal Mission (1979) - Harriet Oleson
- The Enchanted Cottage (1979) - Harriet Oleson
- Barn Burner (1979) - Harriet Oleson
- The Lake Kezia Monster (1979) - Harriet Oleson
- Dance with Me (1979) - Harriet Oleson
- The Craftsman (1979) - Harriet Oleson
- Blind Journey (Part II) (1978) - Harriet Oleson
- Blind Journey (Part I) (1978) - Harriet Oleson
- The Cheaters (1978) - Harriet Oleson
- The Wedding (1978) - Harriet Oleson
- Harriet's Happenings (1978) - Harriet Oleson
- Fagin (1978) - Harriet Oleson
- There's No Place Like Home (Part II) (1978) - Harriet Oleson
- There's No Place Like Home (Part I) (1978) - Harriet Oleson
- The Winoka Warriors (1978) - Harriet Oleson
- As Long as We're Together: Part II (1978) - Harriet Oleson
- As Long as We're Together: Part I (1978) - Harriet Oleson
- I'll Be Waving as You Drive Away: Part II (1978) - Harriet Oleson
- I'll Be Waving as You Drive Away: Part I (1978) - Harriet Oleson
- A Most Precious Gift (1978) - Harriet Oleson
- The Stranger (1978) - Harriet Oleson
- The Inheritance (1978) - Harriet Oleson
- Be My Friend (1978) - Harriet Oleson
- Freedom Flight (1977) - Harriet Oleson
- Here Come the Brides (1977) - Harriet Oleson
- Meet Me at the Fair (1977) - Harriet Oleson
- The Fighter (1977) - Harriet Oleson
- To Run and Hide (1977) - Harriet Oleson
- The Creeper of Walnut Grove (1977) - Harriet Oleson
- The Wolves (1977) - Harriet Oleson
- The Handyman (1977) - Harriet Oleson
- My Ellen (1977) - Harriet Oleson
- Castoffs (1977) - Harriet Oleson
- The Election (1977) - Harriet Oleson
- The Music Box (1977) - Harriet Oleson
- The Wisdom of Solomon (1977) - Harriet Oleson
- To Live with Fear: Part I (1977) - Harriet Oleson
- Little Women (1977) - Harriet Oleson
- Blizzard (1977) - Harriet Oleson
- The Bully Boys (1976) - Harriet Oleson
- Fred (1976) - Harriet Oleson
- The Monster of Walnut Grove (1976) - Harriet Oleson
- The Race (1976) - Harriet Oleson
- Bunny (1976) - Harriet Oleson
- The Collection (1976) - Harriet Oleson
- Soldier's Return (1976) - Harriet Oleson
- Centennial (1976) - Harriet Oleson
- For My Lady (1976) - Harriet Oleson
- Troublemaker (1976) - Harriet Oleson
- The Pride of Walnut Grove (1976) - Harriet Oleson
- The Talking Machine (1976) - Harriet Oleson
- The Gift (1975) - Harriet Oleson
- At the End of the Rainbow (1975) - Harriet Oleson
- Ebenezer Sprague (1975) - Harriet Oleson
- Remember Me: Part II (1975) - Harriet Oleson
- Remember Me: Part I (1975) - Harriet Oleson
- The Spring Dance (1975) - Harriet Oleson
- The Camp-Out (1975) - Harriet Oleson
- In the Big Inning (1975) - Harriet Oleson
- Haunted House (1975) - Harriet Oleson
- Four Eyes (1975) - Harriet Oleson
- The Richest Man in Walnut Grove (1975) - Harriet Oleson
- Founder's Day (1975) - Harriet Oleson
- Money Crop (1975) - Harriet Oleson
- Child of Pain (1975) - Harriet Oleson
- Circus Man (1975) - Harriet Oleson
- Plague (1975) - Harriet Oleson
- Doctor's Lady (1975) - Harriet Oleson
- Family Quarrel (1975) - Harriet Oleson
- Christmas at Plum Creek (1974) - Harriet Oleson
- The Lord Is My Shepherd: Part 2 (1974) - Harriet Oleson (credit only)
- The Lord Is My Shepherd: Part 1 (1974) - Harriet Oleson
- The Voice of Tinker Jones (1974) - Harriet Oleson
- School Mom (1974) - Harriet Oleson
- Town Party-Country Party (1974) - Harriet Oleson
- If I Should Wake Before I Die (1974) - Harriet Oleson
- Country Girls (1974) - Harriet Oleson
- A Harvest of Friends (1974) - Harriet Oleson
1972
Ironside (TV Series)
as
Irma / Mrs. Pyle
- Amy Prentiss: Part 2 (1974) - Irma (as Scottie MacGregor)
- Amy Prentiss: Part 1 (1974) - Irma (as Scottie MacGregor)
- Programmed for Panic (1972) - Mrs. Pyle (as Scottie MacGregor)
1974
Tell Me Where It Hurts (TV Movie)
as
Marge (as Scottie MacGregor)
1973
All in the Family (TV Series)
as
Nurse
- Edith's Christmas Story (1973) - Nurse (as Scottie MacGregor)
1973
The Girls of Huntington House (TV Movie)
as
Rose Beckwith (as Scottie MacGregor)
1972
Emergency! (TV Series)
as
Myrna Scudder
- Musical Mania (1972) - Myrna Scudder (as Scottie MacGregor)
1970
Mannix (TV Series)
as
Nurse / Nurse Evans
- Run Till Dark (1971) - Nurse (as Scottie MacGregor)
- The World Between (1970) - Nurse Evans (as Scottie MacGregor)
1971
The Death of Me Yet (TV Movie)
as
Nora Queen (as Scottie MacGregor)
1971
The Young Lawyers (TV Series)
as
Mrs. Brady
- The Bradbury War (1971) - Mrs. Brady (as Scottie MacGregor)
1970
The Traveling Executioner
as
Alice Thorn (uncredited)
1970
The Student Nurses
as
Miss Boswell (as Scottie MacGregor)
1963
East Side/West Side (TV Series)
as
Grace Morrison
- Go Fight City Hall (1963) - Grace Morrison (as Scottie MacGregor)
1961
Armstrong Circle Theatre (TV Series)
as
Gypsy
- The Fortune Tellers (1961) - Gypsy
1959
Play of the Week (TV Series)
as
Maria
- The Power and the Glory (1959) - Maria (as Scotty McGregor)
1954
On the Waterfront
as
Girlfriend of a Longshoreman (uncredited)
1954
Mister Peepers (TV Series)
as
Laura
- Army Buddies (1954) - Laura (as Scottie McGregor)
1951
Love of Life (TV Series)
as
Tammy Forrest #1 (1956) (as Scottie MacGregor)
Self
2015
A Day in the Life of Little House (Documentary)
as
Self (as Scottie MacGregor)
2014
The Little House Phenomenon: A Place in Television History (Documentary)
as
Self (as Scottie MacGregor)
2007
Weekend Today (TV Series)
as
Self
- Episode dated 20 May 2007 (2007) - Self
1982
All-Star Family Feud Special (TV Series)
as
Self - Celebrity Contestant
- Heroes vs. Villains (1982) - Self - Celebrity Contestant
Archive Footage
2015
Home & Family (TV Series)
as
Self
- "Little House on the Prairie" Reunion (2015) - Self (as Scottie MacGregor)
1979
Little House Years (TV Movie)
as
Harriet Oleson
References
Katherine MacGregor Wikipedia
(Text) CC BY-SA