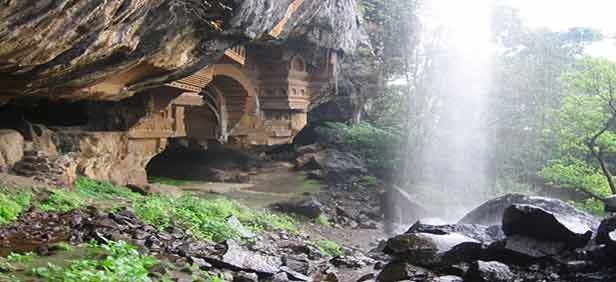 Karjat is located at 18.91°N 73.33°E / 18.91; 73.33, and has a population of 2,17,363. It is located on Bhor ghat, Sahyadri, Western Ghats as well as at the end of coastal plains of Konkan region near Deccan. It has an average elevation of 194 metres (636 ft). It lies on the banks of the River Ulhas.The Karjat city is virtually divided into two areas, "East" and "West", by the railway.
Tourism, Adventure Sports, Higher Education, Film Shooting, Retailing, Nurseries & Plantation and Spa Hospitality are the main occupations. Karjat is a tahsil/taluk in Maharashtra and is situated in the Asthavinayak Ganesha belt region. As Karjat is a part of Mumbai metropolitan area, MMRDA has cleared Karjat for advanced Urban Planning with minimum FSI of 1.0. and CIDCO is being entrusted with town planning and implementation. New Housing policy has removed many procedural hurdles, which will facilitate ultra-modern urbanisation of the area. 100 acres (0.40 km2) townships are being developed under MMRDA Special Township provisions of Maharashtra Regional and Town Planning Act, amended in year 2007 and also under Special Township Projects under section 63-I(A) of the Mumbai Tenancy & Agricultural Lands Act providing for automatic Non-Agricultural conversion of land of 100 acres/40 Hectares.
Karjat has engineering, pharmacy, medical, management, advertising, hospitality colleges and also a Mass Media Advertising Institutes (AICAR) affiliated to the AICTE & University of Mumbai and also a few other graduation colleges and Oxford Schools. It has several tourist attractions including Palasdari, Matheran, Khandala, Bhimashankar, Malshej Ghat, Lonavla, etc.
Air:
The nearest airport is Chhatrapati Shivaji International Airport and the Navi Mumbai International Airport (under Construction).
Rail:
Karjat railway station is a major rail terminus, connected via local trains to Chhatrapati Shivaji Terminus Mumbai, Khopoli and Panvel. It is well connected to Mumbai via Mumbai Local Trains. The fast local train takes 1 Hour 40 minutes to reach Mumbai and slow local trains takes 2 hr to reach at Mumbai. All the express trains going towards Pune take stop of 10 minutes at Karjat station. Karjat is about 100 km from Mumbai and 92 km from Pune.
Road:
It is well connected to Mumbai-Pune express highway, Mumbai-Goa Highway, Mumbai-Nasik Highway, and state highways which are Karjat-Kalyan Highway, Karjat-Murbad Highway and Raigad District, Kharghar are well connected. The under construction sea over bridge, trans-harbour link between Sewri, Mumbai and Navi Mumbai will cut the distance between the two cities further and offer faster connectivity to Karjat also. Its proximity to many industries and holiday spots with good connectivity has made it a unique city in India.
Sea:
The Nhava Sheva JNPT Port is the nearest seaport.
Karjat is accessible via following highways:
Mumbai-Pune Expressway
NH 17
NH 4
NH 3
MH SH 35
MH SH 38
NH 4B
NH 222 via Murbad for Ahmednagar
Golden Quadrilateral
Beed Khurd-Phata(Karjat could be entered also from Junction of Old Pune-Mumbai highway & Karjat State Highway near Khopoli)
Karjat-Khopoli-Pen Road
Ale-Phata junction via Murbad/Malshej
Chauk-Dand-Phata or Palaspe-Phata to Apta-Phata from Goa Road or via Panvel or Khopoli/Pali
Sewri-Navi Mumbai Sea Link Expressway (under construction)
NH 8 via Murbad-Wada/Dahanu or Kalyan/Bhiwandi
Proposed Chakan-Bhimashankar-Karjat Highway
Karjat has a bus terminal near railway station in Bhisegaon. It is well connected to other cities in and around state by Maharashtra state owned passenger buses. Many privately owned buses also provide transport service between Karjat and neighboring cities, including Mumbai and Panavel. Private taxis are also available near station.
Karjat is a preferred spot for weekend holidays, picnics, river rafting, trekking, hiking, and mountain climbing. It is a favored destination during rainy season.
Many farm houses and residential colonies are situated here with all civil amenities and a municipal corporation. People from Mumbai, Navi Mumbai, Thane and Pune have second or weekend homes here and regularly celebrate festivals, new year parties, or weekend bash here. It is also popular for pleasure visits during the monsoon season. Distance from Chembur to Karjat is 64 kilometres and from Sion it is 66 kilometres. Karjat has an advanced bio-tech institute which has been developing patented hybrid varieties of rice of international repute, apart from other crops and techniques.
Noted production designer Nitin Chandrakant Desai's "ND Studios" established in 2005, is a major stopover attraction for Karjat tourists and films are shot here. White Feather Films is also setting up a new studio here. Hollywood production companies such as Twentieth Century Fox, Walt Disney and DreamWorks (with Reliance Big Studio) are setting up mega studios and production facilities here. The Academy Award winning movie Slumdog Millionaire was shot here.
Karjat has got one of the largest chain of Farm Houses in Asia.
Karjat is also a trekking destination: it offers plenty of trails, ranging from medium to very demanding. The undulating hilly terrain and lofty slopes make it an ideal spot for trekking enthusiasts. The three prominent trekking trails lead to Matheran via Rambagh point, Peth Fort, and Chanderi Fort.
It's possible to go for white water rafting during the monsoon, on the upper sections of the Ulhas River. Kondana Village, 15 km from Karjat, is the put-in point. The best time go rafting is July to September, and the nerve-tingling rafting adventure highly depends on the rainfall.
Some of the other attractions in Karjat include:
Ulhas Valley
This valley glitters with large flowing streams of Ulhas river. It offers breathtaking sights during the monsoons, when the water falls gush through the thick greenery of the valley. There are a number of tunnels in the Ulhas valley, which helps the trains to pass through the valley.
Bhor Ghat
This ghat has a historical significance. It was the ancient trade route connecting the ports at Choul, Revdanda, Panvel, etc. on the Konkan coast and the hinterland on the Deccan plateau.
Kondana Caves
These caves are famous because of their Buddhist style .These caves offer an ancient lifestyle of Buddhist followers. There are many sculptures and stupas which are the architecture of the ancient Buddhist period. There is also waterfall near by caves.
Peth Fort
This fort is also known as the Kotligad. This fort is conical in shape and gives an amazing view of the foothills. This fort is placed on the back of the Western ghats and Matheran ranges.
MMRDA has planned to develop a part of area in Karjat-Khopoli belt as Recreational Hub. On the horizon are a Twenty20 league ground, a Paint Ball Park, Theme Parks, Amusement Park, Golf Course and other recreation facilities. Greg Norman's 27-36 Hole Super Championship Golf Course is also located in Karjat.
The Matheran Range starts at Haji Malang in the north-north-west, continues to Tavli in the north, and then runs south and finally terminates at Bhivpuri Road Hill. Strictly speaking, this range is not a part of the Sahyadris, but rather runs parallel to the Karjat-Mumbai railway line to its east. The Sahyadris proper run parallel to the same railway line, but to its east.
The city is famous for education. Many students from the city have been listed in SSC and HSC merit lists. Every year students from Badlapur attend higher education intechnology, medicine and many other fields at Mumbai University. The city has many fine schools that teach in Marathi and English. There are two colleges affiliated to theUniversity of Mumbai. Recently. Due to its proximity to Mumbai and Pune, Karjat has also become an educational hub with several institutes of higher education being located here:
Konkan Gyanpeeth Rahul Dharkar College of Pharmacy & Research Institute [1]
Dr. V.D. Pethe English Medium School
Konkan Gyanpeeth College of Engineering (360 seats)[2]
Asian Institute of Communication and Research AICAR Business School [3]
Biotech Research Institute
Dhirubhai Ambani School Lodhivali CBSE
Engineering Institute of Bhivpuri [4]
Christian Bible College, Vishwanagar
HOC Pillai International School [5]
Agricultural College
L & T Construction Skills Training Institute
ONGC Kendriya Vidyalaya CBSE [6]
Indian Institute of Geomagnetism [7]
Medicinal Plants Institute
Yadhavrao Tasgaonkar Institute of Technology
Mahatma Gandhi Memorial MGM Medical University [8]
Tasgaonkar Institute of Pharmacy [9]
Dnyananubhav Vidyalaya, Kashele
Hybrid Rice Research Institute
Tops Security Men Training Institute [10]
Tata Cancer Medical Institute and Research [11]
Magic Bus Rock Climbing Centre
Vocational Training Institute [12]
Saraswati Institute of Management & Research
Aptech Arena Residential Training Centre
Institute of Intelligence & Security Management (IISM)[13]
Puppetry Training Institute [14]
SeaRock Cruise Academy [15]
Pillai's Mahatma Education Complex [16]
Healis – Sekhsaria Institute For Tobacco Cancer Oncology [17]
Academy of Development Science [18]
Konkan Gyanpeeth Karjat College of Arts, Commerce & Science
Universal Business School [19]
Cardiff Metropolitan University [20]
Karjat Ibsar Management Institute [21]
Anglo Eastern Maritime Academy