It has been selected as one of the hundred Indian cities to be developed as a smart city under PM Narendra Modi's flagship Smart Cities Mission.
During the Nizam era, the name Karimnagar was named for a village by an Elgandala Qiladar, Syed Karimuddin.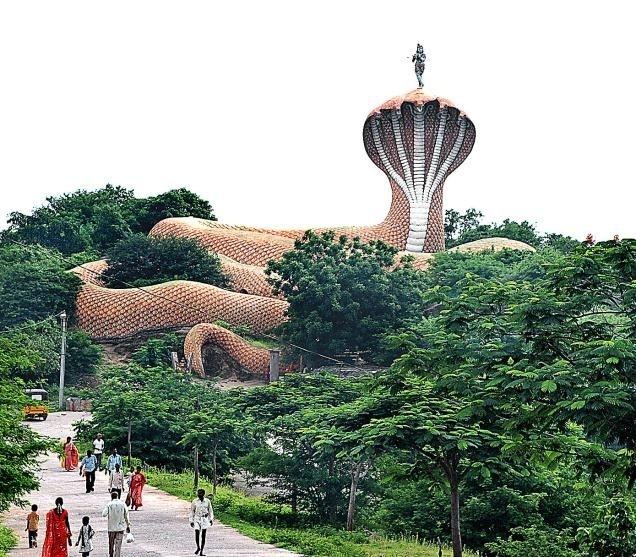 Kotilingala in Karimnagar district was the first capital of the Satavahana Kingdom (230 BCE–220 CE). Formerly known as Sabbinadu, inscriptions dating to the Kakatiya dynasty (1083–1323) by kings Prola II and Prataparudra found at Karimnagar and Srisailam provide evidence of the area's rich history.
The history of the Karimnagar district began in the Old Stone Age around 1,48,000 BC. Archaeological excavations in Pedda Bonkur, Dhulikatta and Kotilingalu show that the area was once ruled by the Satvahanas, Mauryas and Asaf Jahis.
Modern era
It was previously part of Hyderabad State before 1 November 1956, Andhra Pradesh state till 2 June 2014 and became the part of newly formed state of Telangana by Andhra Pradesh Reorganisation Act, 2014.
Karimnagar has a population of 261,185 within its corporation limits, according to 2011 census, making it fifth largest city in Telangana state.Karimnagar Urban Agglomeration comprising Municipal Corporation(2,61,185), its out growths (28,636) and a Census town (Rekurthi:7,626) together constitute a population of 297,447. City out growths include Bommakal (with a population of 9,031), Arepalle (6,987), Alugunur (6,164), Chinthakunta (3,437) and Sitharampur (3,017). Besides these outgrowths, there are many sub-urban areas on the outskirts, which are yet to be merged into corporation limits.It is the most densely populated city in Telangana, with a density of 11,114 persons per km2.
Karimnagar city has a literacy rate of 85.82%, which is highest urban literacy rate in Telangana state. Karimnagar urban agglomeration has a literacy rate of 84.93% which is almost equal to the National Urban average of 85%. The literacy rate for males and females for Karimnagar urban region stood at 91.06% and 78.69% respectively.
Karimnagar experiences dry inland climatic conditions with hot summers and cool winters. The city of Karimnagar gets most of its rainfall from the Southwest monsoon. The summer season is extremely hot, but temperatures decline with the onset of the monsoons, and the winter season is generally cool. The most popular tourist season is from November to February.
The summer season starts in March and can continue through early June. During this period temperatures range from a minimum of 27 °C to a maximum of 39 °C. The highest recorded temperature in the area is around 44 °C. Nights are much cooler, and the humidity is around 50%. October and November experiences increased rainfall from the Northeast monsoon. During this time, daytime temperatures average around 30 °C. The winter season starts in December and lasts through February. During this time, temperatures range from a minimum of 20 °C to a maximum of 35 °C.
Karimnagar Municipal Corporation is the civic body that administers the city. It was constituted as a third grade municipality in the year 1952, as a second grade in 1959, first grade in 1984, special grade in 1996, selection grade in 1999 and finally upgraded to corporation in 2005.
Despite of city growing in leaps and bounds, the area of the civic body remaining unaltered. Ever since the municipality was upgraded into corporation in 2005, the merger of adjoining villages on the outskirts with the Corporation was being met with wide opposition from local village authorities.
Karimnagar has evolved into a major health centre at the beginning of the 21st century because it is centrally located to all the talukas like Jagtial, Sircilla, Ramagundam, Kodimyal, Manthani, Huzurabad, Jammikunta, Husnabad, Choppadandi, Malyal and Gangadhara. Patients come from all over the surrounding districts. Government Civil Hospital is the dominant medical institution.
Telugu is the major language spoken in Karimnagar; Urdu is also widely spoken. The typical attire includes the traditional Chira and Pancha, and also modern dress styles. Karimnagar Silver Filigree is one of the local silverware handicrafts.
Religious worships and Festivals
The spring festival of Bathukamma is typical in this region. Other major Hindu festivals celebrated in the region include Ugadi, Sri Ramanavami, Vinayaka Chavithi, Holi, Sri Krishna Janmashtami, Dasara, Deepavali, Sankranti, and Maha Sivaratri. Muslims in this area also celebrate Eid-ul-Fitr, Eid al-Adha, Ramadan (ninth month of the Islamic calendar), Laylat al-Qadr (Shab-e-Qadr), Isra and Mi'raj (Shab-e-Meraj), Shab-e-barat (Mid-Sha'ban), Milad-un-Nabi (Mawlid) and Muharram (Day of Ashura). These are usually greeted with great pomp and ceremony. Christians in this area celebrate Christmas and Good Friday.
Raja Rajeshwara Temple at Vemulawada, Narasimha Temple at Dharmapuri, Anjaneya Temple at Kondagattu, Veerabhadra Temple at Kothakonda and Swayambhu Narasimha Swamy Temple at Nustulapur are some of the prominent and famous religious destinations.
Cuisine
Sakinalu is one of the many traditional snacks made in Karimnagar, especially for the Sankranti festival. They are made of rice flour and sesame seeds, and fried in oil. Biryani is a common cuisine of the state. Sarvapindi is another traditional snack native to the Telangana state.
Notable personalities
There are many people who made their mark in different fields such as, C. Narayana Reddy in literature and Gnanapeet award recipient, Chennamaneni Vidyasagar Rao in politics, N. Kumarayya, G. Ram Reddy, Anabheri Prabhakar Rao, Dadasaheb Phalke Award recipient, Paidi Jairaj, sir P V Narasimha Rao ex: prime minister of India
The city is connected to major cities and towns by means of road and railways. State highways that pass through the city are State highway 1 which is also known as State Highway 1 (Telangana) (Rajeev Rahadari) connects with the Hyderabad-Karimnagar-Ramagundam Highway coal belt corridor, State highway 7 and 10. TSRTC operates buses to various destinations from Karimnagar bus station of the city. Karimnagar railway station provides rail connectivity to the city, located on the Ramagundam railway station Peddapalli-Nizamabad section of New Delhi–Chennai main line. It is under the jurisdiction of Secunderabad railway division of the South Central Railway zone. There is a proposal to also construct a railway line from Manoharabad(near secunderabad) to Kotthapalli, which is 8 km away from Karimnagar city.
Karimnagar is a major education centre in North-western Telangana and has produced many renowned intellectuals, politicians, poets and technologists over several decades. P.V. Narasimha Rao, former Indian Prime Minister, is among them. Another was Justice N. Kumarayya, who retired as Chief Justice of Andhra Pradesh and worked for five years as a Judge of the World Bank Administrative Tribunal beginning in 1980. He had the unique distinction of being the first Osmanian ever to become a High Court Judge in 1955, and later Chief Justice of Andhra Pradesh in 1969. Many software students, born and educated in Karimnagar, have migrated to major metropolitan areas in India and across the globe.
Universities
Satavahana University,Karimnagar