Birth name

Karen Anne Carpenter




Years active

1965–1983




Occupation(s)

Musician, singer




Siblings

Richard Carpenter




Genres

Pop, soft rock, jazz


Role

Singer




Origin

Downey, California


Name

Karen Carpenter








Born

March 2, 1950New Haven, Connecticut (

1950-03-02

)


Instruments

Vocals, drums, percussion




Died

February 4, 1983, Downey, California, United States


Spouse

Thomas James Burris (m. 1980–1983)




Similar People

Richard Carpenter, Thomas James Burris, Cynthia Gibb, Paul Williams, Ella Fitzgerald



Music group

Carpenters (1969 – 1983)

Rated K: Meet the blind singer who sounds like Karen Carpenter
Karen Anne Carpenter (March 2, 1950 – February 4, 1983) was an American singer and drummer, and part of the duo the Carpenters with her brother Richard. She was critically acclaimed for her contralto vocals, and her drumming was praised by contemporary musicians and peers.
Contents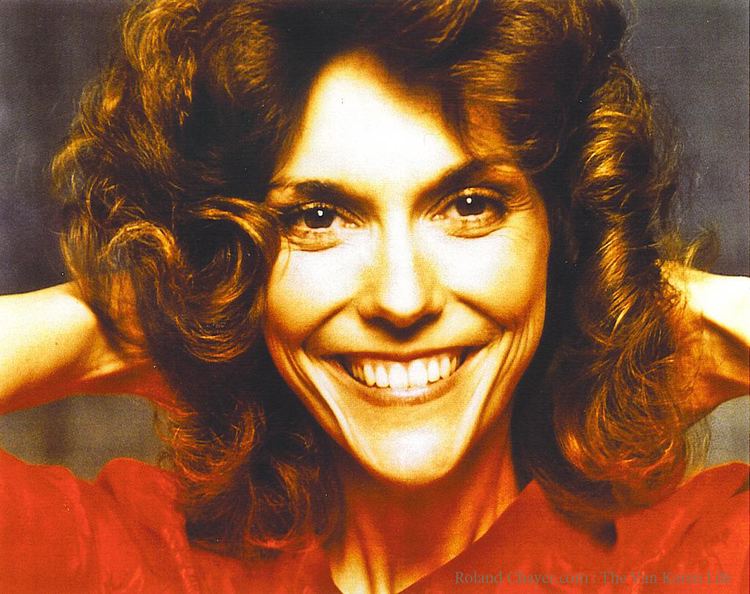 Carpenter was born in New Haven, Connecticut and moved to Downey, California in 1963 with her family. She began to study the drums at High School, and upon graduation, joined the Long Beach State choir. After several years of touring and recording, the Carpenters were signed in 1969 and achieved commercial and critical success throughout the 1970s. Initially, Carpenter was the band's full-time drummer, but gradually took over the role of frontwoman as drumming was reduced to a handful of live showcases or tracks on albums. While the Carpenters were on hiatus in the late 1970s, she recorded a solo album, which was never released during her lifetime.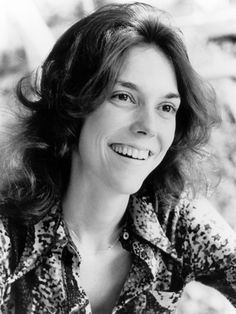 Carpenter suffered from the eating disorder anorexia nervosa, which was little known at the time, and was briefly married in the early 1980s. She died at age 32 from heart failure caused by complications related to her illness, and her death led to increased visibility and awareness of eating disorders. Her work continues to attract praise, including being listed in Rolling Stone's 100 greatest singers of all time.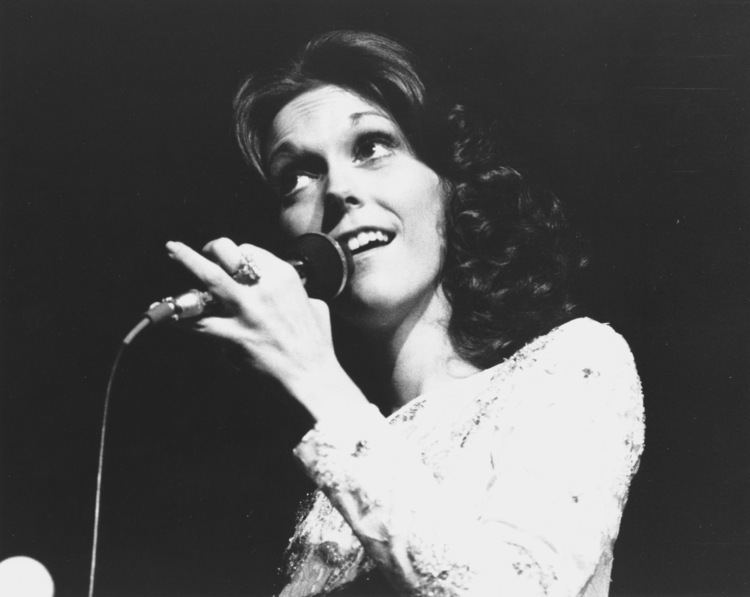 Keiko Toge imitating Karen Carpenter with Richard's blessing
Early life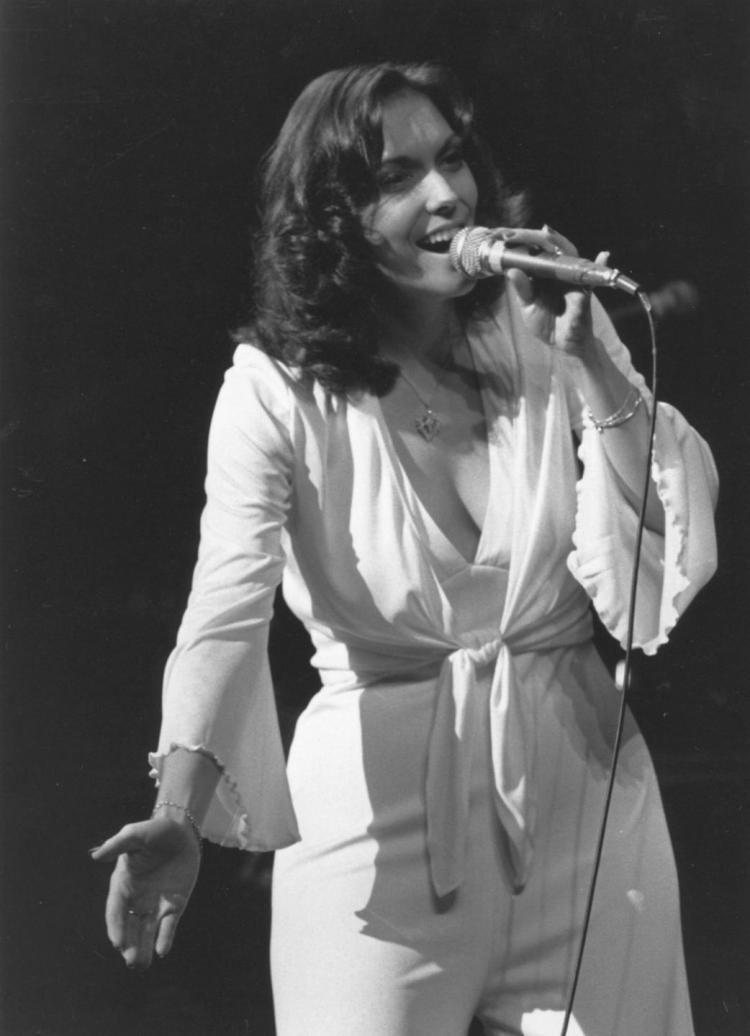 Karen Anne Carpenter was born on March 2, 1950 in New Haven, Connecticut, the daughter of Agnes Reuwer (née Tatum, March 5, 1915 – November 10, 1996) and Harold Bertram Carpenter (November 8, 1908 – October 15, 1988). Harold had been born in China where his parents were missionaries and was educated at boarding schools in England, before working in the printing business.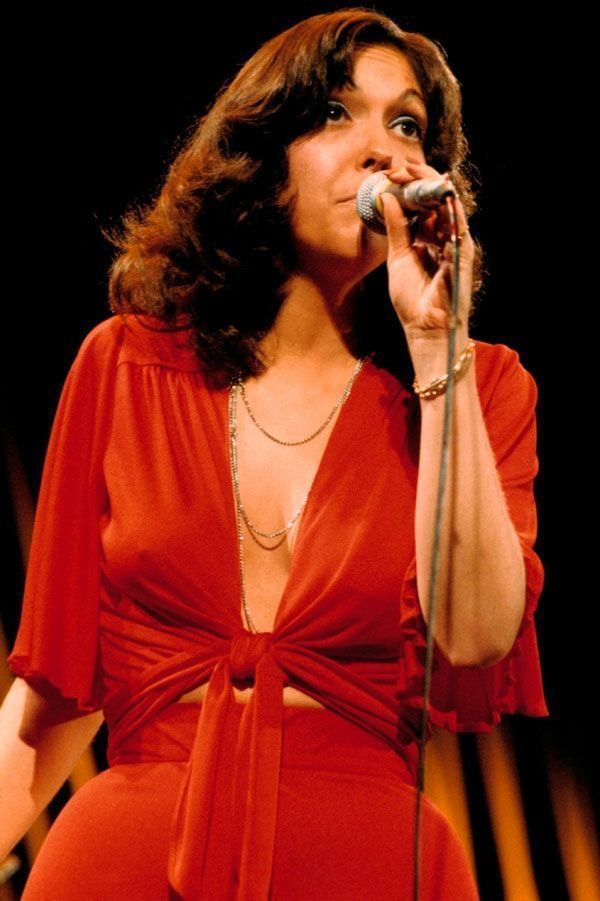 Her elder brother Richard developed an interest in music at an early age, becoming a piano prodigy. Karen enjoyed dancing and by age four was enrolled in tap dancing and ballet classes. When she was young, she enjoyed playing baseball with other children on the street, and was picked before her brother in sandlot games. In the early 1970s, she would become the pitcher on the Carpenters' official softball team. The family moved in June 1963 to the Los Angeles suburb of Downey after Harold had been offered a job there by a former business associate.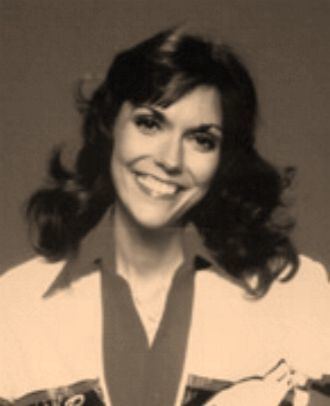 When Carpenter entered Downey High School in 1964, she joined the school band, initially to avoid gym classes. Bruce Gifford, the conductor (who had previously taught her older brother) gave her the glockenspiel, an instrument she disliked, and after admiring the performance of her friend Frankie Chavez (who had been playing drums from an early age and idolized jazz drummer Buddy Rich), she asked if she could play the drums instead. Carpenter wanted a Ludwig set, because it was used by her favourite drummers, Joe Morello and Ringo Starr. Chavez persuaded her family to buy her a $300 ($2,300 as of 2016) Ludwig kit, and he began to teach her drums. She was always enthusiastic about drumming and taught herself how to play complicated lines, and studied the difference between traditional and matched grip. Within a year, she could play in complex time signatures, such as the 5/4 in Dave Brubeck's "Take Five".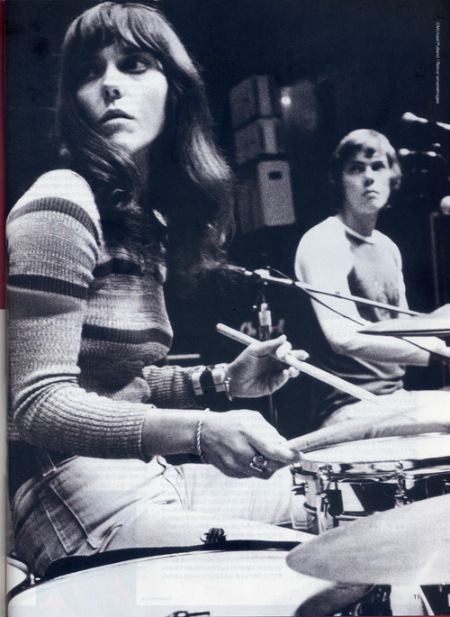 Carpenter was initially nervous about performing in public, but said she "was too involved in the music to worry about it." After graduating from High School in 1967, she enroled as a music major at Long Beach State, performing in the college choir with Richard. The choir's director, Frank Pooler, said that Karen had a good voice, and gave her lessons in order for her to develop a three-octave range.
The Carpenters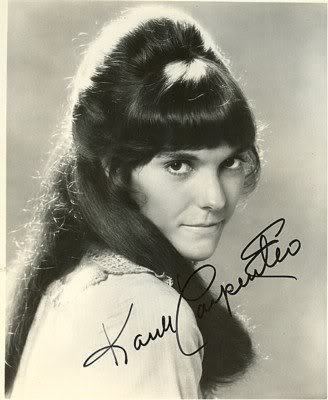 Carpenter's first band was Two Plus Two, an all-girl trio formed with two friends from Downey High. They split up after she suggested her brother Richard join the group. In 1965, Karen, Richard, and his college friend Wes Jacobs, a bassist and tuba player, formed the Richard Carpenter Trio. The band rehearsed daily and played jazz at numerous nightclubs and also appeared on the TV talent show Your All-American College Show. Richard was immediately impressed with his sister's musical talent, saying she'd "speedily maneuver the sticks as if she had been born in a drum factory." She did not sing at this point; instead, singer Margaret Shanor guested on some numbers. The trio signed a contract with RCA Records and recorded two instrumentals, but they were not released.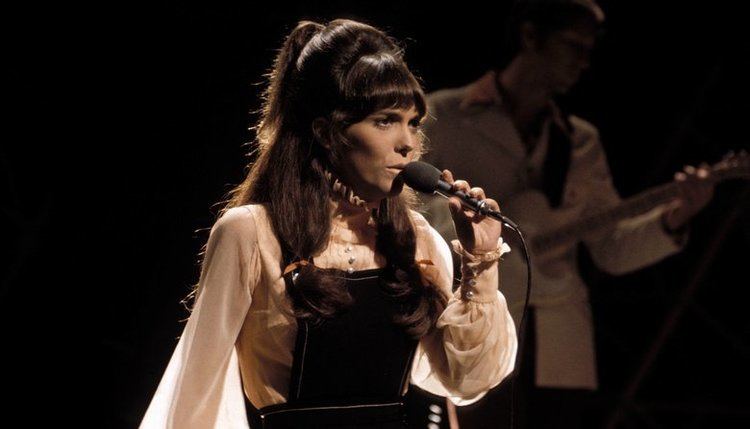 In April 1966, the Carpenters were invited to audition at a session with bassist Joe Osborn, well-known for being part of the studio collective The Wrecking Crew. Initially expecting Karen to just be the drummer, she tried singing, and impressed everyone there with her distinctive voice. Osborn signed a recording contract with Carpenter for his label, Magic Lamp Records; he was not particularly interested in Richard's involvement.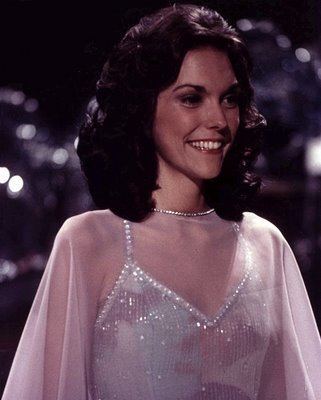 Along with other musicians, including Gary Sims and John Bettis, the siblings formed the group Spectrum, which focused on a harmonious vocal sound and recorded many demo tapes in Osborn's garage studio, working out how to overdub voices onto multitrack tape. Many of those tapes were rejected by record companies. According to Bettis, those rejections "took their toll."
A&M Records finally signed the Carpenters to a recording contract in 1969. Karen sang most of the songs on the band's first album, Offering (later retitled Ticket to Ride), and her brother wrote 10 out of the album's 13 songs. As well as drumming, she played bass guitar on two songs, "All of My Life" and "Eve", under Osborn's guidance. On "All I Can Do", she played in 5/4 time, while "Your Wonderful Parade" featured multiple snare and bass drum overdubs to emulate the sound of a marching band. The issued single (later the title track), which was a cover of a Beatles song, became their first single; it reached #54 on the Billboard Hot 100. Their next album, 1970's Close to You, featured two hit singles: "(They Long to Be) Close to You" and "We've Only Just Begun". They peaked at #1 and #2, respectively, on the Hot 100.
Carpenter started out as both the group's drummer and lead singer, and she originally sang all her vocals from behind the drum set. Because she was just 5 feet 4 inches (1.63 m) tall, it was difficult for people in the audience to see her behind her drum kit. After reviews complained the group had no focal point in live shows, Richard and manager Sherwin Bash persuaded her to stand at the microphone to sing the band's hits, while another musician played the drums (former Disney Mouseketeer Cubby O'Brien served as the band's other drummer for many years). After the release of Now & Then in 1973, the albums tended to have Carpenter singing more and drumming less. Many of the duo's hits prominently feature her contralto singing, leading her to quip, "The money's in the basement". During the 1970s live shows, she would perform a showcase where she moved around the stage playing various configurations of drums.
Carpenter always considered herself a "drummer who sang." Despite this, she was not often featured as a drummer on the Carpenters' albums. She was, however, the only drummer on the albums Ticket to Ride and Now & Then (except for one song) and on the songs "Mr. Guder", "I'll Never Fall in Love Again", "Love is Surrender", "Bacharach/David Medley", the piano instrumental "Flat Baroque" (highlighting her use of brushes), "Happy", "Another Song" and "Please Mr. Postman." Hal Blaine played on most of the Carpenters' studio sessions where she did not play drums herself. Though she was a competent drummer, the duo were happy for Blaine to take the role in the studio as he was a respected session musician and it was easier to record Carpenter's guide vocal without it spilling onto the drum mics.
Carpenter was known for endorsing Ludwig Drums and she had two setups (20" bass drum, 14 and 16" floor toms, 13" mounted tom, 4, 6, 8 and 10" concert toms and the Ludwig SuperSensitive snare drum, which was the one snare drum she favored greatly). She also used a Rogers hi-hat, a Rogers bass drum pedal, Zildjian cymbals, 11A drumsticks (brand unspecified) and Remo drumheads. On Made in America, Karen provided percussion on "Those Good Old Dreams" in tandem with Paulinho da Costa and made a final return to playing drums on the song "When it's Gone (It's Just Gone)" in unison with Larrie Londin.
In the mid-1970s, her brother developed an addiction to Quaaludes. The Carpenters frequently cancelled tour dates, and they stopped touring altogether after their September 4, 1978, concert at the MGM Grand in Las Vegas. In 1980, she performed a medley of standards in a duet with Ella Fitzgerald on the Carpenters' television program Music, Music, Music. In 1981, after the release of Made in America album (which turned out to be their last), the Carpenters returned to the stage and did some tour dates, including a final live performance in Brazil.
"Now" was the last song Carpenter recorded in April 1982. The session took place during a two-week break in her anorexia therapy with psychotherapist Steven Levenkron in New York City.
Solo
Carpenter released her first solo record, "Looking For Love" / "I'll Be Yours" in 1967 on Osborn's Magic Lamp label. Only 500 copies were pressed, and the label folded shortly afterwards.
In 1979, while Richard took a year off to treat his addiction to Quaaludes, Karen decided to make a solo album with producer Phil Ramone. These sessions produced music that was different from the usual Carpenters material, tending more towards disco and up-tempo numbers, with more explicit lyrics and taking full advantage of Karen's upper vocal register. The album met with a tepid response from Richard and A&M executives in early 1980. The album was shelved by A&M Records co-owner Herb Alpert, in spite of attempts by producer Quincy Jones to convince him to release the record after a remix. A&M subsequently charged the Carpenters $400,000 to cover the cost of recording this album, to be paid out of the duo's future royalties. A portion of the solo album was commercially released in 1989, when some of its tracks (as remixed by Richard) were included on the album Lovelines, the final album of Carpenters' unreleased new material. In 1996, the complete album, titled Karen Carpenter, was finally released.
Personal life
Carpenter had a complicated relationship with her parents. They had hoped that Richard's musical talents would be recognised and that he would enter the music business, but were not prepared for her success. She continued to live with them until 1974. In September and October 1971, two years after their debut album, she and her brother bought two apartment buildings in Downey as a financial investment. In 1976, Carpenter bought two Century City apartments which she combined into one; the doorbell chimed the opening notes of "We've Only Just Begun". She collected Disney memorabilia and liked to play softball and baseball. Petula Clark, Olivia Newton-John and Dionne Warwick were close friends.
In early interviews, Carpenter showed no interest in marriage or dating, believing that it would not survive constant touring, adding "as long as we're on the road most of the time, I will never marry". She later dated several notable men, including Mike Curb, Tony Danza, Terry Ellis, Mark Harmon, Steve Martin and Alan Osmond. After a whirlwind romance, she married real-estate developer Thomas James Burris on August 31, 1980, in the Crystal Room of the Beverly Hills Hotel. Burris, divorced with an 18-year-old son, was nine years her senior. A new song performed by Carpenter at the ceremony, "Because We Are in Love", was released in 1981. Burris concealed from Carpenter, who desperately wanted children, the fact that he had undergone a vasectomy. Their marriage did not survive the deceit and ended after 14 months. Burris was said to have been broke and living well beyond his means, borrowing up to $35,000 and $50,000 at a time from his wife, to the point that she had only stocks and bonds left. He was also said to have been abusive towards her, often being impatient with Karen, who shared with close friends that she remained fearful when he would occasionally lose his temper with her. Close friend Karen Kamon recounted one incident where she and Carpenter went to their normal hangout, Hamburger Hamlet, and Karen appeared to be distant emotionally, sitting not at their regular table but in the dark, and wearing large dark sunglasses, unable to eat and crying. According to Kamon, the marriage was "the straw that broke the camel's back. It was absolutely the worst thing that could have ever happened to her."
In September 1981, Carpenter revised her will and left everything to her brother and parents. Two months later, following an argument after a family dinner in a restaurant, Carpenter and Burris broke up. Carpenter filed for divorce while staying in Lenox Hill Hospital.
Health and death
Carpenter began dieting while at high school. Under a doctor's guidance, she went on the Stillman Diet, eating lean foods, drinking eight glasses of water a day, and avoiding fatty foods. She was 5 feet 4 inches (1.63 m) in height and before dieting weighed 145 pounds (66 kg; 10 st 5 lb) and afterwards weighed 120 pounds (54 kg; 8 st 8 lb) until 1973, when the Carpenters' career reached its peak. By September 1975, her weight was 91 pounds (41 kg; 6 st 7 lb). Anorexia had driven her to use thyroid replacement medication, increasing her metabolism, and laxatives, which caused food to pass quickly through her digestive tract. Despite Levenkron's treatment, her condition continued to deteriorate and she lost more weight. Carpenter told Levenkron that she felt dizzy and that her heart was beating irregularly. Finally, in September 1982, she was admitted to Lenox Hill Hospital in New York, where she was placed on intravenous parenteral nutrition. The procedure was a success, and she gained 30 pounds (14 kg; 2 st 2 lb) in a relatively short time, but regrettably, the sudden weight gain put a strain on her heart, which was already weak from years of improper diet.
Carpenter returned to California in November 1982, determined to reinvigorate her career, finalize her divorce and begin a new album with Richard. On December 17, 1982, she gave her last singing performance in the multi-purpose room of the Buckley School in Sherman Oaks, California, singing Christmas carols for her godchildren, their classmates and other friends. On January 11, 1983, Karen made her last public appearance at a gathering of past Grammy Award winners, who were commemorating the show's 25th anniversary. She seemed somewhat frail and worn out, but according to Warwick, Karen was vibrant and outgoing, exclaiming to everyone, "Look at me! I've got an ass!"
On February 1, 1983, Carpenter saw her brother for the last time, where they discussed new plans for the Carpenters and resuming touring. A few days later, on February 4, Carpenter was scheduled to sign papers making her divorce official. Shortly after waking up, she collapsed in her bedroom at her parents' home in Downey, California. Paramedics found her heart beating once every 10 seconds. She was pronounced dead at a nearby hospital at 9:51 a.m.
Karen Carpenter's funeral was held on February 8, 1983, at Downey United Methodist Church. Approximately one thousand mourners attended, including her friends Dorothy Hamill, Newton-John, Clark and Warwick. Thomas Burris also attended, and placed his wedding ring in the casket. Carpenter was buried at the Forest Lawn Memorial Park in Cypress, California. In 2003 her body was moved, to be placed with her parents in a mausoleum at the Pierce Brothers Valley Oaks Memorial Park in Westlake Village, California.
An autopsy released on March 11, 1983, ruled out drug or medication overdose, attributing death to "emetine cardiotoxicity due to or as a consequence of anorexia nervosa." Two years later, the coroner told colleagues that Carpenter's heart failure was caused by repeated use of ipecac syrup, an over-the-counter emetic often used to induce vomiting in cases of overdosing or poisoning. This was disputed by her mother and brother, who said that they never saw ipecac in her apartment or evidence she had been vomiting. Richard believed Karen would not have used ipecac syrup, because of the potential damage to her larynx that would have been caused by the regurgitation of stomach acid. He was convinced that she had been abusing laxatives to maintain her low body weight.
Legacy
Carpenter's singing has attracted critical praise and influenced several significant musicians and singers, including Madonna, Sheryl Crow, Sonic Youth's Kim Gordon, Shania Twain, and K.D. Lang. Paul McCartney has said she had "the best female voice in the world: melodic, tuneful and distinctive". She has been called "one of the greatest voices of our lifetime" by Elton John. Her drumming has been praised by fellow musicians Hal Blaine, Cubby O'Brien and Buddy Rich and by Modern Drummer magazine. In 1975, she was voted the best rock drummer in a poll of Playboy readers, beating Led Zeppelin's John Bonham.
On October 12, 1983, shortly after her death, the Carpenters received a star on the Hollywood Walk of Fame.
In 1999, VH1 ranked Carpenter at #29 on its list of the 100 Greatest Women of Rock and Roll.
In 2010, Rolling Stone ranked Carpenter number 94 on its list of the 100 Greatest Singers of All Time. The journal called her voice "impossibly lush and almost shockingly intimate", adding "even the sappiest songs sound like she was staring directly into your eyes."
Carpenter's death brought media attention to anorexia nervosa and also to bulimia. The general public had little knowledge of the conditions prior to Carpenter's death, making the condition difficult to identify and treat. Her family started the Karen A. Carpenter Memorial Foundation, which raised money for research on anorexia nervosa and eating disorders.
Biographies
The 43-minute film Superstar: The Karen Carpenter Story (1987) was directed by Todd Haynes and was withdrawn from circulation in 1990, after Haynes lost a copyright infringement lawsuit filed by Karen's brother and musical collaborator, Richard Carpenter. The film's title is derived from The Carpenters' 1971 hit song, "Superstar". Over the years, it has developed into a cult film and is included in Entertainment Weekly's 2003 list of top 50 cult movies.
On January 1, 1989, the similarly titled made-for-TV movie The Karen Carpenter Story aired on CBS with Cynthia Gibb in the title role. Gibb lip-synced the songs to Carpenter's recorded voice, with the exception of "The End of the World." Both films use the song "This Masquerade" in the background while showing Carpenter's marriage to Burris.
Richard Carpenter helped in the productions of the documentaries Close to You: Remembering The Carpenters (1997) and Only Yesterday: The Carpenters Story (2007). Randy Schmidt wrote a biography about Carpenter entitled Little Girl Blue, published in 2010. It avoided previous biographies which had been officially endorsed by the family, and was based on interviews with other friends and associates. The New York Times said the book was "one of the saddest tales in pop."
Studio albums
Offering (later reissued as Ticket to Ride) (1969)
Close to You (1970)
Carpenters (1971)
A Song for You (1972)
Now & Then (1973)
Horizon (1975)
A Kind of Hush (1976)
Passage (1977)
Christmas Portrait (1978)
Made in America (1981)
Posthumous albums
Voice of the Heart (1983)
An Old-Fashioned Christmas (1984)
Lovelines (1989)
As Time Goes By (2001/2004)
Solo albums
Karen Carpenter (1996)
References
Karen Carpenter Wikipedia
(Text) CC BY-SA