The Kangayam bull, known for its superior draught strength and adaptability to poor nutritional conditions is indigenous to the area around Kangayam and is named after the town. As of 2011, the town had a population of 32,147.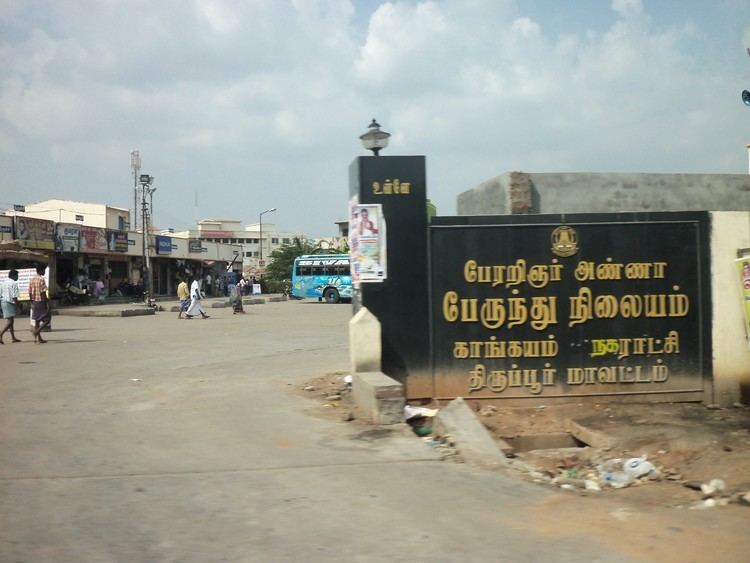 An ancient beryl mine near Kangayam produced Indian beryl which was exported to Roman empire, which is the reason for numerous Roman coins found in the nearby areas.
The major business interests in Kangeyam are rice mills, coconut copra making which is used in coconut oil production, ghee production and groundnut cultivation. The region, despite being semi-arid and rain-fed, produces rice throughout the year. Rice is processed to hull it and then marketed. Paddy procured from Thanjavur and Cauvery delta regions in Tamil Nadu and from other states like Karnataka and Andhra Pradesh are also brought here for processing and there are more than 500 rice mills in Kangayam Taluk.
Coconut oil production in Kangayam began in the 1980s when coconut cultivation started spreading in Tamil Nadu. Kangayam is often named among the major coconut oil producing regions of India and the coconut oil that is produced here is marketed all over Tamil Nadu, and also in other states like Maharashtra, Andhra Pradesh, Karnataka, Gujarat, West Bengal and Madhya Pradesh, and is also exported. Coconut kernel is first allowed to dry on large fields made for this purpose, and then processed in oil mills to produce coconut oil. There are about 150 coconut oil manufacturing units in and around Kangayam, and about 500 kopra processing and drying units in Kangayam Taluk. The town is a very important rice and oil market in Tamil Nadu, and is called the "Rice and Oil Town". Ghee and Ornamental stone production is a major business in Kangayam. The stone that is produced is known as "Moon Stone", and is exported to other countries.
The Kangeyam bull is a cattle breed that is indigenous to the area around Kangeyam. There are two varieties of Kangeyam cattle. The Kangeyam bull is known for its superior draught strength and adaptability to poor nutritional conditions. They have a compact body with short, stout legs, strong hooves, a short neck and a firm hump, and are usually grey or white in colour.
According to 2011 census, Kangeyam had a population of 32,147 with a sex-ratio of 987 females for every 1,000 males, much above the national average of 929. A total of 2,811 were under the age of six, constituting 1,485 males and 1,326 females. Scheduled Castes and Scheduled Tribes accounted for 9.33% and .07% of the population respectively. The average literacy of the town was 77.7%, compared to the national average of 72.99%. The town had a total of : 9449 households. There were a total of 15,720 workers, comprising 392 cultivators, 603 main agricultural laborers, 1,610 in house hold industries, 11,503 other workers, 1,612 marginal workers, 63 marginal cultivators, 155 marginal agricultural laborers, 225 marginal workers in household industries and 1,169 other marginal workers.
Around 3% of the people are below poverty line which is much lower than the national average of 29.8% and the state average of 17.1%. Kangeyam has 88.86% Hindus, 6.22% Muslims, 3.91% Christians, 0.02% Sikhs, 0.02% Buddhists, 0.01% Jains and 0.01% Others. 0.95% of the respondents follow no religion or did not state their religion.
Kangayam comes under Dharapuram revenue division of Tirupur District. Kangayam assembly constituency is part of Erode (Lok Sabha constituency). Selvakumara Chinnayan is the current Member of Parliament. U Thaniyarasu (AIADMK) represents Kangayam Constituency in the Tamil Nadu Legislative Assembly. Manimaran (AIADMK) is the Chairman of Kangayam municipality.
Because of its strategic location, Kangayam is well connected by roads to many major towns in the district. Kangayam is located on National Highway 67. A State Highway running through Kangayam connects Erode and Palani. There are two bus stands in Kangayam abutting each other- one for mofussil buses which connect the surrounding villages with Kangayam, and the other for service buses which connect Kangayam with other parts of Tamil Nadu. The roads around Kangayam are one of the busiest in Tamil Nadu. Other state highways that run through Kangeyam are SH 96 (Erode - Kangayam), SH 172 (Tiruppur - Kangayam) and SH 189 (Kangayam - Kodumudi). Kangayam is about 46 km from Erode, 68 km from Coimbatore and 28 km from Tirupur.
Sivanmalai is a Hindu temple located on the State Highway 172 and it is about 5 km from Kangeyam. The temple is located atop a small hill. Chennimalai is a town located on SH 96 with a Hindu temple dedicated to Murugan located atop a hill. Orathuppalayam Dam, built across the Noyyal River, is about 17 km from Kangayam. The dam is a major concern for environmentalists because of its polluted waters. Vattamalai is a small hill, with a Hindu temple atop it. It is located at about 8 km from Kangayam. Many Indian movies have been shot at Vattamalai.
There is a 54-bedded Government Hospital in Kangeyam. Two Primary Health Centres at Chavadipalayam and Pachapalayam, and a Community Health Centre at Nathakadaiyur are under the administration of Kangeyam Health Block, which comes under Dharapuram Health Unit District (HUD). Besides these, there are a number of private hospitals. A number of schools and colleges are situated in and around Kangayam.