Years active

1983–present




Spouse

Susan B. Hodder




Height

1.92 m





Role

Actor




Name

Kane Hodder







Born

April 8, 1955 (age 60) (

1955-04-08

) Auburn, California, United States


Occupation

Actor, stuntman, author




TV shows

The Search for the Next Elvira




Movies

Hatchet, Jason X, Hatchet III, Hatchet II, Friday the 13th Part




Similar People

Adam Green, Derek Mears, Danielle Harris, Robert Englund, Ken Kirzinger



Children

Reed Hodder, Jace Hodder



Kane hodder unmasked official trailer
Kane Warren Hodder (born April 8, 1955) is an American actor, stuntman, and author.
Contents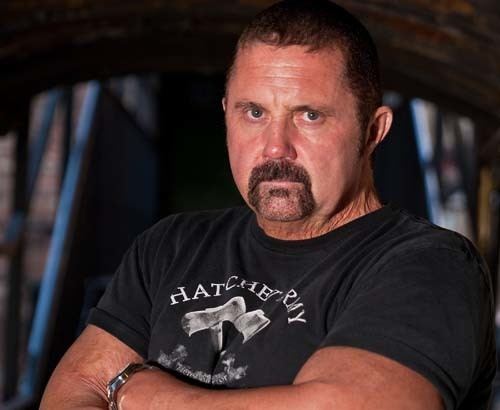 Hodder is best known for his portrayal of Jason Voorhees in four films from the Friday the 13th film series: Friday the 13th Part VII: The New Blood, Friday the 13th Part VIII: Jason Takes Manhattan, Jason Goes to Hell: The Final Friday, Jason X, and the video game Friday the 13th: The Game. He is also known for his role as Victor Crowley in Hatchet, Hatchet II, Hatchet III, and Victor Crowley[. He also played Leatherface during the stunts of Leatherface: The Texas Chainsaw Massacre III and Freddy Krueger's clawed glove hand in Jason Goes to Hell: The Final Friday.
Friday the 13th the game interview with kane hodder and randy greenback
Life and career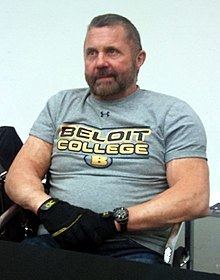 Hodder was born in Auburn, California. He was the first actor to portray Jason Voorhees more than once, in a total of four movies. He portrayed horror icon Leatherface through the stunt work of the 1990 film Leatherface: The Texas Chainsaw Massacre III and played Freddy Krueger's clawed glove hand at the very end of Jason Goes to Hell: The Final Friday . He also appeared in an episode of The Arsenio Hall Show to promote Friday the 13th Part VIII: Jason Takes Manhattan, in costume as Jason.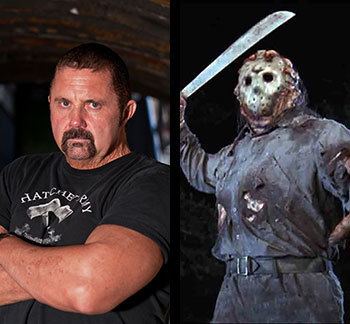 Although he offered to reprise his role as Jason Voorhees in the 2003 film Freddy vs. Jason, director Ronny Yu replaced Hodder with 6'7" Canadian stuntman Ken Kirzinger. The switch created controversy among fans of the series and has been credited to several rumors, including Kirzinger's location in Canada and his height compared to Robert Englund, the actor who portrayed Freddy Krueger, while Yu himself stated that it was New Line Cinema's idea to do so. Though Hodder still expresses resentment over not being chosen, he is still good friends with Kirzinger and Englund. In 2011 Hodder wrote, along with author Michael Aloisi, his autobiography Unmasked: The True Story of the World's Most Prolific Cinematic Killer. This was in 2014 turned into a Webseries, which was released as The Killer & I.
Hodder starred in the slasher film Hatchet as main character Victor Crowley, a physically deformed young boy who comes back from the dead to kill the people who invade the swamp he lives in, a similar story in scope to that of Jason Voorhees. The role earned him the Horror Jury Award for Best Actor at the Fantastic Fest in Austin, Texas. He reprised this role in Hatchet II and Hatchet III. He has expressed interest in portraying Michael Myers.
Hodder portrayed Grawesome Crutal in the old-school slasher film, Muck and its sequel Muck: Feast of Saint Patrick. He co-starred with Doug Jones and Michael McShane in the horror comedy film Love in the Time of Monsters. In March 2015, he was part of Adam Green's ArieScope webseries Adam Green's Scary Sleepover.
Kane Hodder reprised his role as Jason Voorhees in Friday the 13th: The Game. He also reprised his role as Victor Crowley in the upcoming eponymous movie of the same name.
Unmasked
Hodder co-wrote an autobiography with author Mike Aloisi. The book is about his life and experience in the film industry and was released on October 1, 2011.
Paranormal group
As a side project, Kane had been ghost hunting for some time now in his own group called the Hollywood Ghost Hunters. He describes it as a "group of people who normally make a living by trying to scare other people. Everybody in the group has something to do with horror movies." Hodder partnered up with his friend Rick "Stuntman" McCullum, a Hollywood stuntman and actor who doubles for horror film actors like Sid Haig. Rick decided to form a paranormal team, after he and Kane were filming at Mansfield Reformatory for a horror film called Fallen Angels. While there, they decided to spend their break ghost hunting investigating the cells. They had a ghostly experience when they saw a shadow man running down one of the cell blocks. When Kane took off in a full sprint towards it, Rick knew he had his first partner for his team. Shortly after, they took on their third member for the team: R. A. Mihailoff, known for playing the frightening lead role of "Leatherface" in Texas Chainsaw Massacre III. Together the three members make up a paranormal group of members who work in the horror movie industry.
On January 7, 2011, Hollywood Ghost Hunters was featured on the "Pico House" episode of Travel Channel's Ghost Adventures.
Personal life
Hodder is an avid poker player. He has the word "Kill!" tattooed on the back of his bottom lip. He spends time working with children in burn centers, and despite the roles he often plays, Hodder has often been described as a very friendly man who loves to meet his fans.
For a long time, Hodder claimed his favorite kill scene in his films was the "sleeping bag against a tree" scene from Friday the 13th Part VII: The New Blood. He now considers the one where he rips a woman's face in half from Hatchet (2006) to be his favorite.
Hodder is a noted Juggalo, a fan of the group Insane Clown Posse. To reflect this, he has a custom charm of the group's "hatchetman" logo holding a machete instead of a hatchet, a reference to his role as Jason.
Hodder appeared on the December 4, 2012 episode of the TruTV show Hardcore Pawn, in which he had a miniature gold mask made from a piece a fan had made for him.
References
Kane Hodder Wikipedia
(Text) CC BY-SA