6.8

/

10

Alchetron

6.8

Rate This





Theme music composer

Lou Rawls


Theme song

The Bare Necessities




Created by

Mark S. Bernthal




First episode date

5 October 1996






Genre

AdventureFamilyComedy




Written by

Sam GrahamChris HubbellTedd AnastiPatsy CameronLesa KiteRoger ReitzelPeter K. HirschDavid WeimersScott Gray




Directed by

Chris BartlemanJoe HorneKenny ThompkinsBlair PetersMircea Mantta




Voices of

Jim CummingsPamela AdlonJason MarsdenElizabeth DailyStephen FurstRob PaulsenDee Bradley BakerMichael McKeanCree SummerDavid L. Lander




Networks

American Broadcasting Company, Disney Channel, Toon Disney, Disney Junior Asia


Cast

Jim Cummings, Jason Marsden, Pamela Adlon, Rob Paulsen, Michael McKean


Similar

TaleSpin, 101 Dalmatians: The Series, Timon and Pumbaa
Jungle Cubs is an American animated series produced by Disney for ABC in 1996. It was is an television series based on the their 1967 film The Jungle Book, but set in the youth of the animal characters. The show was a hit, running for two seasons in syndication before its re-runs to the Disney Channel. The show was broadcast on Toon Disney, but was taken off the schedule in 2001. Re-runs aired on Disney Junior in the US from 2012 to 2013. The show did air in the United Kingdom on Disney Cinemagic and in Latin America until it was removed. The show's theme song is a hip-hop version of the classic song, "The Bare Necessities" performed by Lou Rawls. As of May 31, 2016, every episode of the series is available for purchase on the ITunes Store.
Contents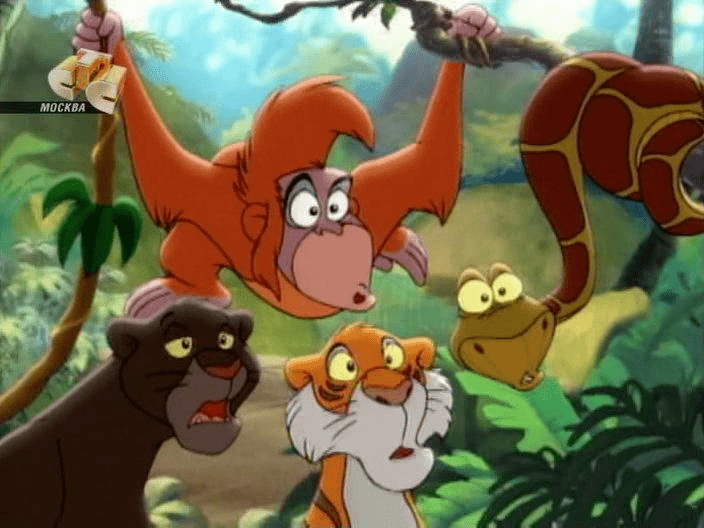 Premise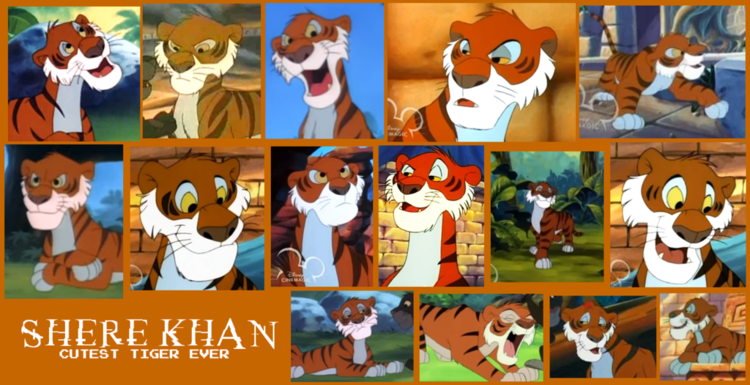 The animal stars of Disney's 1967 animated film The Jungle Book were regressed to cubs for this syndicated animated series. Jungle Cubs suggested that when they were younger, both the good and antagonistic animals lived together in relative peace.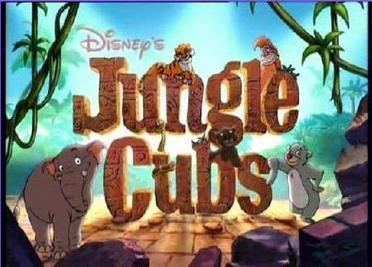 Each of the characters were given distinct characteristics which reflected their future personalities as seen in The Jungle Book; this creative idea further tied the show in with its film predecessor. Uptight Bagheera, free-spirited Baloo, headstrong Shere Khan, wild Prince Louie, neurotic Hathi, and hypnotic Kaa all returned from the film, putting aside their differences to live and learn together. The show gave a female elephant named Winifred a prominent role; she was (Colonel) Hathi's wife in The Jungle Book.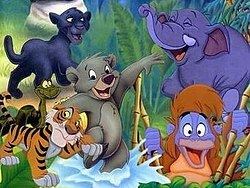 The cubs brave a variety of jungle dangers, often matching wits with sneaky vultures Cecil and Arthur. Living up to new federal regulations for educational television, Jungle Cubs offer lessons on friendship, self-respect, and other healthy traits, crafted for an audience of young children.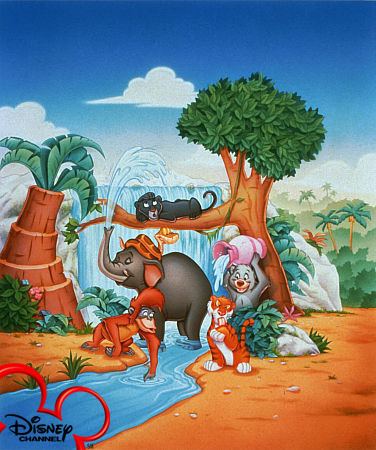 In the second season of the show, all of the cubs become slightly older and more distanced from one another. (Many are also given different voice actors.) And, although they still remain good friends, they are getting more and more busy with their own lives and spending less time at their fort, the Cub House (Louie's future palace). Bagheera becomes more serious and uptight than before and Hathi begins spending more time with Winifred than with the other Cubs. The biggest change, however, is Shere Khan: he spends a lot of time hunting, as Bagheera and Kaa do, and as the series progresses, begins to become more annoyed with the other cubs than before. He even attempts to overthrow Louie at one point, using Kaa (who did not really get a choice in the matter) as a henchman. Kaa, as well as Baloo (with the exception of his friendship with Louie), does not really change much. He still remains sneaky and uses his hypnotism power.
Characters
Baloo (voiced by Pamela Adlon): A bear jungle and laid-back sloth bear. He likes to play with his friends and sometimes plays tricks on Bagheera in order to snap the latter out of his conservative attitude.
Bagheera (voiced by Elizabeth Daily in Season 1, Dee Bradley Baker in Season 2): He is an intelligent and mature panther who rarely gets into trouble. He has a preoccupation with being clean. Bagheera is affectionately known as "Baggy" or "Bags" and is the youngest in the group. Despite having a Trans-Atlantic accent in the original film, Bagheera speaks with an American accent in the series.
Louie (voiced by Jason Marsden in Season 1, Cree Summer in Season 2): Baloo's best friend, an orangutan. He is very physically active, spending a great deal of his time in trees and eating bananas, and wants to become king of the jungle one day, and when any man made objects turn up he immediately shows great interest.
Shere Khan (voiced by Jason Marsden): An obnoxious and aggressive Bengal tiger. He often tries to lord over the other animals, but his confidence sometimes suffers when faced with actual problems. He is often called "Khannie" by Baloo and Louie. Despite having a smooth English accent in the original film, Shere Khan speaks with an American accent in the series.
Kaa (voiced by Jim Cummings): A young Indian python who wants to hypnotize other animals, but his skills at hypnosis are currently erratic at best.
Hathi (voiced by Rob Paulsen in Season 1, Stephen Furst in Season 2): An elephant who attempts to keep the pals in order but is known to stammer when under stress. He is quite narrow-minded about many things. Later, he develops a huge crush on Winifred, who is his wife in The Jungle Book. He is often called "Little Peanut" by Baloo. Despite having an English accent in the original film, Hathi speaks with an American accent in the series, like Bagheera and Shere Khan.
Cecil and Arthur (voiced by Michael McKean and David Lander) - Two vultures who are constantly hoping for one of the cubs to die so that they can eat them. However, they are never seen as a real threat. Cecil and Arthur resemble two Disney villains Jasper and Horace from One Hundred and One Dalmatians visually or Buzzy, Dizzy, Flaps, and Ziggy from the original film.
Mahra (voiced by Tress MacNeille) - A ruthless baboon that lives in Pinnacle Rock within the wasteland. She and her idiotic sons have often antagonized the Jungle Cubs when they enter the wasteland. One particular instance is when she and her sons return from a long journey and she wants a new animal skin blanket after her old one is destroyed.
Ned (voiced by Charlie Adler) - One of Mahra's sons.
Jed (voiced by Jim Cummings) - One of Mahra's sons.
Fred (voiced by Jim Cummings) - One of Mahra's sons.
Locations
The Cub House, a small temple that the gang and friends use as a club house.
The Wasteland, a huge area surrounding The Jungle. Not many animals live out here, except for birds of prey, insects, porcupines and baboons, such as Mahra and her three sons, who live there. It is also where an evil dictator turtle lives.
Pinnacle Rock, a tall pinnacle-shaped rock in The Wasteland. This large rock is the lair of Mahra and her sons.
The River, a large river that is where a lot of animals drink at and live at. Arthur & Cecil's nest and cliff are near here.
The Man Village, a large village inhabited by humans.
Wangjanga Gorge or The Honey Cliffs, an enormous Gorge with a stream running through it. It is also called "The Honey Cliffs" because a lot of bees nest on the gorge's cliffs. It appears to have a bad reputation, since it is mentioned by Louie that no one had been down here and lived to tell the tale, but during the red dog invasion, Baloo and Kaa managed to survive when they were chased by the resident bees.
The Middle Jungle, a deeply hidden area with only one entrance, the throne in The Cub House. Once the snake-like lever has been pulled, the throne moves to reveal a hidden doorway going underground. Once one has travelled down the underground river, they emerge from a large crack in the ground which is in The Middle Jungle. There are the ruins of an old city up ahead and that is where the treasure is hidden, but it is being guarded by a giant, white cobra named Whitehood.
The Quicksand Bog is mentioned in Fool Me Once....
Creepy Deepy Swamp, a dark and scary looking swamp near the heart of The Jungle. A sarus crane lives here.
The Mountains, tall, high, snowy mountains that provide The River with water. It is also where a female bighorn sheep lives.
The Western Jungle, the west side of The Jungle. This is where a sloth and his woodpecker friends live.
Baboon Lagoon, a lagoon where some baboons live. These particular baboons are friends with the water buffalo.
The Great Lost Temple, an old temple that is used as a music concert.
US releases
Two VHS releases containing 6 episodes of the series were released in the United States.
Australia and New Zealand releases
Three VHS releases containing 11 episodes of the series were released in Australia and New Zealand.
DVD releases
On September 8, 2003, one DVD containing three episodes of the series was released in the United Kingdom.
Australian and New Zealand releases
On September 12, 2003, three DVDs containing eleven episodes of the series was released.
References
Jungle Cubs Wikipedia
(Text) CC BY-SA