Occupation(s)

Musician




Role

Guitarist




Name

Jon Nelson




Years active

1983–present




Instruments

Guitar







Born

December 15, 1965 (age 50) Santa Monica, California (

1965-12-15

)


Associated acts

Suicidal Tendencies, The Brood, Uncle Slam, Shrapnel, Nasty Habits, Jackie Lee Cochran, Anthony Gallo, Red Hot Chili Peppers, Screaming Fetus, Neighborhood Watch




Albums

Suicidal Tendencies, The Brood, Fascist Pig




Music groups

Suicidal Tendencies (1983 – 1984), Uncle Slam (1984 – 1987)




Genres

Hardcore punk, Heavy metal, Punk rock




Similar People

Louiche Mayorga, Amery Smith, Grant Estes, Bob Heathcote, R J Herrera
Jon nelson live in person
Jonathan D. "Jon" Nelson (born December 15, 1962 in Santa Monica, California) is best known for playing lead guitar in the controversial punk band Suicidal Tendencies.
Contents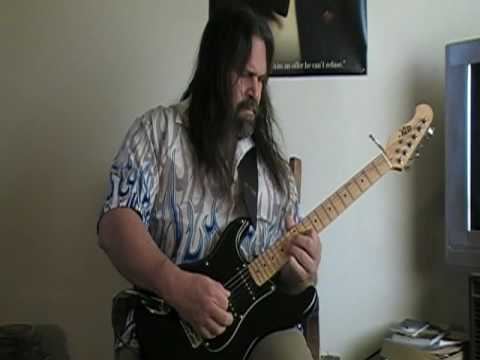 Jon nelson of nasty habits being interviewed by tony verley
Early life
Nelson grew up in Culver City and started playing guitar at age 5 when he got his first acoustic guitar. His first band was at age 8 and the band was called "Symbols" and included his sister on maracas. At around age 9 he was introduced to the music of Jimi Hendrix, that's when his life changed and he then knew that his future would be as a professional guitarist. At age 13 he played his first night club with cousin, Ernie Centeno. After dropping out of school, Jon took several music courses at UCLA and at age 18 started his own record label. He started out in the venice underground punk scene as the manager and producer for the Venice band Neighborhood Watch on their self-titled eight song EP, which was also released on his Indie label Deeter Deets Records. Jon also produced many demos in his makeshift garage studio in the early 1980s, including Entropy, No mercy, The beer Nuts and Crux Ansada. Neighborhood Watch became the opening act for Suicidal Tendencies and in 1983 Nelson joined Suicidal replacing original guitarist Grant Estes, who recorded the guitar for their debut album on Frontier Records. Nelson initially was to join as a second guitarist playing rhythm and Grant Estes would do the leads, but Estes permanently left the band and Nelson got the gig. In February 1984 Jon Nelson appeared on the cover of Flipside Fanzine #41 with the band who had just been voted Best New Band. (they were voted "worst band and biggest assholes" in 1982). Years later Jon Nelson was erroneously credited in place of Grant Estes when the album was first released to compact disc-format on pressings of the album circa 1987. After a few live performances and the recordings Estes left the group to join the heavy metal band Hostage.
Suicidal Tendencies
Nelson was in Suicidal Tendencies for over a year. He wrote music and played guitar for the 1983 tour of their self-titled debut album across the United States including Alaska. He co wrote the song "Look Up... (The Boys Are Back)" which appears on the "Welcome to Venice" album released in 1985 on Suicidal Records. Nelson also co wrote "War Inside My Head" which is featured in the game Guitar Hero: Metallica, "You Got I Want" and "Human Guinea Pig" which was recorded for Suicidal Tendencies second full-length studio album Join The Army, it also resurfaced on Suicidal Tendencies 1992 F.N.G compilation release. Unfortunately Nelson traded his writers credit and publishing to lead singer Mike Muir for $500.00 and a Gibson Flying V guitar that was a prototype made for Eddie Van Halen, Nelson had initially sold it to Muir while on the road for $80.00 and Mike knew he wanted it back. In 1984 Nelson left Suicidal Tendencies teaming up with drummer Amery Smith who also played on Suicidal's first record, as well as Suicidal's current guitarist Mike Clark and formed the band The Brood which later changed drummers to Sal Troy.
Nasty Habits
Nasty Habits was formed in 2006, their Logo designed by artist Ric Clayton who also designed the "Suicidal Tendencies" Logo. The band was hand picked by Jon Nelson and included Nick Gunnet on bass guitar and Mikey Mayhem on Drums. They recorded one CD together in Los Angeles entitled "Skinned Alive" which was written, arranged and produced by Nelson and released on his own label Deeder Deets Records. The Executive Producer credit lists Susan Luckey and Dan Brown for post production. This line up lasted two years when bass player Nick Gunnet and drummer Mikey Mayhem decided to go separate ways leaving Jon to re-think the next step for Nasty Habits. For two years Jon continued to write and produce material constantly refining the music in his own personal studio. In the Fall of 2010 Jon was joined by his longtime friends Stephan Klein (bass) and Justin Pace (drums). With fresh new faces, a new management company (SPK Music Management) and a renewed enthusiasm, Jon decided to re-record and re-mix the entire "Skinned Alive" album with Stephan and Justin. With the new band members and more material being produced, 2012 saw Nasty Habits signing with TMG Records to partner with his own label Deeder Deets Records and are currently in production of their new CD. Mixing, artwork and some recording are currently being done with a release date in 2013.
Other projects
Although Nelson claims to have been in over 75 bands, his biggest achievement was his writing contributions to Suicidal Tendencies as well as the live shows, some of which can be found on YouTube. Nelson studied jazz and classical music as well as music business courses and when he was 18 years old started his own record company DeederDeets Records. His favorite bands that he has played with includes; "Tears" a band he toured with his cousin and his current band "Nasty Habits". He was also a member of Red Hot Chili Peppers, Jackie Lee Cochran and Uncle Slam amongst other notables. He is well known for playing the guitar with his teeth, a trick that was inspired by Jimi Hendrix. In 1994 Jon became a Christian and released "Narrow Intercession" on Deeder Deets Records. Other bands in between have been The Tombstone Cowboys with cousin, Ernie Centeno, Mass hysteria, Shrapnel with Dave Estrada on second guitar from local Venice band, N-9 (2 songs on German compilation – Hell Hound Records). LP for Hell Hound Records was scrapped. Most musical activity stopped after Narrow Intercession until 2006 when Nasty Habits was formed. This was at the instigation of some executives that believed Nelson should get back into the music business in his own way. In August 2014 Nelson decided to form a punk band closer to his role as guitarist for Suicidal Tendencies called "Slamnation" featuring songs he'd written for Suicidal as well as other songs from the early Brood days and other projects he'd been involved in. Other band members include Los Cycos guitarist Anthony Gallo as well as original Nasty Habits bassist Nicholas Gunnett and D.H. Peligro drummer Santi Guardiall.
Discography
Demo 1985
The Brood Profile Records 1986
Shrapnel single "Deeder Deets Records" / "Hell Hound Records" compilation in Germany 1990
Narrow Intercession "Deeder Deets Records" 2002
Nasty Habits (band) Skinned Alive "Deeder Deets Records" 2008
References
Jon Nelson (guitarist) Wikipedia
(Text) CC BY-SA