Covid-19
Musician




Bass, Guitar





1980–present




Louiche Mayorga





June 21, 1963 (age 52) Santa Monica, California, United States (

1963-06-21

)


Suicidal Tendencies, Los Cycos, Horny Toad, Uncle Slam, Agony, AgainST, Beowulf, Luicidal




Suicidal Tendencies (1982 – 1987), Luicidal, Uncle Slam (1986 – 1987), Los Cycos, Beowulf, Against




Hardcore punk, Heavy metal, Punk rock, Ska punk, Death metal




Join the Army, Suicidal Tendencies, Luicidal, Welcome to Venice, Un‑Sentimental




R J Herrera, Amery Smith, Grant Estes, Mike Muir, Rocky George
Louiche Mayorga (born June 21, 1963) is best known for his bass playing in the Venice Beach punk band Suicidal Tendencies. He co-wrote many of their earlier songs including the punk classic "Institutionalized" from their 1983 debut album on Frontier, as well as" "War Inside My Head," "Possessed to Skate." and the title track "Join the Army" from their second release on Caroline. He has also played for Venice bands; Los Cycos, Uncle Slam, Horny Toad, AgainST and most recently joined forces with his long-time friends Beowülf playing bass on their new album, entitled Jesus Freak. Mayorga is currently playing bass in Luicidal, who plays songs from Suicidal Tendencies' first three albums.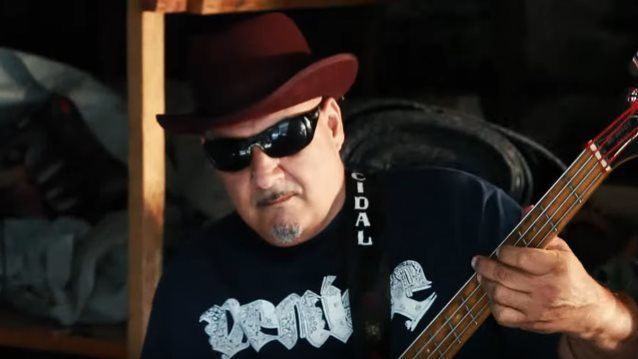 Louiche Mayorga was born on June 21, 1963 in Santa Monica, California. However the Mayorga's lived in Venice until Louiche was about 6 years old. His Father felt that the streets there were too dangerous and soon packed up the family and moved to Santa Monica. There he met future band mate Mike Muir while standing in line to register for classes at Santa Monica College. "I've actually known Mike since the 9th grade, we both grew up and lived in Santa Monica and Venice Beach." "Mike told me he was looking for a bass player, and asked me if I could play using my fourth finger." Louiche said "yes" and got an audition for the band. "I knew I had the job as soon as I started playing."
Louiche Mayorga played with Suicidal Tendencies from 1981 to 1988 and Los Cycos from 1984 to 1985. In 1983 he played on the self-titled "Suicidal Tendencies album" on Lisa Fancher's, Frontier Records and co-wrote four of the songs, "Two Sided Politics," "Won't Fall in Love Today," "Memories of Tomorrow" (which was covered by Slayer for their album Undisputed Attitude, but was not added to the final release) and the punk classic "Institutionalized" (which was covered by Senses Fail for the soundtrack to the video game Tony Hawk's American Wasteland ). You can also hear his voice on the answer call vocal in the opening track "Suicides an Alternative/ You'll Be Sorry." His second recording was on Suicidal Records (a label he co-founded with vocalist Mike Muir) for the "Welcome to Venice" compilation. Mayorga played on two cuts "Look Up...(The Boys Are Back) with Suicidal Tendencies, and the song "It's Not Easy" with "Los Cycos." His third in 1987 being the highly anticipated "Join the Army" on Caroline Records where he co-wrote the title track "Join the Army," and six others "The Prisoner," "War Inside My Head," (which is also featured in the game Guitar Hero: Metallica.) "Possessed to Skate" (Which is featured in the game Skate 2, "No Name, No Words," "Looking in Your Eyes" and "Born to Be Cyco" which he shares credit with Rocky George and Mike Muir. From 1981 through 1988 his fellow band members included; Mike Muir (Vocals), Ralph J. (R.J.) Herrera (drums), Amery Smith (drums), Sal Troy (drums), Grant Estes (lead guitar), Jon Nelson (lead guitar) and Rocky George (lead guitar). At the end of 1988, Louiche was asked to leave Suicidal and told that "his playing had gotten worse" and that "he wasn't good anymore." Muir allegedly withheld Mayorga's part of the royalty payments. In an interview Louiche stated "It was around $100,000 dollars and I had to sue him (Mike Muir) to get my money back." When Mike Muir switched Suicidal's musical style from punk to metal, he was replaced by ex-No Mercy bassist Ric "Rancid" Clayton (the artist who designed the Suicidal Tendencies logo as well as the shirts on S.T.'s first album), but he was quickly replaced by Bob Heathcote.
Disappointed with having to leave Suicidal but determined to remain active in the Venice music scene, Louiche joined guitarist Moises Casillas, singer Caviar and former "Los Cycos" drummer Sal Troy and formed "Horny Toad." Horny Toad put out their debut album (CD) "Thirteen" on Domo Records, it featured the song "Shiver" which appeared in the "Real World" and "Road Rules," with the video debut on "MTV2." The record also featured a cover of the Commodores classic hit "Brick House." Past members include; Brian Behling (guitar), Anthony Brewster (Keys), drummers Doug Sanbourn, Jerry Angel and Suicidal Tendencies (R.J). Herrera. Mayorga briefly played in the Colombian death metal band "Agony" After Suicidal he remained active in the local Venice music scene, working with Uncle Slam among others. He most recently joined up with fellow ex-Suicidal members Grant Estes and Amery Smith, as well as Excel vocalist Dan Clements and former No Mercy singer Kevin "The Jerk" Guercio, to form a new band called AgainST. He has recently produced "Welcome 2 Venice" a punk compilation featuring 14 bands and 16 tracks on his label Built On An Ounce Records. Artists featured include current and former members of Suicidal Tendencies, Los Cycos, Beowülf, Fear Factory, Creeper, Neighborhood Watch, Excel, and No Mercy. After recording the bass tracks on Beowülf's sixth studio release "Jesus Freak" Mayorga left the band and has been replaced by former Fear Factory bassist Christian Olde Wolbers who also co-produced the album with the band's vocalist Dale Henderson. Since 2012, Mayorga has been the bassist of Luicidal.
Sound Track "Repo Man" starring Emilio Estevez song "Institutionalized" (Muir, Mayorga)
The Film "5150" with Danny Trejo
Louiche Mayorga Wikipedia