Covid-19
AWOL




Amery Smith




1982–present





Drums




Musician




Drummer







August 3, 1964 (age 51) Los Angeles, California, USA (

1964-08-03

)


Suicidal Tendencies, Los Cycos, The Brood, Uncle Slam, Beastie Boys, BS2000, Leftover Crack, AgainST, G.F.P., Dead Fucking Last, Luicidal




Suicidal Tendencies (1982 – 1984)




Punk rock, Hardcore punk, Heavy metal




Fuck World Trade, Mediocre Generica, Baby Jesus - Sliced Up, Suicidal Tendencies, Say Uncle




Louiche Mayorga, Grant Estes, Jon Nelson, Bob Heathcote, R J Herrera
Amery "AWOL" Smith (born August 3, 1964) is a drummer from Los Angeles, California. He is best known for playing drums in the Venice punk band Suicidal Tendencies.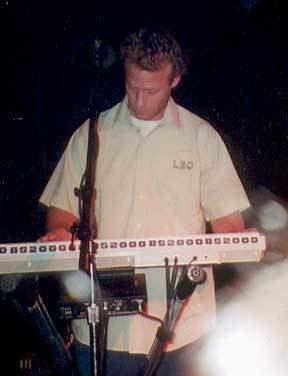 Amery Smith spent the first year of his life in Venice then moved 3 miles south with his father to Playa Del Rey, where he eventually met Suicidal Tendencies frontman Mike Muir. "Neighborhood Watch played a backyard party at the house in Playa Del Rey and they had a Suicidal/Venice following. My band opened for Neighborhood Watch at the party and the next day I got a phone call from Mike Muir asking me if I wanted to try out for Suicidal Tendencies. And I said yes".
Amery Smith played on the 1983 debut album on Lisa Fancher's Frontier Records for Suicidal Tendencies and at the time Smith, being influenced by drummers such as Rush's Neil Peart, used rototoms which can be heard in the classic drum intro to "Institutionalized." Smith had an original and refreshing drum style compared to most punk drummers of 1983. He was also singer Mike Muirs first choice for the band Los Cycos, which was created during the band's four-year recording hiatus and at the time included his longtime friend Bob Heathcote (who later joined Suicidal Tendencies on their 1989 How Will I Laugh... album) on bass, guitarist Grant Estes on lead guitar, Anthony Gallo on rhythm guitar, and Mike Muir on vocals. Bassist Louiche Mayorga replaced Heathcote and No Mercy drummer Sal Troy replaced Smith for the recordings. Though he played only a few rehearsals before permanently leaving Los Cycos to form The Brood with guitarist Jon Nelson. Los Cycos did record one song "It's Not Easy" on the "Welcome to Venice" album.
Amery Smith was given the nickname "AWOL" by bandmate DJ Hurricane from the Beastie Boys in the early 90′s. "I was never where I was supposed to be. So 'Cane just said I was awol." Smith was one of the forming members of Uncle Slam, The Brood and forms BS 2000 together with the Beastie Boys' Ad Rock. He also worked for the band The Mars Volta as production manager and as a drum tech for Queens of the Stone Age, Rage Against the Machine, One Day As a Lion, Jimmy Eat World and Green Day. He played with the hardcore punk band Dead Fucking Last (a.k.a. DFL) in 1993. In May 2006, he reunited with his old Suicidal Tendencies bandmates Louiche Mayorga and Grant Estes to create the band AgainST with Excel vocalist Dan Clements and former No Mercy singer Kevin "The Jerk" Guercio. In 2012 Amery joined forces with DFL vocalist Tom Paul "Crazy Tom" Davis, guitarist Greg Hetson (Circle Jerks, Bad Religion) and skate legend Tony "Mad Dog" Alva on bass to form the hardcore punk band G.F.P. (General Fucking Principle). They are collectively working on new material with Beastie Boys producer Mario Caldato, Jr.
Suicidal Tendencies
Suicidal Tendencies- (1983) Frontier Records
"Institutionalized" - Repo Man Soundtrack (1984) Fontana/MCA Records
Uncle Slam
Say Uncle - (1988) Caroline Records
Will Work for Food - (1993) Restless Records
Buccinator
The Great Painter Raphael - (1995) Basura! Records
Beastie Boys
Ill Communication - (1994) Grand Royal/Capitol Records
Aglio e Olio - (1996) Grand Royal Records
and other various B-sides and compilations
F-Minus
"No Time" - Give 'em the Boot compilation (1997) Hellcat Records
"Methadrine" - Old Scars and Upstarts compilation (1999) Disaster Records
BS 2000
BS2000 - (1997) Grand Royal Records
Simply Mortified - (2000) Grand Royal Records
.001 Losers Club
"Wont Break Me Down" 7" - (1998) A+ Records
Felix
"Staying Stagnant" 7" - (2002) New Hit Records
Timmy Goes Boom
"Fast Enough" - Every Dog Will Have Its Day compilation (2002) Adeline Records
Leftöver Crack
"Crack City Rockers" - Give 'em the Boot 2 compilation (1999) Hellcat Records
"Rock the 40 Oz." 7" - (2000) Bankshot Records
U.S. Bombs
"American Made" - Covert Action (2003) Hellcat Records
AgainST
"Camarillo, Roll the Dice" - Welcome 2 Venice compilation (2007) Built on an Ounce Records
Amery Smith Wikipedia