Name

John Navone





Role

Educator






Born

October 19, 1930 (age 85) (

1930-10-19

)

Seattle, WA




Nationality

American and Italian (Dual Citizen)




Occupation

Professor Emeritus. Pontifical Gregorian University




Known for

Theologian, Author, Speaker, Priest




Books

Enjoying God's beauty, Toward a theology of beauty, The land and the spirit of It, Self‑giving and sharing, Triumph through failure
John J. Navone S.J. (born October 19, 1930 - died December 25, 2016) was a Jesuit priest, theologian, philosopher, educator, author, raconteur, and Professor Emeritus of Pontifical Gregorian University in Rome, Italy. Having reached the mandatory age, he retired from the Gregorian, returned to the Society's Oregon Province, and taught at Gonzaga University in Spokane, WA.
Contents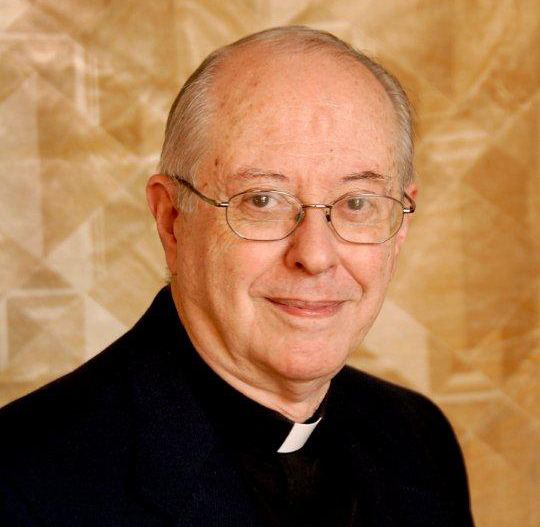 Early life
John Joseph Navone was born in Seattle, WA on 19 October 1930, the son of Giacomo "Jack" Navone and Juliet Micheli Navone. At the time of his birth, his father was not yet a US Citizen, so Navone has dual citizenship in the United States and Italy (and therefore the European Union). He has five siblings: Joseph, James, George, Helen, and Catherine. He received his primary education at St. Anne School. His first three years of High School were spent at O'Dea High School, operated by the Congregation of Christian Brothers. He transferred to the Jesuit Seattle Preparatory School for his senior year, graduating from there in 1948.
Education
Navone matriculated at Seattle University his freshman year before entering the Jesuit novitiate of St. Francis Xavier at Sheridan, OR on 14 August 1949 and studied there for four years. The next step of his education was at the Mount St. Michael Philosophate, then a Jesuit Seminary associated with Gonzaga University in Spokane, WA. He received his master's degree in philosophy from Gonzaga in 1956. From 1959 to 1963 he studied theology at Regis College, University of Toronto in Toronto. From 1963 until 2009, he resided in Rome, where he received his doctorate in theology from the Pontifical Gregorian University in 1966 His doctoral dissertation, "History and Faith in the Thought of Dr. Alan Richardson" was published in 1966 by the SCM Press, London, marking the first time a Catholic doctoral dissertation was published by this Anglican - Protestant press. The book appeared in the Contemporary Theology Series to which Barr, Macquarrie, Moltmann, Ogden and Torrance contributed.
Academic career
In 1956 through 1959, he taught Latin, French, German, and Sociology at Seattle Preparatory School.
Navone began teaching biblical theology at the Gregorian University in 1967, spending his career in that department. He also taught courses in theology of history, narrative theology, and the theology and spirituality of beauty.
His interests in research, writing, and teaching never led him to an official administrative position at the Gregorian, but in the earlier years of his tenure there, the University lacked a formal organization for institutional development, and Navone began informal work along those lines. Because of his outgoing personality, he soon became an unofficial spokesperson for the University, particularly with the American media. These activities led to relationships with various bureau chiefs which in turn led to a number of articles in the media concerning "the Greg". These articles often contained comments made by Navone.
Navone made significant and relatively early contributions to the discipline of narrative theology. Leading sociologist Andrew Greeley wrote:
"There are, it seems to me, three tendencies in contemporary American Catholic theology, two positive and one disgraceful". . . "The second tendency, linked closely to the first in basic themes, but very different from it in approach is "story theology" or "narrative theology" with its paradigm of religious experience, religious symbol and religious story. John Navone and John Shea are the best known and the best practitioners. Their work is compatible with and accessible to some of the most exciting developments in American social scientific and humanistic thinking at the present time and has immediate practical implications for homiletics, catechetics and apologetics. Story theology is the greatest and, I think, most important theological development of our time and will so be judged for decades and centuries to come."
Navone's seminal work and collaboration with Catholic Theologian Johann Baptist Metz on Narrative Theology, also called "The Theology of Story", have led to several Catholic and Protestant seminaries worldwide using his books as Theology textbooks.
As of 2010, Navone has involved himself with teaching a course of Thomistic philosophy and theology for the Catholic Studies program of the History Department of Gonzaga University, where he serves as an Adjunct Professor. in the spring of 2010, he taught a course on Leadership and Spirituality for the Professional Leadership Department at Gonzaga.
Navone's book Tellers of the Word was America's Book of the Month Club selection for May 1981.
Religious career
John J. Navone entered the Society of Jesus in 1949 and was ordained in 1962.
Of Navone's twenty-three books, five have been associated with the development of narrative theology and the work of Bernard Lonergan, his teacher and eventual colleague at the Pontifical Gregorian University.
Two of his most recent books have won recognition in both Europe and the United States for his contribution to the theology and spirituality of beauty. Gesa E Thiessen [Theological Aesthetics: A Reader (London: SCM, 2004)] ranks Navone among 95 contributors to this field from the time of Justin Martyr in 165. Edward Farley of Vanderbilt University Divinity School calls attention to Navone's work in this field as one of the "five significant twentieth-century Catholic theologies of beauty" in his book Faith and Beauty: A theological Aesthetic (Burlington, VT: Ashgate, 2001), pp. 74–81.
Navone was in Rome for the final years of Vatican II and was acquainted with many of the participants, including the observers from the Church of England. He forged friendships that led to the writing and publication of several of his books during these years.
Navone was keynote speaker at the Anglican clergy conference at St. George's House, Windsor Castle, England, Dec. 4 to 8, 1978. He addressed the 50 Anglican priests daily on "Communicating Christ", a subject which is the title of his book published in 1976.
Quotations in major media
Father Navone has been quoted in books and major media, which illuminates his career as a theologian as well as his love for people, the humanities, and nature.
Quotation in Pope Francis' 2013 book, Papa Francesco: Il Nuovo Papa si Racconta
(Translation from Italian) "It (patience) is a theme that I (Pope Francis) have pondered over the years after my having read the book of John Navone, an Italian American author, with the striking title, The Theology of Failure, in which he explains how Jesus lived patiently. In the experience of limits, he (Pope Francis) adds, patience is forged in dialogue with human limits/limitations. There are times when our lives do not call so much for our "doing" as for our "enduring," for bearing up (from the Greek hypomone) with our own limitations and those of others. Being patient – he explains – means accepting the fact that it takes time to mature and develop. Living with patience allows for time to integrate and shape our lives."
Friendship with Gore Vidal
Father Navone developed a friendship with author Gore Vidal during his years in Rome. When Time magazine did a cover article on Vidal, the friendship was mentioned:
"Vidal seems to delight in the company of clerics. One of the people he dines with in Rome is American Jesuit John Navone, a theologian at the Pontifical Gregorian University. When Navone once brought a group of visiting Jesuits to Vidal's apartment, Vidal greeted them with the question "Out for a night in Transylvania?" On another occasion, at dinner, Vidal teased Navone: "Now, John, tell us what your idea of heaven is…all about those angels." Navone gently replied: "There are no harps. We are already there. Heaven is communicating with friends." Moved, Vidal had nothing to say.
Satanism
From Time cover story "Satan Returns"
Magician Playmate
Mixed with the desire for mystery, though, is undoubtedly a desire for mere novelty. Jesuit Theologians John Navone of Rome's Pontifical Gregorian University, who held a "Devil Day" at the Gregorian recently to discuss the theology of the Devil, so far is not seriously alarmed by the recrudescence of Satanism. In modern Devil cults, he argues, the Devil " is more often a type of magician playmate, the product of a Playboy culture rather than the malign personal being found in Scripture. These cults tend to use the Devil for a type of arcane amusement; whereas the unamusing Devil that appears in Scripture manages to use men for his dark purposes."
In Search of a Pope
From Time cover story "In Search of a Pope":
Father Navone, an American who teaches at the Jesuits' Pontifical Gregorian University in Rome, says such perplexities "no longer can be solved by a one-man fiat. The new Pope must avail himself of the wisdom of the church by calling a Vatican III to resolve the monumental doctrinal, disciplinary and moral problems."
Who Was Jesus?
From Time cover story "Who was Jesus"
Says Father John Navone of the Pontifical Gregorian University in Rome: "A kind of intellectualist bias has grown up: unless you are aware of the very latest academic theory about the Bible, you might as well not read it. The result is a dangerous gap between the thinking of elite universities and the beliefs of thriving congregations."
The Opus Dei Code
From Time cover story "The Opus Dei Code":
Asserts John Navone, a Jesuit theologian at Gregorian University: "They're (Opus Dei) in the forefront of the Vatican."
A Wind of Change
Father Navone as quoted in Life Magazine:
For the "Greg," as its students calls it, is the Church's Oxbridge, Sorbonne and Yale-Harvard, all combined in one. The Greg's Father John Navone calls it "the Crucible of Catholicism." It is the university for any seminarian who aspires to prestige and power in the Church: of today's cardinals, 35 percent attended the Gregorian; so did the last eight Popes.
Who The Devil Is
Father Navone wrote in his Life article:
"In traditional theology, the devil is a malfunctioning, deranged angel. Devils are a category of angels that slipped. There is a radical distinction there. They don't think right. They don't love right. Something that was created good went wrong. I think the basic Catholic does believe that there is a real devil and there are real devils."
Quotations in The Times
Father Navone was featured in a 1989 Times article:
Under the guise of obedience to the US church – which is so tolerant of those who criticize basic items of faith –they (dissidents) can attack teaching from Rome, and still appear to be good Catholics. As Father John Navone, of the Gregorian University of Rome says, this will have the effect of eliminating from theology all Vatican teaching that is not declared infallible. Theologians are in effect putting themselves above the church.
The Pope is now calling his theologians to order. Dissent is feasible, even under this Pope, but it has to be loyal. "To do the opposite," says Father Navone, "to prize dissent and contradiction for their own sake, is often to author theology that is immediately appealing, but is likely to die on the vine. In the long term the church will simply not recognize it as its own."
"Anyone who does not adhere to the basic commitments of the Catholic tradition," says Father Navone, "should not style himself a Catholic theologian."
Barry James article on the Gregorian
The International Herald Tribune quotes Father Navone:
"I think what makes this university incomparable is that when we give a written examination, the student has the right to turn in his paper in Italian, Spanish, Portuguese, French, German or English," said the Reverend John Navone of Seattle, a professor of New Testament Theology, who has taught at the Gregorian since 1967. "Most professors can handle an examination in any of those six languages – plus Latin."
Father Navone said the university may appear quieter today, in comparison to the ferment of 1970, because "many of the things that were once considered startling new changes have just become part of life here. If the mood is quieter now than it was a decade ago, this has had no impact on academic freedom at the Gregorian, Father Navone said."The attitude seems to be that if you have been approved to teach here, nobody is worried about what you teach or how you teach it. The Gregorian is dynamically in the center. It is certainly not conservative when you think of some of the other institutions in Rome and elsewhere. On the other hand, it is certainly not as daring as some other places."
Barry James article on Madeleine Albright's conversion
James again quotes Navone:
"But for the Roman Catholic Church, the conversion of a Jew poses fewer problems than that of a Protestant", said the Reverend John Navone of the Pontifical Gregorian University in Rome. "Since we both hold the Old Testament to be true," he said, "there is no problem for us in accepting Jews and no need for them to renounce their previous beliefs."
Barry James article on Americans and religion
"Just because people say they are religious, does not make it so, no more than if they say they are intelligent or moral," said Father John Navone, a Jesuit at the Gregorian University in Rome.
Navone, who is an American, said the findings (of the Pew survey) were meaningless without a clearer definition of religion, and he strongly contested the suggestion that Italian people were not spiritual. Going to Mass every Sunday might be an indication of religious faith, but was not a proof of it, he said. "All the problems that Jesus had were with religious people," Navone added. According to the time, the Scribes and Pharisees had religion, and Jesus didn't at all.
Navone said some of the most "obnoxious" people he knew profess to be religious, and some of the most religious were those who did not pretend to have the answers. "The truly religious people I know don't boast about it," Navone said. "They have a radical humility. And that goes for Einstein as well."
Navone said many American who profess to be religious had a warped sense of religion. They think religion is real estate and "they define the Kingdom of God with a geopolitical reality," he said. He assailed what he called the "crackpots" in U.S. fundamentalist Protestantism, who he said were inciting war in the Middle East "because they think it will hasten the second coming of Christ."
Quotation in The Australian
Shortly after the election of Cardinal Ratzinger to the Papacy, Barry James interviewed Father Navone and submitted the article containing the following quotation to The Australian:
A longtime Jesuit theologian in Rome said today Pope Benedict XVI will be a clear doctrinal teacher who will attempt to reaffirm the Roman Catholic Church's roots in Europe and end what he called the "dumbing down" of Christian faith.
"We are going to see the real Joseph Ratzinger," said the Reverend John Navone, who teaches at the Pontifical Gregorian University. "He is a renaissance man of many qualities, really a profound theologian."
Reverend Navone said the choice of the Pope's name taps deep into the roots of European culture and probably was intended to refer to Saint Benedict of Nursia, the 6th-century founder of the Benedictine Order, which preserved Christian civilization and writing through the Dark Ages."
Reverend Navone said the new pope, who has written a book about Europe, was determined to restore Christian doctrine in a continent where congregations are abandoning the church en masse, even if it means a smaller and purer church.
The new pope, who warned about the "dictatorship of relativism" in a homily before entering the conclave, "is going to clarify the meaning of Christianity and Catholicism," for teachers in Catholic universities. "And Catholics are going to find out what their faith is all about." "He is going to be an antidote to those who say that all religions are the same," while firmly promoting Christian values amid the rise of Islam.
The new pope will also be "the best antidote against the dumbing down of Catholicism," Reverend Navone said. "I think he is going to demand more quality and better preparation for teachers in Catholic universities."
Reverend Navone said that the new pope was "an extremely intelligent traditionalist" and at the same time a modest man whose talents had been eclipsed by "the showman pope." He said that it was providential that the new pope's first trip outside Italy would be to a world youth festival in Cologne this August. But after that, he said the pope would probably choose to remain in the Vatican and provide doctrinal thinking for the Church rather than repeating John Paul's frenetic globetrotting.
Reverend Navone said the conclave's decision was the most dramatic affirmation of the role of the German Church since the collapse of the Holy Roman Empire. For a country that has experienced "so much humiliation" in its recent history, the election would reaffirm "the German role in the Christian history of Europe," he said.
Reverend Navone said German thought brought a profound theological tradition to the Church, but that the pope "has probably the best sense of history and culture" of all the cardinals. "It is a marvelous affirmation of what the German Church has to offer," he said.
Quotation in USA Today
"The pope is trying to keep an even-handed policy," observes Father John Navone, a Jesuit academic. "He is trying to defang and declaw the more extreme groups among the Muslims and elsewhere, just as he did with the Soviet Union. There is a method in this." "Overall," Navone says,"the Catholic Church has taken the role of mediator between the United States and the rest of the world. There's only one superpower, the United States. The church is trying very much to be the peacemaker."
Navone and others suggest that the planned visit to Cuba may accelerate the pace of change in that country, just as the ties with Libya may allow the diplomatically isolated Gadhafi means to re-establish dialogue with Europe and the U.S.
Quotation in the Spokesman-Review
"It was at St. Michael's here in Spokane, with its superb instructors, that I began to study philosophy and learned about what I call 'The Life of the Mind.'"
References
John Navone Wikipedia
(Text) CC BY-SA