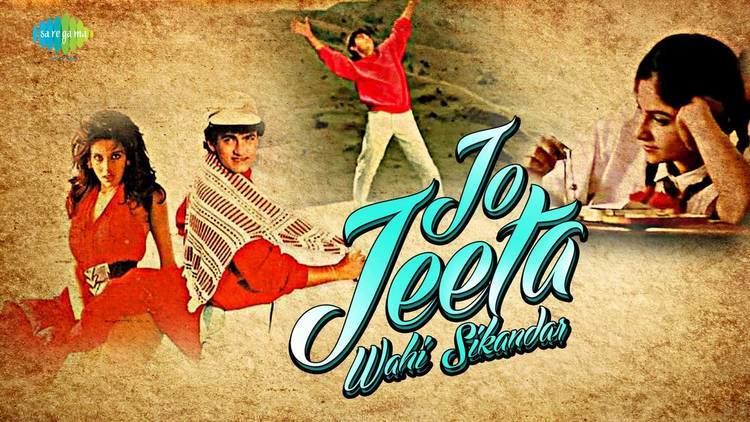 The movie is set in Dehradun in India. The movie opens with the description of the various colleges in the city. The Rajput college has students from affluent backgrounds with each student being an heir to a multimillion dollar fortune. In contrast, the Model college has students from poor local households. Other colleges include Xaviers College and Queens College, the latter being an all-girls college with the guys from all three colleges trying to woo the students there.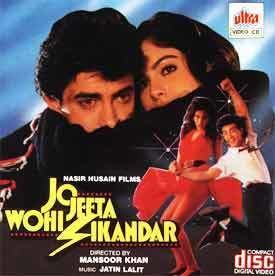 The highlight of the town is the annual inter-college sports championship with a marathon cycle race as the prime event. In the beginning of the film, the race is contested between Ratan Lal Sharma (Mamik Singh) of Model College and Shekhar Malhotra (Deepak Tijori) of Rajput College with the latter winning the race because Ratan had an inferior bike. After the race, both are felicitated by their respective schools. Shekhar becomes cocky and arrogant.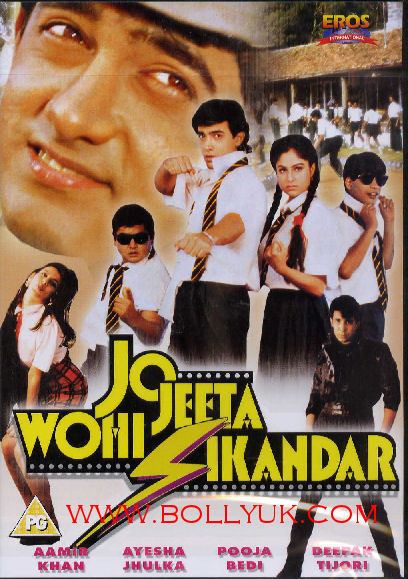 Sanju (Aamir Khan) is Ratan's younger brother and is everything that Ratan is not. He's a carefree youngster who is full of himself and is always in trouble with his father Ramlal (Kulbhushan Kharbanda), who wants him to act more maturely and become responsible like Ratan. Sanju and his little gang, which includes Anjali (Ayesha Jhulka) (who has a crush on Sanju), bunk sports to smoke cigarettes and roam around town. Anjali and her dad run a vehicle repair shop and Anjali's father asks his daughter to stay away from Sanju.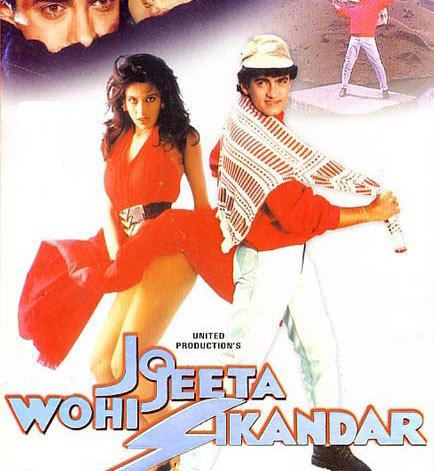 Ramlal and his family run a small cafe which is the hangout spot for most of the college students. A number of scuffles occur between Sanju and Shekhar because of Shekhar's attempts to humiliate Ratan and his dad. Enter Devika (Pooja Bedi), who immediately catches the fancy of both Sanju and Shekhar. Initially, she leans towards Shekhar but one day she misses her bus on the way to a picnic to meet Shekhar. Meanwhile, Sanju asks Anjali for a car so that he can roam around town. While on his way he spots Devika and leaves his friends at the paan shop and gives Devika a lift. Devika upon reaching her destination finds Shekhar with another girl and goes along with Sanju who, although not rich, brags about his wealth.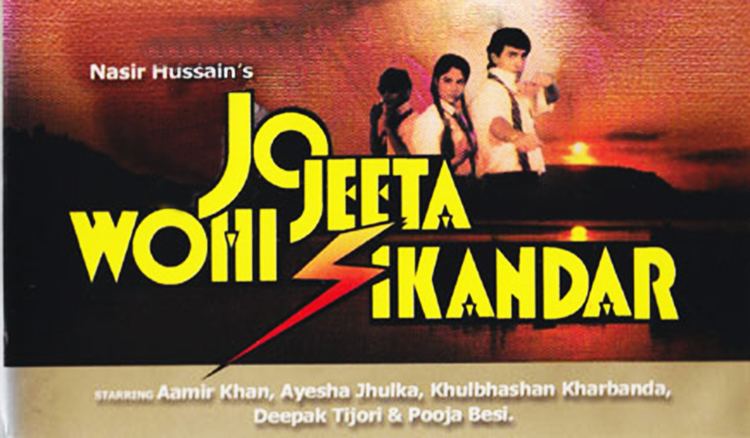 Sanju's lie is ultimately revealed when Devika sees him dancing in the Model College group during a dance competition. After the show, Sanju and Devika break up that evening and in a heated argument, Sanju fights with Shekhar's friends. Sanju is almost overpowered when his brother intervenes and chases Shekhar's friends away. Ramlal asks Sanju for the money he had given him to deposit in the bank (which he spent on Devika) which leads to a heated argument between Sanju and his dad and Sanju leaves the house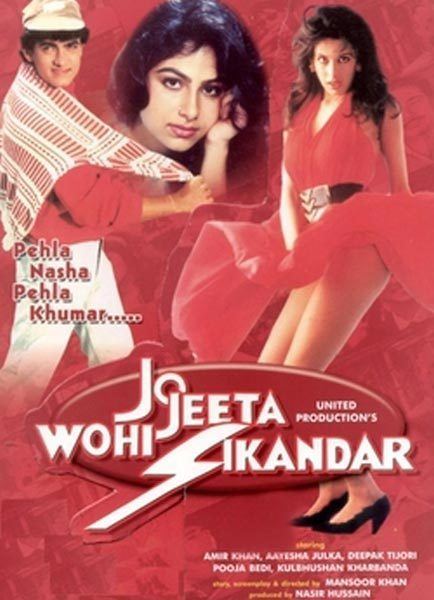 Next morning, Ramlal leaves for town and Ratan is out cycling. Ratan tells Sanju that his Dad has forgiven him and asked him to return home, which Sanju, in anger, ignores. A heated argument and fight ensue between Ratan and Shekhar, which ends with Ratan accidentally falling off a cliff. While Ratan is in hospital, Sanju recollects his childhood with Ratan. When his father returns, he reconciles with him. With Ratan in the hospital, Sanju becomes more responsible and starts to care for his father and bed ridden brother. He decides that he will participate in the race with the help of Anjali and give it his best for Ratan. During his training, he realises his true feelings for Anjali and the two accept each other.
A day before the race, Sanju finds out about the real cause of the accident and confronts Ratan who tells him that he didn't say anything because Sanju had become responsible and closer to all of them. Ratan asks Sanju to give his best in the race if he wants to do something for him.
With his new cycle, Sanju participates in the race. The race begins evenly with both Sanju and Shekhar going head to head. Somewhere in the middle, the two fall and a scuffle ensues between Sanju and Shekhar and his friends. During this, other cyclists take the lead. Shekhar heads back on track with his friends holding Sanju back. Sanju breaks free and joins the race, catching up with Shekhar during the final laps of the race and finally beating him in the closing moments, giving Model College, his father and brother their long-awaited victory.
Aamir Khan as Sanjaylal Sharma a.k.a. Sanju, Ramlal's younger son and Ratanlal's younger brother
Ayesha Jhulka as Anjali, Sanju's childhood friend and love interest
Mamik Singh as Ratanlal Sharma a.k.a. Ratan, Ramlal's elder son and Sanju's elder brother
Kiran Zaveri as Kalpana, Ratanlal's love interest
Deepak Tijori as Shekhar Malhotra
Sooraj Thapar as Shekhar Malhotra's friend
Pooja Bedi as Devika
Kulbhushan Kharbanda as Ramlal Sharma, Ratanlal's and Sanjaylal's father
Aditya Lakhia as Maksood a.k.a. Ghode
Deven Bhojani as Ghanshyam a.k.a. Ghanshu
Asrani as Mr. Dubey (Model schoolteacher)
Faisal Khan in a Special Appearance (College student)
Imran Khan as Young Sanjaylal
Sharokh Bharucha as Young Ratanlal
Anjan Srivastav as Race commentator
Ajit Vachani as Rajput's Principal
Deb Mukherjee as Rajput's Coach
Ravindra Kapoor as Shakoor
Jatin Pandit as performer at the annual college event
Amol Gupte as cycle race commentator
Girija Shettar as lead in song Jawa ho yaaron
Akshay Kumar had auditioned and Milind Soman was signed for Malhotra's role before Tijori played it. Aditya Pancholi was selected to play the role of Ratan however the role went to Mamik Singh as confirmed by DNA
The music for the movie was composed by Jatin Lalit and lyrics were penned by Majrooh Sultanpuri. The soundtrack, their second collaboration, helped to launch their careers. It was nominated for Best Music at the Filmfare Awards 1993. The song "Yahaan Ke Hum Sikander" was inspired by The Who's Pinball Wizard. "Pehla Nasha" was the fourth film song in Indian cinema (the first one being "Jogi O Jogi" from "Lakhon mein ek" (1971), followed by "Baare Baare" from Naagarahaavu (1972) and Michael Madana Kama Rajan (1990)) to be shot in complete slow motion. The technique was later used in many films and music videos. Pehla Nasha was the most popular track of the album and has become a cult song. Other popular tracks were "Humse Hai Sara Jahan", "Rooth Ke Humse" and "Arre Yaaron Mere Pyaaron". The song "Arre Yaaron Mere Pyaaron" was sung by Udit Narayan along with Vijeta Pandit. When the Panama Papers came out in 2016, there was some speculation that the song "Naam Hai Mera Fonseca" was inspired by the Panama law firm involved in the controversy.
All lyrics written by Majrooh Sultanpuri; all music composed by Jatin Lalit.
Winner
Filmfare Best Film Award – Nasir Hussain
Filmfare Best Editing Award – Zafar Sultan, Dilip Katalgi
Nominated
Filmfare Best Director Award – Mansoor Khan
Filmfare Best Actor Award – Aamir Khan
Filmfare Best Supporting Actor Award – Deven Bhojani
Filmfare Best Supporting Actress Award – Pooja Bedi
Filmfare Best Music Director Award – Jatin-Lalit
Filmfare Best Lyricist Award – Majrooh Sultanpuri for Woh Sikandar Hi Doston
Filmfare Best Male Playback Award – Udit Narayan for Pehla Nasha
Jo Jeeta Wohi Sikandar grossed ₹72.1 million (US$1.1 million) in India. The film opened to good responses and was "above average" at the box office.
Though it is clearly mentioned in the introductory voice over that the movie is based in Dehradun (in fact, the first word spoken in the movie is "Dehradun"), it is mentioned twice in the movie (both times by the commentator during the cycle race) that it takes place in Kodaikanal. The movie has been shot predominantly in various locations in the south of India, primarily Kodaikanal.