Jiuquan (Chinese: ; pinyin: ) is a prefecture-level city in the northwesternmost part of Gansu province, Peoples Republic of China. The entire "prefecture-level city" (that is, a multi-county administrative unit - an equivalent to the traditional Chinese prefecture) stretches for more than 600 km (370 mi) from east to west, occupying 191,342 km2 (73,878 sq mi); its population as of 2002 was 962,000.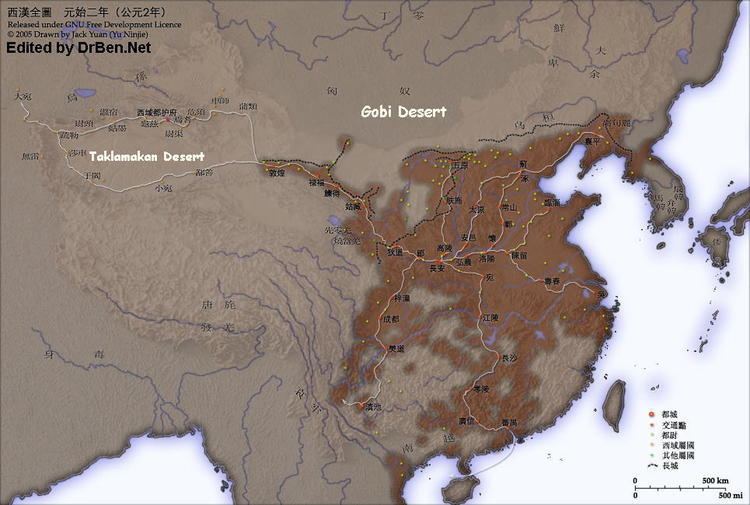 The citys name came from legendary tale of the young Han general Huo Qubing, who poured a jar of precious wine into a local creek in order to share the taste with his troops, in celebration of their crushing victory against Xiongnu forces. The creek was later named Jiu Quan ("Wine Spring"), which became the name of the Han prefecture established there. It was an active military garrison during the Later Han Dynasty.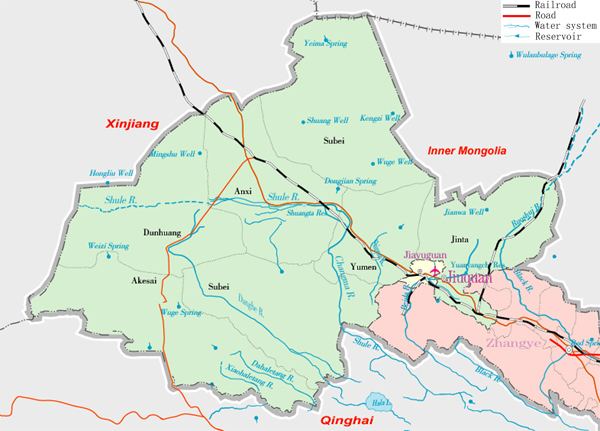 It is known in popular legend as the place where rhubarb was first grown and is also the town where the Portuguese Jesuit missionary and explorer Bento de Gois (1562–1607) was robbed and died destitute.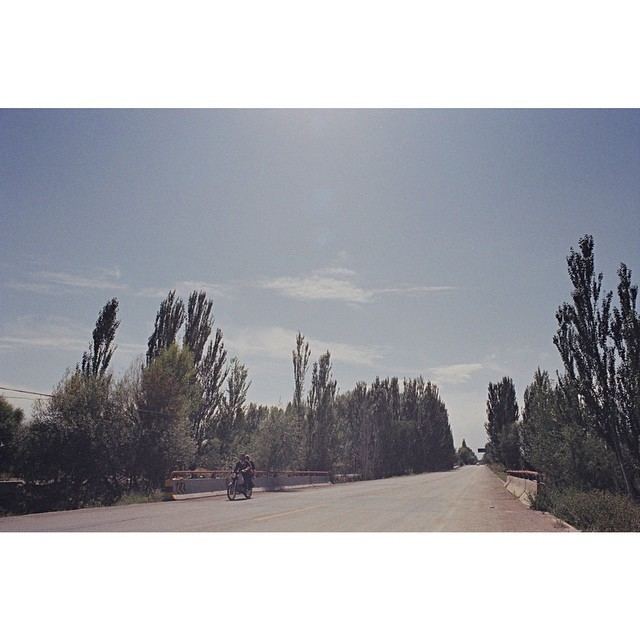 Jiuquan occupies the westernmost part of Gansu, bordering Zhangye City to the east, Qinghai to the south, Xinjiang to the west, Ejin Banner of Inner Mongolia and Mongolia to the north. Its administrative area ranges in latitude from 37° 58 to 42° 48 N and in longitude from 92° 09 to 100° 20 E, and reaches a maximal north-south extent of 550 km (340 mi) and maximal east-west width of 680 km (420 mi).
Jiuquan has a cold desert climate (Koppen BWk), with long, cold winters, and hot, somewhat dry summers. Monthly average temperatures range from ?9.0 °C (15.8 °F) in January to 21.7 °C (71.1 °F) in July, with an annual mean of 7.47 °C (45.4 °F). The diurnal temperature variation is relatively large, averaging 13.8 °C (24.8 °F) annually. With sunny weather and low humidity dominating year-round, the area hosts one of the launch sites for the PRCs space programme. With monthly percent possible sunshine ranging from 62% in July to 77% in October, the city receives 3,031 hours of bright sunshine annually.
Jiuquan Wikipedia
(,)http://www.drben.net/files/China/ChinaMaps-ALL/Historic_Maps/Han_Dynasty/Han_Dynasty_Empire-Trade_Routes-200BC-T2.jpg(,)http://www.drben.net/files/China/City/Gansu_Province/Jiuquan/Maps/Jiuquan_Prefecture-Map.jpg(,)http://www.drben.net/files/China/City/Gansu_Province/Jiuquan/Deco/jiuquan-102_0272T.jpg(,)http://english.gsta.gov.cn/u/cms/English/201501/09152327l9eq.jpg(,)http://www.drben.net/files/China/City/Gansu_Province/JiaYuGuan/Landmarks-Hotspots/Great_Wall_China-Chang_Cheng/Extended_Arm/01-Road/JiaYuGuan-Road_To_Great_Wall07aQT.jpg(,)http://www.travelchinaguide.com/images/map/gansu/gansu.gif(,)http://images.chinahighlights.com/attraction/jiuquan/jiuquan-travel.jpg(,)http://arts.cultural-china.com/chinaWH/upload/upfiles/2010-04/01/yeguang_cup_of_jiuquan_sichuan_provinceb9eecdb4fc9fcbaf2137.jpg(,)http://arts.cultural-china.com/chinaWH/upload/upfiles/2010-04/01/yeguang_cup_of_jiuquan_sichuan_province1060954f55117c3dfa9b.jpg
(,)https://scontent.cdninstagram.com/hphotos-xap1/t51.2885-15/e15/10683894_674506619330555_121773917_n.jpg(,)http://cache4.asset-cache.net/gc/175166850-tourists-on-camel-caravan-being-led-through-gettyimages.jpg%3Fv%3D1%26c%3DIWSAsset%26k%3D2%26d%3D9A8Q%252FbnCU7nEthoT8DxZaHu8dZevp1q7GVp01MqYq%252B2ihZPZCG%252Fp4Di9Y9nF2hbN7%252Bj6v0xJ%252FacI24zY5fSCVVnoMLZWy9HkW9d3yPJFO6s%253D(,)https://scontent.cdninstagram.com/hphotos-xaf1/t51.2885-15/e15/10693800_524794147653535_9889996_n.jpg(,)http://itcolossal.com/wp-content/uploads/2013/09/ChinaXXI/23s.jpg(,)http://img120.imageshack.us/img120/979/jiuquan4co8.jpg(,)http://imgc.allpostersimages.com/images/P-473-488-90/39/3999/K7HWF00Z/posters/panoramic-images-tourists-riding-camels-in-a-desert-dunhuang-jiuquan-gansu-province-china.jpg(,)http://cache1.asset-cache.net/gc/133158119-yadan-national-geology-park-dunhuang-jiuquan-gettyimages.jpg%3Fv%3D1%26c%3DIWSAsset%26k%3D2%26d%3DBWMt8tDi5DIgNVP6ADVrCIb8vm6aca%252B4ZH0lYT7NzDM%253D
(,)http://img.51766.com/yyq/1412832867107.jpg(,)http://img.51766.com/mgk/1412832624251.jpg(,)http://images4.c-ctrip.com/target/hotel/15000/14222/482e871753f24dd39a54b52a73fe9abd_550_412.jpg(,)http://www.travelchina.gov.cn/picture/0/1412251202035191920.jpg(,)http://www.tnetnoc.com/hotelphotos/730/253730/2631759-Jiuquan-International-Hotel-Guest-Room-1-DEF.jpg