Jiaozuo (Chinese: 焦作; pinyin: Jiāozuò; postal: Tsiaotso) is a prefecture-level city in northern Henan province, China. Sitting on the northern bank of the Yellow River, it borders the provincial capital of Zhengzhou to the south, Xinxiang to the east, Jiyuan to the west, Luoyang to the southwest, and the province of Shanxi to the north.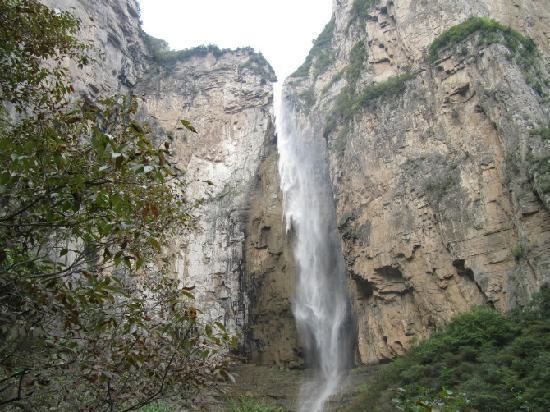 Its population was 3,540,101 at the 2010 census whom 1,301,732 live in the built-up area made of 4 urban districts (Jiefang, Shanyang, Zhongzhan and Macun) and Bo'ai County being urbanized. Jiaozuo enjoys a humid subtropical climate with continental climate influences. Winters are cool and relatively dry while summers are hot and often rainy. Average temperature ranges from 0.3 °C in January to 27.5 °C in July. Extremes exist from -22.4 °C to 43.6 °C. Precipitation averages 659 mm.
The prefecture-level city of Jiaozuo administers 4 districts, 2 county-level cities and 4 counties.
Jiefang District (解放区)
Shanyang District (山阳区)
Zhongzhan District (中站区)
Macun District (马村区)
Qinyang City (沁阳市)
Mengzhou City (孟州市)
Xiuwu County (修武县)
Wuzhi County (武陟县)
Wen County (温县)
Bo'ai County (博爱县)
The city was founded on an industrial site left by the British after the First and Second Opium Wars (1839–1860). Jiaozuo was established as a city in 1953. Mao Zedong has written praise about the hard work of people from Jiaozuo in the coal industry.
Jiaozuo is noted for its blast furnaces and machine construction industries.
Jiaozuo is the northern terminus of the Jiaozuo-Liuzhou Railway and the southern terminus of the Taiyuan-Jiaozuo Railway. The city is linked via rail to nearby cities Luoyang, Xinxiang and Nanyang in Henan and Jincheng in Shanxi.
Henan Polytechnic University (HPU)[1], with a history of nearly 100 years, is the first mining university in Chinese history. Its former is Jiaozuo Coal Mining School which was established by the British Syndicate Co. Ltd., in 1909. It has changed its names several times in the course of development, namely, FuZhong Coal Mining University, Jiaozuo Private Institute of Technology, North-west Institute of Technology, Jiaozuo National Institute of Technology, Jiaozuo Mining Institute and Jiaozuo Institute of Technology. The University resumed its name of Henan Polytechnic University in 2004.
Jiaozuo is located adjacent to the Yellow River and is just south of the Taihang Mountain.
Yuntai Mountain, Qing Tian River, Qing Long Cape, Shen Nong Mountain.
Yuntai Mountain is said to have the waterfall with main cascade of 314 meters in height, together with numerous smaller cascades.
On February 13, 2004, Yuntai Mountain as the fifth in the world, the third in the country China, was named the world's first World Geopark by UNESCO and caused attention at home and abroad. Meanwhile, Yuntaishan is also a national scenic spot, National Civilized Scenic Area, the first national AAAAA-level scenic spot, national natural heritage, national forest parks, national macaque nature reserve. Yuntain Mountain also has Asia's highest head drop waterfall.
Amongst Jiaozuo's best seights are:
Old city with tombs
Old rocks-hanging Taiping temple with cave grottoes
Giant red new Jiaozuo temple
TV tower
Large futuristic Jiaozuo Sport centre
Renmin bridge
Building of People's government
City's tallest building