Jenson button clinches world title 2009 brazilian grand prix
Jenson Alexander Lyons Button MBE (born 19 January 1980) is a British racing driver currently under contract with McLaren-Honda, as a reserve driver. He won the 2009 Formula One World Championship, driving for Brawn GP. Button announced in September 2016 that he would be giving up his 2017 seat at the end of the 2016 Formula One season but announced that he would still be at McLaren as a reserve driver and ambassador of McLaren until the 2018 Formula One season.
Contents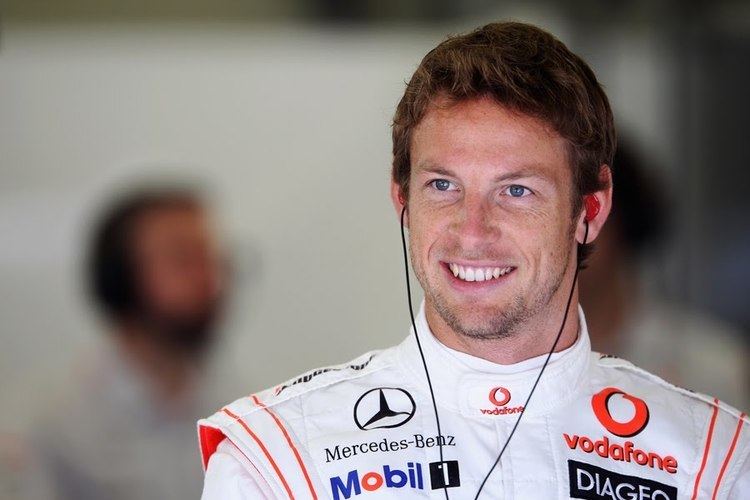 Button began karting at the age of eight and achieved early success, before progressing to car racing in the British Formula Ford Championship and the British Formula 3 Championship. He first drove in Formula One with Williams for the 2000 season. The following year he switched to Benetton, which in 2002 became Renault, and then for the 2003 season he moved to BAR. In 2004 he finished 3rd in the World Drivers' Championship, with only the two Ferraris ahead of him. BAR was subsequently renamed Honda for the 2006 season, during which Button won his first Grand Prix in Hungary, after 113 races.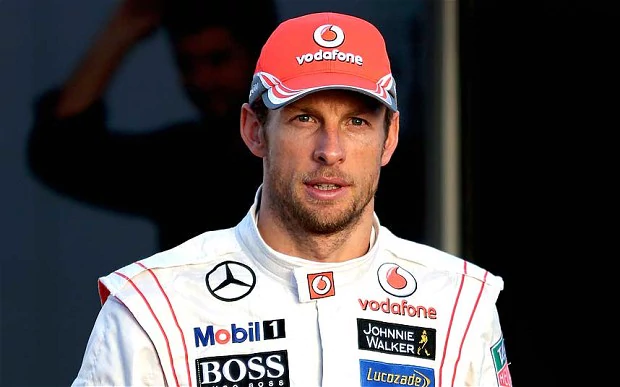 Following the withdrawal of Honda from the sport in December 2008, he was left without a drive for the 2009 season, until Ross Brawn led a management buyout of the team in February 2009, and Button suddenly found himself in a highly competitive, Mercedes-engined car. He went on to win a record-equalling six of the first seven races of the 2009 season, securing the World Drivers' Championship at the Brazilian Grand Prix, having led on points all season; his success also helped Brawn GP to secure the World Constructors' Championship.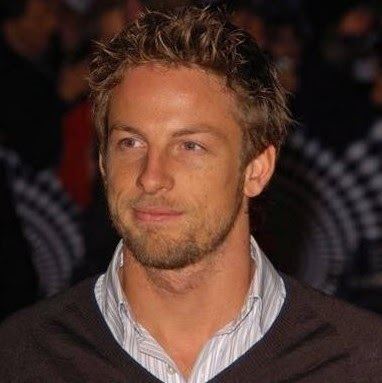 For 2010, he moved to McLaren, partnering fellow British racer and former World Champion Lewis Hamilton. After finishing fifth for the team in 2010, Button finished the 2011 season as runner-up. In 2012 he took his first pole for McLaren at the 2012 Belgian Grand Prix. He spent a fifth season with the McLaren team in 2014, his fifteenth in Formula One, and went on to complete two further years at the team in 2015 and 2016 before stepping back from full-time racing to take an ambassadorial and reserve driver role. He returned for a one-off appearance at the 2017 Monaco Grand Prix in place of Fernando Alonso which elevated him to joint second with Michael Schumacher in the list of all-time F1 starts. From the 306 races that Button has started he has won 15, with a total of 50 podium finishes.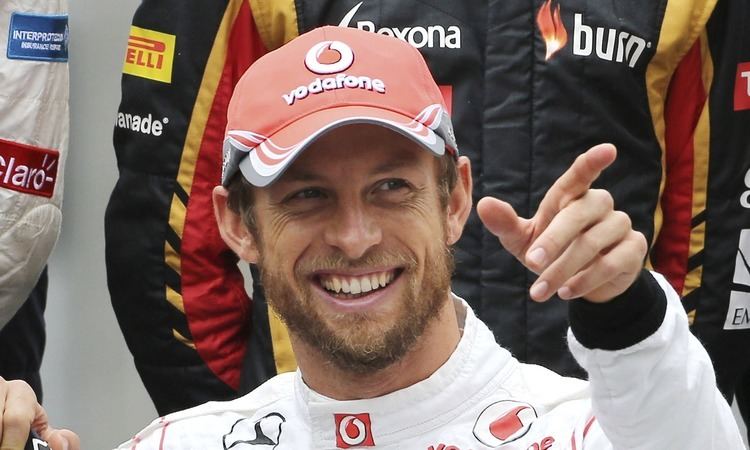 2015 russia pre race jenson button takes on david coulthard at rallycross
Early life and career
Button was born on 19 January 1980 in Frome, Somerset and brought up in nearby Vobster. He was named after his father's Danish friend and rallycross opponent Erling Jensen, changing the "e" to an "o" to differentiate it from Jensen Motors. He was educated at Vallis First School, Selwood Middle School and Frome Community College. He is the fourth child of South African Simone Lyons and former Rallycross driver John Button, who was well known in the UK during most of the 1970s for his so-called Colorado Beetle Volkswagen, before switching to a VW Golf Mk1 in 1978. After his parents divorced when he was seven, he and his three elder sisters were brought up by their mother in Frome. However, after a while the boy moved to his stepmother Pippa Kerr, who had been married by his father in 1994. When Jenson was 19 years of age John Button and Pipa Kerr divorced. Button junior failed his first driving test for getting too close to a parked vehicle.
Button enjoyed racing from an early age, racing his BMX bike with friends after school, he began karting at the Clay Pigeon Raceway at the age of eight, after his father bought him his first kart, and made an extraordinarily successful start. In 1989, aged nine, he came first in the British Super Prix. He won all 34 races of the 1991 British Cadet Kart Championship, along with the title with team Wright karts. Further successes followed, including three triumphs in the British Open Kart Championship. In 1997, he won the Ayrton Senna Memorial Cup, and also became the youngest driver ever to win the European Super A Championship.
Aged 18, Button moved into car racing, winning the British Formula Ford Championship with Haywood Racing; he also triumphed in the Formula Ford Festival at Brands Hatch. At the end of 1998, he won the annual McLaren Autosport BRDC Young Driver Award. His prize included a test in a McLaren Formula One car, which he received at the end of the following year. Button entered the British Formula 3 Championship in 1999, with the Promatecme team. He won three times —at Thruxton, Pembrey and Silverstone—and finished the season as the top rookie driver, and third overall. He finished fifth and second respectively in the Marlboro Masters and Macau Grand Prix, losing out by 0.035 seconds to winner Darren Manning in the latter.
Williams (2000)
At the end of 1999, Button had his McLaren test prize at Silverstone, and also tested for the Prost team. A vacant race seat became available at the Williams team, following the departure of Alex Zanardi, and team boss Frank Williams arranged a 'shoot-out' test between Button and Formula 3000 racer Bruno Junqueira, with Button securing the drive. This made him Britain's youngest ever Formula One driver. Button was heavily hyped before his first race: former driver Gerhard Berger described him as a "phenomenon"; the head of his karting team, Paul Lemmens, compared him to Ayrton Senna; and Williams's technical director Patrick Head said he was "remarkably mature and definitely a star of the future". However some had misgivings about his lack of experience and ability to cope with the pressures of Formula One.
Making his début in Australia, Button crashed during practice and qualified second-last on the grid. However, he performed strongly in the race and was set to score a point before his engine failed 11 laps from the finish. A sixth-place finish at the next race in Brazil made him, at the time, the youngest driver ever to score a point. In his first six races, he outqualified his teammate Ralf Schumacher twice, and was consistently close in pace; journalist David Tremayne described Button's start as "the stuff of any team owner's wildest dreams". However, Williams had intended to use Button only until they could exercise their option to buy the highly rated Juan Pablo Montoya out of his contract at Ganassi Racing. A dip in Button's form, combined with Montoya's victory in that year's Indianapolis 500, led to Montoya being announced as his replacement midway through the season. Williams chose not to sell Button's contract, keeping the right to recall him in 2003. He went to Benetton on a two-year loan.
Button's best qualification of the season was third place in the Belgian Grand Prix at Spa-Francorchamps; and his best result was fourth in the German Grand Prix. Despite the worries about his inexperience, he made few mistakes during the season, the most notable coming in the Italian Grand Prix at Monza. Under safety car conditions Button swerved to avoid the pack which had bunched up, and subsequently crashed into the barrier; he blamed Michael Schumacher who had been leading at the time (and so controlling the pace), and Schumacher apologised for it after the race. Button finished his impressive debut season in eighth place with 12 points (Ralf Schumacher finished fifth with 24).
Benetton (2001)
For 2001, Button partnered experienced driver Giancarlo Fisichella at Benetton, which had recently been purchased by Renault. He endured a dismal season: the Benetton car was very uncompetitive and he was consistently outperformed by his teammate. He finished 17th in the Drivers' Championship with only 2 points, with his best result being fifth place at the German Grand Prix. His poor form led to speculation he would be replaced before the end of the year; team principal Flavio Briatore said, "Either he shows he's super-good or he leaves the top echelon of drivers", and reportedly offered him the chance to walk. Button believed that his inexperience showed as he struggled to help his team set up a competitive car. His lack of success combined with an extravagant lifestyle led some press publications to dub him a "playboy".
Renault (2002)
In 2002, Benetton was rebranded as Renault F1, and Jarno Trulli joined the team to partner Button. Over the winter break, Button spent a lot of time working with his engineering team and felt there was an improved understanding between them; he described himself as "very confident" for the season. He started well: in the second race of the season in Malaysia, he was on track for his first podium before a suspension problem in the final laps dropped him to fourth place. Button's performances were greatly improved from the previous season's; although often outqualified by Trulli, he showed the faster race pace to outscore his more experienced teammate. Despite Button's performances, and his desire to stay with Renault, it was announced at the French Grand Prix that he would make way in 2003 for test driver Fernando Alonso. Briatore faced criticism for his decision, but stated "time will tell if I am wrong"; he would also accuse Button of being a "lazy playboy". In July, Button signed a two-year contract with a two-year option for British American Racing, partnering 1997 world champion Jacques Villeneuve. An important factor in his decision was the chance to work with David Richards, the BAR team principal. He finished the season seventh with 14 points, one place and 5 points ahead of Trulli.
2003
Button faced early hostility from new teammate Villeneuve, who suggested that Button had been hired for his marketing appeal more than his ability, and compared him to a "member of a boy band". Button responded by denying he had anything to prove to Villeneuve; "I am not here to earn Jacques' respect, I am here to win and move the team forward". Their relationship did not improve after the first Grand Prix in Australia: Villeneuve was due to pit, but stayed out an extra lap and pitted when Button was due in, leaving Button waiting in the pit lane while Villeneuve's car was serviced. Villeneuve blamed it on "radio problems", but both Button and team principal David Richards hinted that they did not believe him. Button performed well in the first six races, scoring eight points (the points system had changed that year to award points to the top eight finishers), including fourth place at the Austrian Grand Prix; Villeneuve had scored only three. Button crashed heavily at 185 mph (298 km/h) during Saturday practice in Monaco, briefly knocking him unconscious, and he was detained in hospital overnight. Despite the accident Button still wanted to race, but was withdrawn by his team on medical advice. He also missed a one-day test in Monza, but was cleared to race in the following Grand Prix in Montreal. Button continued to outperform his teammate (although Villeneuve suffered a large number of mechanical problems), and this helped rebuild his previously faltering reputation. Just before the final race in Japan, Villeneuve lost his seat at BAR, so Button was partnered with Takuma Sato; he took his second fourth place for the season, and finished ninth in the Drivers' Championship with 17 points.
2004
The 2004 season was the first in which Button was the more experienced driver in his team. He was ambitious for the season, saying: "This year I could be a front-runner. We want to run alongside the top teams. I want to be consistently in the points and on the podium." He took his first ever podium in the second race of the season—third-place at the Malaysian Grand Prix—saying afterwards, "There are no words to describe the feeling of your first podium". He followed it up two weeks later with another third-place in Bahrain. In the next race at Imola, he took his first pole position and finished second behind Michael Schumacher. His results for the season were impressive: he took 10 podiums in 18 races, and failed to score points in only three. Button came third in the Drivers' Championship, behind the two utterly dominant Ferrari drivers, and helped BAR to take second in the Constructors' Championship.
In August, Button became embroiled in a contract dispute. On 5 August, Button chose to leave BAR and signed a two-year contract to return to Williams. This was surprising, as Button was enjoying his best season to date, while Williams had been struggling. BAR, however, insisted they had the right to exercise their option to keep Button. Button's management argued that the BAR option was not valid because it contained a clause allowing him to leave if BAR risked losing their Honda engines. They felt the new contract signed in the summer for Honda to supply engines to BAR was not definitive, and thus Button was free to move. The dispute went to Formula One's Contract Recognition Board, who ruled in favour of BAR on 20 October, forcing Button to stay with the team. Two of the men at the centre of the dispute were soon removed from their positions: team principal David Richards was replaced by Nick Fry after Honda bought 45 percent of the BAR business; and Button separated from his manager John Byfield, saying he had been badly advised.
2005
Despite the feud, Button insisted he had his team's backing, and was optimistic for the 2005 season. He endured a difficult start: BAR were off the pace in the first race in Australia; and in the following race in Malaysia, both cars retired with engine failure after only three laps. Two weeks later in the Bahrain Grand Prix, Button had fought his way to fourth place from eleventh on the grid, before a clutch problem forced him into another retirement. The poor start only got worse at the San Marino Grand Prix. Button finished third, but after the race scrutineers found his car had a second fuel tank kept inside the main tank; once both were drained, his car was 5.4 kg underweight. Although the race stewards took no action, the FIA appealed against the decision and the case was examined by the FIA International Court of Appeal. It could not be proved that BAR were deliberately cheating; however, for contravention of the rules, both drivers were stripped of their points from San Marino and banned from the next two races.
Returning at the European Grand Prix, BAR were still struggling and Button finished tenth. He surprised everyone by taking the second pole position of his career in Montreal, but crashed out on lap 47 of the race while running third. The forced withdrawal of all teams using Michelin tyres, including BAR, at the controversial United States Grand Prix, meant Button and Sato were still yet to score points after nine races of a 19-race season. However, this marked a turning point as Button scored in all of the remaining races. He was on the podium twice in the season—third-place finishes in Germany and Belgium. He finished the season in ninth place with BAR sixth in the Constructors' Championship.
For the second year in a row, Button had contract disputes involving BAR and Williams. Button had signed a pre-contract to drive for Williams in 2006, but he now believed his prospects would be better at BAR, and that his Williams contract was not binding. Frank Williams insisted the contract was fully binding, and that there would be "absolutely no turning back"; his team required Button to fulfil some contractual obligations with sponsors. After several weeks of talks, Williams agreed to release Button in exchange for an estimated £18 million in compensation. BAR brought in experienced driver Rubens Barrichello from Ferrari to partner Button, replacing Takuma Sato. In October, Honda bought the remaining 55 percent of BAR from British American Tobacco, renaming the team Honda Racing F1; Button said at the time, "Honda buying the team is amazing news and really shows their commitment to winning the world championship".
2006
The new team performed well in testing prior to the 2006 season, helped by the extra resources now available from Honda, and Button was confident in the car.
The early part of the 2006 season proved difficult; at the first round, he scored five points with 4th place, and finished on the podium in Malaysia. In Australia, he qualified on pole, but was overtaken on the run to the first corner by Fernando Alonso and Kimi Räikkönen after a safety car period; he was running 5th in the race, before his engine blew at the last corner on the last lap. He stopped short of the finish line to avoid an engine penalty. At his home race at Silverstone, he qualified 19th after he lost time being weighed, and his team failed to get him on track quickly enough. He spun off on lap eight due to an engine oil leak.
At the Canadian Grand Prix, Button out-qualified Barrichello for the first time since Imola, but finished outside the points in ninth. He retired at the United States Grand Prix, in a first lap collision involving several drivers and again at the French Grand Prix due to an engine failure. At the German Grand Prix, Button was again pulled into the weighbridge, but went on to qualify fourth. After running third for a while in the race, Button eventually finished fourth.
Button took the first win of his career in 2006 at a chaotic Hungarian Grand Prix – the 113th Grand Prix start of his career. He started 14th after a 10-place grid penalty for an engine change. The race was badly affected by heavy rain, and Button passed a number of drivers in the early laps – including championship contender Michael Schumacher – and was up to fourth by lap 10. Following the retirement of leading drivers Kimi Räikkönen and Fernando Alonso, he went on to win the race by just over half a minute from Pedro de la Rosa and Nick Heidfeld. Alonso was behind Button on the racetrack when he retired, although Button still had one pitstop to make. Button's win bettered Nigel Mansell's 1989 win from 12th on the grid at the Hungaroring. Button was the first British driver to win since David Coulthard in March 2003, and the first English driver to win since Johnny Herbert won the 1999 European Grand Prix. He was the second driver after Räikkönen to win a race despite a grid penalty for changing an engine. At the British Academy Television Awards 2007, Button's first win earned ITV1 a BAFTA under the category of 'Best Sport'.
Button finished fourth or fifth at each of the next five races and finished the season with a podium finish at the final round in Brazil. Over the last six races of the season, Button scored more points (35) than any other driver.
2007
In 2007, Button again competed with Honda alongside Barrichello. He was unable to take part in winter testing, prior to the season because of two hairline fractures to his ribs, sustained in a karting incident in late 2006. Former British world champion Damon Hill aired doubts over Button's hopes to be a championship contender at Honda over the coming season, saying, "if he is serious... he has to get himself in a car that is a championship contender." Alan Henry writing in The Guardian 2007 F1 season guide, predicted: "Button will win a couple more races but is not a title contender." He was proved to be wrong, as the Honda RA107 proved to be aerodynamically poor.
At the first race of the season in Australia, Button only managed to qualify 14th after handling problems. The race was no better, as he endured considerable understeer throughout, was given a drive-through penalty for speeding in the pit lane and finished 15th. The next two races in Malaysia and Bahrain were just as unsuccessful, Button finishing 12th behind teammate Barrichello in Malaysia, and not even completing a lap in Bahrain, after colliding with Red Bull Racing driver David Coulthard at Turn 4. At the French Grand Prix, Button finished eighth, earning his and Honda's first point of 2007. Following the British Grand Prix, it was announced that Button would remain with Honda for 2008.
As Button's place as the pre-eminent British driver in Formula One was effectively taken by Lewis Hamilton, former champion Nigel Mansell criticised Button, saying: "Jenson should have won more races, he has under-performed and that is down to him." Honda team boss Nick Fry defended his driver, saying: "I would refute everything Nigel has said, and particularly I think his comments about Jenson's reputation for partying are about five years out of date...his increasing maturity and the way he changed his lifestyle is extremely noticeable." Button made no secret of his frustration regarding his current situation; he described his 2007 season as "a total disaster". Button did, however, record several impressive outings towards the end of the season, especially when rain was prominent.
2008
Button stayed with Honda for 2008, and continued to be partnered by Barrichello. The Honda RA108 proved to be uncompetitive, and he scored his only points at the Spanish Grand Prix with 6th place, but did not finish in the wet in front of his home crowd at Silverstone, where Barrichello finished third. On 5 December 2008, Honda announced that they were quitting Formula One, due to the global economic crisis, leaving Button's chances of a drive in 2009 dependent on the team finding a buyer.
Brawn GP (2009)
On 5 March 2009, it was announced that the former Honda team would race in 2009 as Brawn GP, following a late buy-out by Ross Brawn, the previous team principal of Honda Racing. Button and Rubens Barrichello were confirmed as the team's drivers for 2009, with Button reported to have taken a 50% pay cut as part of the deal.
In the first half of the year the Brawn team benefited from a controversial diffuser design, which gave the teams using it an advantage over teams that did not. Once the major teams introduced their own reconfigured diffusers Button's dominance ended, with Button winning 6 of the first 7 races, but averaging only 6th in the following ten races.
Brawn GP impressed from the first Grand Prix: Button took pole position in Australia, his first for the team and third ever, with Barrichello qualifying in second. Button then led from start to finish to win the race ahead of his teammate—the first time a team had scored a 1–2 finish on their debut since 1954—with Button describing it as "a fairytale ending for the first race". One week later he repeated the accomplishment, taking pole position and winning a rain-curtailed Malaysian Grand Prix; due to the rain the race was red flagged and only half points were awarded. At the Chinese Grand Prix, Button finished third behind Red Bull's Sebastian Vettel and Mark Webber, but returned to winning ways the following week in Bahrain despite only qualifying fourth.
The fifth race of the season was at the Circuit de Catalunya in Barcelona. The return to Europe allowed most of the teams to update their cars, including modifications to Button's car, the Brawn BGP 001, which had not yet been altered since the season began. Button took pole position with the final lap of the qualifying session, describing the updates as "good step forward". Both Button and Barrichello initially planned to stop three times during the race; however, after he fell behind Barrichello at the first corner, Button was switched to a two-stop strategy, and this meant he ended up finishing comfortably ahead. An unhappy Barrichello felt immediately after the race that the team might have sacrificed him to help Button, saying: "If I get the slightest sniff that they are favouring Jenson I'll hang up my helmet tomorrow".
At the Monaco Grand Prix, Button scored his fourth pole position of the season with his final lap of qualifying, commenting afterwards, "It was my best lap of the weekend and definitely one of the best laps I've ever done." Button then managed his tyres much better than his teammate in the early stages of the race, building a lead which he did not relinquish, and making it a hat-trick of victories. David Tremayne described it as "as good a performance as anything we had seen there from the likes of Ayrton Senna or Michael Schumacher", adding that it "swept away final doubts about his ability after years of floundering in mediocre machinery". In Turkey, Button qualified second behind Vettel but a first-lap error from the German allowed him to take the lead and he held off the competition to take his fourth consecutive win. This meant he had won six out of season's first seven races; an achievement matched only by Alberto Ascari, Juan Manuel Fangio, Jim Clark and Michael Schumacher, who all went on to win the world title.
The British Grand Prix in June marked the end of Button's superiority over the field, and was the first in a string of poor results for him. He achieved only sixth place, followed by a fifth place in Germany, as the Red Bull cars dominated both races. Brawn GP were hopeful of a strong result in the Hungarian Grand Prix, as the car had been significantly updated and was usually at its best in hot conditions. However, Button struggled with tyre temperatures and achieved a season-worst seventh place; during the race, he asked frustratedly over team radio, "How can this car be so bad at the moment?"
His bad run continued in Valencia; he was out-qualified by his teammate, and then, held up behind Webber for a lot of the race, could finish only in seventh place. Barrichello pushed on to win the race, and close the gap on Button to 18 points. Martin Brundle felt that Button was struggling with the pressure of leading the world championship, writing: "He has tightened up in the car and his natural instincts behind the wheel are being restricted." The following race at Spa-Francorchamps, Button had his first retirement of the season after a collision with Romain Grosjean during the first lap. This meant Button had scored only 11 points from his previous five races, and with five races left his lead was down to 16 points over Barrichello, and 19 and 20.5 over Vettel and Webber respectively.
Button recovered at Monza: he qualified sixth, before finishing second behind his teammate. The following race in Singapore, Button qualified poorly in 12th but performed much better on race day to take fifth place; Barrichello could manage only sixth. With three races and 30 points remaining, this put Button 15 points ahead of his teammate and 25 ahead of Vettel, with Webber now unable to win. A week later at the Japanese Grand Prix, the Brawn GP cars struggled again, Barrichello and Button finishing seventh and eighth respectively.
At the Brazilian Grand Prix, Button was hampered in qualifying by a poor choice of tyres in the wet weather and could achieve only fourteenth position. His championship campaign was boosted by Vettel qualifying sixteenth, but teammate and closest rival Barrichello qualified on pole. In the race, Button was aided by a first-lap incident, and was up to seventh by lap seven. He ran as high as second place by halfway, but ultimately finished fifth, taking enough points to secure the 2009 championship with one round to spare. At the final race of the season, in Abu Dhabi, Button qualified behind Barrichello again, but was able to achieve a podium by coming third.
With 169 starts, Button made the second-highest number of race starts before becoming World Champion. Only Nigel Mansell (with 176 starts, at the 1992 Hungarian Grand Prix) had competed in more races than Button before winning the World Championship. Button wrote a book about his 2009 season, entitled "My Championship Year", which was published by Weidenfeld & Nicolson on 19 November 2009.
On 30 November 2009, Button was announced as one of the ten men and women shortlisted for the 2009 BBC Sports Personality of the Year Award. At the awards ceremony on 13 December 2009, Button was awarded second place. On 6 December, Button won the BBC West Country's Sports Personality of the Year at the University of Bath. He won the main award against racehorse trainer Paul Nicholls, cricketer Marcus Trescothick and golfer Chris Wood. He also won the Laureus World Breakthrough of the Year award.
Button was appointed Member of the Order of the British Empire (MBE) in the 2010 New Year Honours for his services to motorsport. Button's home town, Frome, has named a street, Jenson Avenue, after him, and has awarded him the Freedom of the town. The town also intends to name a new bridge over the River Frome 'The Jenson Button Bridge'.
2010
Following the buy-out of Brawn by Mercedes, Button announced on 18 November 2009 that he would be leaving the team to move to McLaren for the 2010 season. He signed a three-year deal for a reported £6 million per season to drive alongside former world champion Lewis Hamilton. Button said he moved because he wanted the motivation and challenge from competing head-to-head with Hamilton, and that Brawn had offered him more money. A number of people, including former Formula One drivers John Watson, Jackie Stewart and Eddie Irvine, believed the move was a mistake, and that Button would struggle to compete with Hamilton at McLaren.
After a seventh-place finish in the opening round in Bahrain, Button won the second race in Australia from fourth on the grid. Button was the first to come in for slick tyres on a damp but drying track, which lifted him to second place after the other drivers had pitted. He inherited the lead when Vettel retired with brake problems and maintained his lead to the end without changing his tyres again. His victory made him the thirteenth driver in Formula One history to have won Grands Prix for at least three different constructors. Following an eighth-place finish in Malaysia, after starting seventeenth, Button went on to win his second race of the season from fifth on the grid in China, by staying on slick tyres while most of the other drivers pitted for intermediates, he was promoted to second place. However, the rain did not come, and the other drivers had to pit again for dry tyres. Subsequently, he went on to lead the Drivers' Championship, with McLaren leading the Constructors' Championship.
In Spain he was leapfrogged by Michael Schumacher and finished a frustrated fifth, before retiring in Monaco due to an overheating engine on lap three. As a result, Button lost his lead in the Championship, dropping to fourth behind both Red Bull drivers and Alonso. Button then finished second in Turkey after Red Bull teammates Mark Webber and Sebastian Vettel, who were leading the race, collided with each other. His own teammate Hamilton took the win, after the two of them briefly touched after a few corners of wheel-to-wheel racing. Hamilton had been told by the McLaren team to slow down and that Button would not pass him if he did so. Button passed the surprised Hamilton anyway, though Hamilton quickly took the lead back. The second place promoted Button to second overall in the Championship, just behind Webber. In Canada he followed up this result and remained second in the Championship, 3 points behind his teammate Hamilton. At the European Grand Prix in Valencia, Button finished 3rd and maintained 2nd place in the title race with another podium. Button missed out on a podium at the British Grand Prix, finishing fourth after problems with the balance of his car in qualifying had left him fourteenth.
After three further-points scoring finishes, Button retired at the Belgian Grand Prix after being hit by Vettel, which punctured the radiator of his car. Second at Monza was followed by a fourth place in both Singapore and Japan. During the Brazilian Grand Prix weekend, Button and his entourage were threatened by a number of gunmen on his way back from qualifying at Interlagos, although nobody was harmed during the incident. Button was mathematically eliminated from retaining his championship title with a fifth place in the race. At the season finale in Abu Dhabi, Button qualified fourth. He moved ahead of Alonso at the start, and moved up to third. Hamilton and Vettel pitted, leaving Button in the lead. After doing 39 laps on the option tyre, Button pitted and slotted back into third, where he would finish and secure fifth in the championship.
2011
2011 began slowly for Button and McLaren, with Vettel dominating the early races. Button came second in Malaysia, and third in Spain and Monaco, losing the chance for a race win in the latter race after a red flag in the closing laps allowed Vettel and Alonso to change tyres. Two weeks later in Canada, Button took what he called the "best win of (his) career", overtaking Vettel on the final lap after Vettel made a mistake under pressure. Button made five pit-stops, had his teammate crash into him, served a drive-through penalty for speeding under the safety car – dropping him to last place – as well as sustaining a puncture from a collision with Alonso, and made 27 on-track passes to win the longest Formula One race in history.
Button suffered his first retirement of the season at the British Grand Prix, caused by an error at his final pit stop. The wheel gun failed to refit the wheel nut and Button was released by the pit crew with an unsecured wheel. At the German Grand Prix, he retired in consecutive races for the first time since 2008, due to hydraulic issues. Button won his 200th Formula One race at the Hungarian Grand Prix, where he had won his first Grand Prix in 2006. Button finished third in Belgium, having qualified in 13th after a miscommunication with his team, after overtaking Alonso with two laps to go. He finished second at both Monza. In Singapore, Button chased Vettel who was in the lead with a few laps to go, closing at over a second a lap, but at the final moment, traffic denied him the chance to take first. After Singapore he moved into second place in the Drivers' Championship, and he became the only driver that could deny Vettel a second consecutive title.
Prior to the Japanese Grand Prix, Button signed a multi-year contract extension with McLaren. The new deal would earn Button £85 million. He took victory in the race ahead of Alonso and Vettel, the latter becoming champion. At the Indian Grand Prix McLaren team principal Martin Whitmarsh stated that the length of Button's new contract was 3 years. Button qualified fourth for this race and elevated himself to second position on the first lap, overtaking Alonso at the turn one and Webber on the long back straight. He eventually finished second behind Vettel, whose race pace he had been unable to match. In Abu Dhabi, Button qualified third and also finished in third after teammate Hamilton won the race and pole-sitter Vettel suffered a puncture on lap 1 and retired with suspension damage. Button suffered a recurring KERS problem for a large part of the race, but still had a good gap between himself and fourth placed man Webber, as well as an almost equal gap to second placed Alonso in front. These results ensured that Button was the first teammate to outscore Lewis Hamilton in a season. At the final race of the season – the Brazilian Grand Prix, Button outqualified Hamilton to start third on the grid and he also finished third – in both occasions behind the two Red Bull cars – by overtaking Alonso on lap 62. The result secured second place in the Championship for Button, some 122 points behind Vettel. In 2011, Button won three Grands Prix, set three fastest laps and finished on the podium twelve times.
2012
Button remained at McLaren for the 2012 season, again partnering Hamilton. Button qualified second to Hamilton, before going on to win the first race of the season in Australia. Button went on to qualify second to Hamilton at the following race in Malaysia, however he finished 14th after a collision with the HRT of Narain Karthikeyan and a lack of grip. This was Button's first non-points finish since the 2010 Korean Grand Prix and it ended a points streak which started at the 2011 Hungarian Grand Prix. Button finished second in China two weeks later.
In the Bahrain Grand Prix Button qualified fourth behind his teammate Lewis Hamilton in second. During the race Button found frustration with the levels of grip and retired on lap 55 due to an exhaust failure. At the Spanish Grand Prix Button qualified 11th, the first time he had qualified outside the top ten all season. After failing to finish above 8th in the next four races, Button finished third in Germany, although he was later promoted to second after Sebastian Vettel was penalised in the race. He went on to pick up his first pole position for over three years at Belgium. Button won the race becoming the first driver of the season to lead every lap of a Grand Prix. Button qualified in second place behind his teammate at the Italian Grand Prix, and remained in second place until he had to pull up and retire with a fuel pressure problems two-thirds of the way through the race.
At the Singapore Grand Prix, Button qualified in fourth place and finished the race in second place after Vettel inherited the win when Hamilton had a gearbox failure during the race. Button qualified in third place in Japan behind a Red Bull front row, but was hit with a five place penalty for a gearbox change and dropped to eighth. Button made the best of various first corner incidents and weaved his car into third place. He eventually finished fourth after Felipe Massa leap-frogged him in the pit stops and he was unable to overtake Kamui Kobayashi before the end of the race. Button qualified down in eleventh place for the Korean Grand Prix, but was forced to retire from the race after the first lap when Kobayashi collided with him and also Nico Rosberg. During the Indian Grand Prix, Button finished fifth behind teammate Hamilton, after starting the race fourth and being overtaking by Fernando Alonso in the opening laps. He qualified sixth for the Abu Dhabi Grand Prix, finishing fourth after being overtaken in the final laps by Sebastian Vettel. He picked up his third win of the season at the season-ending Brazilian Grand Prix in changeable conditions after a battle for the lead with Nico Hülkenberg and teammate Hamilton. Button dropped back from the two halfway through the race but they then collided, with Hamilton retiring and Hülkenberg being forced to pit, Button was able to pick up his 15th and final career victory. He ended up finishing 5th in the championship, just a few points behind his teammate.
2013
In March 2013, Button announced that he intends to stay with McLaren until he retires. At the Australian Grand Prix, Button qualified tenth and finished ninth, despite the team admitting that they did not truly understand the way the McLaren MP4-28 behaved in race conditions. In Malaysia, Button started the race seventh, but retired just before the end of the race. Button was partnered with Mexican driver Sergio Pérez after Lewis Hamilton left to join Mercedes after Pérez impressed McLaren CEO Martin Whitmarsh with the Sauber team in 2012. Throughout the season and particularly at the Monaco and Bahrain Grand Prix, there was exciting racing between the two drivers, leading to Button making the following comment on his team radio, asking the team to "Calm him (Pérez) down!". Button was very critical of Pérez and his driving style after the race.
I've raced with many team-mates over the years and with quite an aggressive team-mate in Lewis [Hamilton], but I'm not used to driving down the straight and then my team-mate coming along and wiggling his wheels at me and banging wheels with me at 300km/h. I've had some tough fights in F1 but not quite as dirty as that. That's something you do in karting and normally you grow out of it but that's obviously not the case with Checo [Pérez]. Soon something serious will happen so he has to calm down. He's extremely quick and he did a great job today but some of it is unnecessary and an issue when you are doing those speeds.
Button's best result in 2013 was a 4th place at the last Grand Prix of the season in Brazil, ending a difficult and under-performing season for Button and the McLaren team as a whole in recent times. He finished the season in ninth place, with just 73 points. The season was Button's first no-podium season since 2008.
2014
After a difficult 2013 season with McLaren, it was announced in November 2013 that Danish driver, Kevin Magnussen would replace Sergio Pérez as Button's teammate for the 2014 season, after being a member of McLaren's Young Driver Programme.
There was a rule change for the 2014 season where the drivers could pick a car number and this would be their unique and personal car number for their Formula One career. Button picked number 22 which was the car number he raced under during his World Championship winning year for Brawn GP in 2009. At the first race, the Australian Grand Prix, Button finished the race in 4th place. However, as 2nd placed Daniel Ricciardo was subsequently disqualified after his car was found to have exceeded the maximum allowed fuel flow rate of 100 kg/h, Button was promoted to 3rd. Ultimately, Button finished the 2014 season 8th in the Drivers' Championship with 126 points; his teammate Magnussen finished 11th with 55 points.
With Alonso moving to McLaren for the 2015 season, when they would be using Honda engines, the team had not announced in November 2014 whether they would be retaining Button or Magnussen as Alonso's teammate, leaving both 2014 drivers wondering whether they would be driving in Formula One in 2015. Button commented that his father would have been "livid" about his uncertain future. After the last race of the season, at which Hamilton won the Drivers' Championship for the second time and had been a teammate of Button's in the past, Hamilton said that "McLaren would be smart" to keep Button. "Developing, building a team, stabilising a team, you need strong drivers to lead the team, and he's the full package."
2015
On 11 December 2014 McLaren announced that Button would be staying with them for the 2015 season, partnering former World Champion Fernando Alonso. The BBC reported that he had signed a 2-year contract which included an option for 2016.
The new McLaren-Honda package started out to be unreliable and problematic after a 29 January launch. In the three pre-season tests Button, teammate Alonso and reserve driver Kevin Magnussen only had a single day over one hundred laps, which was completed by Button. Arriving in Australia Button qualified 17th (out of 18) and finished 11th and last in the detuned McLaren to ensure the team and new power unit supplier, Honda Racing F1 would compile decent mileage because of energy recovery issues. This continued into Malaysia where Button had to retire from the race. In China, Button collided with Lotus racer Pastor Maldonado in the latter stages of the Grand Prix. Button received a five-second time penalty dropping him one spot to 14th and two penalty points to his super licence which was previously clean for which the points will last twelve months. Button described the crash as 'just a misjudgement'. Button had a horrible weekend in Sakhir where he had to stop on track three times, once in FP1, another time in FP2 and again in Q1 where he was unable to set a time and had to line up 20th and last on the grid. After an energy recovery issue Button could not even start the race. In Monaco, he scored his first points of the season, finishing in 8th place. At his home Grand Prix in Great Britain, Button retired on the first lap after contact with his teammate Alonso. At the Hungarian Grand Prix, Button finished in ninth place. Button also finished ninth at Sochi and in the next Grand Prix at Austin he finished an incredible sixth place out of 12 finishing drivers, with his team-mate Alonso finishing eleventh.
Besides the points-scoring positions, Button and his team-mate Alonso often qualified in the back of the grid, with the british being eliminated very often in Q1 in qualifying. The McLaren were only ahead of the Manors and sometimes also the Saubers. The Honda engine was lacking both reliability and power, with the McLaren car proving slight potential on slow circuits.
2016
After the 2015 Japanese Grand Prix, McLaren principal Ron Dennis confirmed that Button would be driving for the team in 2016.
This time the Honda engine showed more pace, but the reliability was still a problem. Sometimes the McLarens were fighting for points, but on many of this races there were problems or retirements, esecially for Jenson, who finished the season in fifteenth place with 21 points, with his team-mate Alonso in tenth place with 54 points. Button's best result was a sixth place at the Austrian Grand Prix.
Sabbatical in 2017
On 3 September 2016 Button announced he would be stepping down from the McLaren race seat for the 2017 Formula One season. He has signed a two-year deal to be an ambassador with the team holding an option for him to return as a race driver in 2018.
Button replaced Fernando Alonso for the 2017 Monaco Grand Prix, after Alonso decided to compete in the Indianapolis 500 which was held on the same day. The appearance was a one-off and Alonso returned to partner Stoffel Vandoorne for the subsequent races.
Button qualified ninth for the race but was hit with a 15-place grid penalty for parts replaced on his Honda power unit, and then in addition required to start from the pitlane after his car was modified under parc fermé conditions. During the race he was running behind Sauber's Pascal Wehrlein when the two collided on lap 58. Button's car sustained damage and he was forced to retire from the race.
Personal life
Like many Formula One drivers, Button resides in the principality of Monaco, although he did live in Guernsey for 18 months before returning to Monaco in 2012. He also has properties in the UK and Bahrain. His hobbies include mountain biking, competing in triathlons and body boarding, and his car collection includes a Nissan GT-R, a 1956 VW Campervan, a Honda S600 and a Mercedes C63 AMG, a McLaren 675LT Spider, McLaren P1, numerous Ferraris and his championship winning Brawn BGP 001. In 2013, Button announced his plans to sell his Ferrari Enzo at an auction. He previously owned a Honda NSX Type R and a Bugatti Veyron.
He was engaged to the actress and singer Louise Griffiths before ending their five-year relationship in May 2005. In 2009, Button began dating model Jessica Michibata. On 14 February 2014 Button proposed to Michibata, and the two married in Hawaii in December 2014. In December 2015, Button announced they had split up after one year of marriage. In 2016 Button started dating model Brittny Ward.
Button has at least three tattoos: a black coat button on his right forearm; a large tribal design encompassing his left shoulder and upper chest; and Japanese kanji-characters on his ankle which says "一番" (Ichi ban, "Number One" in Japanese); this was done before he won the world title, and is the name of Button's triathlon team. Since mid-2010, the same legend has appeared on Button's race helmet. Button is also a brand ambassador for Head & Shoulders, and has appeared in advertising campaigns for the company.
Button is also involved in charitable work through the creation of The Jenson Button Trust. Established in March 2010, the Trust provides donations to a number of charitable causes. Each year the Trust will select and nominate charitable beneficiaries to which the funds will be distributed.
On 5 September 2011, Button opened a restaurant on Beulah Street in Harrogate called Victus, but it closed after less than a year in trading. Button's manager Richard Goddard said "unfortunately the business was launched in an economy which then continued to slide and just hasn't stopped, with people simply not having the disposable income needed to spend in restaurants."
On 12 January 2014, Button's father John died at his home on the French Riviera, aged 70. John, whom Jenson called "Papa Smurf", is thought to have died from a heart attack. John was a constant member of Jenson's small entourage.
On 3 August 2015, Button and his wife Jessica were burgled at a rented Saint-Tropez home while staying with friends when robbers looted the house and stole belongings worth £300,000, including his wife's £250,000 engagement ring. Reports suggested that the couple might have been gassed through the air conditioning system prior to the burglars' entry into the building.
On 18 October 2015, Button won a triathlon competition at Hermosa Beach, California.
On 8 December 2016 Button was awarded an honorary doctorate in engineering from the University of Bath.
Career summary
* Season still in progress.
Complete British Formula 3 results
(key) (Races in bold indicate pole position, races in italics indicate fastest lap)
Complete Formula One results
(key) (Races in bold indicate pole position; races in italics indicate fastest lap)
* Season still in progress.
‡ Half points awarded as less than 75% of race distance was completed.
† Driver did not finish the Grand Prix, but was classified as he completed over 90% of the race distance.
Complete Super GT results
* Season still in progress.
References
Jenson Button Wikipedia
(Text) CC BY-SA