Years active

1998–present




Height

1.93 m




Website

JasonMomoa.com




Spouse

Lisa Bonet (m. 2007)


Name

Jason Momoa




Parents

Joseph Momoa, Coni Momoa




Role

Actor








Full Name

Joseph Jason Namakaeha Momoa




Born

August 1, 1979 (age 44) (

1979-08-01

) Honolulu, Hawaii, United States


Occupation

Actor, model, director, writer, producer




Children

Nakoa-Wolf Manakauapo Namakaeha Momoa, Lola Iolani Momoa




Movies and TV shows

Game of Thrones, Batman v Superman: Dawn of J, Conan the Barbarian, Stargate Atlantis, The Red Road


Similar People

Lisa Bonet, Jack Gleeson, Sean Bean, Zoe Kravitz, Richard Madden


Profiles




Instagram

Twitter
Jason momoa haircut beard tutorial
Joseph Jason Namakaeha Momoa (born August 1, 1979) is an American actor, model, director, writer, and producer. He is known for his television roles as Ronon Dex on the military science fiction television series Stargate Atlantis (2004–2009) and as Khal Drogo in the HBO fantasy television series Game of Thrones (2011–2012).
Contents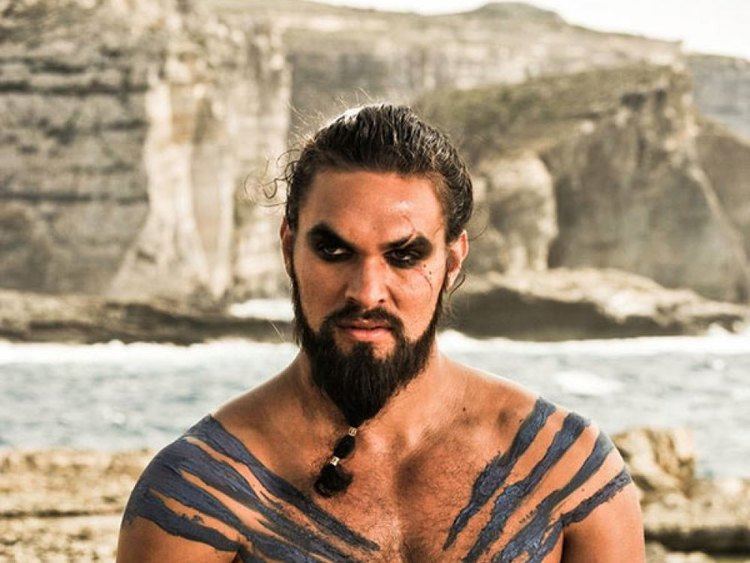 Momoa portrayed the title character in the sword and sorcery film Conan the Barbarian (2011). He appeared in the 2016 superhero film Batman v Superman: Dawn of Justice as Aquaman, and is scheduled to reprise the role in Justice League (2017) and Aquaman following in 2018, all of which are a part of the DC Extended Universe.
Road to Paloma was Momoa's first film as director, writer, and producer. He also starred in the lead role and released the film on July 11, 2014.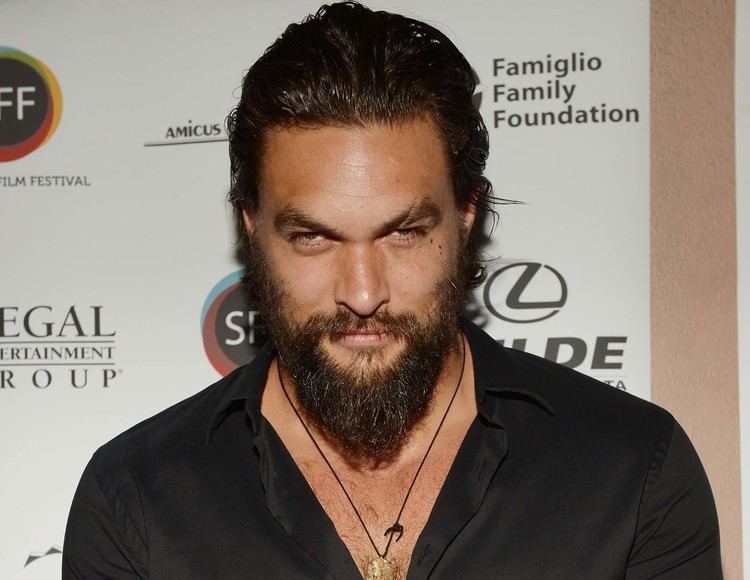 Jason momoa from 13 to 38 years old wild wolf
Early life
An only child, Momoa was born in Honolulu, Hawaii in 1979, to Coni, a photographer, and Joseph Momoa, a painter. He was raised in Norwalk, Iowa, by his mother. His father is of Native Hawaiian descent, while his mother is of German, Irish, and Native American ancestry. After high school, Momoa began college in Iowa as a marine biology major, studying for a period in the Florida Keys. He transferred his major to wildlife biology at Colorado State University. Before completing his degree, he moved back to the Hawaiian Islands to reconnect with his father.
As a young man, Momoa traveled extensively, took up pastel painting in Paris, and studied Buddhist teachings in Tibet.
Career
In 1998, Momoa was discovered by international designer Takeo Kobayashi, who encouraged his modeling career. Momoa won Hawaii's Model of the Year 1999 and hosted the Miss Teen Hawaii contest. At 19 years old, he also worked part-time in a surf shop before being cast in the action drama series Baywatch Hawaii, where he appeared as Jason Ioane (1999–2001).
In addition to his appearances in North Shore (2004–2005), Johnson Family Vacation (2004), and Stargate: Atlantis (2005–2009), Momoa was cast as Roman in four episodes of the comedy-drama television series The Game (2009). He portrayed the title protagonist in Conan the Barbarian (2011), a reimagining of the 1982 film of the same name and a role made famous by Arnold Schwarzenegger. Momoa gained his role of Khal Drogo on HBO's Game Of Thrones through his audition, in which he performed the Haka, an intimidating Māori war dance traditionally used on the battlefield.
After the shooting of Stargate Atlantis Season 4 was over, Momoa had his dreadlocks cut off. Their weight had been giving him headaches. The program agreed with the decision and had planned to film a scene where Ronon cuts off his hair for Season 5's "Broken Ties", but that change was ultimately overruled by the Sci Fi network. On the first day of filming for Season 5, his dreadlocks were reattached, but the process was too taxing. Momoa switched to using his stunt double's wig until a custom wig could be made and delivered two weeks later. When Momoa was first cast for the role, the producers had asked him to cut off the dreadlocks, but they became a trademark of his character, so he was allowed to keep them.
Momoa directed and co-wrote Road to Paloma (2014), an American drama thriller film, together with writers Jonathan Hirschbein and Robert Homer Mollohan. The film stars Momoa, Sarah Shahi, Lisa Bonet, Michael Raymond-James and Wes Studi. It premiéred at the 2014 Sarasota Film Festival in April 2014. The film had a limited theatrical release on July 15, 2014, in New York City and Los Angeles and a VOD release.
In March 2014, Momoa joined the dark comedy/thriller indie Sugar Mountain alongside Cary Elwes and Haley Webb; its principal photography was done in Alaska. He also starred as Phillip Kopus, a Ramapough Mountain Indian, on the SundanceTV drama series The Red Road (2014–2015).
In June 2014, Momoa was reported to have been cast in the role of Aquaman in the superhero film Batman v Superman: Dawn of Justice. Momoa's role as Aquaman was confirmed in October 2014. This marked Aquaman's live action theatrical debut. He is also to star in an Aquaman solo film to be released in 2018. He also portrayed Connor in the Canadian horror action film Wolves.
Momoa starred in the 2014 sci-fi horror movie, Debug; it was written and directed by Momoa's former Stargate Atlantis co-star, British-born Canadian actor David Hewlett. In February 2015, it was announced that he will portray a cannibal in the drama thriller film The Bad Batch. He will star in an action movie titled Braven.
He is currently in the Netflix original series, Frontier, portraying Declan Harp, a half-Cree, half-Irish trapper waging his own war with the British during the days of the fur trade in Early Canada. In early 2017 he signed onto the official Just Cause movie series.
Personal life
In 2005, Momoa met actress Lisa Bonet after common friends introduced them, and they developed a relationship.
On July 23, 2007, Bonet gave birth to their first child, a daughter named Lola Iolani Momoa.
On November 15, 2007, Momoa and Bonet were married. From his marriage to Bonet, Momoa became the stepfather to Zoë Kravitz.
On December 15, 2008, their second child, a son named Nakoa-Wolf Manakauapo Namakaeha Momoa, was born. Momoa's mother announced the birth, saying that Nakoa means "the warriors" and Mana stands for "strength/spirit", while Kaua ("rain") and Po ("dark") pertain to the circumstances surrounding his birthday (he was born on a rare bad-weather night in Los Angeles). He shares his name, Namakaeha, with his father.
Martial arts
Momoa learned martial arts for his role as Ronon in Stargate Atlantis and for Conan.
In 2017 Momoa started practicing Brazilian jiu-jitsu.
Facial scar
On November 15, 2008, Momoa was slashed in the face with a broken beer glass by another customer at the Birds Cafe, a Hollywood, California, tavern. He received around 140 stitches during reconstructive surgery, and the scar is apparent in his later work.
Filmography
Actor
2025
Fast X: Part 2 (pre-production)
as
Dante Reyes
2025
Minecraft (pre-production)(rumored)
-
Chief of War (TV Mini Series) (filming)
2023
Aquaman and the Lost Kingdom (post-production)
as
Arthur Curry / Aquaman
2023
The Flash
as
Arthur Curry (uncredited)
2022
The Last Manhunt
as
Big Jim
2019
See (TV Series)
as
Baba Voss
- I See You (2022) - Baba Voss
- God Thunder (2022) - Baba Voss
- The Lowlands (2022) - Baba Voss
- The House of Enlightenment (2022) - Baba Voss
- The Storm (2022) - Baba Voss
- This Land Is Your Land (2022) - Baba Voss
- Watch Out for Wolves (2022) - Baba Voss
- Heavy Hangs the Head (2022) - Baba Voss
- Rock-a-Bye (2021) - Baba Voss
- The Queen's Speech (2021) - Baba Voss
- The Truth About Unicorns (2021) - Baba Voss
- The Dinner Party (2021) - Baba Voss
- The Witchfinder (2021) - Baba Voss
- The Compass (2021) - Baba Voss
- Forever (2021) - Baba Voss
- Brothers and Sisters (2021) - Baba Voss
- House of Enlightenment (2019) - Baba Voss
- The Lavender Road (2019) - Baba Voss
- Silk (2019) - Baba Voss
- Plastic (2019) - Baba Voss
- The River (2019) - Baba Voss
- Fresh Blood (2019) - Baba Voss
- Message in a Bottle (2019) - Baba Voss
- Godflame (2019) - Baba Voss
2022
American Masters (TV Series documentary)
as
Narrator
- Waterman - Duke: Ambassador of Aloha (2022) - Narrator (voice)
2022
Peacemaker (TV Series)
as
Aquaman
- It's Cow or Never (2022) - Aquaman (uncredited)
2021
Dune: Part One
as
Duncan Idaho
2021
Nature Is Speaking (TV Series short)
as
The Wave
- The Wave (2021) - The Wave (voice)
2021
Zack Snyder's Justice League
as
Aquaman / Arthur Curry
2019
The Simpsons (TV Series)
as
Jason Momoa
- The Fat Blue Line (2019) - Jason Momoa (voice)
2019
The Lego Movie 2: The Second Part
as
Aquaman (voice)
2016
Frontier (TV Series)
as
Declan Harp
- The Sins of the Father (2018) - Declan Harp
- House of Lord (2018) - Declan Harp
- All For All and None For One (2018) - Declan Harp
- Satanazes (2018) - Declan Harp
- Devil's Bargain (2018) - Declan Harp
- The Low Road (2018) - Declan Harp
- "Keetom Takooteeoo Maheekum" (Return of the Wolf) (2017) - Declan Harp
- Cannonball (2017) - Declan Harp
- Mutiny (2017) - Declan Harp
- The Wolf and the Bear (2017) - Declan Harp
- Wanted (2017) - Declan Harp
- Dead Reckoning (2017) - Declan Harp
- The Gallows (2016) - Declan Harp
- The Disciple (2016) - Declan Harp
- Wolves (2016) - Declan Harp
- Mushkegowuk Esquewu (2016) - Declan Harp
- Little Brother War (2016) - Declan Harp
- A Kingdom Unto Itself (2016) - Declan Harp
2017
Justice League
as
Aquaman / Arthur Curry
2017
Once Upon a Time in Venice
as
Spider
2016
Sugar Mountain
as
Joe Bright
2016
The Bad Batch
as
Miami Man
2016
Batman v Superman: Dawn of Justice
as
Aquaman
2014
Drunk History (TV Series)
as
Jean Lafitte / Jim Thorpe
- New Orleans (2015) - Jean Lafitte
- Sports Heroes (2014) - Jim Thorpe
2014
The Red Road (TV Series)
as
Phillip Kopus
- Shadow Walker (2015) - Phillip Kopus
- The Hatching (2015) - Phillip Kopus
- A Cure (2015) - Phillip Kopus
- Intruders (2015) - Phillip Kopus
- Graves (2015) - Phillip Kopus
- Gifts (2015) - Phillip Kopus
- Snaring of the Sun (2014) - Phillip Kopus
- The Great Snake Battle (2014) - Phillip Kopus
- The Bad Weapons (2014) - Phillip Kopus
- The Woman Who Fell from the Sky (2014) - Phillip Kopus
- The Wolf and the Dog (2014) - Phillip Kopus
- Arise My Love, Shake Off This Dream (2014) - Phillip Kopus
2012
Bullet to the Head
as
Keegan
2011
Game of Thrones (TV Series)
as
Khal Drogo
- Valar Morghulis (2012) - Khal Drogo
- Fire and Blood (2011) - Khal Drogo
- Baelor (2011) - Khal Drogo
- The Pointy End (2011) - Khal Drogo
- You Win or You Die (2011) - Khal Drogo
- A Golden Crown (2011) - Khal Drogo
- Cripples, Bastards, and Broken Things (2011) - Khal Drogo
- Lord Snow (2011) - Khal Drogo
- The Kingsroad (2011) - Khal Drogo
- Winter Is Coming (2011) - Khal Drogo
2011
Conan the Barbarian
as
Conan
2010
Brown Bag Diaries: Ridin' the Blinds in B Minor (Short)
as
Mikey
2009
The Game (TV Series)
as
Roman
- The Wedding Episode (2009) - Roman
- The Fall of the Roman (2009) - Roman
- Put a Ring on It (2009) - Roman
- Hill Street Blues (2009) - Roman
2005
Stargate: Atlantis (TV Series)
as
Ronon Dex
- Enemy at the Gate (2009) - Ronon Dex
- Vegas (2008) - Ronon Dex (credit only)
- Identity (2008) - Ronon Dex
- Infection (2008) - Ronon Dex
- Brain Storm (2008) - Ronon Dex
- Remnants (2008) - Ronon Dex
- The Prodigal (2008) - Ronon Dex
- Inquisition (2008) - Ronon Dex
- Outsiders (2008) - Ronon Dex
- The Lost Tribe (2008) - Ronon Dex
- First Contact (2008) - Ronon Dex
- Tracker (2008) - Ronon Dex
- The Queen (2008) - Ronon Dex
- Whispers (2008) - Ronon Dex (credit only)
- The Shrine (2008) - Ronon Dex
- Ghost in the Machine (2008) - Ronon Dex
- The Daedalus Variations (2008) - Ronon Dex
- Broken Ties (2008) - Ronon Dex
- The Seed (2008) - Ronon Dex
- Search and Rescue (2008) - Ronon Dex
- The Last Man (2008) - Ronon Dex
- The Kindred: Part 2 (2008) - Ronon Dex
- The Kindred: Part 1 (2008) - Ronon Dex
- Midway (2008) - Ronon Dex
- Trio (2008) - Ronon Dex (credit only)
- Outcast (2008) - Ronon Dex
- Harmony (2008) - Ronon Dex (credit only)
- Quarantine (2008) - Ronon Dex
- Spoils of War (2008) - Ronon Dex
- Be All My Sins Remember'd (2008) - Ronon Dex
- This Mortal Coil (2007) - Ronon Dex
- Miller's Crossing (2007) - Ronon Dex
- The Seer (2007) - Ronon Dex
- Missing (2007) - Ronon Dex
- Tabula Rasa (2007) - Ronon Dex
- Travelers (2007) - Ronon Dex
- Doppelganger (2007) - Ronon Dex
- Reunion (2007) - Ronon Dex
- Lifeline (2007) - Ronon Dex
- Adrift (2007) - Ronon Dex
- First Strike (2007) - Ronon Dex
- Vengeance (2007) - Ronon Dex
- Submersion (2007) - Ronon Dex
- Sunday (2007) - Ronon Dex
- The Ark (2007) - Ronon Dex
- The Game (2006) - Ronon Dex
- Tao of Rodney (2006) - Ronon Dex
- Irresponsible (2006) - Ronon Dex
- Echoes (2006) - Ronon Dex
- The Return: Part 2 (2006) - Ronon Dex
- The Return: Part 1 (2006) - Ronon Dex
- Phantoms (2006) - Ronon Dex
- McKay and Mrs. Miller (2006) - Ronon Dex
- Common Ground (2006) - Ronon Dex
- The Real World (2006) - Ronon Dex
- Progeny (2006) - Ronon Dex
- Sateda (2006) - Ronon Dex
- Irresistible (2006) - Ronon Dex
- Misbegotten (2006) - Ronon Dex
- No Man's Land (2006) - Ronon Dex
- Allies (2006) - Ronon Dex
- Inferno (2006) - Ronon Dex
- Michael (2006) - Ronon Dex
- Coup D'etat (2006) - Ronon Dex
- The Long Goodbye (2006) - Ronon Dex
- The Tower (2005) - Ronon Dex
- Grace Under Pressure (2005) - Ronon Dex (credit only)
- Critical Mass (2005) - Ronon Dex
- Epiphany (2005) - Ronon Dex
- The Hive (2005) - Ronon Dex
- The Lost Boys (2005) - Ronon Dex
- Aurora (2005) - Ronon Dex
- Conversion (2005) - Ronon Dex
- Instinct (2005) - Ronon Dex
- Trinity (2005) - Ronon Dex
- Condemned (2005) - Ronon Dex
- Duet (2005) - Ronon Dex
- Runner (2005) - Ronon Dex
2004
North Shore (TV Series)
as
Frankie Seau
- The End (2005) - Frankie Seau
- The Ex-Games (2005) - Frankie Seau
- Shark (2005) - Frankie Seau
- Catwalk (2004) - Frankie Seau
- Sucker Punch (2004) - Frankie Seau
- The Cook, the Waitress, the GM and His Lover (2004) - Frankie Seau
- The Big One (2004) - Frankie Seau
- Illusions (2004) - Frankie Seau
- Leverage (2004) - Frankie Seau
- Bellport (2004) - Frankie Seau
- Alexandra (2004) - Frankie Seau
- Vice (2004) - Frankie Seau
- Ties That Bind (2004) - Frankie Seau
- Burned (2004) - Frankie Seau
- More (2004) - Frankie Seau
- Secret Service (2004) - Frankie Seau
- My Boyfriend's Back (2004) - Frankie Seau
- Meteor Shower (2004) - Frankie Seau
- Surprise Party (2004) - Frankie Seau
- Tessa (2004) - Frankie Seau
- Pilot (2004) - Frankie Seau
2004
Johnson Family Vacation
as
Navarro
2003
Tempted (TV Movie)
as
Kala
2003
Baywatch: Hawaiian Wedding (TV Movie)
as
Jason
1999
Baywatch (TV Series)
as
Jason Ioane
- Rescue Me (2001) - Jason Ioane
- Makapu'u Lighthouse (2001) - Jason Ioane
- Dead Reckoning (2001) - Jason Ioane
- Trapped (2001) - Jason Ioane
- The Return of Jessie (2001) - Jason Ioane (credit only)
- Boiling Point (2001) - Jason Ioane
- My Father, the Hero (2001) - Jason Ioane
- A Good Man in a Storm (2001) - Jason Ioane (credit only)
- Father Faust (2001) - Jason Ioane
- The Stalker (2001) - Jason Ioane
- The Ex-Files (2001) - Jason Ioane (credit only)
- Black Widow (2000) - Jason Ioane
- Ties That Bind (2000) - Jason Ioane
- Ben (2000) - Jason Ioane
- The Cage (2000) - Jason Ioane
- Dream Girl (2000) - Jason Ioane (credit only)
- Broken Promises (2000) - Jason Ioane
- Stone Cold (2000) - Jason Ioane
- Dangerous Games (2000) - Jason Ioane (credit only)
- Bad Boyz (2000) - Jason Ioane
- A Knife in the Heart (2000) - Jason Ioane
- Soul Survivor (2000) - Jason Ioane
- The Killing Machine (2000) - Jason Ioane
- Last Rescue (2000) - Jason Ioane
- Baywatch O'Hana (2000) - Jason Ioane
- Maui Xterra (2000) - Jason Ioane
- Big Island Heat (2000) - Jason Ioane
- Breath of Life (2000) - Jason Ioane
- Thunder Tide (2000) - Jason Ioane
- The Hero (2000) - Jason Ioane
- Lines in the Sand (2000) - Jason Ioane
- Liquid Visions (2000) - Jason Ioane (credit only)
- Path of Least Resistance (1999) - Jason Ioane
- Bent (1999) - Jason Ioane
- Gold from the Deep (1999) - Jason Ioane
- The Hunt (1999) - Jason Ioane
- Father of the Groom (1999) - Jason Ioane
- Risk to Death (1999) - Jason Ioane
- Sunday in Kaua'i (1999) - Jason Ioane
- Strike Team (1999) - Jason Ioane
- Shark Island (1999) - Jason Ioane
- Weak Link (1999) - Jason Ioane
- Mahalo Hawaii (1999) - Jason Ioane
- Aloha Baywatch (1999) - Jason Ioane
Producer
-
Frosty the Snowman (producer) (pre-production)
2025
Minecraft (producer) (pre-production)
-
Chief of War (TV Mini Series) (executive producer) (filming)
2023
The Climb (TV Series) (executive producer)
2022
The Last Manhunt (executive producer)
2021
Sweet Girl (producer)
2020
Gather (Documentary) (executive producer)
2018
Frontier (TV Series) (executive producer - 5 episodes)
- The Sins of the Father (2018) - (executive producer)
- House of Lord (2018) - (executive producer)
- All For All and None For One (2018) - (executive producer)
- Satanazes (2018) - (executive producer)
- Devil's Bargain (2018) - (executive producer)
2018
Braven (producer - produced by, p.g.a.)
2014
Road to Paloma (producer)
2010
Brown Bag Diaries: Ridin' the Blinds in B Minor (Short) (executive producer)
Writer
-
Chief of War (TV Mini Series) (filming)
2023
The Climb (TV Series) (1 episode)
- Deep Water Solo (2023)
2022
The Last Manhunt (story by)
2014
Road to Paloma (story & screenplay)
2010
Brown Bag Diaries: Ridin' the Blinds in B Minor (Short) (written by)
Director
2010
Brown Bag Diaries: Ridin' the Blinds in B Minor (Short)
Assistant Director
2011
Bowman (Short) (assistant director)
Thanks
2022
Metal Lords (special thanks)
Self
-
IZ (Documentary) (post-production)
as
Self
-
Baywatch: The Documentary (Documentary) (completed)
as
Self
2023
Common Ground (Documentary)
2017
Extra (TV Series)
as
Self
- Episode #29.217 (2023) - Self
- Episode #28.303 (2022) - Self
- Episode #28.289 (2022) - Self
- Episode #26.38 (2019) - Self
- Episode #24.55 (2017) - Self
2021
Leute heute (TV Series documentary)
as
Self
- Episode dated 15 May 2023 (2023) - Self
- Episode dated 16 August 2021 (2021) - Self
2019
Access Hollywood (TV Series)
as
Self
- Episode #27.208 (2023) - Self
- Episode #27.59 (2022) - Self
- Episode #25.292 (2021) - Self
- Episode #25.290 (2021) - Self
- Episode #24.37 (2019) - Self
2017
Entertainment Tonight (TV Series)
as
Self
- Talk Show Titans Week - Day 2 (2019) - Self
- Talk Show Titans Week - Day 1 (2019) - Self
- ET's Oscar Monday Blowout! (2019) - Self
2018
Dish Nation (TV Series)
as
Self
- Episode #11.136 (2023) - Self
- Episode #10.203 (2022) - Self
- Episode #9.55 (2020) - Self
- Episode #8.246 (2020) - Self
- Episode #8.47 (2019) - Self
- Episode #7.76 (2018) - Self
2023
The Climb (TV Series)
as
Self
- The Spire (2023) - Self
- El Diablo (2023) - Self
- The Cave (2023) - Self
- First Ascent (2023) - Self
- The Crack (2023) - Self
- High Ball (2023) - Self
- The Precipice (2023) - Self
- Deep Water Solo (2023) - Self
2023
Call Me with Timothée Chalamet (Short)
as
Self
2023
Deep Rising (Documentary)
as
Self - Narrator (voice)
2022
Nike: Father Time (Video short)
as
Self
2022
How Well Do You Know Your IMDb Page? (TV Series)
as
Self - Guest
- How Well Does Jason Momoa Know His IMDb Page? (2022) - Self - Guest
2022
The Morning Show (TV Series)
as
Self - Actor (HONOLULU)
- Episode dated 14 November 2022 (2022) - Self - Actor (HONOLULU)
2022
Good Morning Britain (TV Series)
as
Self
- Episode dated 11 November 2022 (2022) - Self
2014
Jimmy Kimmel Live! (TV Series)
as
Self - Guest / Self / Self - Former 'Game of Thrones' Cast
- Jason Momoa/Luke Grimes/Lainey Wilson (2022) - Self - Guest
- George Clooney/Julia Roberts/Omar Apollo (2022) - Self
- NBA Finals Game Night: Jason Momoa (2021) - Self - Guest
- Tom Brady/David Benioff/D.B. Weiss (2019) - Self - Former 'Game of Thrones' Cast
- Samuel L. Jackson/Jason Momoa/Kehlani (2017) - Self
- Mike Tyson/Jason Momoa/Young Fathers (2014) - Self - Guest
2017
The Late Late Show with James Corden (TV Series)
as
Self
- Cristin Milioti/Franz Ferdinand (2022) - Self
- Jason Momoa/Kristen Bell/Meghan Trainor/Teddy Swims (2022) - Self
- Jason Momoa/Lorde (2021) - Self
- Jason Momoa/Alfre Woodard/Hollywood Vampires (2019) - Self
- Julia Roberts/Jason Momoa/Yahya Abdul-Mateen II/She & Him (2018) - Self
- Gael Garcia Bernal/Jason Momoa/Sam Smith (2017) - Self
2022
The Oscars (TV Special)
as
Self - Presenter
2021
Making of Zack Snyder's Justice League (Video documentary short)
as
Self - Arthur Curry / Aquaman
2021
Waterman (Documentary)
as
Self - Narrator
2021
GMA3: What You Need to Know (TV Series)
as
Self
- Timothee Chalamet/Zendaya/Jason Momoa/Rebecca Ferguson/Denis Villeneuve/Kate Bowler/Makita Andrews (2021) - Self
2018
Good Morning America (TV Series)
as
Self / Self - Guest
- Episode dated 22 October 2021 (2021) - Self
- Episode dated 17 August 2021 (2021) - Self - Guest
- Episode dated 24 December 2018 (2018) - Self
- Episode dated 3 December 2018 (2018) - Self - Guest
2021
Hollywood on Set (TV Series)
as
Self
- Episode #18.43 (2021) - Self
2019
The Ellen DeGeneres Show (TV Series)
as
Self
- Jason Momoa/D-Nice (2021) - Self
- Ellen's Home Quarantine/Jason Momoa (2020) - Self
- Ellen's Halloween Show (2019) (2019) - Self
- Jason Momoa/Dylan Gilmer (2019) - Self
2021
DC FanDome 2021 (TV Special)
as
Self
2021
DC Kids FanDome 2021 (TV Special)
as
Self
2018
The Tonight Show Starring Jimmy Fallon (TV Series)
as
Self / Self - Guest
- Jason Momoa/Ana de Armas/Big Red Machine (2021) - Self - Guest
- Jason Momoa/Rose Byrne/Clairo (2021) - Self
- Jason Momoa/J.K. Simmons/Joe Machi (2018) - Self
- Greg Kinnear/Jason Momoa/The War on Drugs (2018) - Self
2021
Late Night with Seth Meyers (TV Series)
as
Self - Guest
- Jason Momoa & Dave Bautista/Alessandro Nivola/Anthony Doerr/Barrett Martin (2021) - Self - Guest
2021
The Royal World Premiere of 'No Time to Die' (Video)
as
Self
2021
The Drew Barrymore Show (TV Series)
as
Self - Guest
- Jason Momoa/Dan Levy/Natasha Leggero (2021) - Self - Guest
2021
Hollywood Insider (TV Series)
as
Self
- Generation 'Z for Zendaya': How the Young Actress is Defining a New Hollywood (2021) - Self
2018
Saturday Night Live (TV Series)
as
Self / Self - Host
- Bill Burr/Jack White (2020) - Self (uncredited)
- Chance the Rapper (2019) - Self (uncredited)
- Jason Momoa/Mumford & Sons (2018) - Self - Host
2020
The Daily Show (TV Series)
as
Self
- The Daily Social Distancing Show/Jason Momoa/Kat Graham (2020) - Self
2019
The Kelly Clarkson Show (TV Series)
as
Self
- Countdown to Relaunch Special: The Most Unforgettable Moments (2020) - Self
- Jason Momoa/Alfre Woodard (2019) - Self
2020
DC Fandome (TV Special)
as
Self
2020
2020 Golden Globe Awards (TV Special)
as
Self - Presenter
2019
Ellen's Greatest Night of Giveaways (TV Mini Series)
as
Self
- All I Want for Christmas Is Jennifer Aniston (2019) - Self
2017
Made in Hollywood (TV Series)
as
Self
- Terminator: Dark Fate/See (2019) - Self
- Murder on the Orient Express/Justice League/Daddy's Home 2/Lady Bird (2017) - Self
2018
IMDb on the Scene - Interviews (TV Series)
as
Self - Guest
- SEE (2019) - Self - Guest
- Aquaman (2018) - Self - Guest
2017
The Graham Norton Show (TV Series)
as
Self - Guest
- Regina King/Emilia Clarke/Ross Noble/Jason Momoa/Camila Cabello (2019) - Self - Guest
- Jason Momoa/Dame Darcey Bussell/Bill Bailey/Little Mix (2018) - Self - Guest
- Hugh Grant/Jason Momoa/Sarah Millican/Kelly Clarkson (2017) - Self - Guest
2019
This Morning (TV Series)
as
Self
- Episode dated 24 October 2019 (2019) - Self
2019
Fox and Friends (TV Series)
as
Self
- Episode dated 22 October 2019 (2019) - Self
2019
Red Carpet Report (TV Series short)
as
Self
- SEE Premiere (2019) - Self
- See Press Conference (2019) - Self
2019
Game of Thrones: The Last Watch (TV Movie documentary)
as
Self
2019
Aquaman: A Match Made in Atlantis (Video documentary short)
as
Self
2019
Aquaman: Creating Undersea Creatures (Video documentary short)
as
Self
2019
Aquaman: Heroines of Atlantis (Video documentary short)
as
Self
2019
Becoming 'Aquaman' (Video documentary short)
as
Self
2019
Going Deep Into the World of 'Aquaman' (Video documentary short)
as
Self
2019
James Wan: World Builder (Video documentary short)
as
Self
2019
The IMDb Show (TV Series)
as
Self - Guest
- "The IMDb Show" on Location: Oscars Red Carpet Fashion (2019) - Self - Guest
2019
The Oscars (TV Special)
as
Self - Presenter
2018
Kino+ (TV Series)
as
Self
- Kino+ #233: Aquaman, Bumblebee, Spider-Man, Roma, Shoplifters, Asterix (2018) - Self
2018
taff (TV Series)
as
Self
- Episode dated 19 December 2018 (2018) - Self
2017
WGN Morning News (TV Series)
as
Self
- Episode dated 19 December 2018 (2018) - Self
- Episode dated 4 December 2018 (2018) - Self (as Jason Mamoa)
- Episode dated 14 November 2017 (2017) - Self
2018
Celebrity Interviews (TV Series)
as
Self
- I Met Jason Momoa And This Happened! (2018) - Self
2018
Live with Kelly and Mark (TV Series)
as
Self
- Jason Momoa/Joe Alwyn/Emily Mortimer (2018) - Self
2018
#ComicConNoFilmmelier (TV Mini Series)
as
Self
- Dia #3 (2018) - Self
2011
Conan (TV Series)
as
Self - Guest
- The Cast and Director of 'Aquaman' (2018) - Self - Guest
- Betty White/Jason Momoa/American Authors (2014) - Self - Guest
- The Dr. and Mrs. Howard P. Reynolds Foundation Murders (2011) - Self - Guest
2018
Home & Family (TV Series)
as
Self
- Guest Co-Hostess Jill Wagner/Todd & Julie Chrisley/Lisa Leslie (2018) - Self (uncredited)
2018
Justice League: Scene Studies (Video documentary short)
as
Self
2018
Justice League: The New Heroes (Video documentary short)
as
Self
2018
Suit Up: The Look of the League (Video documentary short)
as
Self
2017
Rencontres de cinéma (TV Series)
as
Self
- Episode dated 11 November 2017 (2017) - Self
2017
That One Audition (Podcast Series)
as
Self
- Jason Mamoa- Game of Thrones to Justice League Aqua Man (2017) - Self
2016
Dawn of the Justice League (TV Movie documentary)
as
Self - Aquaman
2015
Michael Raymond-James for BulliesKeepOut.com (Video short)
as
Self
2014
Build (TV Series)
as
Self
2014
Buzz: at&T Original Documentaries (TV Series documentary)
as
Self
- Best of Buzz 2014 (2014) - Self
- Celebrity Interviews at the TCA's Part 2 (2014) - Self
2014
HuffPost Live Conversations (TV Series)
as
Self - Guest
- Episode #1.35 (2014) - Self - Guest
2014
Tweet Out (TV Series)
as
Self
- Jason Momoa Part 2 (2014) - Self
- Jason Momoa Part 1 (2014) - Self
2014
Katie (TV Series)
as
Self - Guest
- Roma Downey & Mark Burnett/Jason Momoa (2014) - Self - Guest
2013
RingCon 2012 (Documentary)
as
Self
2013
Big Morning Buzz Live (TV Series)
as
Self - Guest
- Jason Momoa/Gabriel Macht/Youngblood Hawke (2013) - Self - Guest
2013
The Hour (TV Series)
as
Self
- Episode #9.92 (2013) - Self
2012
Game of Thrones: Season 2 - Invitation to the Set (Video documentary short)
as
Khal Drogo
2011
The Conan Legacy (Documentary short)
as
Self
2011
NewsNation with Tamron Hall (TV Series)
as
Self
- Episode dated 19 August 2011 (2011) - Self
2011
Up Close with Carrie Keagan (TV Series)
as
Self - Guest
- Episode dated 16 August 2011 (2011) - Self - Guest
2011
Daybreak (TV Series)
as
Self - Guest
- Episode dated 15 August 2011 (2011) - Self - Guest
2011
Film Fiend (TV Series)
as
Self
- Conan the Barbarian (2011) - Self
2011
The Tonight Show with Jay Leno (TV Series)
as
Self - Guest
- Episode #19.194 (2011) - Self - Guest
2011
Thronecast (TV Series)
as
Self / Self - Interviewee
- Fire and Blood (2011) - Self
- A Golden Crown (2011) - Self
- Cripples, Bastards, and Broken Things (2011) - Self - Interviewee
2011
In the Qube (TV Series)
as
Self
- Barbarian, Bulls and Blue - Self
2011
Game of Thrones: Costumes (Video documentary short)
as
Khal Drogo / Self
2011
Fresh (TV Series)
as
Self - Subject
2007
HypaSpace (TV Series documentary)
as
Self
- Episode #6.47 (2007) - Self
2005
Sci Fi Inside: Sci Fi Friday (TV Movie documentary)
as
Self / Ronon Dex
Archive Footage
2018
Entertainment Tonight (TV Series)
as
Self
- Neve Campbell Exclusive! (2020) - Self
- MTV Video Music Awards Blowout! (2019) - Self
- Katy Perry's Special Honor! (2019) - Self
- ET's When We First Met: Game of Thrones! (2019) - Self
2021
Dish Nation (TV Series)
as
Self
- Episode #11.50 (2022) - Self
- Episode #11.9 (2022) - Self
- Episode #11.2 (2022) - Self
- Episode #10.238 (2022) - Self
- Episode #10.182 (2022) - Self
- Episode #9.265 (2021) - Self
2022
Morning Express with Robin Meade (TV Series)
as
Arthury Curry / Self
- Episode dated 4 August 2022 (2022) - Arthury Curry / Self
2020
CBS News Sunday Morning (TV Series)
as
Self
- Episode #42.41 (2020) - Self
2020
RuPaul's Drag Race All Stars (TV Series)
as
Self
- I'm in Love! (2020) - Self
2020
The Tonight Show Starring Jimmy Fallon (TV Series)
as
Self
- At Home Edition: Staff Favorites - Miley Cyrus/Barack Obama/Steve Carell (2020) - Self
2019
Cynical Reviews (TV Series)
as
Self
- Lifetime's Ridiculous Anti-Porn Movie (2019) - Self
2019
Inside Edition (TV Series documentary)
as
Self
- The Real-Life Breakthrough (2019) - Self
2018
Ok! TV (TV Series)
as
Self
- Episode #3.238 (2018) - Self
2018
The Graham Norton Show (TV Series)
as
Self
- Graham Norton's Good Guest Guide (2018) - Self
2016
Heroes Manufactured (Documentary)
as
Self
2013
Le Fossoyeur de Films (TV Mini Series documentary)
- Conan le barbare (2013)
References
Jason Momoa Wikipedia
(Text) CC BY-SA