India




Angika


3,122.80 km2


Bihar




Jamui



Jamui is a city and a municipality in Jamui district in the Indian state of Bihar. It is the district headquarters of Jamui district. Jamui was formed as a district on 21 February 1991 as a result of its separation from Munger.
Historical existence of Jamui has been observed from the Period of Mahabharta war. Archaeological and historical evidence shows its close association with Jain tradition for a long past to the present time.
History of Bihar will remain incomplete without the history of Jamui. There are mainly two hypotheses which have been mentioned by historians regarding the origin of the name of the district Jamui. The first hypothesis said that the name of Jamui derived from "Jambhiya Gram" or "Jribhikgram" village, which has the place of attaining 'Omniscience' (Kevalaygnan) of Vardhaman Mahavir and according to another hypothesis the name Jamui is originated from Jambuwani.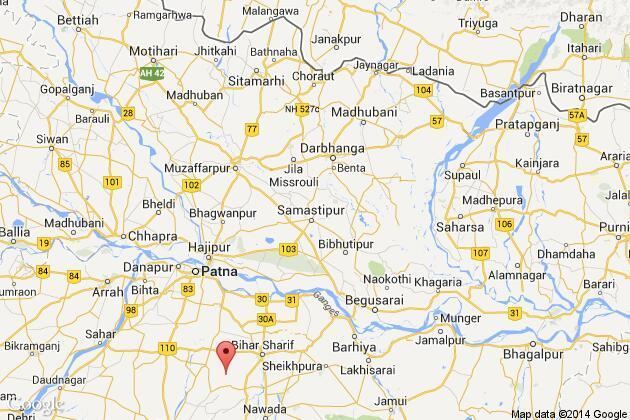 Jamui is located at 24.92°N 86.22°E? / 24.92; 86.22. It has an average elevation of 78 metres (255 feet).
Jamui is well connected to the rest of the country via road while the Delhi-Howrah rail line is 3 kilometres (1.9 mi) away at Mallepur (Mallepur railway station is also known as Jamui railway station). Lok Nayak Jayaprakash Airport in Patna is about 161 kilometres (100 mi) and Gaya Airport 136 kilometres (85 mi) away.
Situated along the Bihar-Jharkhand border, Jamui is dotted with hills and the small retreat town of Simultala falls within the Jhajha block, on the main Delhi-Howrah rail line. The town of Gidhaur, situated 17 kilometres (11 mi) away was the seat of kings during the British Raj and many buildings from the period still survive. Minto Tower in Gidhaur is a prime example of architecture from the period. Jamui district is also known for having many places related to the origin of Jainism.
The district has untapped reserves of resources including mica, coal, gold and iron ore.
In 2006 the Ministry of Panchayati Raj named Jamui one of the countrys 250 most backward districts (out of a total of 640). It is one of the 36 districts in Bihar currently receiving funds from the Backward Regions Grant Fund Programme (BRGF).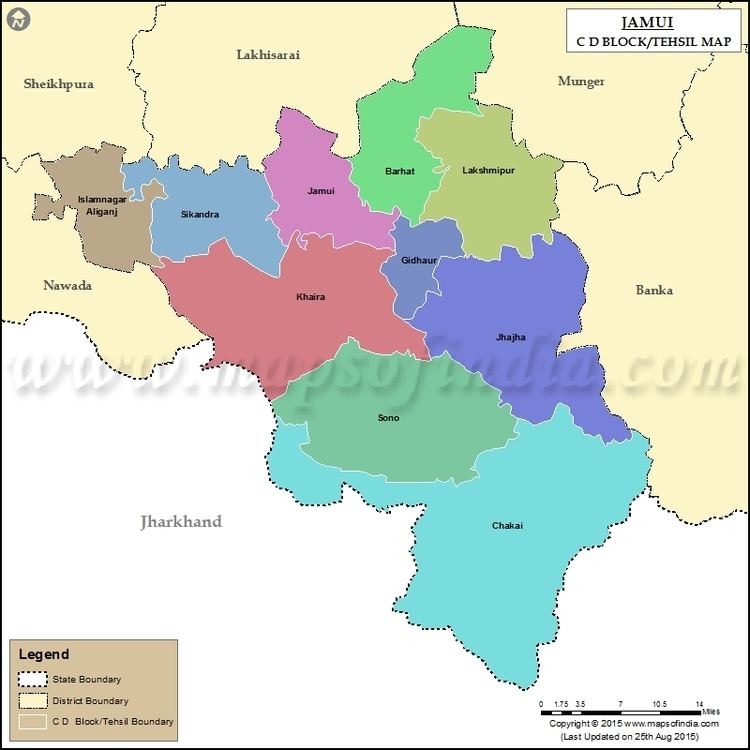 Chandrashekhar Singh Sangrahalay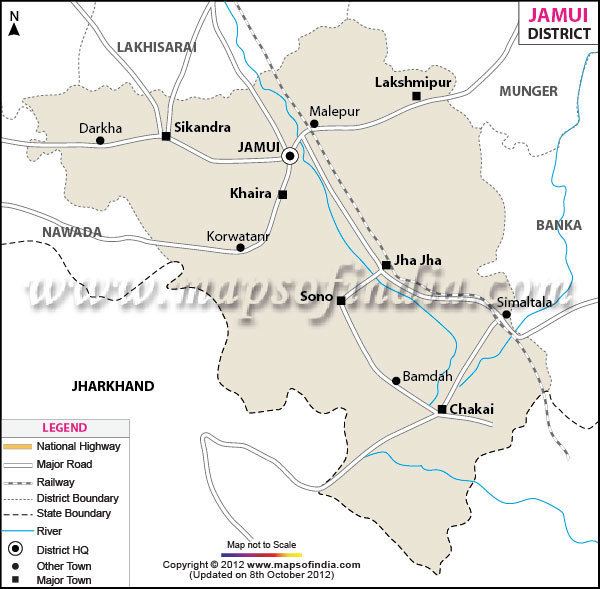 The Jamui museum was established under the aegis of Shri Bhuvaneshwar Nath Verma, the then S.D.O. Jamui 1982-83, and it was inaugurated by Shri N.K. Singh, Divisional Commissioner Bhagalpur, on 16 March 1983.It is located near Ashok Town Hall. The museum was taken over by Shri M.K. Mandal, Spl. Secretary Education, Government of Bihar, Patna from Shri B.N. Verma, S.D.O. Jamui, on 9 June 1983. Later the Jamui museum was renamed as Chandrashekhar Singh Sangrahalay. On its inception the monuments count totaled to 121. Currently, the total number of archaeological remains in this museum is 178. Various statues of Lord Vishnu, Lord Bhudha, Goddess Uma, Durga, Surya, ancient rocks and terracotta seals etc. are available.A new sprawling museum campus is under construction beside the present premises.
Jamui Wikipedia
(,)http://static.ibnlive.in.com/ibnlive/pix/sitepix/07_2014/police-arrests-a-suspected-maoist-in-jamui_130714065201.jpg(,)http://i1.ytimg.com/vi/Ei8nA1vIaRM/0.jpg(,)http://i.ytimg.com/vi/l-27RH8Q6sU/0.jpg(,)http://i1.ytimg.com/vi/Whgs6i89JBA/0.jpg(,)http://i1.ytimg.com/vi/vuGRUYgWL30/0.jpg(,)http://i1.ytimg.com/vi/DBMD_X56Gok/0.jpg(,)http://i.ytimg.com/vi/aoCM9P1CCJc/0.jpg(,)http://i.ytimg.com/vi/q2u2Sswzy2s/0.jpg(,)http://i.ytimg.com/vi/eJf9V3fyrug/0.jpg(,)http://i1.ytimg.com/vi/rlfbWz_GZWY/0.jpg(,)http://img.scoop.it/2ssqCueYVZgiuJAMuiWCPDl72eJkfbmt4t8yenImKBVvK0kTmF0xjctABnaLJIm9
(,)http://photos.wikimapia.org/p/00/01/18/61/47_big.jpg(,)http://jamui.bih.nic.in/districtProfile/districtProfilePhoto/Map_Jamui.jpg(,)http://static.ibnlive.in.com/ibnlive/pix/sitepix/07_2013/110-children-fall-ill-after-consuming-midday-meal-in-jamui_310713093355.jpg(,)http://static.news18.com/pix/2013/07/Jamui3.jpg(,)http://www.ebharat.in/sites/default/files/imagecache/node_preview/sites/default/files/jamui.gif.gif(,)http://bihardays.com/wp-content/uploads/2010/09/jamui.jpg(,)http://programs.lwr.org/atf/cf/%257B8ed291f8-702d-4e2c-9821-68d75e0105d2%257D/INDIA-PAZ.JPG(,)http://mw2.google.com/mw-panoramio/photos/medium/24323073.jpg
(,)http://www.mapsofindia.com/maps/bihar/tehsil/jamui-tehsil-map.jpg(,)http://www.mapsofindia.com/maps/bihar/districts/jamui-district-map.jpg(,)http://www.mapsofindia.com/maps/bihar/rivers/jamui-river-map.jpg(,)http://www.mapsofindia.com/parliamentaryconstituencies/bihar/images/jamui-parliamentary-map.jpg(,)http://indiawires.com/wp-content/uploads/2011/11/bihar-map.gif(,)http://www.mapsofindia.com/maps/mapinnews/naxal-attack-in-jamui.jpg(,)http://farm2.static.flickr.com/1061/768459506_d81cb230fd.jpg(,)http://static.panoramio.com/photos/medium/24323073.jpg(,)http://www.ebharat.in/sites/default/files/imagecache/front_banner/image002%2520(2).jpg