Duration

1986–1989, 1992




Classification

Former; regular




TV show

EastEnders




Book appearances

Taking Chances




Portrayed by

William Boyde






First appearance

Episode 114 20 March 1986




Last appearance

Episode 733 13 February 1992




Occupation

Pub landlord Businessman




Introduced by

Julia Smith (1986), Leonard Lewis (1992)




Similar

Celestine and Etta Tavernier, Willy Roper, Lilly Mattock, Joanne Francis, Donna Ludlow
James Sebastian Willmott-Brown is a fictional character from the BBC soap opera EastEnders, played by William Boyde. He appeared from 1986 to 1989, making a brief comeback in 1992.
Contents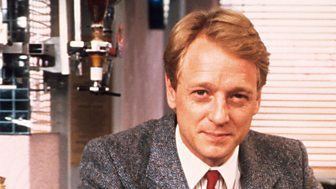 1986–1989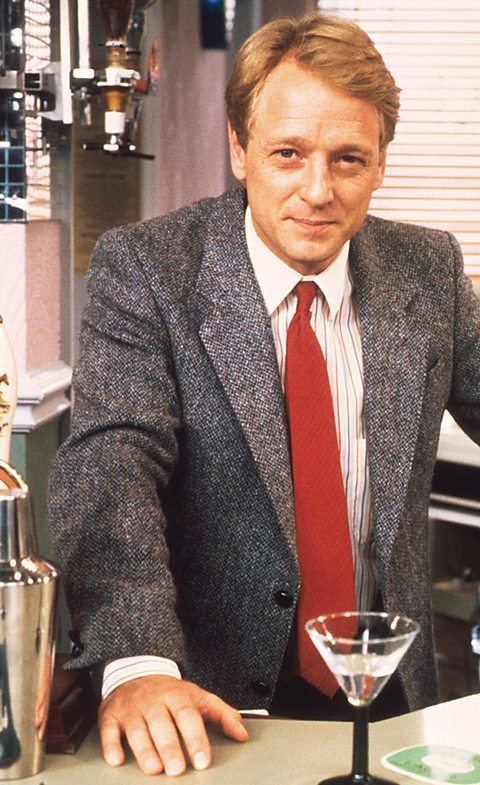 Willmott-Brown is an ex-army officer, arriving in Albert Square in March 1986 as area manager for 'Luxford and Copley', the brewery that own The Queen Victoria public house. By December, he decides to move to the square and buys Debbie Wilkins's (Shirley Cheriton) house at 43 Albert Square when she sells it following her fiancé, Andy's (Ross Davidson), death. He and Debbie later have a fling, but it doesn't progress into anything serious. Pat Wicks (Pam St. Clement) takes an interest in him and tries seducing him on several occasions, but is rebuffed each time. During the early years, he is friendly with Colin Russell (Michael Cashman). By February 1987, Willmott-Brown gives up his job as brewery manager and purchases an old disused pub on Turpin Road named The Dagmar, which he refurbishes as a new suave wine-bar. Local publican Den Watts (Leslie Grantham) is furious about the competition and is even angrier to discover that his wife, Angie (Anita Dobson), from whom he had recently separated, is manageress of The Dagmar.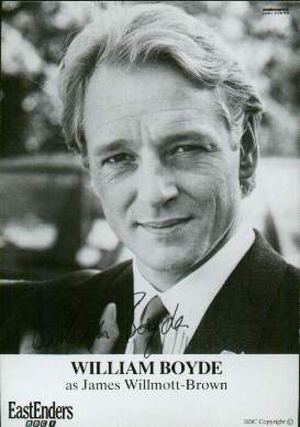 The Dagmar opens for business in June that year and the competition between the two pubs begins. They compete for best decorated pub in 'The London In Bloom' competition and in a five-a-side football match, and constantly try poaching each other's staff. However, the following year, the Dagmar begins to lose business. The residents of Walford never really take to the upper-class establishment and Willmott-Brown has competition from not just The Queen Victoria, but also from Strokes winebar, which is managed by Den after he gives up tenancy of The Queen Victoria. It is at this time that Gregory Mantel (Pavel Douglas), a member of the criminal organisation known as The Firm), arrives and tries forcing James to allow his company, 'Walford Investments', to buy into the business. James refuses, and as a result, none of his creditors will trade with him. The business severely suffers. His ire with Den escalates when he discovers that he is in league with the Firm, and reports Den to the police for shady dealings at Strokes winebar. However, Simon Wicks (Nick Berry), barman at The Dagmar, overhears the conversation with the police and informs Den. When the residents learn that James had 'grassed' to the police, no one will enter his bar. His business is now in financial ruin, making James frantic and slightly erratic under the pressure. Meanwhile, Willmott-Brown gives Kathy Beale (Gillian Taylforth) a job as a barmaid, causing friction between her and her husband, Pete (Peter Dean). The rift worsens when it becomes clear that Wilmott-Brown is romantically interested in Kathy. With everyone now ignoring him, Kathy soon becomes his only friend. He buys her presents and confides in her about the sorry state of his business, the breakup of his own marriage and how it affected his children, Sophie (Natasha Knight) and Luke (Henry Power). Pete is furious about the amount of time Kathy spends with Willmott-Brown, but their constant arguing only drives her away from him.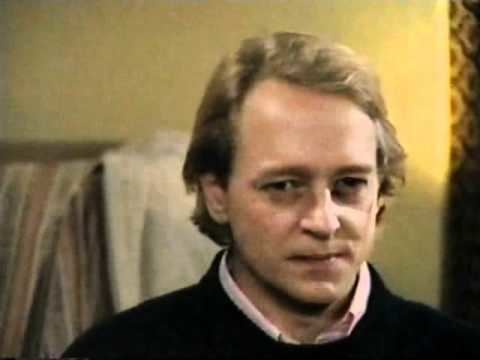 After Kathy argues with Pete one night, Wilmott-Brown invites her to his place for a glass of wine after work. When it becomes clear that he is trying to seduce her, she attempts to leave. However, he will not take no for an answer and the seduction ends in rape. Den finds Kathy an emotional wreck. When he realises what has happened, he calls his contacts within the Firm, Joanne Francis (Pamela Salem) and Brad Williams (Jonathan Stratt), and demands revenge. He watches with glee as a fire-bomb is thrown into the Dagmar and it catches fire. Unfortunately for Den, this act leads to his imprisonment, after The Firm expect him to take the rap for the arson and later decide that they wanted him dead. When Willmott-Brown returns days later, he is mortified to see his business burnt down. He also receives extreme hostility from everyone on the square. Den threatens him, as does Kathy's niece, Michelle (Susan Tully), so he goes to his lawyers for legal advice. Upon his arrest, Willmott-Brown counters Kathy's claims by telling the police that Kathy consented and claims that it is common knowledge that they were having an affair. He suggests that Pete is a violent man and Kathy has made the rape up to avoid his wrath. He also claims that Kathy's bruises were merely a result of their rampant sexual encounter. Willmott-Brown thinks he has said enough to fool the police, and is stunned when he is charged with rape. He stands trial in April 1989, but not before attempting to bribe Kathy to drop the charges against him. Kathy allows him to think that she is ready to take his hush money, only to betray him straight into the hands of D.I Bob Ashley (Robin Lermitte), who is listening next door. Kathy is forced to relive the rape at James's trial and is relieved when he is found guilty and imprisoned for three years. However, Pete and Kathy's marriage cannot survive the effects of the rape on Kathy and they separate soon after.
1992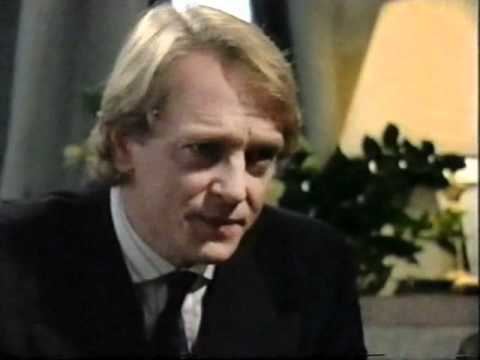 When James is released in January 1992, he returns to the square and tries to buy the flats that Grant (Ross Kemp) and Phil Mitchell (Steve McFadden) are selling. He plans to move back to Walford and set up another business and sends Kathy a tape asking her to meet him at his hotel in Hampstead. He promises that if she objects, he will disappear and never return. His return sends shockwaves around the square and Pete organises a mob to track him down as Kathy plans to meet him. Kathy gets there first and after listening to Willmott-Brown's tale of his hard time in prison and how much he has changed, she asks him to leave the Square for good and never return. Despite his promise, however, he refuses to leave Walford. Kathy then leaves feeling repulsed and cheated, but unknown to her, Pete has also come to enact his revenge. Pete and his mob force him into their car and drive him to Pete's high-rise flat building, where Pete threatens to push him off unless he signs a paper stating that he will leave Walford and never return. Immediately after, Willmott-Brown phones his solicitor and takes out an injunction on Pete, but proceeds to move to the Square. He continues sending Kathy tapes, confessing his undying love for her.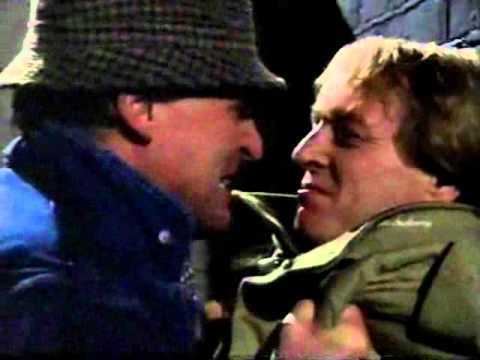 Eventually Kathy and Pete confront James at his house and he and Pete nearly come to blows. An emotional Kathy finally relays her hurt and anger over the rape and her fury that James has never apologised for the act. James protests that they had something truly special, but after a heated conversation, Kathy makes him realise how deluded he is by showing him the destruction he'd caused her and her family. In a bid for attention, James threatens to commit suicide but Kathy stops him, refusing to allow him off the hook so easily. James finally apologises for raping her and begs for her forgiveness. Kathy is pleased he is sorry, but refuses to forgive him, feeling her forgiveness would give him permission to stop being sorry and she tells him she is never going to do anything he asks, ever again, not even that. The confrontation and the apology finally give Kathy the closure she needs. Defeated, James leaves Walford and has not been seen since. In 1994, Kathy begins having recurring nightmares about Wilmott-Brown so her boyfriend, Phil Mitchell, goes in search of him. He tracks down James's wife, and discovers that he is back in prison after raping another woman. Nothing more has been heard about him since.
In popular culture
A running joke in the 2015 episode of Catherine Tate's Nan titled "Knees Up Wilmott-Brown" involves the lead character, Nan, mistaking another character, Charles Wilmott, for the EastEnders character.
References
James Willmott-Brown Wikipedia
(Text) CC BY-SA