Years active

1987–present







Full Name

James Brian Mark Purefoy

Occupation

Actor, producer, director

Spouse

Jessica Adams (m. 2014),

Holly Aird

(m. 1996–2002)

Children

Joseph Purefoy, Rose Purefoy

Parents

Anthony Chetwynd Purefoy, Shirley Taylor

Movies and TV shows




Similar People

Kevin Bacon,

Holly Aird

, Michael J Bassett, Shawn Ash, Kevin Williamson




Profiles



James purefoy his modern faces
James Brian Mark Purefoy (born 3 June 1964) is an English actor, producer and director. He is best known for portraying Mark Antony in the HBO series Rome, former college professor-turned-serial-killer Joe Carroll in the series The Following and Solomon Kane in the feature film Solomon Kane.
Contents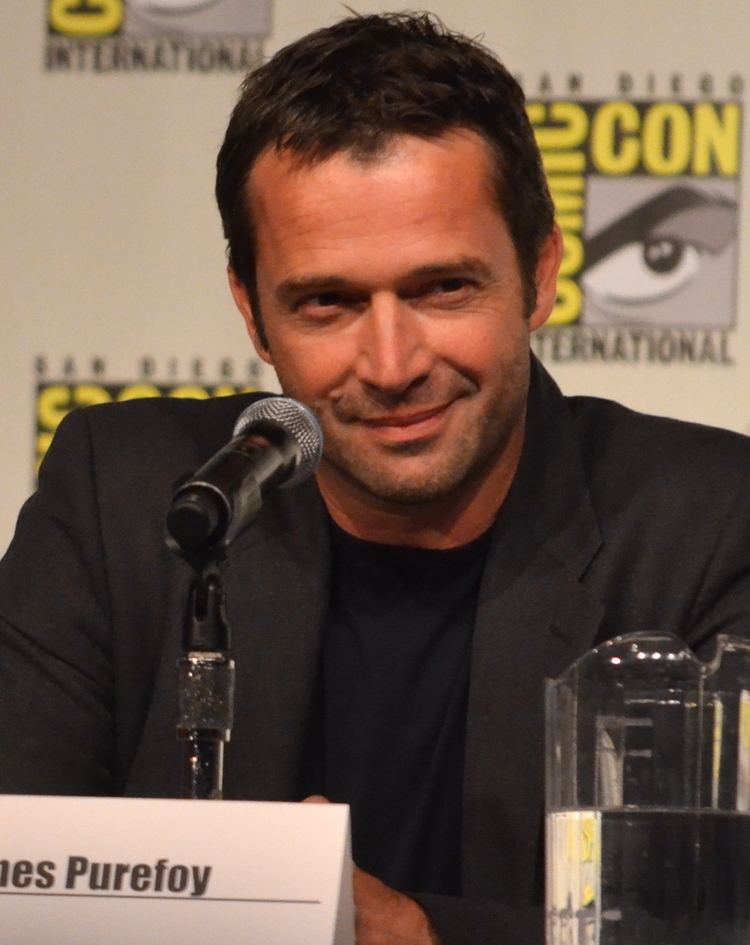 He was born in Somerset and attended Sherborne School before training at the Central School of Speech and Drama. His appearances in stage plays and a variety of television roles in the UK and USA have grown since the 1980s.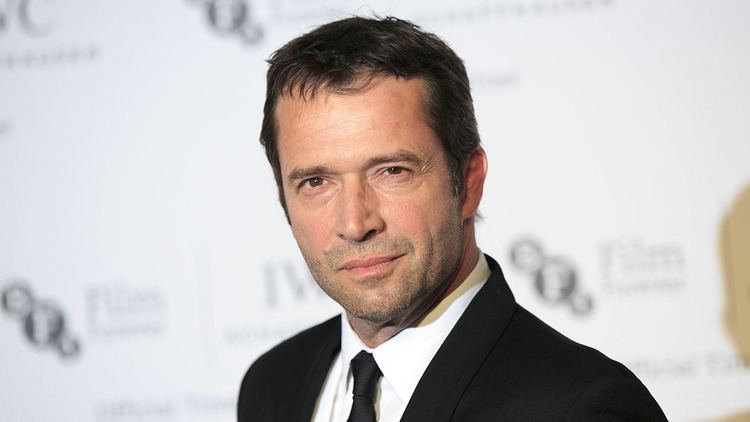 2012 comic con the following s james purefoy
Early life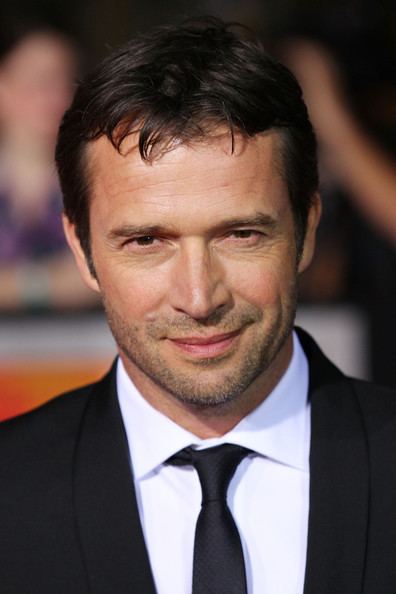 Purefoy was born in Taunton, Somerset, the eldest son of Anthony Chetwynd and Shirley (née Taylor) Purefoy. He boarded at Sherborne School, which he left with only one O-level. He later went to night school and received 11 more O-levels, before taking his A-levels at Brooklands College in Weybridge. He worked as a porter at Yeovil District Hospital before studying acting at the Central School of Speech and Drama.
Stage work
Purefoy's early professional roles included Romeo in Romeo and Juliet in Leatherhead, Walter in Mary Morgan at the Riverside Studios and Alan Strang in Equus on tour. He subsequently joined the Royal Shakespeare Company (RSC) in 1988 and appeared in The Constant Couple, Macbeth, The Tempest, The Man Who Came to Dinner (Gene Saks, Barbican) and King Lear as Edgar.
Elsewhere, he has also appeared as Laertes in Hamlet at the Bristol Old Vic (1991) Brian in William Gaminara's Back Up the Hearse and Let them Sniff the Flowers at the Hampstead Theatre (1992), Roland Maule in Noël Coward's Present Laughter at the Globe Theatre (1993), Biff in Death of a Salesman, alongside Ken Stott and Jude Law, at the West Yorkshire Playhouse in Leeds (1994), Tony in The Servant at the Birmingham Rep (1995). He returned to the RSC for Simon Callow's stage adaptation of the film classic, Les enfants du paradis at the Barbican. He also played Hugh de Morville in Paul Corcoran's Four Nights in Knaresborough at the Tricycle Theatre, (1999) and Loveless in Trevor Nunn's production of The Relapse at the National Theatre in 2001.
Between March and June 2011 he starred as Peter in Trevor Nunn's production of Flare Path at the Theatre Royal, Haymarket, alongside Sheridan Smith and Sienna Miller, as part of the playwright Terence Rattigan's centenary year celebrations.
Film and television
Purefoy was screen tested for the role of James Bond in 1995 for GoldenEye, but ultimately lost the role to Pierce Brosnan. Throughout 2004 and 2005 Purefoy's name was rumoured as a possible candidate to replace Brosnan as Bond in future films. He played James McCarthy, a young man accused of murdering his father, in "The Boscombe Valley Mystery," in Granada's The Case-Book of Sherlock Holmes. One of his notable roles was as Nicholas Jenkins in the eight-part miniseries A Dance to the Music of Time for Channel 4 in 1997. He played Edward, the Black Prince in the film A Knight's Tale, Rawdon Crawley in Vanity Fair with Reese Witherspoon and Tom Bertram in the 1999 production of Mansfield Park.
He has played major roles in several television costume dramas, including Sharpe's Sword, The Tenant of Wildfell Hall, The Prince and the Pauper, The Mayor of Casterbridge, Blackbeard: Terror at Sea, Beau Brummell: This Charming Man, The Tide of Life, Camelot and Rome.
He was originally the actor for V in the 2006 Film V for Vendetta but had creative differences with the production team and left the film six weeks into filming. Parts of the film contain (dubbed) scenes of Purefoy. Speculation suggested that his departure was due to an opportunity to play James Bond in the 2006 film Casino Royale.
He played Mark Antony in the HBO/BBC original television series, Rome. At the time there were rumours that at least one nude body in the show had been digitally enhanced. When his Wikipedia entry, which at that time referred to the rumours, was brought up in an interview with Alastair McKay, published in the January 2007 issue of Out magazine, Purefoy said, "I won't say whose it was, but there was a penis in the series that may have been slightly enhanced. But it wasn't mine. Mine's all mine."
Producer William J. MacDonald announced that James Purefoy would play Simon Templar in a new TV series of The Saint. The new series was scheduled to start shooting in Berlin and Australia in April 2008. However, production ultimately did not occur and in August Purefoy was reported as negotiating with NBC to star in another series, The Philanthropist.
He starred as Teddy Rist in the summer television series, The Philanthropist, which aired on NBC beginning on June 2009. His character is a billionaire playboy who decides to use his wealth and power to help others in need.
In 2013, The Following debuted, starring Purefoy as the lead antagonist of the series. He portrays Joe Carroll, a former professor who becomes a serial killer and leads a cult of followers, all whom help create Carroll's "story".
It was announced in June 2014 that Purefoy would join the cast of the upcoming film High-Rise with Tom Hiddleston and Jeremy Irons. Later in 2014, Purefoy co-starred in the Formula 1-themed music video for David Guetta's song "Dangerous".
Personal life
Purefoy has a son, Joseph (born 1997), with the actress Holly Aird. He has a daughter, Rose (born 2012) and two sons, Ned and Kit, (born 2017) with documentary director and producer Jessica Adams. He married Adams in Somerset in July 2014.
Purefoy is a supporter of Yeovil Town FC.
Filmography
Actor
2023
Malpractice (TV Series)
as
Dr. Leo Harris
- Episode #1.1 (2023) - Dr. Leo Harris
2023
Gaslight (Podcast Series)
as
Jack Manningham
2022
Marie Antoinette (TV Series)
as
Louis XV
- Rival Queens (2022) - Louis XV
- Queen of France (2022) - Louis XV
- Pick a Princess (2022) - Louis XV
- The Slap (2022) - Louis XV
2020
Pennyworth (TV Series)
as
Captain Gulliver Troy
- Red Marauder (2022) - Captain Gulliver Troy
- Comply or Die (2022) - Captain Gulliver Troy
- Well to Do (2022) - Captain Gulliver Troy (uncredited)
- The Lion and Lamb (2021) - Captain Gulliver Troy
- The Hangman's Noose (2021) - Captain Gulliver Troy
- The Bloody Mary (2021) - Captain Gulliver Troy
- The Rose and Thorn (2021) - Captain Gulliver Troy
- The Bleeding Heart (2021) - Captain Gulliver Troy
- The Hunted Fox (2020) - Captain Gulliver Troy
- The Belt and Welt (2020) - Captain Gulliver Troy
- The Heavy Crown (2020) - Captain Gulliver Troy
2022
Fisherman's Friends: One and All
as
Jim
2021
A Discovery of Witches (TV Series)
as
Philippe De Clermont / Philippe de Clermont
- Episode #3.7 (2022) - Philippe de Clermont
- Episode #3.4 (2022) - Philippe de Clermont
- Episode #2.5 (2021) - Philippe De Clermont
- Episode #2.6 (2021) - Philippe De Clermont
- Episode #2.2 (2021) - Philippe De Clermont (uncredited)
2021
Everything I Ever Wanted to Tell My Daughter About Men
as
Stonebridge
2021
Trollhunters: Rise of the Titans
as
Additional Voices (voice)
2020
No Man's Land (TV Series)
as
Stanley
- Episode #1.8 (2020) - Stanley
- Episode #1.7 (2020) - Stanley
- Episode #1.6 (2020) - Stanley
- Episode #1.5 (2020) - Stanley
- Episode #1.4 (2020) - Stanley
- Episode #1.3 (2020) - Stanley
- Episode #1.2 (2020) - Stanley (credit only)
- Episode #1.1 (2020) - Stanley (credit only)
2020
El Candidato (TV Series)
as
Wayne Addison
- Desert of the Lions (2020) - Wayne Addison
- La cabaña en el bosque (2020) - Wayne Addison
- En la ciudad de la furia (2020) - Wayne Addison
- Fireside Chat (2020) - Wayne Addison
- Blackberries (2020) - Wayne Addison
- Operativo (2020) - Wayne Addison
- Toques (2020) - Wayne Addison
- Lightbulb (2020) - Wayne Addison
- Artículo 29 (2020) - Wayne Addison
- Pilot (2020) - Wayne Addison
2019
Sex Education (TV Series)
as
Remi Milburn
- Episode #2.8 (2020) - Remi Milburn
- Episode #2.5 (2020) - Remi Milburn
- Episode #2.4 (2020) - Remi Milburn
- Episode #1.6 (2019) - Remi Milburn
- Episode #1.3 (2019) - Remi Milburn
2019
3Below: Tales of Arcadia (TV Series)
as
Kanjigar
- Race to Trollmarket (2019) - Kanjigar (voice)
- The Big Sleep (2019) - Kanjigar (voice)
2019
Fisherman's Friends
as
Jim
2018
Hold Your Breath (Video short)
as
Mr. Black
2018
It's Me, Sugar (Short)
as
Billy Wilder
2016
Trollhunters: Tales of Arcadia (TV Series)
as
Kanjigar / Amulet / Ghost Kanjigar
- The Eternal Knight Part 2 (2018) - Kanjigar (voice)
- KanjigAAARRRGGHH!!! (2017) - Ghost Kanjigar (voice)
- Escape from the Darklands (2017) - Amulet (voice)
- Something Rotten This Way Comes (2016) - Kanjigar (voice)
- Airheads (2016) - Kanjigar (voice)
- Blinky's Day Out (2016) - Kanjigar (voice)
- Mudslinging (2016) - Kanjigar (voice)
- Return of the Trollhunter (2016) - Kanjigar (voice)
- Becoming: Part 1 (2016) - Amulet (voice)
2018
Urban Myths (TV Series)
as
Billy Wilder
- Marilyn Monroe and Billy Wilder (2018) - Billy Wilder
2016
Hap and Leonard (TV Series)
as
Hap Collins
- Monsoon Mambo (2018) - Hap Collins
- Mambo No. 5 (2018) - Hap Collins
- Senorita Mambo (2018) - Hap Collins
- T-Bone Mambo (2018) - Hap Collins
- Ho-Ho Mambo (2018) - Hap Collins
- The Two-Bear Mambo (2018) - Hap Collins
- No Mo' Mojo (2017) - Hap Collins
- Pie a la Mojo (2017) - Hap Collins
- Bad Mojo (2017) - Hap Collins
- Holy Mojo (2017) - Hap Collins
- Ticking Mojo (2017) - Hap Collins
- Mucho Mojo (2017) - Hap Collins
- Eskimos (2016) - Hap Collins
- War (2016) - Hap Collins
- Trudy (2016) - Hap Collins
- The Dive (2016) - Hap Collins
- The Bottoms (2016) - Hap Collins
- Savage Season (2016) - Hap Collins
2018
Altered Carbon (TV Series)
as
Laurens Bancroft
- Clash by Night (2018) - Laurens Bancroft
- The Wrong Man (2018) - Laurens Bancroft
- Nora Inu (2018) - Laurens Bancroft
- Man with My Face (2018) - Laurens Bancroft
- The Killers (2018) - Laurens Bancroft
- Rage in Heaven (2018) - Laurens Bancroft
- Fallen Angel (2018) - Laurens Bancroft
- Force of Evil (2018) - Laurens Bancroft (credit only)
- In a Lonely Place (2018) - Laurens Bancroft
- Out of the Past (2018) - Laurens Bancroft
2017
Interlude in Prague
as
Baron Saloka
2017
Churchill
as
King George VI
2016
Roots (TV Mini Series)
as
John Waller
- Part 2 (2016) - John Waller
- Part 1 (2016) - John Waller
2015
Momentum
as
Mr. Washington
2013
The Following (TV Series)
as
Joe Carroll
- The Reckoning (2015) - Joe Carroll (credit only)
- Dead or Alive (2015) - Joe Carroll (credit only)
- A Simple Trade (2015) - Joe Carroll
- The Edge (2015) - Joe Carroll
- Demons (2015) - Joe Carroll
- Evermore (2015) - Joe Carroll
- Kill the Messenger (2015) - Joe Carroll
- Flesh & Blood (2015) - Joe Carroll
- The Hunt (2015) - Joe Carroll
- Reunion (2015) - Joe Carroll
- A Hostile Witness (2015) - Joe Carroll
- Home (2015) - Joe Carroll (credit only)
- Exposed (2015) - Joe Carroll (credit only)
- Boxed In (2015) - Joe Carroll (credit only)
- New Blood (2015) - Joe Carroll (credit only)
- Forgive (2014) - Joe Carroll
- Silence (2014) - Joe Carroll
- The Reaping (2014) - Joe Carroll
- Betrayal (2014) - Joe Carroll
- Freedom (2014) - Joe Carroll
- Teacher's Pet (2014) - Joe Carroll
- Unmasked (2014) - Joe Carroll
- The Messenger (2014) - Joe Carroll
- Sacrifice (2014) - Joe Carroll
- Fly Away (2014) - Joe Carroll
- Reflection (2014) - Joe Carroll
- Family Affair (2014) - Joe Carroll
- Trust Me (2014) - Joe Carroll
- For Joe (2014) - Joe Carroll
- Resurrection (2014) - Joe Carroll
- The Final Chapter (2013) - Joe Carroll
- The End Is Near (2013) - Joe Carroll
- Havenport (2013) - Joe Carroll
- The Curse (2013) - Joe Carroll
- Whips & Regret (2013) - Joe Carroll
- Guilt (2013) - Joe Carroll
- Love Hurts (2013) - Joe Carroll
- Welcome Home (2013) - Joe Carroll
- Let Me Go (2013) - Joe Carroll
- The Fall (2013) - Joe Carroll
- The Siege (2013) - Joe Carroll
- Mad Love (2013) - Joe Carroll
- The Poet's Fire (2013) - Joe Carroll
- Chapter Two (2013) - Joe Carroll
- Pilot (2013) - Joe Carroll
2014
David Guetta Ft Sam Martin: Dangerous (Music Video)
as
David Guetta's Friend
2014
Wicked Blood (Video)
as
Bill
2012
Episodes (TV Series)
as
Rob
- Episode Nine (2012) - Rob
- Episode Eight (2012) - Rob
- Episode Seven (2012) - Rob
- Episode Six (2012) - Rob
2012
The Hollow Crown (TV Series)
as
Thomas Mowbray
- Richard II (2012) - Thomas Mowbray
2012
Revenge (TV Series)
as
Dominik Wright
- Justice (2012) - Dominik Wright
- Doubt (2012) - Dominik Wright
2012
John Carter
as
Kantos Kan
2011
Rev. (TV Series)
as
Richard
- Episode #2.6 (2011) - Richard
2011
Injustice (TV Mini Series)
as
William Travers
- Episode #1.5 (2011) - William Travers
- Episode #1.4 (2011) - William Travers
- Episode #1.3 (2011) - William Travers
- Episode #1.2 (2011) - William Travers
- Episode #1.1 (2011) - William Travers
2011
Camelot (TV Series)
as
King Lot
- Lady of the Lake (2011) - King Lot
- The Sword and the Crown (2011) - King Lot
- Homecoming (2011) - King Lot
2011
Ironclad
as
Thomas Marshal
2009
Solomon Kane
as
Solomon Kane
2009
The Philanthropist (TV Series)
as
Teddy Rist
- Haiti (2009) - Teddy Rist
- Kashmir (2009) - Teddy Rist
- San Diego (2009) - Teddy Rist
- Kosovo (2009) - Teddy Rist
- Nigeria Part II (2009) - Teddy Rist
- Paris (2009) - Teddy Rist
- Myanmar (2009) - Teddy Rist
- Pilot (2009) - Teddy Rist
2009
Diamonds (TV Movie)
as
Lucas Denmont
2008
Lena: The Bride of Ice
as
Dr. Harper
2008
The Summit (TV Mini Series)
as
Thom Lightstone
- Night Two (2008) - Thom Lightstone
- Night One (2008) - Thom Lightstone
2007
Manchild (TV Movie)
as
Joe
2007
Frankenstein (TV Movie)
as
Dr. Henry Clerval
2007
Rome Season 2: Antony & Cleopatra (Video short)
as
Mark Antony / Self
2005
Rome (TV Series)
as
Mark Antony
- De Patre Vostro (About Your Father) (2007) - Mark Antony
- Deus Impeditio Esuritori Nullus (No God Can Stop a Hungry Man) (2007) - Mark Antony
- A Necessary Fiction (2007) - Mark Antony
- Death Mask (2007) - Mark Antony
- Philippi (2007) - Mark Antony
- Heroes of the Republic (2007) - Mark Antony
- Testudo et Lepus (The Tortoise and the Hare) (2007) - Mark Antony
- These Being the Words of Marcus Tullius Cicero (2007) - Mark Antony
- Son of Hades (2007) - Mark Antony
- Passover (2007) - Mark Antony
- Kalends of February (2005) - Mark Antony
- The Spoils (2005) - Mark Antony
- Triumph (2005) - Mark Antony
- Utica (2005) - Mark Antony
- Caesarion (2005) - Mark Antony
- Pharsalus (2005) - Mark Antony
- Egeria (2005) - Mark Antony
- The Ram Has Touched the Wall (2005) - Mark Antony
- Stealing from Saturn (2005) - Mark Antony
- An Owl in a Thornbush (2005) - Mark Antony
- How Titus Pullo Brought Down the Republic (2005) - Mark Antony
- The Stolen Eagle (2005) - Mark Antony
2006
Beau Brummell: This Charming Man (TV Movie)
as
Beau Brummell
2006
Blackbeard: Terror at Sea (TV Movie)
as
Edward 'Blackbeard' Teach
2006
Goose on the Loose
as
Kenneth Donnelly
2004
Vanity Fair
as
Rawdon Crawley
2004
George and the Dragon
as
George
2003
Photo Finish
as
James Wise
2003
The Mayor of Casterbridge (TV Movie)
as
Donald Farfrae
2001
A Knight's Tale
as
Colville
2001
Bye Bye Baby (TV Movie)
2000
The Wedding Tackle
as
Hal
2000
Maybe Baby
as
Carl Phipps
2000
Metropolis (TV Mini Series)
as
Nathan
- Episode #1.5 (2000) - Nathan
- Episode #1.4 (2000) - Nathan
- Episode #1.3 (2000) - Nathan
- Episode #1.2 (2000) - Nathan
- Episode #1.1 (2000) - Nathan
2000
Don Quixote (TV Movie)
as
Sansón Carrasco
1999
Lighthouse
as
Richard Spader
1999
Women Talking Dirty
as
Daniel
1999
Mansfield Park
as
Tom Bertram
1998
Bedrooms and Hallways
as
Brendan
1997
A Dance to the Music of Time (TV Mini Series)
as
Nicholas Jenkins
- The War (1997) - Nicholas Jenkins
- The Thirties (1997) - Nicholas Jenkins
- The Twenties (1997) - Nicholas Jenkins
1997
Bright Hair (TV Movie)
as
David Miles
1997
Have Your Cake and Eat It (TV Mini Series)
as
Ben
- Episode #1.4 (1997) - Ben
- Episode #1.3 (1997) - Ben
- Episode #1.2 (1997) - Ben
- Episode #1.1 (1997) - Ben
1996
The Prince and the Pauper (TV Mini Series)
as
Miles Hendon
- Episode #1.6 (1996) - Miles Hendon
- Episode #1.5 (1996) - Miles Hendon
- Episode #1.4 (1996) - Miles Hendon
- Episode #1.3 (1996) - Miles Hendon
- Episode #1.2 (1996) - Miles Hendon
1996
The Tenant of Wildfell Hall (TV Mini Series)
as
Mr. Lawrence
- Episode #1.3 (1996) - Mr. Lawrence
- Episode #1.1 (1996) - Mr. Lawrence
1996
The Tide of Life (TV Mini Series)
as
Nick Stuart
- Episode #1.3 (1996) - Nick Stuart
- Episode #1.2 (1996) - Nick Stuart
- Episode #1.1 (1996) - Nick Stuart
1995
Feast of July
as
Jedd Wainwright
1995
Sharpe (TV Series)
as
Cpt. Jack Spears
- Sharpe's Sword (1995) - Cpt. Jack Spears
1995
Tears Before Bedtime (TV Series)
as
Jimmy Turner
- Episode #1.4 (1995) - Jimmy Turner
- Episode #1.3 (1995) - Jimmy Turner
- Episode #1.2 (1995) - Jimmy Turner
- Episode #1.1 (1995) - Jimmy Turner
1994
One Night Stand (Short)
as
John
1994
Calling the Shots (TV Mini Series)
as
Brian Summers
- Episode #1.2 (1994) - Brian Summers
- Episode #1.1 (1994) - Brian Summers
1993
Crime Story (TV Series)
as
Darius Guppy
- The Prince (1993) - Darius Guppy
1993
Rides (TV Series)
as
Julian
- Episode #2.4 (1993) - Julian
- Episode #2.3 (1993) - Julian
- Episode #2.2 (1993) - Julian
- Episode #2.1 (1993) - Julian
1992
Angels (TV Movie)
as
Victor
1992
The Cloning of Joanna May (TV Mini Series)
as
Oliver
- Part One (1992) - Oliver
1991
Boon (TV Series)
as
Alan Bridges
- Houseguests (1991) - Alan Bridges
1991
The Case-Book of Sherlock Holmes (TV Series)
as
James McCarthy
- The Boscombe Valley Mystery (1991) - James McCarthy
1990
Coasting (TV Series)
as
Mike Baker
- Another Fine Mess (1990) - Mike Baker
- Star Quality (1990) - Mike Baker
- Press Stud (1990) - Mike Baker
- Poetic Justice (1990) - Mike Baker
- Blackpool Rock (1990) - Mike Baker
- Offshore (1990) - Mike Baker
- Illuminations (1990) - Mike Baker
Thanks
2012
Inside the Following (TV Movie documentary) (special thanks)
2009
I Hate Valentine's Day (special thanks)
2008
The Edge of Love (thanks: John Maybury)
1996
Masculine Mescaline (Short) (grateful thanks)
Self
2022
La boîte à questions (TV Series short)
as
Self
- Episode dated 20 October 2022 (2022) - Self
2018
Sunday Brunch (TV Series)
as
Self - Guest
- Episode #11.24 (2022) - Self - Guest
- Episode #6.48 (2018) - Self - Guest
2021
Last Known Position (Podcast Series documentary)
as
William Cavanaugh
- All Hands on Deck (2022) - William Cavanaugh
- Mutiny! (2022) - William Cavanaugh
- The Saboteur (2021) - William Cavanaugh
- The Believer (2021) - William Cavanaugh
- The Absent Storm (2021) - William Cavanaugh
- A Needle in Infinity (2021) - William Cavanaugh
- Mayday Mayday! (2021) - William Cavanaugh
2021
The Talk (TV Series)
as
Self
- Matthew Rhys/James Purefoy/Dove Cameron/Daymond John (2021) - Self
2018
The Wine Show (TV Series)
as
Self - Presenter / Self
- Episode #3.4 (2020) - Self
- Episode #3.3 (2020) - Self
- Episode #2.4 (2018) - Self - Presenter
- Episode #2.3 (2018) - Self - Presenter
- Episode #2.2 (2018) - Self - Presenter
- Episode #2.1 (2018) - Self - Presenter
2020
Made in Hollywood (TV Series)
as
Self
- Little Voice/Don't Look Deeper/Raven About BUNK'D (2020) - Self
2019
All Hail the Popcorn King (Documentary)
2019
Lorraine (TV Series)
as
Self - Guest
- Episode dated 20 March 2019 (2019) - Self - Guest
2019
Portrait Artist of the Year (TV Series)
as
Self - Sitter
- Eddie Hall, Jodie Kidd and James Purefoy (2019) - Self - Sitter
2011
This Morning (TV Series)
as
Self
- Episode dated 3 January 2019 (2019) - Self
- Episode dated 8 March 2011 (2011) - Self
2013
Rachael Ray (TV Series)
as
Self - Guest / Self
- Two Fashion Pros Reveal How to Maximize Your Closet/James Purefoy and Michael K. Williams (2018) - Self
- Rachael's in the Kitchen with "The Following" Star James Purefoy, and They're Cooking Up a Cheesy Penne Pasta! (2015) - Self - Guest
- Montel Williams 2 (2013) - Self - Guest
2018
Entertainment Tonight Canada (TV Series)
as
Self
- Episode #13.116 (2018) - Self
2017
Churchill: Behind the Scenes Featurette (Video documentary short)
as
Self - Actor
2017
Good Morning Britain (TV Series)
as
Self - Guest
- Episode dated 10 March 2017 (2017) - Self - Guest
2015
Live with Kelly and Mark (TV Series)
as
Self - Guest
- Patricia Arquette/James Purefoy (2015) - Self - Guest
2014
Na Na Na Batman (Video short)
as
Self
2014
The Following: Season 2 (Bound by a Common Foe) (Video documentary short)
as
Self
2014
The Following: Season 2 (Following Marcos Siega) (Video documentary short)
as
Self
2014
The Following: Season 2 (the Joe Mask) (Video documentary short)
as
Self
2014
The Following: Season 2 (the Religion of Joe Carroll) (Video documentary short)
as
Self
2013
Good Day L.A. (TV Series)
as
Self - Guest
- Episode dated 29 January 2014 (2014) - Self - Guest
- Episode dated 29 April 2013 (2013) - Self - Guest
2009
Late Night with Jimmy Fallon (TV Series)
as
Self - Guest
- Mitt Romney/James Purefoy/Schoolboy Q/Mark Rivera (2014) - Self - Guest
- Episode dated 27 March 2013 (2013) - Self - Guest
- Episode dated 23 June 2009 (2009) - Self - Guest
2014
The Cult of Joe Carroll: Inside the Followers (Video documentary short)
as
Self
2014
The Following: The Followers Den (Video documentary short)
as
Self
2014
The Following: The Poe Mask (Video documentary short)
as
Self
2014
The Following Production Chronicles (Video documentary short)
as
Self
2014
The Thrill of Horror: The Creator Behind the Following (Video documentary short)
as
Self
2014
The Twisted Journal of the Followers (Video documentary short)
as
Self
2013
Big Morning Buzz Live (TV Series)
as
Self - Guest
- Cast of 'The Host'/James Purefoy/Lori Greiner/Icona Pop (2013) - Self - Guest
2012
Comic Con 2012 Live (TV Special)
as
Self
2010
Breakfast (TV Series)
as
Self - Guest
- Episode dated 7 June 2011 (2011) - Self - Guest
- Episode dated 25 February 2011 (2011) - Self - Guest
- Episode dated 8 February 2010 (2010) - Self - Guest
2010
The Making of Solomon Kane (Video documentary short)
as
Self
2010
Sky News: Sunrise (TV Series)
as
Self
- Episode dated 16 February 2010 (2010) - Self
2008
Reinventando Hollywood (TV Movie documentary)
as
Self
2007
British Film Forever (TV Mini Series documentary)
as
Self
- Corsets, Cleavage and Country Houses: The Story of British Costume Drama (2007) - Self
- Guns, Gangsters and Getaways: The Story of the British Crime Thriller (2007) - Self
2005
GMTV (TV Series)
as
Self
- Episode dated 11 November 2005 (2005) - Self
2000
Humphrey Jennings: The Man Who Listened to Britain (TV Movie documentary)
as
Narrator
Archive Footage
2020
Motion vs. History (TV Mini Series)
as
Self
- La joute médiévale et Chevalier (2020) - Self
2016
Resident Evil: The Final Chapter
as
Spence
2012
Resident Evil: Retribution
as
Spence Parks
2012
The Big Picture (TV Series)
as
Self
- John Carter (2012) - Self
2008
Sexo en serie (TV Movie documentary)
as
Mark Antony
References
James Purefoy Wikipedia
(Text) CC BY-SA