Pen name

James Herriot




Name

James Herriot




Education

MRCVS





Nationality

British




Language

English




Role

Veterinary surgeon







Born

3 October 1916Sunderland, County Durham, England (

1916-10-03

)


Resting place

Cremated and ashes scattered




Occupation

Veterinary Surgeon, Author




Died

February 23, 1995, Thirlby, United Kingdom


Spouse

Joan Catherine Anderson Danbury (m. 1941–1995)




Movies

All Creatures Great and Small, It Shouldn't Happen to a Vet




Books

All Creatures Great and, All Things Wise and Wonderful, Every Living Thing, The Lord God Made Them All, If only they could talk





Similar

Donald Sinclair (veterinary surgeon), Robert Hardy, Christopher Timothy
The world of james herriot described by his son jim
James Alfred "Alf" Wight, OBE, FRCVS (3 October 1916 – 23 February 1995), known by the pen name James Herriot, was a British veterinary surgeon and writer, who used his many years of experiences as a veterinary surgeon to write a series of books each consisting of stories about animals and their owners. He is best known for these semi-autobiographical works, beginning with If Only They Could Talk in 1970. The British television series adapted from the books is titled All Creatures Great and Small.
Contents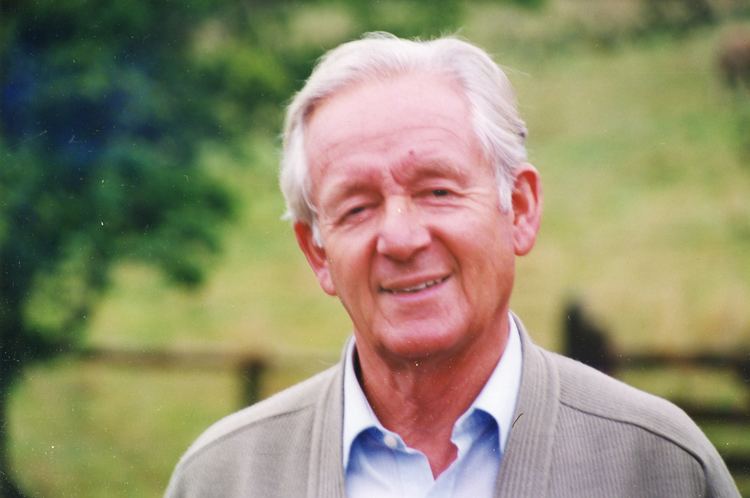 Author profile james herriot
Biography
James Alfred Wight was born on 3 October 1916, in Sunderland, County Durham, England, to James (1890–1960) and Hannah Bell (1890–1980) Wight. Shortly after their wedding, the Wights moved from Brandling Street, Sunderland to Glasgow in Scotland, where James took work as both a ship plater and pianist for a local cinema, while Hannah was a singer, as well as a dressmaker. For Alf's birth, his mother returned to Sunderland, bringing him back to Glasgow when he was three weeks old. He attended Yoker Primary School and Hillhead High School. From his father he gained a passion for Sunderland Football Club and remained a lifelong fan. In 1992 he was named a Life President of the club.
In 1939, at the age of 23, he qualified as a veterinary surgeon with Glasgow Veterinary College. In January 1940, he took a brief job at a veterinary practice in Sunderland, but moved in July to work in a rural practice based at 23 Kirkgate in the town of Thirsk, Yorkshire, close to the Yorkshire Dales and North York Moors, better known as Skeldale House, where he was to remain for the rest of his life. On 5 November 1941, he married Joan Catherine Anderson Danbury, known as Helen Alderson in his books, at St Mary's Church, Thirsk. The couple had two children, James Alexander (Jim), born 13 February 1943, who also became a vet and was a partner in the practice, and Rosemary (Rosie), born 1947, who became a physician in general practice.
Wight served in the Royal Air Force in 1942. His wife moved to her parents' house during this time and, upon being discharged from the RAF as a leading aircraftman, Wight joined her. They lived there until 1946, at which point they moved back to Kirkgate, staying until 1953. Later, he moved with his wife to a house on Topcliffe Road, Thirsk, opposite the secondary school. The original practice is now a museum, "The World of James Herriot", while the Topcliffe Road house is in private ownership and not open to the public. He later moved with his family to the village of Thirlby, about four miles from Thirsk, where he resided until his death.
Wight intended for years to write a book, but with most of his time consumed by veterinary practice and family, his writing ambition went nowhere. Challenged by his wife, in 1966 (at the age of 50), he began writing. After several rejected stories on other subjects like football, he turned to what he knew best. In 1969 Wight wrote If Only They Could Talk, the first of the now-famous series based on his life working as a vet and his training in the Royal Air Force during the Second World War. His first approach brought a phone call from Anthea Joseph who was deputy chair of a publishing house. Owing in part to professional etiquette, which at that time frowned on veterinary surgeons and other professionals from advertising their services, he took a pen name, choosing "James Herriot" after seeing the Scottish goalkeeper Jim Herriot play for Birmingham City in a televised game against Manchester United. If Only They Could Talk was published in the United Kingdom in 1970 by Michael Joseph Ltd, but sales were slow until Thomas McCormack, of St. Martin's Press in New York City, received a copy and arranged to have the first two books published as a single volume in the United States. The resulting book, titled All Creatures Great and Small, was a huge success, spawning numerous sequels, movies and a successful television adaptation.
Wight received an Honorary Doctorate from Heriot-Watt University in 1979.
Wight was diagnosed with prostate cancer in 1991, and underwent treatment in the Lambert Memorial Hospital in Thirsk. He died on 23 February 1995, aged 78, at home in Thirlby. His wife died four years later, on 14 July 1999.
On 29 July 2009, UK-based open-access rail operator Grand Central Railway, which operates train services from Wight's birthplace of Sunderland to London King's Cross (calling at Thirsk), named Class 180 DMU No. 180112 (British Rail Class 180) "James Herriot" in his honour. The ceremony was carried out jointly by Alf Wight's daughter Rosie and son Jim.
In October 2014, a statue of Wight was unveiled by actor Christopher Timothy at Thirsk Racecourse. Timothy played Herriot in the television series.
Author
In his books, Wight calls the town in which Herriot lives and works Darrowby, a composite of Thirsk, Richmond, Leyburn and Middleham. He also renamed Donald Sinclair and his brother Brian Sinclair as Siegfried and Tristan Farnon respectively, and used the name "Helen Alderson" for Joan Danbury.
Contrary to popular belief, Wight's books are only partially autobiographical, with many of the stories being only loosely based on real events or people. Wight's son, Jim, states that a lot of the stories, although set in the 1930s, 1940s or 1950s in the books, were actually inspired by cases that Wight attended in the 1960s and 1970s.
From a historical standpoint, the stories help document a transitional period in the veterinary industry; agriculture was moving from the traditional use of beasts of burden (in Britain, primarily the draught horse) to reliance upon the mechanical tractor and medical science was just on the cusp of discovering antibiotics and other drugs that eliminated many of the ancient remedies still in use. These and other sociological factors, like increased affluence, prompted a large-scale shift in veterinary practice over the course of the 20th century; at its start, virtually all of a vet's time was spent working with large animals: horses (motive power in both town and country), cattle, sheep, goats and pigs. By the year 2000, the majority of vets practised mostly on dogs, cats and other pets belonging to a population having a larger disposable income – people who could afford, and had the leisure time, to keep animals merely for pleasure. Wight (as Herriot) occasionally steps out of his narrative to comment, with the benefit of hindsight, on the primitive state of veterinary medicine at the time of the story he is relating; for example, he describes his first hysterectomy on a cat and his first (almost disastrous) Caesarean section on a cow.
The Herriot books are described often as "animal stories" (Wight himself was known to refer to them as his "little cat-and-dog stories".), and given that the stories are about the life of a country veterinarian, animals certainly play a significant role in most of them. Yet animals play a lesser, sometimes even a negligible, role in many of Wight's tales: the overall theme of his stories is Yorkshire country life, with its people and their animals as primary elements, which provide their distinct character. Furthermore, it is Wight's shrewd observations of persons, animals and their close inter-relationship which give his writing much of its flavour. Wight was just as interested in their owners as he was in his patients and his writing is, at root, an amiable but keen comment on the human condition. The Yorkshire animals provide the elements of pain and drama; the role of their owners is to feel and express joy, sadness, and, sometimes, triumph.
The books have been adapted for film and television, including a 1975 film titled All Creatures Great and Small, sequelled by 1976 It Shouldn't Happen to a Vet, and a long-running BBC television programme of the same title.
At the time of his death, the Reader's Digest Condensed Book volume containing All Creatures Great And Small (Volume 96, 1973 #5) was the most popular book in that series' history. His last book, Every Living Thing, immediately went into the top 10 best-seller list in Britain, and had an 865,000 copy first edition printing in the United States.
Herriot's fame has generated a thriving tourist economy in Thirsk. Local businesses include the "World of James Herriot" museum (located at 23 Kirkgate, the original practice surgery) and a pub at one time called the "Darrowby Inn", which was later renamed. Many of the original contents of his surgery can be found at the Yorkshire Museum of Farming in Murton, York. Parts of the BBC TV series set, including the living room and the dispensary (see picture, right), are on display at the James Herriot museum in Thirsk, which is open to the public. The real-life veterinary practice still exists, but has moved to other premises.
In 2010 the BBC commissioned a three-part drama called Young James Herriot for the BBC, inspired by the true story of James Herriot/James Wight and how he learnt his trade in Scotland. This series drew on archives and exclusive access to the diaries and case notes he kept during his student days in Glasgow, as well as the biography written by his son. The book to accompany the BBC series, Young Herriot, was written by the historian and author John Lewis-Stempel. The first episode was shown on BBC1 on 18 December 2011.
In September 2010, the Gala Theatre in Durham presented the world premier professional stage adaptation of All Creatures Great & Small.
Collected works for United States market
All Creatures Great and Small (1972) (incorporating If Only They Could Talk and It Shouldn't Happen to a Vet) ISBN 0-330-25049-3
All Things Bright and Beautiful (1974) (incorporating Let Sleeping Vets Lie and Vet in Harness) ISBN 0-330-25580-0
All Things Wise and Wonderful (1977) (incorporating Vets Might Fly and Vet in a Spin) ISBN 0-7181-1685-2
James Herriot's Dog Stories: fly leaf lists publishing dates of 1970, 1972, 1973, 1974, 1976, 1977, 1981 and 1986.
The Lord God Made Them All
Every Living Thing
In the United States, Herriot's novels were considered too short to publish independently, and so several pairs of novels were collected into omnibus volumes. The title All Creatures Great and Small was taken from the second line of the hymn All Things Bright and Beautiful, and inspired by a punning suggestion from Herriot's daughter, who thought the book should be called Ill Creatures Great and Small.
The original UK series
If Only They Could Talk (1970) ISBN 0-330-23783-7
It Shouldn't Happen to a Vet (1972) ISBN 0-330-23782-9
Let Sleeping Vets Lie (1973) ISBN 978-0-7181-1115-1
Vet in Harness (1974) ISBN 0-330-24663-1
Vets Might Fly (1976) ISBN 0-330-25221-6
Vet in a Spin (1977) ISBN 0-330-25532-0
The Lord God Made Them All (1981) ISBN 0-7181-2026-4
Every Living Thing (1992) ISBN 0-7181-3637-3
Other books
James Herriot's Yorkshire (1979) ISBN 0-7181-1753-0
James Herriot's Dog Stories (1986) ISBN 0-3124-3968-7
James Herriot's Cat Stories (1994) ISBN 0-7181-3852-X
James Herriot's Favorite Animal Stories
Books for children
Blossom Comes Home (1969) ISBN 0-7181-3060-X
Moses the Kitten (1984) ISBN 0-312-54905-9
Only One Woof (1985) ISBN 0-312-09129-X
The Christmas Day Kitten (1986) ISBN 0-312-13407-X
Bonny's Big Day (1987) ISBN 0-312-01000-1
The Market Square Dog (1989) ISBN 0-312-03397-4
Oscar, Cat-About-Town (1990) ISBN 0-312-05137-9
Smudge, the Little Lost Lamb (1991) ISBN 0-312-06404-7
James Herriot's Treasury for Children (1992) ISBN 0-312-08512-5
Biographies
Lord, Graham. James Herriot: The Life of a Country Vet (1997) ISBN 0-7472-1975-3
Wight, Jim. The Real James Herriot: The Authorized Biography (1999) ISBN 0-7181-4290-X
Lewis-Stempel, John. "Young Herriot: The Early Life and Times of James Herriot" (2011) ISBN 1-84990-271-2
References
James Herriot Wikipedia
(Text) CC BY-SA