India




10 km²




Maithili, Hindi




Bihar




Munger




• Total 87.38%



"Jamalpur, Bihar" redirects here. For other uses, see Jamalpur (disambiguation).
Jamalpur (Angika: ????????, Bengali: ????????, English :Hindi:???????, Maithili:????????, Urdu:??????) is a suburb and a municipality of the Munger district in the Indian state of Bihar. It is situated 9 km from Munger city center. Jamlalpur is a part of Munger-Jamalpur twin cities.
The name Jamalpur literally means Jamal (beautiful) pur (town). Jamalpur is best known for the Jamalpur Locomotive Workshop, which employs over 25,000 people at its training institution, The Indian Railways Institute of Mechanical and Electrical Engineering. The town was established in 1862 during the British Raj, with the Railways Institute forming its cultural hub.
Jamalpur is located at 25.314236°N 86.489525°E? / 25.314236; 86.489525 at an average elevation of 151 metres (495 ft).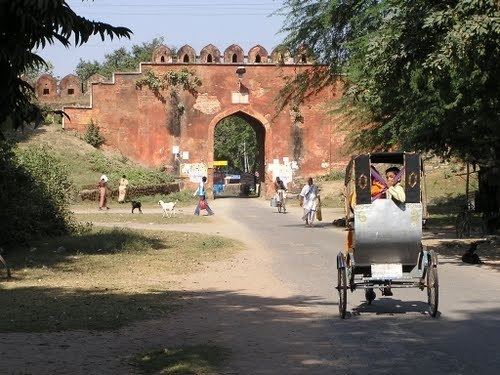 The suburb is a part of Munger city. The city centre of Munger is 8 kilometres (5.0 mi) northwest of Jamalpur area of Munger city. There is a road as well as a rail link throughout these areas, though the rail link is in disuse pending the completion of the Munger Ganga Bridge. Jamalpur is an overnight rail or road journey from Kolkata by rail.
The nearest airport is Munger Airport near Safiyabad area of the Munger city.The nearest commercial domestic airport is Lok Nayak Jayaprakash Airport in Patna, 199 kilometres (124 mi) away. The nearest international airport is Netaji Subhas Chandra Bose International Airport in Kolkata, 460 kilometres (290 mi) from Jamalpur on NH80.
The Jamalpur Locomotive Workshop was the first full-fledged railway workshop facility in India, founded on 8 Feb 1862 by the East Indian Railway Company. The Jamalpur site was chosen for its proximity both to the Sahibganj loop, which was the main trunk route at the time, and to the communities of gunsmiths and other mechanical craftsmen in Bihar.
The workshop was initially for repairing locomotives, and assembling new ones from salvaged parts. By the early 20th century, however, it had progressed to producing its own locomotives. It produced the first one, CA 764 "Lady Curzon", in 1899. In 1893, it became the site of the first railway foundry in India. It also had a workshop for repairing and building boilers. Today it has a foundry, metallurgical lab facilities, and machine tool facilities. Its rolling mill and nut and bolt shop ceased operation in 1984.
The school attached to the workshop eventually became the Indian Railways Institute of Mechanical and Electrical Engineering (IRIMEE).
JSA Stadium, a football stadium.
The Jamalpur Gymkhana, the hostel and club used by the Special Class Railway Apprentices.
The Jamalpur Golf Course, the site of the annual ITC Golf Tournament.
Kali Pahadi, a mountain and picnic spot featuring a temple to the Hindu goddess Kali.
Jamalpur, Munger Wikipedia
(,)http://mw2.google.com/mw-panoramio/photos/medium/2286056.jpg(,)http://mw2.google.com/mw-panoramio/photos/medium/25960460.jpg(,)http://mw2.google.com/mw-panoramio/photos/medium/29490127.jpg(,)http://mw2.google.com/mw-panoramio/photos/medium/49177080.jpg(,)http://mw2.google.com/mw-panoramio/photos/medium/29490143.jpg(,)http://farm5.static.flickr.com/4049/4452863042_30ef8d3bbb.jpg(,)http://mw2.google.com/mw-panoramio/photos/medium/62419926.jpg(,)http://mw2.google.com/mw-panoramio/photos/medium/4568298.jpg(,)http://i.ytimg.com/vi/D_48Fob3DNk/0.jpg(,)http://mw2.google.com/mw-panoramio/photos/medium/60082423.jpg(,)http://farm7.static.flickr.com/6016/5942160435_f5bcd3eae7_m.jpg(,)http://mw2.google.com/mw-panoramio/photos/medium/29490123.jpg(,)http://mw2.google.com/mw-panoramio/photos/medium/108878119.jpg(,)http://mw2.google.com/mw-panoramio/photos/medium/29489261.jpg(,)http://farm7.static.flickr.com/6021/5912328329_c6bbfa6f7d_m.jpg
(,)http://thejamalpur.com/wp-content/uploads/2011/11/17.png(,)https://c2.staticflickr.com/6/5030/5856594489_618c422b88_z.jpg(,)https://thejamalpur.files.wordpress.com/2010/05/kalipahaad.jpg(,)https://thejamalpur.files.wordpress.com/2010/05/centralinstituteciview.jpg(,)http://thunderbaylive.com/wp-content/uploads/2015/02/munger-bihar-india-hd.jpg(,)http://thejamalpur.com/wp-content/uploads/2011/11/216262_1028071460355_1182386440_30092531_9255_n.jpg(,)https://farm5.staticflickr.com/4049/4452863042_30ef8d3bbb_z.jpg%3Fzz%3D1(,)https://c2.staticflickr.com/6/5061/5857398834_807122ace6.jpg(,)https://farm1.staticflickr.com/43/86299059_3d27fb1d0f_z.jpg(,)http://thejamalpur.files.wordpress.com/2009/01/86298428_0ec3bc06d21.jpg(,)http://thejamalpur.files.wordpress.com/2006/12/jamalpur.jpg(,)http://munger.bih.nic.in/PhotoGallery/Slides/p_0012.jpg
(,)http://thejamalpur.com/wp-content/uploads/2011/07/141.png(,)http://thejamalpur.com/wp-content/uploads/2011/11/20834_407945037681_816082681_4297679_6411637_n.jpg(,)http://i.ytimg.com/vi/ueVQYDwszWs/maxresdefault.jpg(,)http://mungerjamalpur.com/wp-content/uploads/2012/09/304711_412627788773834_1127986317_n.jpg(,)http://4.bp.blogspot.com/_H2cQSDRkFkY/S7WXW4N965I/AAAAAAAAAYU/KvKn_sHsm24/s1600/10529_1207316177991_1081274327_1605508_5177491_n.jpg(,)http://mungerjamalpur.com/wp-content/uploads/2013/01/29489985.jpg(,)http://thejamalpur.com/wp-content/uploads/2011/07/17.png(,)http://www.jrscollege.org/images/7.jpg(,)http://mungerjamalpur.com/wp-content/uploads/2012/07/29490127.jpg(,)https://mw2.google.com/mw-panoramio/photos/medium/4568298.jpg(,)https://qzprod.files.wordpress.com/2015/05/three.jpg%3Fw%3D487(,)https://mw2.google.com/mw-panoramio/photos/medium/76727853.jpg