The film stars Leonardo DiCaprio, Armie Hammer, Naomi Watts, Josh Lucas, Judi Dench and Ed Westwick. J. Edgar opened the AFI Fest 2011 in Los Angeles on November 3, 2011, and had its limited release on November 9, followed by wide release on November 11.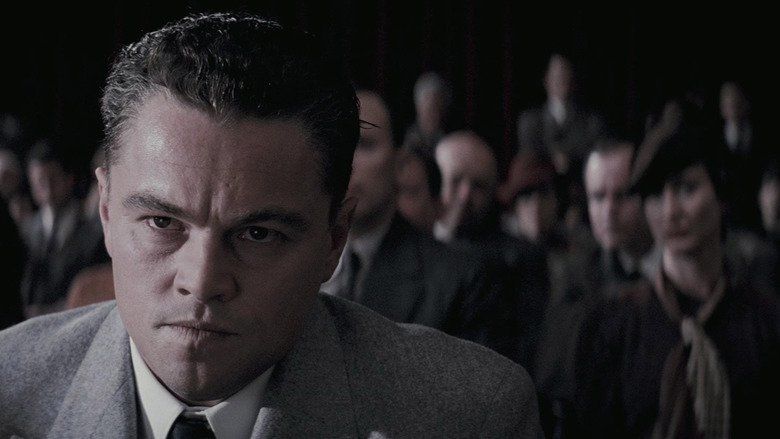 In 1919, after anarchists attempt to assassinate Attorney General A. Mitchell Palmer, he puts his protegé J. Edgar Hoover in charge of a new division dedicated to purging radicals. Hoover quickly begins compiling a list of suspects. He meets Helen Gandy, a new secretary at the Justice Department, and takes her to the Library of Congress to show her the card catalog system he devised. He makes an awkward pass at her, then proposes to her. She refuses him, but agrees to become his personal secretary.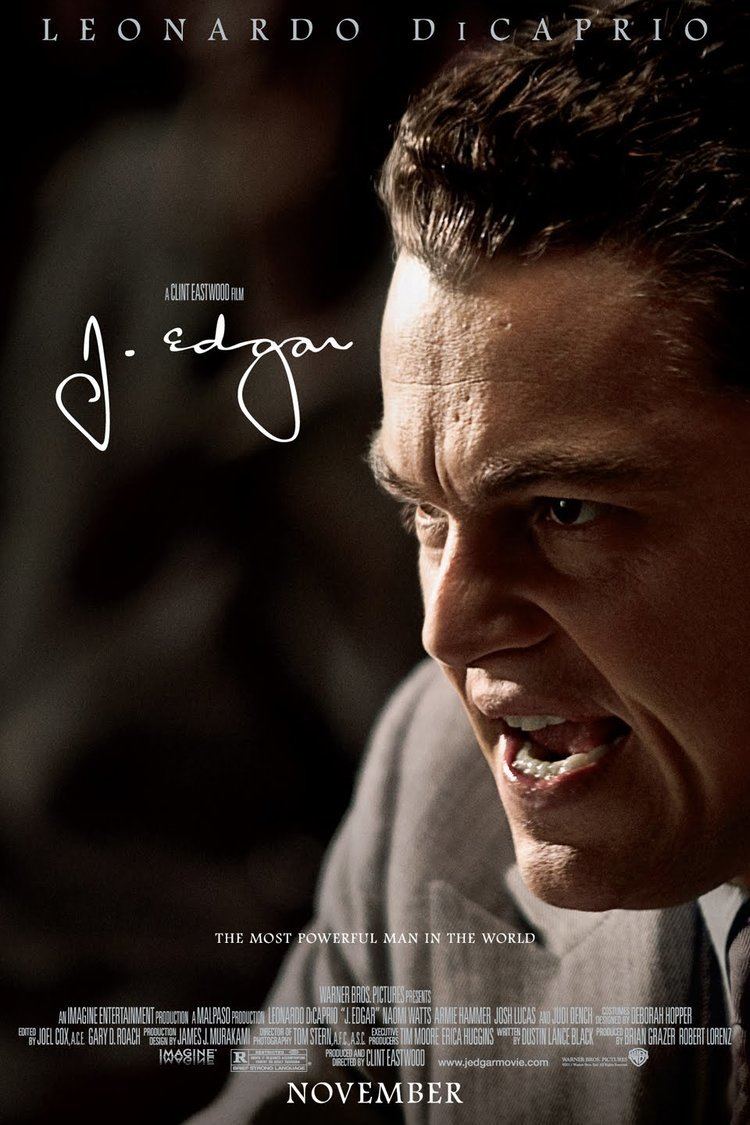 Hoover finds that the Department of Labor refuses to deport anyone without evidence of a crime. Learning that Anthony Caminetti, the Commissioner General of Immigration, dislikes the anarchist Emma Goldman, Hoover arranges to make her eligible for deportation and thereby creates a precedent of deportation for radical conspiracy. Following several such Justice Department raids of suspected radical groups, Palmer loses his job as Attorney General. His successor, Harlan F. Stone, appoints Hoover as director of the Justice Department's new Bureau of Investigation. Hoover meets lawyer Clyde Tolson, and hires him.
When the Lindbergh kidnapping captures national attention, President Herbert Hoover asks the Bureau to investigate. Hoover employs several novel techniques, including the monitoring of registration numbers on ransom bills and expert analysis of the kidnapper's handwriting. When the monitored bills begin showing up in New York City, the investigators find a filling station attendant who wrote down the license plate number of the man who gave him the bill. This leads to the arrest, and eventual conviction, of Bruno Richard Hauptmann for the kidnapping and murder of the Lindbergh child.
After Hoover, Tolson, and Hoover's mother (with whom Hoover still lives) see the James Cagney film G Men, Hoover and Tolson go out to a club, where Hoover is seated with Anita Colby, Ginger Rogers, and Rogers' mother Lela. Rogers' mother asks Hoover to dance and he becomes agitated, saying that he and Tolson must leave, as they have a lot of work to do in the morning. When he gets home, he tells his mother that he dislikes dancing with girls. She tells him she would rather he be dead than a "daffodil". She insists on teaching him to dance, and they dance in her bedroom.
Hoover and Tolson go on a vacation to the horse races. That evening, Hoover tells Tolson that he cares deeply for him, and Tolson tells Hoover that he loves him. Hoover panics and claims that he wants to marry Dorothy Lamour. Tolson accuses Hoover making a fool out of him and they end up fighting on the floor. Tolson suddenly kisses Hoover, who says that must never happen again; Tolson says that it won't, and tries to leave. Hoover apologizes and begs him to stay, but Tolson threatens to end their friendship if Hoover talks about another woman again. After Tolson leaves, Hoover says that he loves him, too.
Years later, Hoover feels his strength begin to decline, while Tolson suffers a stroke. Hoover tries to blackmail Martin Luther King, Jr. into declining his Nobel Peace Prize, sending him a letter threatening to expose his extramarital affairs. King disregards this and accepts the prize.
Hoover tells Gandy to destroy his secret files after his death in order to prevent President Richard Nixon from possessing them. He visits Tolson, who urges him to retire. Hoover refuses, claiming that Nixon is going to destroy the bureau he has created. Tolson accuses Hoover of having exaggerated his involvement with key events of the Bureau. Moments later, Hoover tells Tolson that he needed him, more than he ever needed anyone else. He holds his hand, kisses his forehead, and leaves.
Hoover returns home from work, obviously weakened. Shortly after Hoover goes upstairs, his housekeeper calls, Tolson, who goes to the house and finds Hoover dead next to his bed. A grief-stricken Tolson covers his friend's body. Nixon gives a memorial speech on television for Hoover, while several members of his staff enter Hoover's office and search through the cabinets and drawers in search of his rumored "confidential" files, but find nothing. In the last scene, Gandy destroys stacks of files.
Charlize Theron, who was originally slated to play Helen Gandy, dropped out of the project to do Snow White and the Huntsman, and Eastwood considered Amy Adams before finally selecting Naomi Watts as Theron's replacement. Gunner Wright and David A. Cooper have cameos as future presidents Dwight D. Eisenhower and Franklin Roosevelt, respectively, and are seen in the group of onlookers who arrive following the bombing at A. Mitchell Palmer's house.
Reviews have been mostly mixed, with many critics praising DiCaprio's performance but feeling that overall, the film lacked coherence. Review aggregator Rotten Tomatoes reports that 43% of 220 critics have given the film a positive review with a rating average of 5.7 out of 10. The website's consensus is that, "Leonardo DiCaprio gives a predictably powerhouse performance, but J. Edgar stumbles in all other departments: cheesy makeup, poor lighting, confusing narrative, and humdrum storytelling." Metacritic, which assigns a weighted average score out of 100 to reviews from mainstream critics, gives the film a score of 59 based on 42 reviews.
Roger Ebert awarded the film three-and-a-half stars (out of four) and wrote that the film is "fascinating", "masterful", and praised DiCaprio's performance as a "fully-realized, subtle and persuasive performance, hinting at more than Hoover ever revealed, perhaps even to himself". Todd McCarthy of The Hollywood Reporter gave the film a positive review, writing, "This surprising collaboration between director Clint Eastwood and Milk screenwriter Dustin Lance Black tackles its trickiest challenges with plausibility and good sense, while serving up a simmeringly caustic view of its controversial subject's behavior, public and private." David Denby in The New Yorker magazine also liked the film, calling it a "nuanced account" and calling "Eastwood's touch light and sure, his judgment sound, the moments of pathos held just long enough."
J. Hoberman of The Village Voice wrote: "Although hardly flawless, Eastwood's biopic is his richest, most ambitious movie since Letters from Iwo Jima and Flags of Our Fathers."
Peter Debruge of Variety gave the film a mixed review: "Any movie in which the longtime FBI honcho features as the central character must supply some insight into what made him tick, or suffer from the reality that the Bureau's exploits were far more interesting than the bureaucrat who ran it – a dilemma J. Edgar never rises above." David Edelstein of New York Magazine reacted negatively to the film and said: "It's too bad J. Edgar is so shapeless and turgid and ham-handed, so rich in bad lines and worse readings." He praised DiCaprio's performance: "There's something appealingly straightforward about the way he physicalizes Hoover's inner struggle, the body always slightly out of sync with the mind that vigilantly monitors every move."
The film opened limited in 7 theaters on November 9, grossing $52,645, and released wide on November 11, grossing $11,217,324 on its opening weekend, approximating the $12 million figure projected by the Los Angeles Times for the film's opening weekend in the United States and Canada. J. Edgar went on to gross $84 million worldwide. Breakdowns of audience demographics for the movie showed that ticket buyers were nearly 95% over the age of 25 and slightly over 50% female.
In an interview on All Things Considered, Yale University history professor Beverly Gage, who is writing a biography of Hoover, stated that the film accurately conveys that Hoover came to the FBI as a reformer seeking "to clean it up, to professionalize it," and to introduce scientific methods to its investigation, eventually including such practices as fingerprinting and bloodtyping. She praises DiCaprio for conveying the tempo of Hoover's speech. However, she notes that the film's central narrative device in which Hoover dictates his memoirs to FBI agents chosen as writers, is fictitious: "He didn't ever have the sort of formal situation that you see in the movie where he was dictating a memoir to a series of young agents, and that that is the official record of the FBI." Historian Aaron J. Stockham of the Waterford School, whose dissertation was on the relationship of the FBI and the US Congress during the Hoover years, wrote on the History News Network of George Mason University, "J. Edgar portrays Hoover as the man who successfully integrated scientific processes into law enforcement investigations.... There is no doubt, from the historical record, that Hoover was instrumental in creating the FBI's scientific reputation." Stockham notes that Hoover probably did not write the FBI–King suicide letter to Martin Luther King, Jr., as the film portrays: "While such a letter was written, Hoover almost certainly delegated it to others within the Bureau."