Covid-19
7.4

/

10

Alchetron

Rate This




Yash Chopra





1h 45m




Akhtar ul Iman




India






Crime, Mystery, Thriller




October 4, 1969 (India)




Salil Chowdhury




Hindi






Akhtar-Ul-Iman (dialogue)




1969




Rajesh Khanna

(Dilip Roy),

Nanda

(Rekha),

Bindu

(Renu),

Sujit Kumar

(Inspector Diwan),

Iftekhar

(Inspector Karwe)


Related Yash Chopra movies



Ittefaq (English: Coincidence) is a 1969 Hindi movie produced by B. R. Chopra and directed by his brother Yash Chopra. The film stars Rajesh Khanna, Nanda, Bindu, Madan Puri, Iftekhar and has music by Salil Choudhury. The film became a "semi-hit" at the box office. It is a remake of the British film Signpost to Murder (1965) starring Joanne Woodward. It was the fourth Bollywood film (after Naujawan, Munna and Kanoon) that did not have any songs in it. What was remarkable was that a previous production from the same production house i.e. B.R.Films, namely Kanoon, made in 1960 was also a song-less film and with the same leading lady Nanda. Another common feature of both Kanoon and 'Ittefaq' was that in both these song-less films Salil Chowdhary was the Music Director.This film is counted among the 17 consecutive hit films Rajesh Khanna between 1969 and 1971, by adding the two hero films Marayada and Andaz to the 15 consecutive solo hits he gave from 1969 to 1971.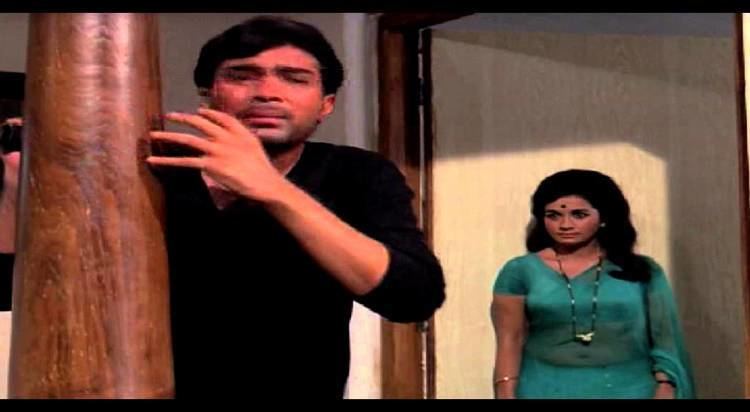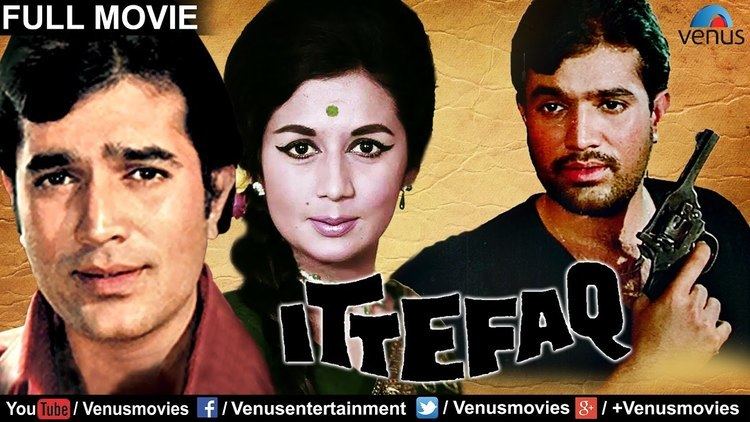 Dilip Roy (Rajesh Khanna) is a painter and is married to a rich woman, Sushma . One day while he is passionately painting, his wife comes and asks him to come out with her. He refuses and in the ensuing fight she destroys his painting. Dilip gets emotionally upset and pushes her away, saying that he would kill her and leaves the house. When he comes back, his wife is dead and the police arrest him as prime suspect on the testimony given by Renu (Bindu), his wife's sister who lives along with them. He claims that though he became enraged and can't remember well what happened, he didn't kill her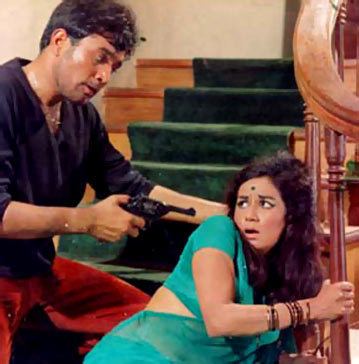 Later he was sent to psychological analysis on account of his erratic behavior during trial. There Dr. Trivedi, a psychologist examises him and decides to keep him in hospital for some more time. But on a stormy night Dilip escapes and ends up at Rekha's (Nanda) house. Rekha was a married woman staying in a rich neighborhood but her husband wasn't home at that time. Dilip holds her at gunpoint and demands her to hide his presence. She tries to call someone but fails. When police come enquiring, she was forced to hide the fact that Dilip was there. Later, after some talk, Dilip asks her for forgiveness and they talk like friends for some time.
Dilip, believing that Rekha wouldn't call the police, sleeps for some time in the hall. But when he wakes up at midnight after hearing a sound, he can't find Rekha. He searches for her but finds the dead body of a young man instead in the bathroom. He demands an explanation from Rekha about the body, but they can't find it where it was before. Rekha tells him that everything was his imagination, but he suspects that Rekha is hiding something.
Later, after becoming sure of Rekha's deception, he calls the police and tells them that he found Mr. Jagmohan (Rekha's husband) body in that house and that Rekha has killed her husband. But Rekha says that her husband hasn't returned from Calcutta yet. After some discussion they find Jagmohan's body and suspect that Dilip has killed him. Moreover, they find Dilip's shirt piece in Jagmohan's hands. Dilip tries to reason with them and suspects that one of the inspectors is helping Rekha. He proves the same with the help of cigarette lighter left by inspector at Rekha's house while he was helping Rekha to hide the body. Rekha admits everything and kills herself with a gun. At the same time Inspector Karwe finds with the help of jewelry at the crime scene and fingerprinting that Renu was the real killer of Dilip's wife and he acquits Dilip Roy.
Rajesh Khanna as Dilip Roy
Nanda as Rekha/Mrs. Jagmohan
Bindu as Ms. Renu, Dilip Roy's sister-in-law
Iftekhar as Inspector Karwe
Madan Puri as Public Prosecutor Khanna
Ittefaq (1969 film) Wikipedia
(Text) CC BY-SA
Ittefaq (1969 film) IMDb
Ittefaq (1969 film) themoviedb.org