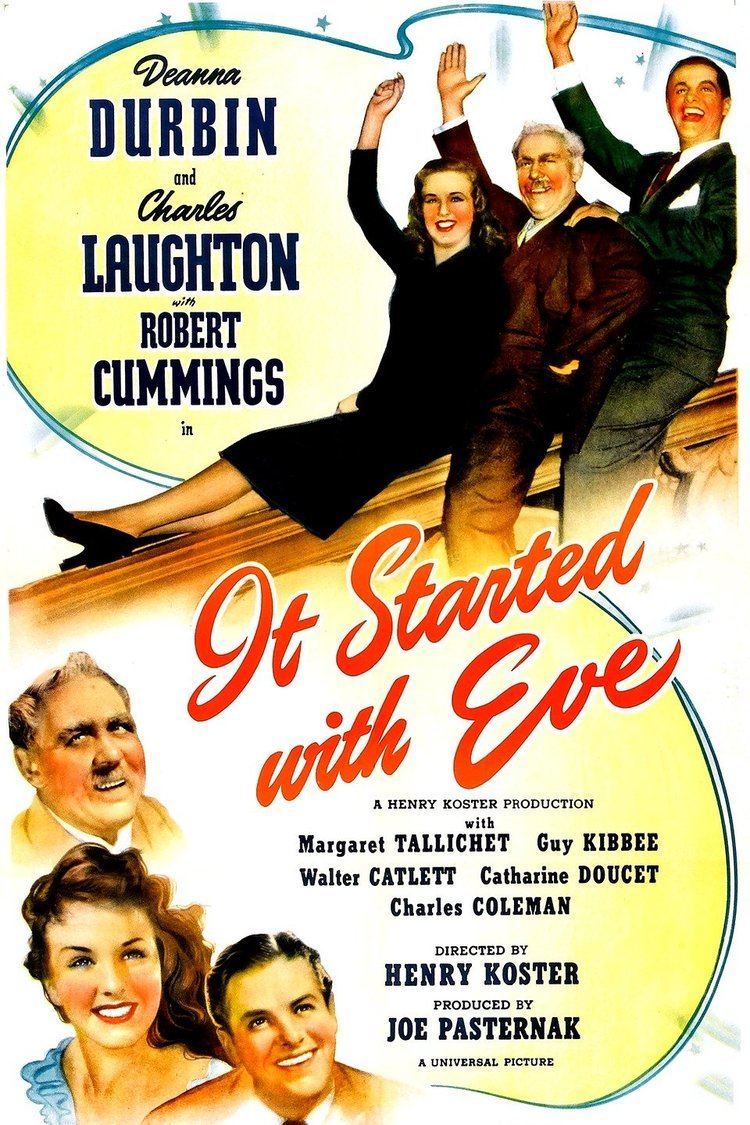 The millionaire Jonathan Reynolds is dying. His son Johnny returns from Mexico City to the deathbed of his father. From Dr. Harvey he learns that his father does not have much time to live and that his last wish is to get to know Johnny's future wife. Johnny drives quickly to his hotel to find his fiance, Gloria Pennington. But there he learns that Gloria has left with her mother. Desperate to fulfill his father's wish, he asks the young Anne Terry if she could play Gloria for an evening. She agrees and goes with Johnny.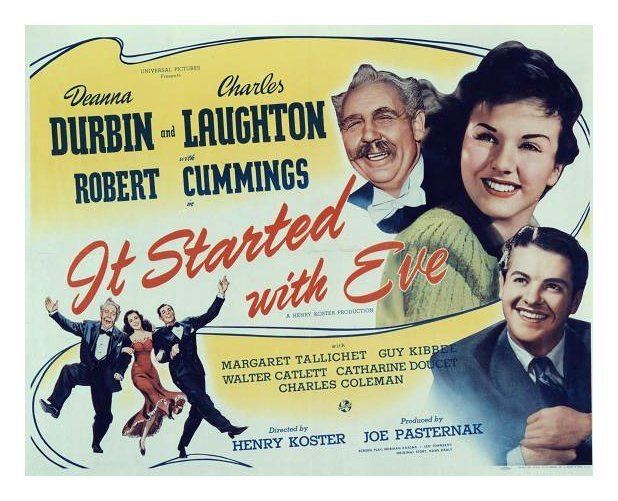 On the contrary, the old Jonathan feels much better than expected the next morning. He asks if he can see his son's fiance once again. Dr. Harvey is concerned about the health of his patient and asks Johnny to continue playing with the wrong Gloria. But Anne Terry wants to leave for her hometown in Ohio. Johnny caught her at the last minute at the station. When he comes home with Anne, Gloria and her mother have suddenly appeared there. Johnny tries to explain the situation. The opera singer, Anne, learns that old Jonathan has good contacts with the New York opera world and wants to take advantage of this opportunity. She makes the suggestion to give a party for the old Jonathan, where she can give a sample of her vocal ability. Johnny agrees but wants to introduce his father the right Gloria. He wants to tell the father that he and Gloria (Anne) are separated and his new girlfriend is the right Gloria. Anne asks him to wait until after the party; however, Johnny refuses.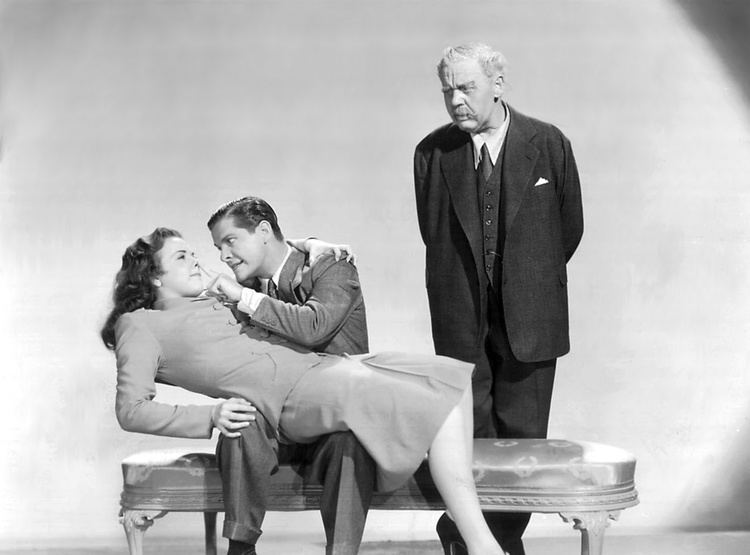 The next evening Johnny informs his father about the separation. At this moment, Anne falls in and asks Johnny's forgiveness. Johnny is almost forced by his father to forgive her. When Jonathan leaves the room, he learns the true story through the ensuing loud dispute between Anne and Johnny. Gloria and her mother are now fully satisfied. Again, they see Johnny with Anne, and Johnny's mouth is covered by lipstick marks. Now it is enough for mother and daughter, so they leave again.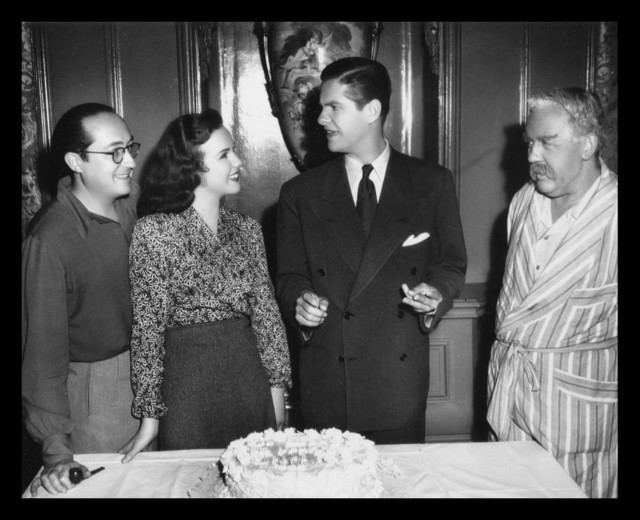 Finally comes the party. Jonathan is back in good health, and Johnny comes to the party with Gloria and her mother. He tells his father that Anne has a headache and cannot attend. Jonathan then sets off for Anne. He tells her that he knows the true story but wants to go out with her one last time. They go to a nightclub where they drink and dance together. When Johnny and Dr. Harvey come to the nightclub, she pours Johnny's drink in his face and leaves the pub.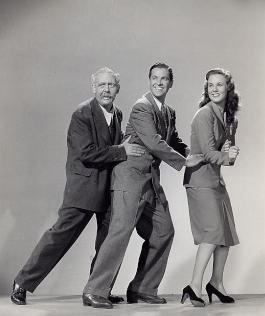 The next day, Johnny caught Anne once again at the station to tell her that his father had once again had a heart attack and wanted to see her. When they arrive to the Jonathan's mansion, they realize that the heart attack was only pretended. He just wanted to bring Johnny and Anne back together. The two recognize their true feelings for each other, the fact that Jonathan takes with pleasure. He draws back enjoyably and smokes a forbidden cigar.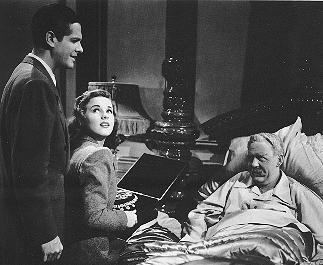 Deanna Durbin as Anne Terry
Charles Laughton as Jonathan Reynolds
Robert Cummings as Jonathan 'Johnny' Reynolds Jr.
Guy Kibbee as Bishop Maxwell
Margaret Tallichet as Gloria Pennington
Catherine Doucet as Mrs. Pennington
Walter Catlett as Doctor Harvey
Charles Coleman as Roberts
Leonard Elliott as Reverend Henry Stebbins
Irving Bacon as Raven
Gus Schilling as Raven
Wade Boteler as Harry, the Newspaper Editor
Dorothea Kent as Jackie Donovan
Clara Blandick as Nurse
The film was originally known as Almost an Angel.
In his review in The New York Times, Bosley Crowther called the film "light and unpretentious fare" and "should please—as they say—both young and old. It's the perfect '8-to-80' picture." Crowther singled out the performances of Charles Laughton, who plays cupid, and Deanna Durbin. Crowther wrote:
Henry Koster, who directed the picture and has directed most of Miss Durbin's better films, certainly knew how to get the best out of Mr. Laughton, that man of great renown. For this is one of the sharpest performances the old boy has given in years ... Mr. Laughton plays with flavor, mischief, humor and great inventiveness. He knows how an old man would behave—and he never carries it too far. Under a perfect make-up, you'd hardly know it was Mr. Laughton—which is saying a lot.
Regarding Durbin's performance, Crowther wrote, "Miss Durbin is as refreshing and pretty as she has ever been and sings three assorted songs—including a Tchaikovsky waltz—with lively charm."
1942 Academy Award nomination for Best Original Music Score (Charles Previn and Hans J. Salter).