The basis of the fictional story in the film relates to real life attacks by the United States against Libya over the Gulf of Sidra, in particular the 1981 Gulf of Sidra incident.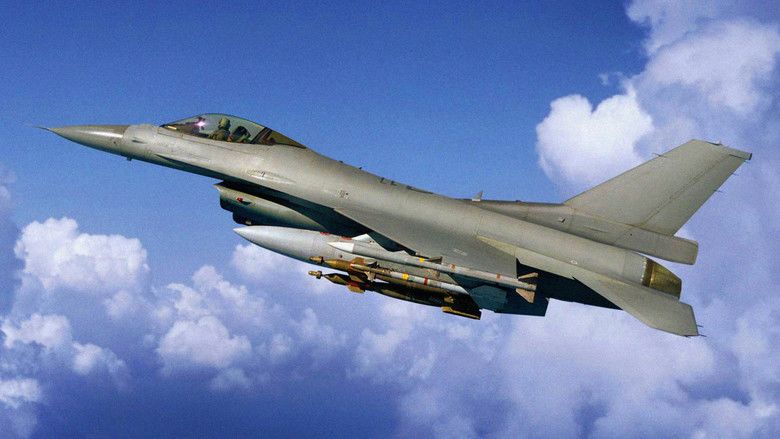 Doug Masters, son of veteran U.S. Air Force pilot Col. Ted Masters, is a hotshot civilian pilot, hoping to follow in his father's footsteps. His hopes are dashed when he receives a notice of rejection from the Air Force Academy. Making matters worse is the news that his father has been shot down and captured by the fictional Arab state of Bilya while patrolling over the Mediterranean Sea. Despite the incident occurring over international waters, the Arab state's court finds Col. Masters guilty of trespassing over their territory and sentences him to hang in three days. Seeing that the U.S. government will do nothing to save his father's life, Doug decides to take matters into his own hands and come up with his own rescue mission. He requests the help of Col. Charles "Chappy" Sinclair, a Vietnam veteran pilot currently in the Air Force Reserve, who, while not knowing Col. Masters personally, had a favorable run-in with him years prior to meeting Doug and "knew the type." Chappy is skeptical at first; but Doug convinces him that, with his friends, he has full access to the airbase's intelligence and resources and can give him an F-16 fighter for the mission. To Doug's surprise, Chappy had already begun planning a rescue operation himself after he learned the outcome of Col. Masters' trial. The combined efforts of Chappy and Doug's team result in a meticulously planned mission and the procurement of two heavily armed F-16B jets, with Doug flying the second unit.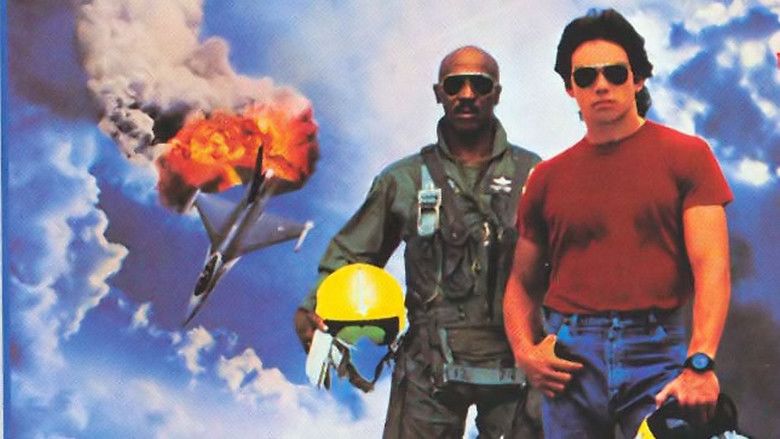 On the day of Col. Masters' execution, Doug and Chappy fly their jets to the Mediterranean Sea and cross into the enemy state's airspace. In the ensuing battle, they take out three MiG-23 fighters and destroy an airfield, but Chappy's plane is damaged by an anti-aircraft gun. He tells Doug to climb to a high altitude and play the tape he made him the night before, then his engine fails and Doug listens as Chappy's fighter goes down. Chappy's recorded voice gives Doug encouragement and details that help him to complete the mission and rescue his father. Making the enemy believe he is leading a squadron, Doug threatens the enemy state into releasing his father for pickup. Before Doug lands his plane, Col. Masters is shot by a sniper, causing Doug to destroy the airbase and engulf the runway with napalm to keep the army at bay while he lands and picks up his wounded father. Just as they take off, Doug and his father encounter another group of MiGs led by Col. Akir Nakesh, himself an ace pilot. The lone F-16 and Nakesh's MiG engage in a dogfight until a missile from Doug finishes off Nakesh. Low on fuel and ammunition, the F-16 is pursued by the other enemy MiGs when a squadron of U.S. Air Force F-16s appear, warding off the MiGs before escorting Doug and his father to Ramstein Air Base in West Germany.
While Col. Masters is being treated for his wounds, Doug is reunited with Chappy, who had ejected from his plane and was picked up by an Egyptian fishing trawler. The two are summoned by an Air Force judiciary panel for their reckless actions. Seeing that any form of punishment for the duo would expose an embarrassing lapse in Air Force security, the panel forgoes prosecution as long as Doug and Chappy never speak of their operation to anyone. In addition, Chappy convinces the panel to grant Doug admission to the Air Force Academy. Days later, a plane assigned by the President returns to the U.S., reuniting Doug, Chappy, and Col. Masters with family and friends.
Louis Gossett, Jr. as Col. Charles "Chappy" Sinclair
Jason Gedrick as Doug Masters
David Suchet as Ministry of Defense Col. Akir Nakesh
Shawnee Smith as Joenie
Melora Hardin as Katie
Larry B. Scott as Reggie
Lance LeGault as Gen. Edwards
Tim Thomerson as Col. Ted Masters
Caroline Lagerfelt as Elizabeth Masters
Robert Jayne as Matthew "Matt" Masters
Jerry Levine as Tony
Robbie Rist as Milo Bazen
Michael Bowen as Knotcher
David Greenlee as Kingsley
Tom Fridley as Brillo
Rob Garrison as Packer
According to writer/director Sidney J. Furie, the film's working title was Junior Eagle. The script was turned down by every studio before it was picked up by Joe Wizan, former head of 20th Century Fox. Wizan then handed the script to producer Ron Samuels, who likened it to the old John Wayne westerns. Although their F-16s are featured in the movie poster, the United States Air Force has a long-standing policy about not cooperating on any film involving the theft of an aircraft. Consequently, the filmmakers turned to the Israeli Air Force for the necessary aerial sequences. The filming in Israel took six weeks, with the flight sequences choreographed by Jim Gavin, whose earlier works include Blue Thunder.
The aircraft used for both the American and the "Bilyan" air forces were Israeli jets: single-seat F-16As, two-seat F-16Bs, and F-21/C-2 Kfirs simulating MiG-23s (the latter painted with imaginary national markings). The F-16s were given American national roundels and tail codes that only superficially resembled actual USAF markings, but retained their Israeli desert camouflage, a paint scheme that has never been used on USAF F-16s. The cockpit displays depicted in the film were all simulated, and did not bear any resemblance to an early model F-16's actual instrumentation (with the exception of the heads-up display, which was somewhat accurate). Additionally, the "Hades" bomb employed by Doug against the Bilyan airfield was a fictional weapon, though its effects were similar to real-life napalm.
The character of Colonel Charles "Chappy" Sinclair was inspired by the real life U.S. Air Force General Daniel "Chappie" James, Jr. General James was a member of the famed all-black Tuskegee Airmen, and also flew fighter jets in the Korean War and the Vietnam War. He later became the first black four-star General in U.S. history.
The soundtrack album was issued by Capitol Records on LP and cassette, and later on compact disc. It features songs by Queen, King Kobra, Eric Martin, Dio, Adrenalin, and more.
In 2008, Varèse Sarabande released the original musical score by Basil Poledouris as part of their CD Club.
Iron Eagle earned US$24,159,872 at the U.S. box office. Although the movie was not a major success at the cinema, it generated US$11 million in home video sales, enough to justify a sequel.
Kevin Thomas of the Los Angeles Times called the film "a total waste of time", saying it "achieves a kind of perfection of awfulness that only earnest effort can produce." Variety magazine commented that the film has "breakneck action and some dandy dogfights", but the dialogue is simply laughable.
Iron Eagle was released on VHS by CBS/FOX Video in 1986. On October 1, 2002, it was released on DVD. On February 3, 2009, it was reissued on DVD by Sony Pictures Home Entertainment in a double-feature set with the 1993 film Last Action Hero.