The film premiered during the 2007 Rome Film Fest and later opened outside of Fairbanks, Alaska, on September 21, 2007. It was later nominated for two Golden Globes and won the award for Best Original Song: "Guaranteed" by Eddie Vedder. It was also nominated for two Academy Awards, namely Best Editing and Hal Holbrook for Best Supporting Actor.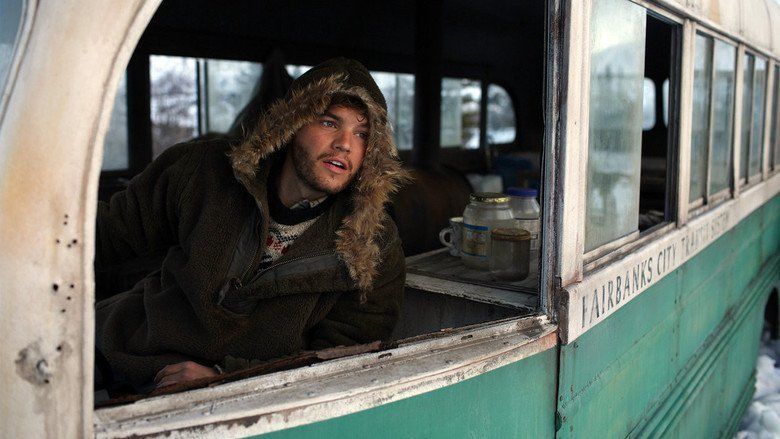 The film is presented in a nonlinear narrative, cutting back and forth between McCandless' time spent in the Alaskan wilderness and his two-year travels leading up to his journey to Alaska. The plot summary here is told in a more chronological order.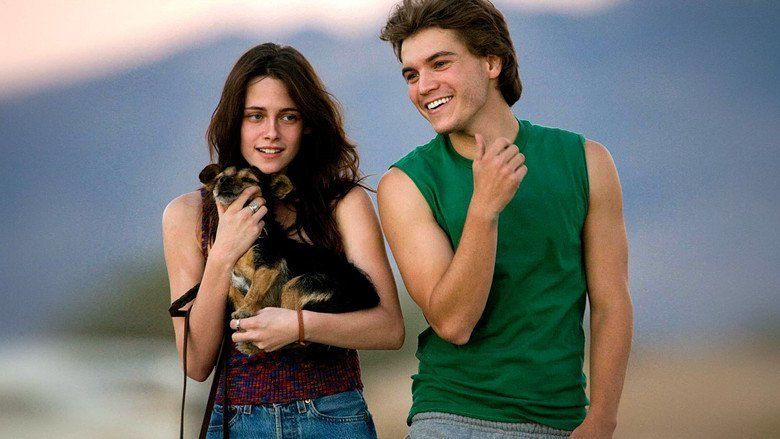 In April 1992, Christopher McCandless (Emile Hirsch) arrives in a remote area just north of the Denali National Park and Preserve in Alaska. Noting Chris' unpreparedness, the stranger who drops him off lends him a pair of boots. Chris travels into the wildness and sets up a campsite in an abandoned city bus, which he calls "The Magic Bus." At first, McCandless is content with the isolation, the beauty of nature around him, and the thrill of living off the land. He hunts with a .22 caliber rifle, reads books, and keeps a diary of his thoughts as he prepares himself for a new life in the wild.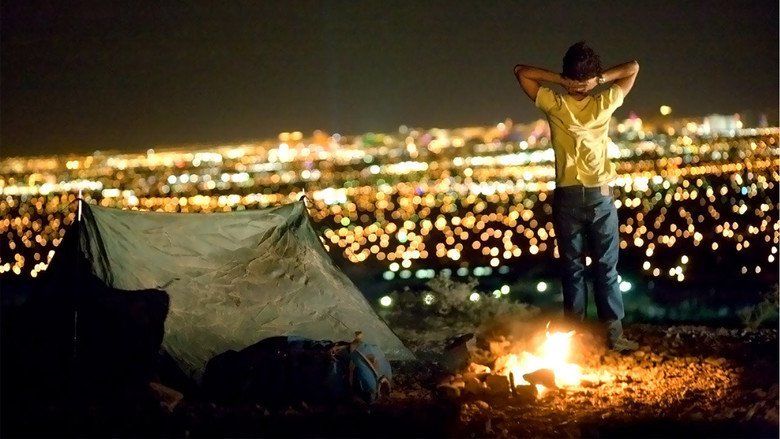 Two years earlier, in May 1990, McCandless graduates with high honors from Emory University. Shortly afterwards, McCandless rejects his conventional life by destroying all of his credit cards and identification documents. He donates nearly all of his savings to Oxfam and sets out on a cross-country drive in his Datsun B210 to experience life in the wilderness. McCandless does not tell his parents, Walt (William Hurt) and Billie McCandless (Marcia Gay Harden), or his sister Carine (Jena Malone) what he is doing or where he is going. He refuses to keep in touch with them after his departure, causing his parents to become increasingly anxious and eventually desperate.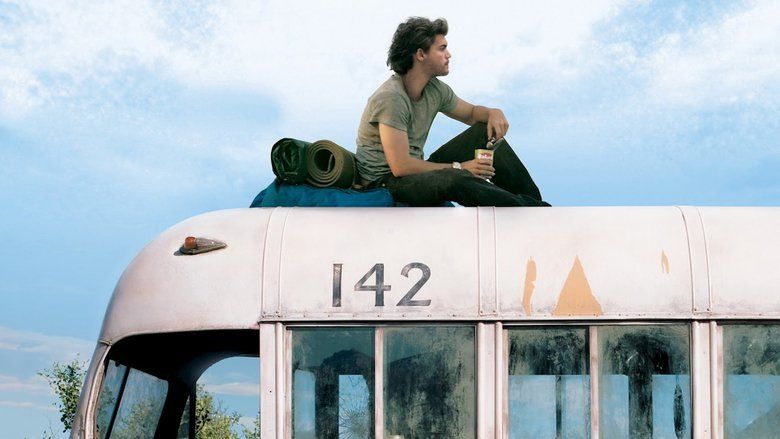 At Lake Mead, McCandless' car is caught in a flash flood, causing him to abandon it and begin hitchhiking. He burns what remains of his cash and assumes a new name: "Alexander Supertramp." In Northern California, McCandless encounters a hippie couple named Jan Burres (Catherine Keener) and Rainey (Brian H. Dierker). Rainey tells McCandless about his failing relationship with Jan, which McCandless helps rekindle. In September, McCandless arrives in Carthage, South Dakota and works for a contract harvesting company owned by Wayne Westerberg (Vince Vaughn). He is forced to leave after Westerberg is arrested for satellite piracy.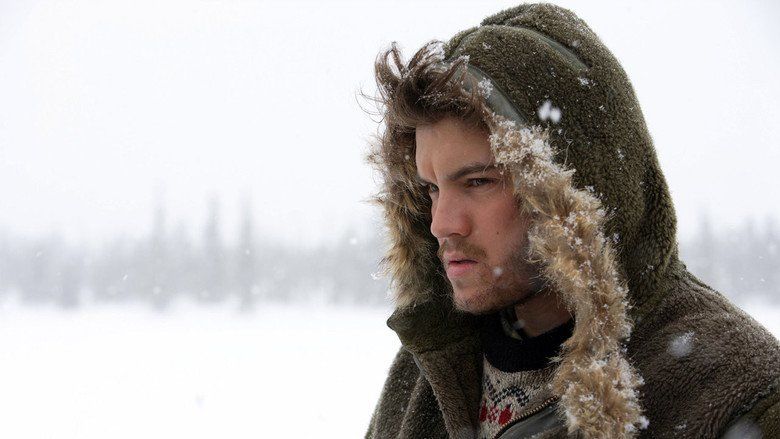 McCandless then travels on the Colorado River and, though told by park rangers that he may not kayak down the river without a license, ignores their warnings and paddles downriver until he eventually arrives in Mexico. There, his kayak is lost in a dust storm, and he crosses back into the United States on foot. Unable to hitch a ride, he starts traveling on freight trains to Los Angeles. Not long after arriving, however, he starts feeling "corrupted" by modern civilization and decides to leave. Later, McCandless is forced to resume hitchhiking, after he is beaten by the railroad police.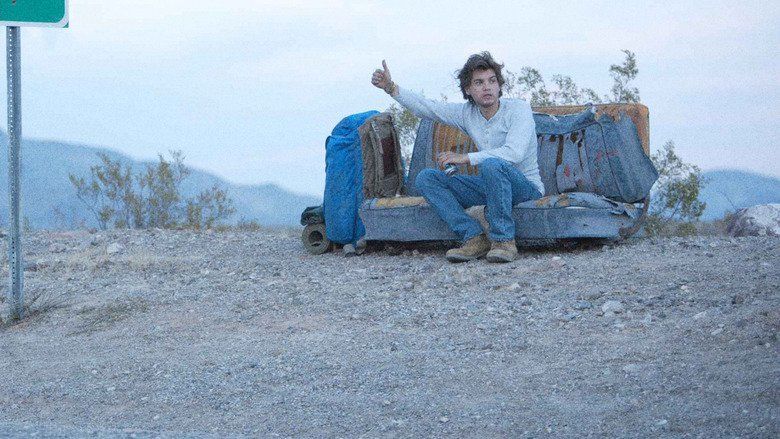 In December 1991, McCandless arrives at Slab City, California, in the Imperial Valley, and encounters Jan and Rainey again. There, he also meets Tracy Tatro (Kristen Stewart), a teenage girl who shows interest in McCandless, but he rejects her because she is underage. After the holidays, McCandless decides to continue heading for Alaska. One month later, while camping near Salton City, California, McCandless encounters Ron Franz (Hal Holbrook), a retired man who recounts the story of the loss of his family in a car accident while he was serving in the United States Army. He now occupies his time in a workshop as an amateur leather worker. Franz teaches McCandless the craft of leatherwork, resulting in the making of a belt that details McCandless' travels. After spending two months with Franz, McCandless decides to leave for Alaska, despite this upsetting Franz, who has become quite close to McCandless. On a parting note, Franz gives McCandless his old camping and travel gear, along with the offer to adopt him as his grandchild, but McCandless simply tells him that they should discuss this after he returns from Alaska; then, he departs.
Four months later, at the abandoned bus, life for McCandless becomes harder, and he begins to make poor decisions. As his supplies begin to run out, he realizes that nature is also harsh and uncaring. McCandless concludes that true happiness can only be found when shared with others, and he seeks to return from the wild to his friends and family. However, he finds that the stream he had crossed during the winter has become wide, deep, and violent due to the snow thaw, and he is unable to cross. Saddened, he returns to the bus. In a desperate act, McCandless is forced to gather and eat roots and plants. He confuses similar plants and eats a poisonous one, falling sick as a result. Slowly dying, he continues to document his process of self-realization and imagines his family for one last time. He writes a farewell to the world and crawls into his sleeping bag to die. Two weeks later, his body is found by moose hunters. Shortly afterwards, Carine returns to Virginia with her brother's ashes in her backpack.
Emile Hirsch as Chris McCandless
Marcia Gay Harden as Billie McCandless
William Hurt as Walt McCandless
Jena Malone as Carine McCandless
Catherine Keener as Jan Burres
Hal Holbrook as Ron Franz
Brian H. Dierker as Rainey
Kristen Stewart as Tracy Tatro
Vince Vaughn as Wayne Westerberg
Zach Galifianakis as Kevin
Thure Lindhardt as Mads
Signe Egholm Olsen as Sonja
Merritt Wever as Lori
Jim Gallien as Himself
Leonard Knight as Himself
R. D. Call as Bull
Cheryl Harrington as social worker
The scenes of graduation from Emory University in the film were shot in the fall of 2006 on the front lawn of Reed College. Some of the graduation scenes were also filmed during the actual Emory University graduation on May 15, 2006. The Alaska scenes depicting the area around the abandoned bus on the Stampede Trail were filmed 50 miles (80 km) south of where McCandless actually died, in the tiny town of Cantwell. Filming at the actual bus would have been too remote for the technical demands of a movie shoot, so a replica of the bus was built, and used when filming, from two other old buses of similar type. The production made four separate trips to Alaska to film during different seasons.
The review aggregator Rotten Tomatoes reports that 82% of 192 reviews of the film were positive, resulting in a "Certified Fresh" rating. Metacritic assigned the film an average score of 73 out of 100 based on 38 reviews from mainstream critics.
Roger Ebert of the Chicago Sun-Times gave the film four stars out of four and described it as "spellbinding." Ebert wrote that Emile Hirsch gives a "hypnotic performance," commenting: "It is great acting, and more than acting." Ebert added, "The movie is so good partly because it means so much, I think, to its writer-director, Sean Penn."
The American Film Institute listed the film as one of ten AFI Movies of the Year for 2007.
National Board of Review named it one of the Top Ten Films of the Year.
Into the Wild also ranks 473rd in Empire magazine's 2008 list of the 500 greatest movies of all time.
The film appeared on many critics' top ten lists of the best films of 2007.
In North America, Into the Wild initially opened in limited release, in four theaters and grossed $212,440, posting a per-theater average of $53,110. For the next several weeks, the film remained in limited release until it expanded to over 600 theaters on October 19, 2007; in its first weekend of wide release, the film grossed just $2.1 million for a per-theater average of $3,249. As of December 25, 2008, the film grossed $18,354,356 domestically and $37,281,398 internationally. In total, the film has grossed $55,635,754 worldwide.
Into the Wild was released on March 4, 2008 on standard DVD, Two-Disc Special Collector's Edition DVD, and standard HD DVD. The special edition DVD and HD DVD contain two special features entitled The Story, The Characters and The Experience. The Blu-ray Disc edition was released in France on July 16, 2008. The Blu-ray edition for the US was released on December 16, 2008.
The songs on the soundtrack were performed by Eddie Vedder, lead singer of Pearl Jam, and Jerry Hannan. Vedder won a Golden Globe for Best Original Song for the song "Guaranteed". The score was written and performed by Michael Brook and Kaki King. The music at the end of the theatrical trailer is "Acts of Courage" by X-Ray Dog, a company that supplies music for many movie trailers. Eddie Vedder said whilst writing the songs on the album "I spent three days giving him (Sean Penn) colors that I could paint with. Different sounds. It would be pump organ and vocal, or it would be an uptempo song. I just gave him 25 minutes of music, stuff I felt that were colors on the palette. And I really didn't think anything was gonna come out of it. Maybe a little piece or something".