The cast includes such Lynch regulars as Dern, Justin Theroux, Harry Dean Stanton, and Grace Zabriskie, as well as Jeremy Irons, Karolina Gruszka, Peter J. Lucas, Krzysztof Majchrzak, Julia Ormond, and Diane Ladd. There are also very brief appearances by Nastassja Kinski, William H. Macy, Laura Harring, Terry Crews, Mary Steenburgen, and Ben Harper. The voices of Harring, Naomi Watts, and Scott Coffey are included in excerpts from Lynch's Rabbits website project.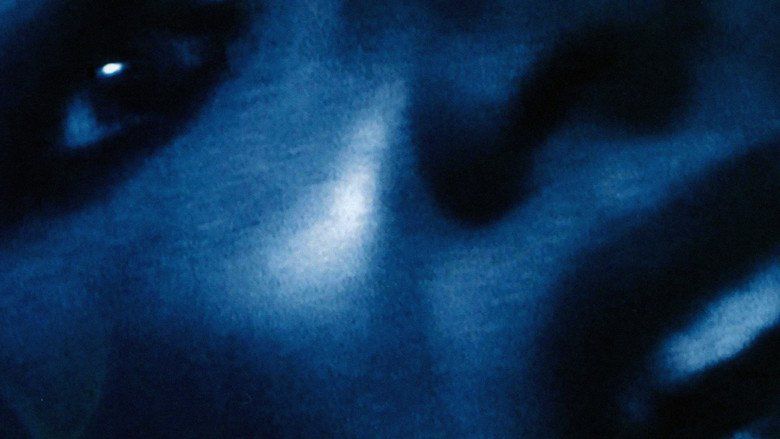 The film opens to the sound of a gramophone playing Axxon N, "the longest-running radio play in history". Meanwhile, a young prostitute, identified in the credits as the "Lost Girl", cries while watching television in a hotel room, following an unpleasant encounter with her client. The Lost Girl's television displays a family of surrealistic anthropomorphic rabbits who speak in cryptic statements and questions. Occasionally, there are laugh track responses within these Rabbit scenes. These three elements become recurring motifs throughout Inland Empire.
The main plot follows an actress named Nikki Grace (Dern), who has applied for a comeback role as Sue in a film entitled On High in Blue Tomorrows. The day before the audition, Nikki is visited by an enigmatic old woman (Zabriskie) who says she is her neighbor; she predicts that Nikki will get the role, and recounts two folk tales. One tells of a boy who, sparking a reflection after passing through a doorway, "caused evil to be born." The other tells of a girl who, wandering through an alleyway behind a marketplace, "discovers a palace." The old woman presses Nikki for details on her new film, asking whether the story is about marriage and involves murder. Nikki denies both, but her neighbor disagrees. Disregarding Nikki's offended response, the old woman comments on the confusion of time, claiming that were this tomorrow, Nikki would be sitting on a couch adjacent to them. The film then pans to where the neighbor is pointing, and we see Nikki and two girlfriends sitting on the couch. Her butler (Ian Abercrombie) walks into the living room with a phone call from her agent, announcing that she has won the role. Ecstatic, Nikki and her friends celebrate while her husband Piotrek (Peter J. Lucas) ominously surveys them from atop a nearby staircase.
Some time later, Nikki and her co-star Devon Berk (Theroux) receive an interview on a talk show. The host (Ladd) asks them both whether they are having an affair, to which each of them respond negatively. Devon is warned by his entourage that Nikki is out of bounds, due to her husband's power and influence. Later, on the set being built for the film, Nikki and Devon rehearse a scene with the director, Kingsley Stewart (Irons). They are interrupted by a disturbance, but upon investigation Devon finds nothing. Shaken by the event, Kingsley confesses that they are shooting a remake of a German feature entitled 47. Production was abandoned after both leads were murdered, creating rumors of the film being cursed.
Immersed in her character, while the film is being shot, "Sue" / Nikki appears to begin an affair with Devon / "Billy". A strange scene follows based on what the old woman had described: Nikki appears in a mysterious alley walking to her car, carrying a bag of groceries, but then she notices a door in the alley marked Axxon N, and enters. It leads her back to soundstage where the earlier rehearsal took place. She witnesses that rehearsal from across the room—she herself was what had interrupted it earlier. This time, when Devon seeks to discover who's observing them, she disappears from the rehearsal scene, and flees among the half-built backgrounds and into the house of a character named Smithy. Despite the set being merely a wooden facade, Nikki enters to find an illuminated suburban house inside. Devon looks through the windows, but sees only darkness, not hearing her frantic cries of his character's name, "Billy."
At this point, the film takes a drastic stylistic turn. Various plotlines and scenes begin to entwine and complement each other. The chronological order is often confused or nonexistent. Inside the house, Nikki sees her husband (whether it's "Smithy" or Piotrek is unclear) in bed. Hiding from him, she enters a different room and encounters a troupe of prostitutes. One of the women advises her to burn a hole through silk with a cigarette and look through the hole. Nikki complies and witnesses several strange happenings, many of which seem to revolve around her, or alternate versions of herself.
Prior to these scenes, the woman who plays Billy's wife Doris tells a policeman that she had been hypnotised to murder someone with a screwdriver, but finds the screwdriver embedded in her own side. A mysterious organization claims to have captives from Inland Empire. A parallel plotline involves Polish circus artists in the present day, as well as Polish prostitutes in Łódź during the 1930s, who are confronted by strange pimps while murder permeates their city. Nikki, having become one of the group of present-day prostitutes, wanders the streets while her companions ask, "Who is she?" Both Nikki and her prostitutes frequently ask people to look at them and "say whether you've known me before." In a parallel plotline, Sue climbs the dark staircase behind a nightclub to deliver long monologues to an unidentified man touching upon her childhood sexual abuse, disastrous relationships, and retaliations. Her husband Smithy seems to be connected with both the pimps and the organization, and then is hired by a circus from Poland because he is said to be "good with animals." There is much talk of the Phantom, an elusive hypnotist. Convinced she's being stalked by a red-lipped man, Sue arms herself with a screwdriver.
Finally, Sue walks down Hollywood Boulevard, and is startled to see her doppelgänger across the street. Before Sue can investigate, Doris arrives and attempts to kill her, having been hypnotized by The Phantom. Sue is brutally stabbed in the stomach with her own screwdriver, causing her to stagger down the street and eventually collapse next to some homeless people on the corner of Hollywood and Vine. One woman remarks that Sue is dying, then proceeds to debate with another, younger homeless woman about taking a bus to Pomona. Her companion talks at length about a friend named Niko, a prostitute whose blond wig makes her look like a movie star, thus allowing her to walk through the rich district without drawing attention. The older woman comforts Sue by holding a lighter in front of her face until she finally dies, promising her "no more blue tomorrows." Off-camera, Kingsley yells "Cut!" and the camera pans back to show this has merely been a film scene.
As the actors and film crew wrap for the next scene, Sue slowly arises, Nikki once more. Kingsley announces that her scenes for the film are complete. In a daze, Nikki wanders off set and into a nearby cinema, where she sees not only On High in Blue Tomorrows—encompassing some of the subplots of the film—but events that are currently occurring. She wanders to the projection room, but finds an apartment building marked "Axxon N". Eventually, Nikki confronts the red-lipped man from earlier, now known to be the Phantom. She shoots him, which causes his face to morph first into a distorted copy of Nikki's own face, and then an even more distorted face bleeding from its mouth.
Nikki flees into a nearby room—Room 47, which houses the rabbits on television, though she fails to see them. Elsewhere in the building, Nikki finds the Lost Girl, who has been watching and crying all along. The two women kiss, before Nikki fades away into the light along with the rabbits. The Lost Girl runs out of the hotel and into Smithy's house, where she happily embraces a man and child.
Nikki is then seen back home, smiling at the old woman from the beginning of the film. The concluding scene takes place at her house, where she sits with many other people, among them Laura Harring, Nastassja Kinski, and Ben Harper. A one-legged woman who was mentioned in Sue's monologue looks around and says, "Sweet!" Niko, the girl with the blonde wig and monkey, can also be seen. The end credits roll over a group of women dancing to Nina Simone's "Sinner Man" while a lumberjack saws a log to the beat.
Polish composer Marek Zebrowski wrote music for the film and acted as music consultant. The soundtrack includes the following musical pieces:
"Sinner Man" (traditional, arr. by Nina Simone), Nina Simone
"At Last" (Mack Gordon, Harry Warren), Etta James
"The Loco-Motion" (Gerry Goffin, Carole King) Little Eva
"Black Tambourine" (Beck, Eugene Blacknell, Dust Brothers), Beck
"A Lovely Way to Spend an Evening" (Harold Adamson, Jimmy McHugh), The Mantovani Orchestra
"The Secrets of the Life Tree" (Jerzy Bawol, Tomasz Kukurba, Tomasz Lato), Kroke
"Fluorescences for Orchestra" (Krzysztof Penderecki), Krzysztof Penderecki and the National Polish Radio Symphony Orchestra
"The Colors of My Life" (Cy Coleman, Michael Stewart), The Mantovani Orchestra
"De Natura Sonoris II" (Krzysztof Penderecki), Krzysztof Penderecki and the National Polish Radio Symphony Orchestra
"Lisa" (Joseph L. Altruda), Joseph Altruda
"Polymorphia" (Krzysztof Penderecki), Krzysztof Penderecki and the National Polish Radio Symphony Orchestra
"Als Jakob erwachte" ("When Jacob awakened") (Krzysztof Penderecki), Krzysztof Penderecki and National Polish Radio Symphony Orchestra
"Novelette: Conclusion" (Witold Lutosławski), Antoni Wit and the National Polish Radio Symphony Orchestra
"De Natura Sonoris I" (Krzysztof Penderecki), Krzysztof Penderecki and National Polish Radio Symphony Orchestra
"Three to Get Ready and Four to Go" (Dave Brubeck), The Dave Brubeck Quartet
"Klavier Konzert" (Bogusław Schaeffer), Bogusław Schaeffer
"Ghost of Love" (David Lynch), David Lynch
"Polish Night Music No. 1" (David Lynch, Marek Zebrowski), David Lynch & Marek Zebrowski
"Polish Poem" (David Lynch, Chrysta Bell), Chrysta Bell
"Anaklasis für Streicher und Schlagzeug" ("Reflection for Strings and Percussion") (Krzysztof Penderecki), Krzysztof Penderecki
"Walkin' on the Sky" (David Lynch), David Lynch
Lynch shot the film without a complete screenplay. Instead, he handed each actor several pages of freshly written dialogue each day. In a 2005 interview, he described his feelings about the shooting process: "I've never worked on a project in this way before. I don't know exactly how this thing will finally unfold... This film is very different because I don't have a script. I write the thing scene by scene and much of it is shot and I don't have much of a clue where it will end. It's a risk, but I have this feeling that because all things are unified, this idea over here in that room will somehow relate to that idea over there in the pink room."
Interviewed at the Venice Film Festival, Laura Dern admitted that she did not know what Inland Empire was about or the role she was playing, but hoped that seeing the film's premiere at the festival would help her "learn more." Justin Theroux has also stated that he "couldn't possibly tell you what the film's about, and at this point I don't know that David Lynch could. It's become sort of a pastime—Laura [Dern] and I sit around on set trying to figure out what's going on."
Much of the project was shot in Łódź, Poland, with local actors, such as Karolina Gruszka, Krzysztof Majchrzak, Leon Niemczyk, Piotr Andrzejewski and artists of the local circus Cyrk Zalewski. Some videography was also done in Los Angeles, and in 2006 Lynch returned from Poland to complete filming. Inland Empire is the first Lynch feature to be completely shot in digital video; it was shot with a Sony DSR-PD150. Lynch has stated that he will no longer use film to make motion pictures.
In an NPR interview, Laura Dern recounted a conversation she had with one of the movie's new producers. He asked if Lynch was joking when he requested a one-legged woman, a monkey and a lumberjack by 3:15. "Yeah, you're on a David Lynch movie, dude," Dern replied. "Sit back and enjoy the ride." Dern reported that by 4 p.m. they were shooting with the requested individuals.
Lynch financed much of the production from his own resources, with longtime artistic collaborator and ex-wife Mary Sweeney producing. The film was also partially financed by the French production company StudioCanal, which had provided funding for three previous Lynch films. StudioCanal wanted to enter the film in the 2006 Cannes Film Festival. Instead, it premiered at Italy's Venice Film Festival on 6 September 2006, where David Lynch also received the Golden Lion lifetime achievement award for his "contributions to the art of cinema." The film premiered in the United States on 8 October 2006 at the New York Film Festival. The film received a limited release in the US beginning on 15 December 2006; distribution was handled by the specialist company 518 Media.
Lynch hoped to distribute the film independently, saying that with the entire industry changing, he thought he would attempt a new form of distribution as well. He acquired the rights to the DVD and worked out a deal with Studio Canal in an arrangement that allows him to distribute the film himself, through both digital and traditional means. A North American DVD release occurred on 14 August 2007. Among other special features, the DVD included a 75-minute featurette, "More Things That Happened", which compiled footage elaborating on Sue's marriage to Smithy, her unpleasant life story, the Phantom's influence on women, and the lives of the prostitutes on Hollywood Boulevard.
When asked about Inland Empire, Lynch responded that it is "about a woman in trouble, and it's a mystery, and that's all I want to say about it." When presenting screenings of the digital work, Lynch sometimes offers a clue in the form of a quotation from the Brihadaranyaka Upanishad: "We are like the spider. We weave our life and then move along in it. We are like the dreamer who dreams and then lives in the dream. This is true for the entire universe."
Richard Peña, a New York Film Festival official and one of the first people to see Inland Empire, has summarized the film as "a plotless collection of snippets that explore themes Lynch has been working on for years," including "a Hollywood story about a young actress who gets a part in a film that might be cursed; a story about the smuggling of women from Eastern Europe; and an abstract story about a family of people with rabbit heads sitting around in a living room"—Lynch's web-only video series, Rabbits. Peña's perception of a plot involving "the smuggling of women from Eastern Europe" stems from a scene in which one man asks another, in Polish, if he is selling the woman in the room.
The scholar Delorme indicated that the film is about adultery, but in a way that Lynch "avoid[s] a chronological unfolding of the scenes and situations provoked by the adultery", but rather "superimpose[s] them instead in as many scenarios developing from the potentials of the adultery", so that "[t]he narrative is constructed on strange characters brought together by a similar terror."
The film was screened at several film festivals around the world, most notably the Venice Film Festival in Italy, New York Film Festival in New York, United States, the Thessaloniki Film Festival in Greece, Camerimage Film Festival in Poland, Fajr International Film Festival in Iran, International Film Festival Rotterdam in the Netherlands and the Festival Internacional de Cine Contemporáneo de la Ciudad de México in México City, Mexico.
Inland Empire was released and distributed by Ryko to the United States on 14 August 2007. It was released on 20 August in the United Kingdom, 4 October in Belgium and the Netherlands, with distribution by A-Film and 6 August 2008 in Australia, with distribution by Madman Entertainment.
At Metacritic, which assigns a normalised rating out of 100 to reviews from mainstream critics, the film received an average score of 72, based on 24 reviews, indicating "generally favorable reviews" and holds a 72% "fresh" rating on review aggregator web site Rotten Tomatoes. The site's consensus states that the film is "typical David Lynch fare: fans of the director will find Inland Empire seductive and deep. All others will consider the heady surrealism impenetrable and pointless."
The New York Times classified Inland Empire as "fitfully brilliant" after the Venice Film Festival screening. Peter Travers, the film critic for Rolling Stone magazine wrote, "My advice, in the face of such hallucinatory brilliance, is that you hang on." The New Yorker was one of the few publications to offer any negative points about the film, calling it a "trenchant, nuanced film" that "quickly devolves into self-parody". Jonathan Ross, presenter of the BBC programme Film 2007, described it as "a work of genius... I think." Damon Wise of Empire magazine gave it five stars, calling it "A dazzling and exquisitely original riddle as told by an enigma" and Jim Emerson (editor of RogerEbert.com) gave it 4 stars and praised it: "When people say Inland Empire is Lynch's Sunset Boulevard, Lynch's Persona or Lynch's 8½, they're quite right, but it also explicitly invokes connections to Stanley Kubrick's The Shining, Jean-Luc Godard's Pierrot le Fou, Buñuel and Dalí's Un Chien Andalou, Maya Deren's LA-experimental Meshes of the Afternoon (a Lynch favorite) and others". However, Carina Chocano of the Los Angeles Times wrote that "the film, which begins promisingly, disappears down so many rabbit holes (one of them involving actual rabbits) that eventually it just disappears for good."
Dern received almost universal acclaim for her performance, with many reviews describing it as her finest to date. Lynch attempted to promote Dern's chances of an Academy Award for Best Actress nomination at the 2007 Academy Awards by campaigning with a live cow. She was not nominated for the award.
518 Media released Inland Empire to two theaters in the United States on 6 December 2006, grossing a total of $27,508 over its opening weekend. It later expanded to its widest release of fifteen nationwide theaters, ultimately grossing $861,355 at American box office. In other countries outside the United States, Inland Empire grossed $3,176,222—bringing the film's worldwide total gross to $4,037,577.