Covid-19
Croatian




Ingeborg Fulepp




Artist







New media art, Video art, Installation art, Digital art, Electronic art, Film editing, Curator
Ingeborg Fülepp, born in (Zagreb, Croatia) is a Croatian artist, university teacher, curator and film editor.
She studied film editing and film analysis at the Academy for Theatre, Film and Television at the University of Zagreb and later education, video and interactive media btween others by ptof. Carol Chomsky, and prof. Howard Gardner at Harvard University in Cambridge, (the USA) and with prof. Richard Leacock and prof. Glorianna Davenport at the Massachusetts Institute of Technology - MIT Media Lab in Boston (the USA).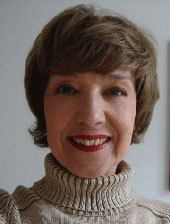 She participated as a film editor in a number of Yugoslav films and TV serials and also in international co-productions. 1978 began her career as a university teacher first in Zagreb, then in London, Boston, Salzburg in the Netherlands, also in Germany at the Deutsche Film- und Fernsehakademie Berlin (DFFB, German Film and Television Academy Berlin), the "Konrad Wolf" University for film and television Potsdam-Babelsberg and the HTW Hochschule für Technik und Wirtschaft Berlin (German, University of Applied Sciences) in Berlin. Since 2013 she is appointed professor for media art and film/video editing at the Academy of Applied Arts at the University of Rijeka, Croatia.
Since 1990 she has worked together with her husband and partner Heiko Daxl under the name "mediainmotion" and "dafü®" in the fields of film, video art, visual music, CD-ROM, DVD, digital art, graphics, photo, installation and Mixed Media. Both established in Zagreb starting from 1993 and still during the war in Croatia the exhibition series Media Scape with international media art at the Museum for Contemporary Art in Zagreb (until 1999) and from2005 - 2009 in the Galerija Rigo and Muzej Lapidarium in Novigrad (Cittánova) in the Croatian region of Istria. In 2010 and 2014 Media-Scape take a place again in Zagreb, and in 2014 in Rijeka, Croatia. From2006 -2009 this manifestation was extended in co-operation with Noam Braslavsky under the title Strictly Berlin in the Galerie der Künste (GdK) in Berlin.
Besides their own artistic oeuvre, their teaching activity and their co-operation at the studio for electroacoustic music of the Akademie der Künste in Berlin (1995–2002) they have worked in the context of concerts and theatre performances also with contemporary composers such as Georg Katzer, Gerhard Staebler, Mona Mur, Jorge Reyes, Steve Roach, Suso Saiz, Bert Wrede, Dror Feiler, Masami Akita (Merzbow), Zbigniew Karkowski, Tobias P.M. Schneid, Valerio Pizzorno, Igor Kuljerić and Mario Verandi and the ensembles Ensemble Modern, Neue Vokalsolisten, Ensemble Belcanto, Zeitkratzer.
Heiko Daxl and Ingeborg Fülepp are renowned video and media artists who are at home in Berlin and in Zagreb and who are recognized in both cities. From 1991 (until Heko Daxls death 2012), they work together as an artistic couple. The numerous works they have created bear witness to their joy of experimenting, always moving on the borderline to the unknown. Employing new technologies, they investigate different, so far unknown optic and acoustic phenomena. The observer's senses, his hearing, his sight and his touch, are always consciously engaged, irritating his perception. Daxl and Fülepp show new ways in the artistic exploration of the technical possibilities of creating sounds and abstract images which force the observer to an integrated reception. They seek to make the recipient think about the reality which is imparted to him in an artificial and technical way.
Dr. Barbara Barsch, Director, ifa-Galerie Berlin, Institute for International Relations [1], May 2005
Media in Motion was one of the EU project partners [X-OP http://www.x-op.eu/about.html]. Ingeborg Fülepp have also participated on the EU project ADRIART http://www.adriart.net/
Ingeborg Fülepp lives and works in Rijeka, Berlin and Zagreb.
Goethe-Institut, Schwäbisch Hall (D),1982
Joyce and Zlatko Baloković Fund / Yugoslav Academy of Science and Art, Zagreb (YU), 1985/1986
Edmund J. Curley Fellowship, Harvard University (USA,) 1986/1987
William Schuman Fellowship, Harvard University (USA), 1988
Goethe-Institut, Berlin (D), 1992
Ministarstvo Kulture (Ministry of Culture), Zagreb (HR), 1993-1999; 2010, 2012, 2014
Grad Zagreb (City of Zagreb) (HR), Zagreb (HR), 1993-1999; 2010, 2012, 2014
Ministerium für Kultur, Hannover (D), 1993-1996
Working scholarship at the summer academy, Akademie der Künste Berlin (D),1997
Auswärtiges Amt, Bonn (D), 1997/1998
Working scholarship "Male Promjene", City of Zagreb (HR), 1999
Institut für Auslandsbeziehungen (IFA), Stuttgart (D), 2001
"Prevost Award", Yugoslav national film festival in Pula for the film "Mad House "(best cut), 1979
"Public Award", Lausanne for the film "Consecration of a Place "(image and sound editing), 1987
"Grand Prix", Paris and "UNESCO Festival Award" for the film "Consecration of a Place" (image and sound editing), 1990
"Grand Silver arena", Yugoslav national film festival in Pula for the film "Remembrance of a Summer" (image and sound editing), 1990
"Max Ophüls Award", Saarbrücken for the film "Tired companions" (image and sound editing), 1997
Ingeborg Fülepp Wikipedia