Country (sports)

Romania


Retired

1985




Int. Tennis HoF

1991 (member page)




Movies

Montag kommen die Fenster




Turned pro

1969




Prize money

US$ 2,076,761




Height

1.82 m






Born

19 July 1946 (age 70)Bucharest, Romania (

1946-07-19

)


Plays

Right-handed (one-handed backhand)




Spouse

Brigitte SFăt (m. 2013), Amalia Teodoesescu (m. 2004–2010), Dominique Grazia (m. 1972–1980)


Children

Nicholas Năstase, Alessia Năstase, Nathalie Năstase, Emma Alexandra Năstase, Charlotte Năstase




Books

Mr Nastase, Break Point, The net, Le filet, Tie-Break: A Novel, The Net: A Novel, Tie-break: roman




Similar

Ion Țiriac, Jimmy Connors, Björn Borg, Guillermo Vilas, John McEnroe
Ilie "Nasty" Năstase ([iˈli.e nəsˈtase], born 19 July 1946) is a Romanian former world No. 1 professional tennis player, one of the world's top players of the 1970s. He was ranked world no. 1 between 1973 (23 August) and 1974 (2 June). Năstase is one of the five players in history who have won more than 100 ATP professional titles (58 singles and 45 in doubles). He was inducted into the International Tennis Hall of Fame in 1991. Năstase won seven Grand Slam titles: two in singles, three in men's doubles and two in mixed doubles. He also won four Masters Grand Prix year-end championship titles and seven Championship Series titles (1970–73), the precursors to the current Masters 1000. Tennis magazine ranked him in 2005 as the 28th-best player of the preceding 40 years. He is the second male player to have won a Grand Slam event without dropping a set and was the first one to achieve this feat at the French Open (1973).
Contents
Career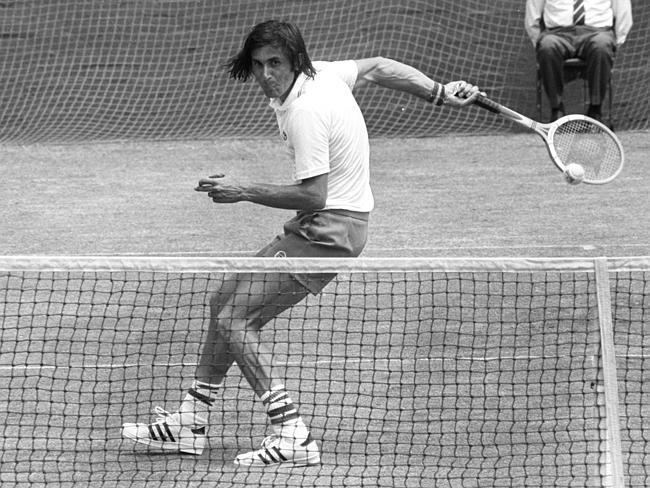 At the beginning of his career in 1966, Năstase travelled around the world competing with his good friend Ion Țiriac. Together, they represented Romania in the Davis Cup competition, being three times runners up: in 1969, 1971, and 1972.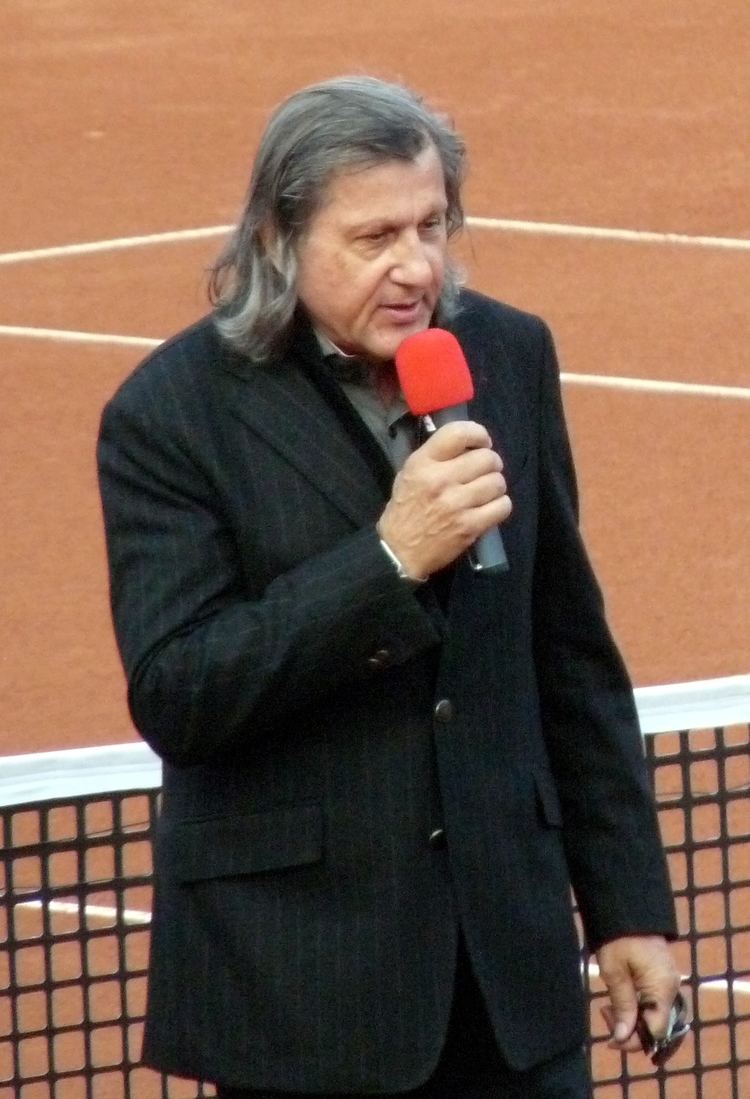 In singles, Năstase won his first tournament at Cannes on 16 April 1967. His first victories against top players happened in 1969 in Stockholm, where he defeated Tony Roche and Stan Smith.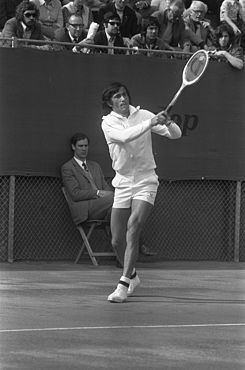 Năstase became one of the best players in 1970, with many experts ranking him as the sixth-best player in the world at that time, behind the Australians Rod Laver, Ken Rosewall, John Newcombe, and Roche and the American Arthur Ashe. Năstase's high ranking resulted from his success at the Italian Open in Rome and at the U.S. Indoor Open in Salisbury, Maryland. With Tiriac, Năstase won the men's doubles title at the French Open.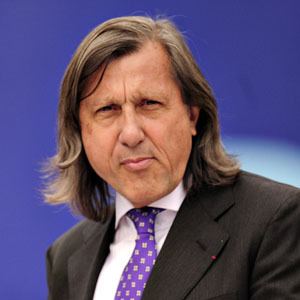 In 1971, Năstase was the runner-up at the French Open, where he lost the final in four sets to Jan Kodeš. In December, Năstase won his first Masters Grand Prix title.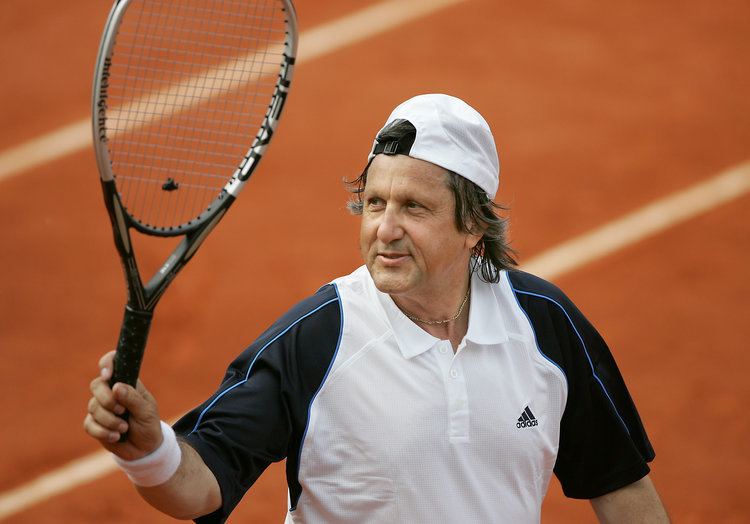 In 1972, he became the no. 2 in the world, owing to his winning the US Open in a five-set final over Arthur Ashe. This tournament was the only event of the year in which all the best players participated. Two months before at Wimbledon, Năstase narrowly lost to Stan Smith in an epic five-set final, one of the most exciting championship matches there. Although Smith took the title, public sympathy lay with the volatile Romanian.
In the Davis Cup, Năstase was undefeated in singles until losing to Stan Smith in the final played on clay in his native Bucharest. In December at the year-end tour finals, Năstase took revenge against Smith, winning his second consecutive Masters Grand Prix title.
In 1973, he was in sensational form. By winning 17 tournaments, including the French Open, a doubles title at Wimbledon, and a third Masters title, Năstase was the undisputed world No.1 that year. In the Davis Cup, he won seven of eight singles rubbers, including a victory over Tom Okker, the "Flying Dutchman." In matches against the other top players, Năstase was 1–0 against Newcombe and 1–1 against Smith. The Romanian won the French Open without dropping a set (a feat repeated by Björn Borg in 1978 and 1980 and by Rafael Nadal in 2008 and 2010), and he won the French Open (clay), Rome (clay) and Queen's Club (grass) in succession, a feat never repeated in the open era, though Borg won Rome, the French Open, and Wimbledon in succession in 1978, and Nadal won the French Open, Queen's Club, and Wimbledon in succession in 2008.
In 1974, he was the only player to qualify for both the WCT Finals and the Masters Grand Prix finals. As usual, Năstase played well in the Masters, in particular against Newcombe in the semifinals. (Năstase finished his career with a 4–1 record versus Newcombe, losing only their first match in 1969.) The Romanian, however, lost the final to Guillermo Vilas in five sets.
For the fifth consecutive year, Năstase reached the Masters Grand Prix final in 1975, where he defeated Björn Borg, 6–2, 6–2, 6–1.
During the first half of 1976, Năstase won four tournaments (Atlanta WCT, Avis Challenge Cup WCT, US Open Indoor, and La Costa), and head-to-head, he led Connors 2–1, Vilas 1–0, Ashe 1–0, and Borg 2–0. Năstase did not enter the Australian Open, which was again avoided by most of the top players. Năstase was prevented from entering the French Open because he participated in World Team Tennis. In the second half of the year, Nastase lost to Borg in the men's singles final of Wimbledon and in the semifinals of the US Open. Năstase won three other tournaments during the second half of the year, the Pepsi Grand Slam, South Orange, and the four-man tournament of Caracas, Venezuela, in October (not to be confused with the Caracas WCT tournament in March), making seven tournament championships for the year. Năstase was the world No. 3, behind Connors and Borg.
In 1977, Năstase finished no. 9 in the ATP rankings. He was a quarterfinalist at the French Open and at Wimbledon (losing to Borg), and participated in the WCT Finals. It was during his quarterfinal match at Wimbledon that Năstase had a memorable row with umpire Jeremy Shales. Shales called him "Năstase" when asking him to move to the advantage court, "like a master speaks to a naughty schoolboy." (Năstase has also said Shales asked him to pick up a piece of paper that had blown onto the court, saying, "Năstase, pick up that paper.") Năstase angrily replied, "You call me Mr. Năstase!". Since this incident umpires have always used a courtesy title when addressing the players directly. Mr. Nastase later became the title of his autobiography.
Năstase was still one of the 20 best players in 1978. At Wimbledon, he again reached the quarterfinals, losing to Okker after defeating Roscoe Tanner.
During the remainder of his career, Năstase steadily declined and only occasionally defeated a good player, such as Johan Kriek in the third round of the 1982 US Open. Năstase retired from the tour in October 1985 at the age of 39 after playing in the tournament in Toulouse, although he did play the challenger tournament at Dijon in June 1988.
Controversy
In 1977, Năstase used a spaghetti string racquet to end Guillermo Vilas's 46 match winning streak. A few days later, the ATP banned the use of such racquets.
Playing style
Considered one of the most gifted tennis players in history, Ilie Năstase was noted both for his sorcery with the racket and his ability to entertain, amusing spectators with his antics and mimicry. Even during a crucial phase of a match, he was likely to do something bizarre that would entertain the crowd. Nicknamed the "Bucharest Buffoon", Năstase could master all the shots, playing either baseline or serve-and-volley. One of the fastest players, he is remembered for his magnificent lobs and retrieves. Năstase could apply a discomforting spin to his shots, being an expert at putting the ball just beyond an opponent's reach. His greatest weakness was a fragile nervous system and erratic temperament, but when he maintained his concentration during a match, he could conjure up the most devastating tennis, being regarded as a tennis magician or an artist creating with great originality and panache. Năstase pioneered a distinctive tennis shot, a backward, over-the-shoulder wrist-flick useful as a last resort in recovering lobs. Tennis writer Bud Collins dubbed the shot the "Bucharest Backfire" after Năstase.
According to The Independent, Năstase is best remembered for being one of the best players never to win the singles title at Wimbledon, for his tantrums, and his good looks.
Athletic distinctions
Năstase won the Tennis Masters Cup tournament (today ATP World Tour Finals) four times, in 1971, 1972, 1973 and 1975. Only Roger Federer (6 times), Pete Sampras, Ivan Lendl and Novak Djokovic (5 times) succeeded to win more.
He is one of the five tennis players (third place) in the world who won more than 100 pro titles (57 singles and 45 doubles) according to the Association of Tennis Professionals (ATP) website, though there are many titles that are not included in the ATP statistics. (see Career statistics section).
Năstase was the first professional sports figure to sign an endorsement contract with Adidas in 1972.
Awards and accolades
Năstase was inducted into the International Tennis Hall of Fame in 1991.
In 2005, TENNIS Magazine put Năstase in the 28th place in its list of 40 Greatest Players of the TENNIS era.
In March 2009 Ilie Năstase was made a knight of the France's Legion d'honneur, being acclaimed for his "impressive sporting career" and "the sense of spectacle" he created when playing.
On 19 July 2016, his 70th birthday, Năstase received the Star of Romania, his country's highest civil award, for services to sport.
Non-tennis activities
Năstase wrote several novels in French in the 1980s. He entered politics in the 1990s, making an unsuccessful run for mayor of Bucharest in 1996. Elected to the Romanian Senate for a Bucharest seat in 2012, he initially sat for the Conservative Party, switching to the National Union for the Progress of Romania in July 2015, after the former party ceased to exist.
Personal life
Năstase has been married four times: his first wife was Dominique Grazia, a Belgian fashion model, whom he married at the age of 26, and with whom he has a daughter, Nathalie. They were married for ten years. His second wife was American actress Alexandra King, whom he married in 1984 and with whom he adopted two children, Nicholas and Charlotte. His third wife was Romanian fashion model Amalia Teodosescu, whom he married in 2004. They have two children, Alessia and Emma Alexandra. After they split up in 2010, he married Romanian fashion model Brigitte SFăt in 2013.
Maxim has placed Năstase at number 6 on its top ten "Living Sex Legends" list, as he is reputed to have slept with over 2500 women. Năstase's own guess, which was at 800–900 women, was too low for the writer of his biography who wanted a larger number, to improve his reputation, as it evidently did. After hearing this, his third wife, Amalia, said that she was happy to have conquered such a man. Năstase met Amalia at a Sting concert and married her in a Greek Orthodox ceremony on 5 June 2004 followed by a Civil ceremony in July of the same year. They divorced in February 2010, after six years of marriage. As he played for the Army's sports club Steaua, he was an employee of the Ministry of Defence. Now he has the rank of Major General.
Singles performance timeline
Qualifying matches and Walkovers are neither official match wins nor losses.
* including 57 pre-ATP and ATP titles
** including 749 – 287 (overall – 1036) listed by the ATP
Records
These records were attained in the Open Era of tennis.
References
Ilie Năstase Wikipedia
(Text) CC BY-SA