The shoot went over schedule, and Farrow had to leave the production as he was contractually obligated to direct another movie. The final scenes featuring the Apache attack on the circled wagons of the Army and settlers were shot by John Ford, whom Wayne had asked to finish the film; Ford was uncredited for this work.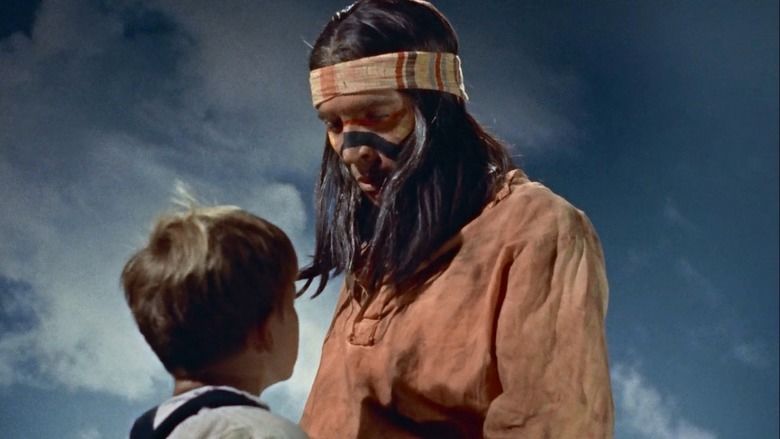 The story takes place in 1870. ( Late in the movie, Hondo asks Lt. McKay when he graduated from West Point, to emphasize the lieutenant's lack of experience. McKay says he was in the class of 69 and Baker suddenly remembers that the current year is '70. )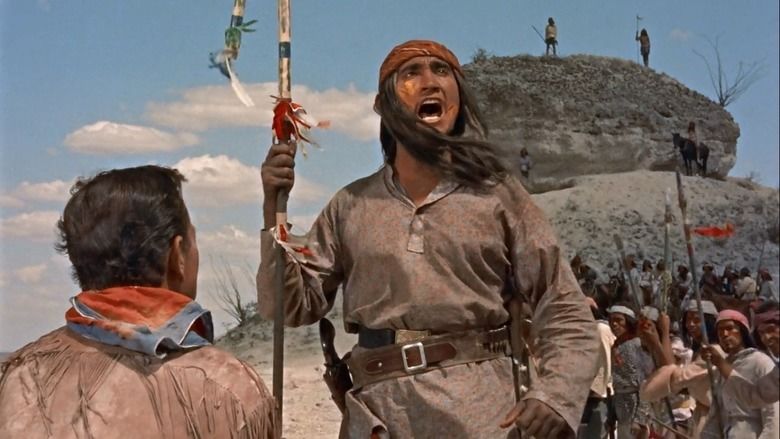 At a remote ranch in the Arizona Territory, homesteader Angie Lowe (Geraldine Page) and her six-year-old son Johnny (Lee Aaker) come upon a stranger (John Wayne) on foot, carrying only his saddle bags and a rifle. The man tells them only his last name, Lane, and that he was riding dispatch for the US Army Cavalry. He had lost his horse in an encounter with some Indians. Angie tells Lane her ranch hand had quit before he had a chance to break her two horses for riding, so Lane offers to break a horse himself. He asks where her husband is, and she says he is rounding up cattle in the mountains and should return soon. Lane deduces from the neglected ranch that her husband has been away for some time, a fact she confesses is true. When night falls Angie offers to let Lane sleep in her home. Angie sees his rifle is inscribed "Hondo" Lane, whom she knows had killed three men the year before. She attempts to shoot him, but due to the first chamber being empty, Hondo is not hurt. He loads the chamber and tells her to keep it that way.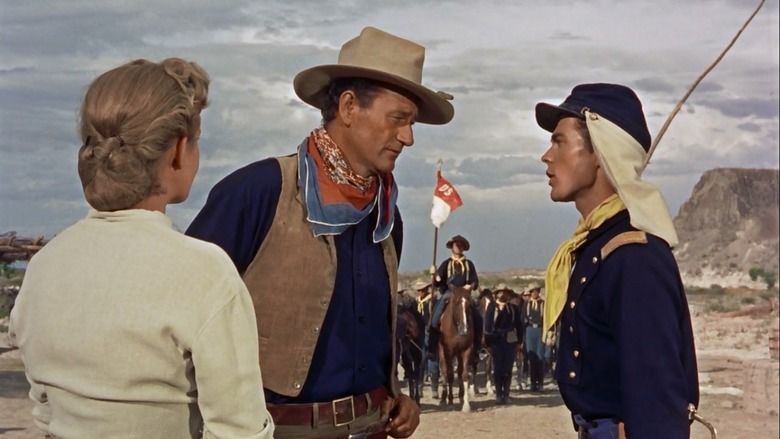 Hondo returns to his Cavalry post, where he meets up with his friend Buffalo Baker (Ward Bond). He reports to his commanding officer that C troop, which was sent to gather and bring in settlers to the north, was killed by Apaches. It is clear to the Major (Paul Fix) that the Apaches are raiding and killing settlers. At the ranch, Angie and Johnny are beset by Apaches, led by Chief Vittorio (Michael Pate) and his main under-chief, Silva (Rodolfo Acosta). Angie is not nervous in their presence as they have never attacked her family before. This time, they begin manhandling Angie. Johnny emerges from the house with the pistol and shoots at Silva. As Silva recovers and approaches him, he throws the pistol at Silva. Vittorio is impressed by Johnny's bravery and makes him an Apache blood brother. Vittorio wonders where Angie's husband is and tells her that unless he returns soon, she must take an Apache husband as the boy needs a father.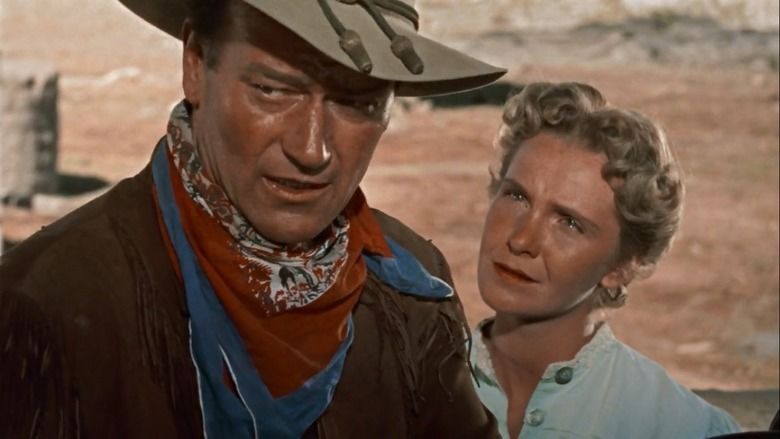 In a saloon, Hondo gets into a fight with a stranger, and beats him severely. Baker tells Hondo the man called himself "Ed Lowe" (Leo Gordon), and Hondo suspects he is Angie's husband. Feeling guilty, he leaves to return Angie's horse. Lowe and a guide (Frank McGrath) follow Hondo. Hondo camps near a river but leaves when he detects two Indians stalking him. Lowe enters the camp and he and his guide are attacked by the two Indians. The guide is killed, but Hondo shoots the Apache about to kill Lowe. Lowe is briefly grateful but turns his gun on Hondo in retaliation for the beating. Hondo is forced to kill Lowe. Hondo finds a tintype of Johnny on Lowe's body, confirming his identity.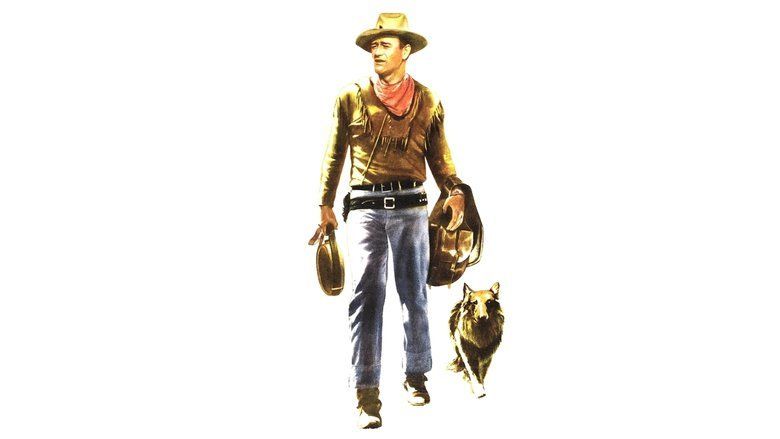 Hondo runs into an Apache party, who pursue him through the desert. He kills several but they eventually capture him. They are torturing him to get information about the Cavalry when Vittorio appears. An Indian shows Vittorio the picture of Johnny, and Vittorio assumes Hondo is Angie's husband. Silva declares the blood rite as Hondo had killed his brother. Silva stabs Hondo in the shoulder, but Hondo pins Silva to the ground, and gives him the option to take back the blood rite or die. Silva gives in. Vittorio takes Hondo to Angie's ranch, and when Vittorio asks if Hondo is her husband, she lies, saving Hondo. The Chief warns Hondo to raise Johnny in the Apache way and leaves. Before the Apache party leaves, Silva ultimately gets his revenge against Hondo by killing his dog, Sam, and leaving the body in front of the porch as a message to Hondo that their feud is not over.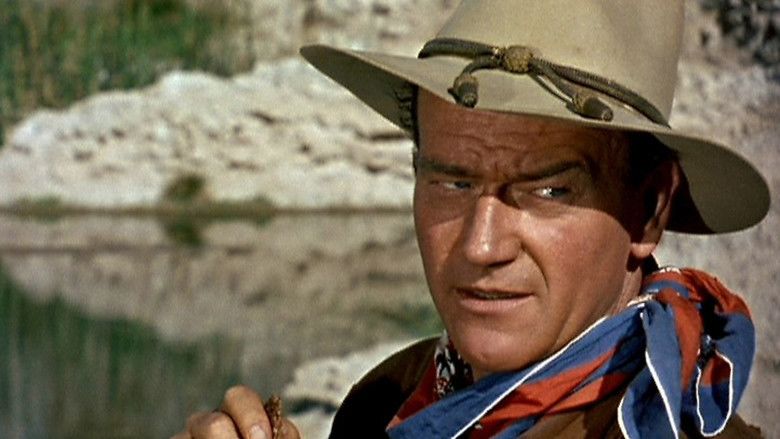 While Hondo recuperates from his wounds, he shows her the picture of Johnny. She asks if Ed died well, and Hondo pauses before saying yes. Over the next few weeks, Hondo and Angie grow close. Hondo attempts to reveal the truth of her husband's death, but is interrupted by Vittorio's return. The chief tells them that the pony soldiers will soon return. He asks Hondo not to join them and to keep the Indian's location a secret. Hondo promises to do the first but not the latter, and Vittorio shows respect for Hondo's truthfulness. Angie tells Hondo she loves him.
The Army arrives at the ranch, commanded by ambitious but inexperienced Lt. McKay (Tom Irish) and accompanied by scouts Baker and Lennie (James Arness). McKay is determined to protect the settlers in the area by relocating them to the Army post and defend the area against Apache attacks. Lennie reveals he discovered Lowe's body and matched the horse tracks to Hondo's horse. He wants Hondo's Winchester rifle in exchange for keeping quiet about how Hondo bushwhacked Lowe. Angie overhears Lennie's demands.
Hondo prepares to leave, but before he goes, he tells Angie the truth about her husband's death. Hondo also wants to tell Johnny, but she persuades him not to, telling Hondo she didn't love her husband any longer. She says it would be unkind to tell the boy the truth of his father's death and that the secret won't follow them to Hondo's ranch in California. Hondo responds to her emotional plea with an Indian word that seals a squaw-seeking ceremony, "Varlabania", which he tells her means "forever". The Army leaves to move further on into Apache territory. As promised Hondo refuses to go with them but tells Buffalo that McKay is leading them into a massacre. Buffalo knows but he also knows that scouts such as he have been helping to train young West Point officers for many years.
The Army returns after being ambushed by the Apaches, suffering heavy casualties. Vittorio had been killed, causing the Apaches to retreat so they can select a new chief. Hondo, Angie and Johnny join the Cavalry and head to the fort. The group is attacked by the Apaches, now led by Silva. Hondo loses his mount and is attacked by Silva, but Hondo kills him. The Indians retreat to choose another chief.
Lt. McKay says that General Crook will be arriving in the territory with a large force to pursue the Apache. Hondo sadly notes the end of the Apache "way of life," denoting that it is too bad as it was a good way. The movie ends with the idea that once back to the fort, Hondo, Angie and Johnny will continue on to Hondo's ranch in California as a family.
John Wayne as Hondo Lane
Geraldine Page as Angie Lowe
Ward Bond as Buffalo Baker
Michael Pate as Vittorio
James Arness as Lennie
Rodolfo Acosta as Silva
Leo Gordon as Ed Lowe
Tom Irish as Lieutenant McKay
Lee Aaker as Johnny Lowe
Paul Fix as Major Sherry
Rayford Barnes as Pete
Frank McGrath as Lowe's Partner
Morry Ogden as Horse Rider – Opening Scene
Chuck Roberson as Kloori – Apache warrior
San Francisco de Conchos
Development and production
Wayne's newly formed production company Batjac purchased the rights to Louis L'Amour's short story "The Gift of Cochise" in 1952, and set Wayne's friend and frequent collaborator James Edward Grant to write the adaptation, which expanded the original story, introduced new characters, and added the cavalry subplot. L'Amour was given the rights to write the novelization of the film, which became a bestseller after the film's release. The film shoot was scheduled for the summer of 1953 in the Mexican desert state of Chihuahua.
Wayne and his producing partner Robert Fellows wanted to shoot the film in the trend-setting 3D format. Warner Brothers supplied the production with the newly developed "All Media Camera," which could shoot in any format, including 3-D, using twin lenses placed slightly apart to produce the stereoscopic effect necessary for it. Despite the fact that they were smaller than the twin camera process used previously for 3D, the All-Media Cameras were still bulky and made the film shoot difficult, causing delays when transporting the cameras to remote desert locations. Further, the director John Farrow and DP Robert Burks were unfamiliar with the new technology and had trouble adjusting to using it, while the cameras were frequently broken due to wind blowing sand into the mechanism or from other inclement weather conditions. Farrow used the technology to produce fewer gimmicks than other 3D films did at the time, with only a few scenes show people or objects coming at the camera, such as gunfire or knives. Instead he preferred to use it to increase the depth of the expansive wide shots of the Mexican desert, or figures against a landscape.
The casting of Geraldine Page as the female lead was considered quite puzzling to many in Hollywood at the time. Though Hondo was not her first film, she had been known primarily as a Broadway stage actress and employed the Method acting style deemed too introspective for film, and especially for Westerns. However, she delivered what many consider a nuanced performance completely appropriate to her character which later garnered her an Oscar nomination for Best Supporting Actress, the first of only two acting nominations ever for a film shot or presented in 3D. (The award went to Donna Reed for From Here to Eternity.)
John Ford shot the final scenes of the wagon train attack as a favor for Wayne when Farrow had to leave the film before its completion due to a conflicting contractual obligation to begin another film. Ford accepted no credit for directing the last sequence of the film.
John Wayne later said John Farrow "didn't really have a great deal to do with" the film. "Everything was set up before he came on it... It was written and I went out and looked for locations and picked the locations where each scene would be shot. I went back and brought the cameraman, and they said there's no color here. I said wait until I show you, and within seventeen miles of town I had white molten rock, blue pools of water, black butes, big chalk-white butes. We were using 3-D. We made it in 3-D but then it was never released in that, because Warner Brothers decided to give up and use the Fox system.
Even with the production troubles that came with the location shooting in 3D, the studio felt it was a worthwhile venture since 3D pictures were at the height of popularity at the time of the film's development. However, by the time the film was completed, public interest in 3D had started to wane. The distributing studio Warner Brothers did everything it could to promote its new 3D camera process and how it went beyond the typical gimmicks used by other popular 3D films at the time such as House of Wax, producing a richer sense of perspective.
Hondo was released on November 27, 1953, and was presented in the 3D format in most first-run theaters. However, by 1954, the more smaller theaters were unable to show the film in the stereoscopic format because the Polaroid 3D projection system required a brighter and more light-reflective screen, referred to as a "silver screen," which was an added cost these theater owners were reluctant to pay.
The film ended up becoming quite popular with audiences, eventually grossing $4.1 million at the box office and placing it in the top 20 money-makers for that year.
Restoration and DVD release
An initial restoration of Hondo was overseen by Wayne's son Michael, head of Batjac Productions, in the late 1980s culminating in a syndicated broadcast of the film in June 1991 on American over-the-air stations in anaglyph 3D. 3D glasses were sold to viewers, with proceeds going to charity.
A frame-by-frame digital restoration by Prasad Corporation of the film was later completed, and the DVD of it was released on October 11, 2005.
The 3D version of Hondo has yet to be released on either DVD or Blu-Ray. As of today, the only way to view Hondo at home in 3D is to rent it on the 3DGO! streaming app available on most 3DTVs built since 2012.
A restored 3D theatrical version was exhibited for a week in 2015 at the Museum of Modern Art in New York City, and also projected the following year at New York's Film Forum, introduced at both venues by Michael Wayne's wife Gretchen Wayne.