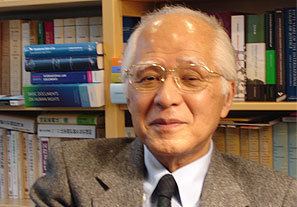 Hisashi Owada was born in Shibata, Niigata Prefecture, Japan, the third of seven children.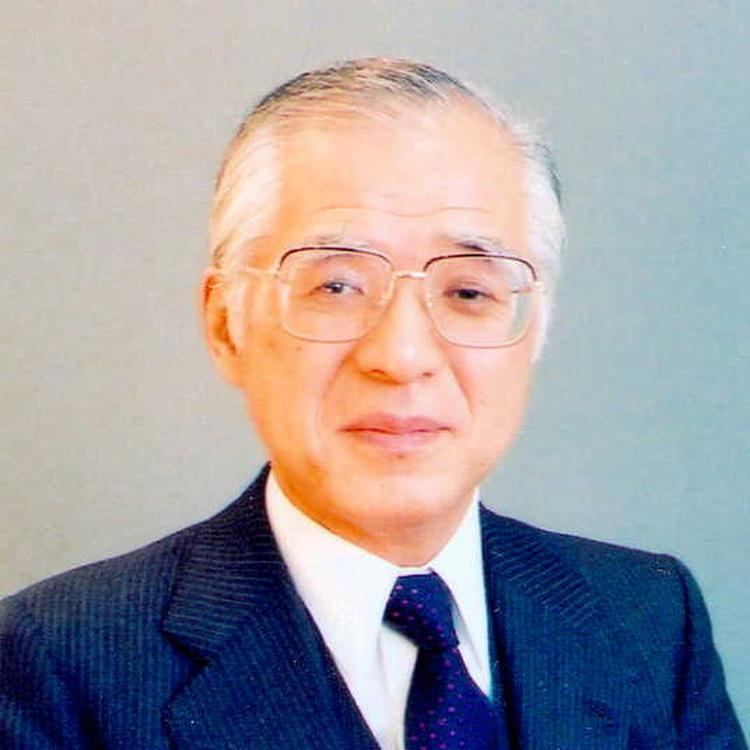 After earning a B.A. from the University of Tokyo in 1955, he passed the civil service examinations to join the Diplomatic and Consular service, now known as the Foreign Service .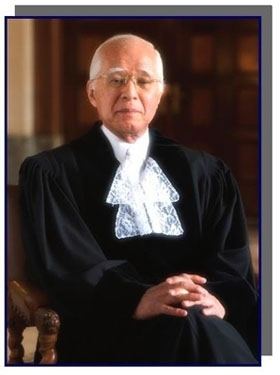 Because of sponsorship from his Foreign Ministry, Owada was sent to study at Trinity College, Cambridge in the United Kingdom where he earned a law degree in 1959 and later a doctorate of philosophy.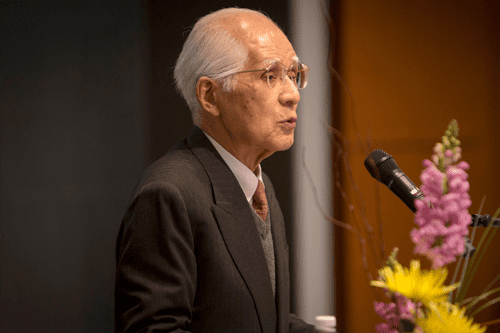 "In between postings he was to take semesters as a visiting professor in international treaty law, his specialty, at Harvard and at Oxford."
Overall Owada has served as a law professor for three decades at the University of Tokyo, Harvard Law School, New York University Law School, Columbia Law School, the Hague Academy of International Law, Waseda University, and the University of Cambridge. He also served as the Bright International Jurist-in-Residence at the University of Hawaii's William S. Richardson School of Law in 2010. He has received honorary degrees from Keiwa College, Banaras Hindu University, and Waseda University.
Owada's first foreign assignment was Moscow, serving from 1963 to 1969. Immediately following, from 1969 to 1971, was a post at the United Nations in New York, New York.
Returning to Japan, Owada was chosen to accompany Emperor Hirohito on his first postwar trip outside Japan to Europe. From 1976 to 1978, he served as Private Secretary to Takeo Fukuda, the Prime Minister of Japan.
From 1979 to 1981, while serving as visiting professor at Harvard, Owada "remain[ed] on the Foreign Ministry payroll with the title of Minister at the Embassy in Washington, and would resume his career with another plum posting the following year." After this, however, the Owadas would move again to Moscow save for Masako, who would stay behind to enroll as a student at Harvard.
In 1988, Owada was appointed Japanese ambassador to the Organisation for Economic Co-operation and Development (OECD) in Paris. He served for a year before returning to Japan, working first as Deputy Minister and from 1991 to 1993 as Vice-Minister.
From 1994 to 1998, he served as Japanese Ambassador to the United Nations, where he served twice as United Nations Security Council President.
From 1999 to 2000 Owada then served as senior adviser to the president of the World Bank. Until 2003 Owada was president of the Japan Institute of International Affairs and adviser to the Japanese Ministry of Foreign Affairs.
In 2002, Owada was elected to join the International Court of Justice in The Hague for the following year.
In 2008, he became the Chairman of the Advisory Board of the Institute for Historical Justice and Reconciliation.
The judges of the ICJ elected Owada as their president from 2009 to 2012, making Owada the first Japanese judge to hold that post.
Having been re-elected to the ICJ in 2011, Owada's term now expires on 5 February 2021. He received 170 out of 192 votes in the General Assembly on the first round, more than any other candidate, and 14 out of 15 votes in the Security Council on the first round. Owada had been nominated by the Japanese national group of the Permanent Court of Arbitration (as well as the national groups of 32 other countries).
In addition to his service on the International Court of Justice, Owada also serves on the Board of Directors of the Nuclear Threat Initiative and the Board of Directors of the United Nations Foundation.
His father Takeo is descended from the Owada clan, whose head Shinroku—Masako's 4th-great grandfather—was called to Murakami in 1787 to serve the Naito clan that the Tokugawa shogun had installed as the city's rulers sixty-seven years earlier. After the fall of the shogunate, the Owadas participated in a salmon-fishing cooperative, the proceeds of which provided schooling for many local children, including Takeo.
Takeo became principal of a prefectural high school in modern-day Joetsu City and head of its board of education. Takeo and his wife would have seven children, all of whom survived infancy to graduate from university or teaching college. His five sons all graduated from University of Tokyo—Akira, who would become a lecturer of Chinese literature at Senshu University; Takashi, who would become a lawyer; Hisashi; Osamu, who would become head of the Japan National Tourist Organization; and Makoto, who would become an inspector at the Ministry of Transportation's Ports and Harbors Bureau. His two daughters Yasuko and Toshiko would marry highly, the former to managing director of Krosaki-Harima Tadashi Katada and the latter to one-time managing director of the Industrial Bank of Japan (IBJ) Kazuhide Kashiwabara.
In 1962, at age 30, Hisashi married twenty-five-year-old Yumiko Egashira, introduced to him by a mutual friend and later employer Takeo Fukuda. A year later, their eldest daughter Masako was born at Toranomon Hospital in Tokyo, followed by twins Reiko and Setsuko in the summer of 1966 in Geneva , Switzerland.
In 1993, Hisashi's daughter Masako Owada, a diplomat in her own right, married Crown Prince Naruhito, the heir to the Japanese Chrysanthemum Throne.
Human Security and International Law in the Lecture Series of the United Nations Audiovisual Library of International Law
Asia and International Law: A New Era Distinguished Speakers Panel in the Lecture Series of the United Nations Audiovisual Library of International Law
The Encounter of Japan with the Community of Civilized Nations in the Lecture Series of the United Nations Audiovisual Library of International Law
Sovereignty over Pedra Branca/Pulau Batu Puteh, Middle Rocks and South Ledge (Malaysia v. Singapore)
Pulp Mills on the River Uruguay (Argentina v. Uruguay)
Application of the Convention on the Prevention and Punishment of the Crime of Genocide (Bosnia and Herzegovina v. Serbia and Montenegro)
Jurisdictional Immunities of the State (Germany v. Italy)